With so many counties covered, the route plays an important role in the economics of the two states, with goods and people moving in and around the region. Massive flows of traffic and a driver's negligence is a troublesome concoction leading to car accidents across the SR-15.
Motor Vehicle Accidents on SR-15 Happen Daily — Ehline Law Can Help if You are a Victim
If you got into an accident that was not your fault, contact Ehline Law and our freeway accident attorneys today for a free case evaluation, as you may be eligible for compensation.
Different Types of Accidents on the SR-15
The SR-15 has all types of driving challenges requiring drivers to be vigilant at all times. With many intersections, exits and entries, connections, and more, the SR-15 has many different points where accidents can occur if the driver is not careful.
Here are some of the different types of car accidents you can expect to see on the SR-15:
Head-on collision

Read end collision

Hit and run

U-turn collisions

And more.
What Are the Leading Causes of Accidents on the SR-15?
According to the National Highway Traffic Safety Administration, around 94% of accidents occur due to the driver's negligence or error.
In many cases, it is either distracted driving or drunk driving that causes accidents on the highway; however, there are other reasons, such as vehicle defects, construction sites and unavoidable obstacles, and more.
What Should You Do to Prevent Getting Injured in an Accident?
The majority of accidents on United States roads are preventable if the driver is extremely careful. 
Here are a few things that you should take note of to reduce your risk of getting injured in a car accident:
Wear your seat belt

Follow traffic rules and regulations, including speed limits

Exert extreme caution at intersections

Pay attention to pedestrians and oncoming traffic
There are many safety precautions you can take at your end to minimize the risk of an accident or getting injured in an accident, but what should you do if you get into one?
An Accident Occurred on SR-15. What Should You Do?
What a car accident victim decides to do next after a car accident plays an important role in the outcome of the personal injury case.
A car accident victim must take the following steps after getting into a car accident.
Call the Authorities
The parties involved in an accident must move their vehicles to a safe spot to ensure the safety of others on the highway. Remember, many people use the SR-15 daily, and having vehicles in the middle of the highway increases the risk of further accidents.
Once you've moved your vehicle to a safe spot, contact the local authorities. In this case, your best bet would be to reach out to the California Highway Patrol and then call up the insurance company to report the incident.
Law enforcement authorities at an accident scene file a police report with all the necessary details about the accident. This report is important when the victim decides to file personal injury claims.
Collect Evidence
Try to get as much information as possible from the accident scene. This includes taking pictures of the vehicles from all angles and also photographing the accident scene as evidence. Look around for any witnesses and take their contact information, as having witnesses can make your car accident case much strong. Take the insurance details, driver's license details, and the name of the negligent driver, as it'll help when filing claims.
Seek Medical Help
At times, a victim may not have any signs of an injury following an accident, but some injuries take a bit of time to appear. Also, doctors can only determine any internal injuries through medical examinations. Even if you're feeling fine, head over to the nearest medical center for an examination and medical report. These are important when looking to retrieve compensation for medical bills.
Get an Experienced Car Accident Attorney
After your trip to the medical center, contact an experienced car accident attorney for legal advice. Our personal injury lawyers at Ehline Law offer free consultation and legal advice to all car accident victims. You need an attorney to help you with filing claims and dealing with the insurer, and what best way to do it than have a leading personal injury law firm at your back?
Is It Necessary to Hire a Car Accident Attorney After a Serious Car Accident?
A car accident is not the only problem to worry about, as dealing with insurance companies can pile on the stress. In fault-based states like California, you need to prove the fault of the other negligent driver to be able to get the compensation you need to pay for your medical expenses, lost wages, and more.
Our auto accident attorney can help take on your case, navigate through the claims process, and negotiate with the insurers for fair compensation. Insurance companies are notorious for forcing car accident victims into accepting low settlement offers. However, these barely cover any medical bills leaving the majority of the financial burden on the victim's shoulders.
Our experienced attorneys make sure that you get fair compensation for your car accident injuries so that you can return to your normal life.
More About Our Award Winning Law Firm
Ehline Law is a personal injury law firm that protects the rights of accident victims by giving them the best possible legal representation.
Our firm has had over 3,000 successful clients and recovered more than $150 million in compensation. We have more than 15 offices across California providing legal services to Los Angeles County, San Diego County, Orange County, and other nearby counties.
We remain steadfast in providing the best legal help to car accident victims and maintain a strong and positive attorney-client relationship. Our car accident lawyer will help recover compensation while you rest and let your injuries heal.
Contact Our I-15 Car Accident Lawyers for Legal Help!
If you got into a freeway car accident that was not your fault, contact us at (213) 596-9642 and get a free consultation with the best car accident lawyers in California. You can also contact us for legal advice on I-15 car accident cases now using our convenient online contact us form.
---
Michael Ehline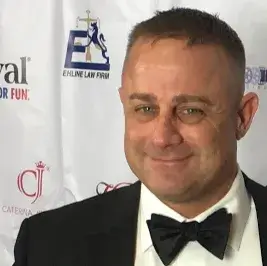 Michael is a managing partner at the nationwide Ehline Law Firm, Personal Injury Attorneys, APLC. He's an inactive Marine and became a lawyer in the California State Bar Law Office Study Program, later receiving his J.D. from UWLA School of Law. Michael has won some of the world's largest motorcycle accident settlements and he can help you get the compensation you deserve for sure.
---
Recent Personal Injury News
Check out news about the most recent freeway accidents and more, including the famous, infamous and everyday people wounded by at fault parties around the world. Follow us on social media to learn more.