If we don't win, you don't pay.
Speak to the Attorney.
Born to serve.
633 W 5th Street #2890
Los Angeles, CA 90071
(213) 596-9642.
Date Modified: June 16, 2023
Legal Support for Fall Accident Victims Across California.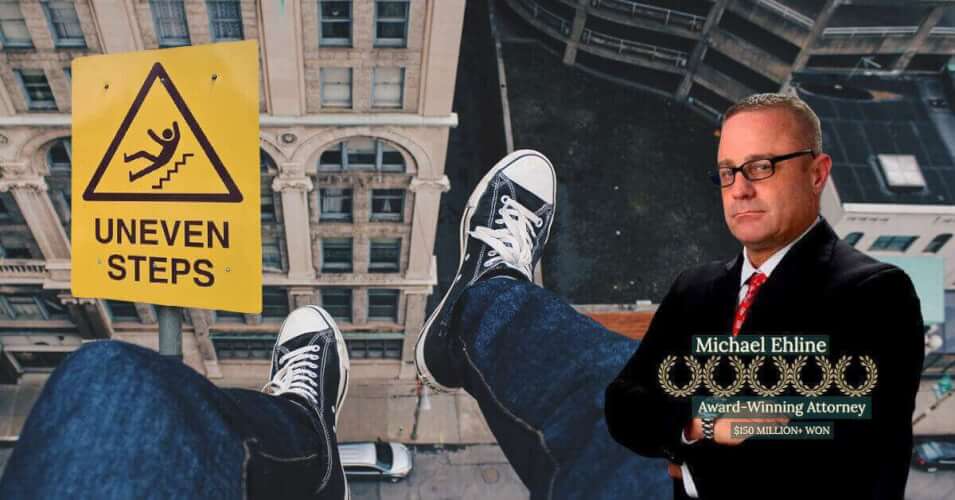 Tell Us About Your Torrance Slip, Trip, and Fall Case
Our Slip and Fall Lawyer sues the building owner or creator of the danger. We Fight For Slip and Fall Claim Accident Victims in Torrance, CA.
Ehline Law Firm Personal Injury Attorneys, APLC
3838 W. Carson Street, Ste 334
Torrance, CA 90503
torrance@ehlinelaw.com
(424) 999-PAIN → (424) 999-7246
Slip and Fall Accident Attorney
Our trial lawyers help brain injury victims or other plaintiffs after a slip and fall accident. Unfortunately, insurance companies or property owners often treat slip and fall accidents as fraudulent, especially with their big box store clients.
Property owners and their insurance companies have long used propaganda to dissuade juries from awarding financial compensation to Torrance slip, fall, or tripping accident victims. But failure to fix a hazardous condition in a premises liability case is no joke.
Under California law, grocery stores, hotels, homeowners, and other business owners owe customers a reasonable duty of care to prevent an injury case or wrongful death from occurring or risk becoming defendants.
Ehline Law Firm's experienced Torrance personal injury attorneys have helped thousands of plaintiffs, including fall victims, receive monetary damages for fall injuries. In addition, our trial lawyers have recovered significant settlements and verdicts as compensation on a contingency basis (no fees unless we win a financial recovery).
Our top premises liability attorney at our law office is available 24 hours a day, seven days a week, to answer all questions about your case. In addition, we'll provide you with the free legal advice victims need in the local community. You can protect your case by seeking our award-winning legal counsel for legal support in slip and fall accidents.
What Should Clients Expect From Our Slip and Fall Lawyer?
Ehline's Personal injury attorneys:
Offer FREE, no-fee consultations to clients needing help with premises liability accident cases.
We provide clients a no-win-no-fee promise in all slip and fall accidents (Contingency fee attorneys)
We'll handle your insurance adjuster settlement negotiations for all slip and fall accidents or other premises liability claims.
Contact us if you've suffered a falling accident on another person's property and are looking for legal help because they did not maintain their property to code or it has hidden dangers. The most experienced slip-and-fall lawyer can recover compensation costs for the losses you deserve. Don't let slip-and-fall accidents go unresolved. Call us today at (424) 999-7246.
$150,000,000+ RETRIEVED FOR WOUNDED CLIENTS
SINCE 2005 OVER 3000+ CLIENTS
SLIP AND FALL ACCIDENTS ON A CONTINGENCY FEE BASIS
CLIENTS TRUST US!
WE HAVE OVER 15 CALIFORNIA LOCATIONS!
24-HOUR PERSONAL INJURY LAWYER
CLIENT-FOCUSED 360° CONCIERGE SERVICE
PLUS 5-STAR-HOSPITALITY.
What Makes Ehline Law Firm Injury Lawyers Different?
We are premises liability, law experts. We'll hold private property owners liable for paying a patient's medical bills and related medical expenses.
We are proficient at suing government agencies for any dangerous condition on government property or building code violation causing Torrance slip and fall accidents like inadequate lighting, and you slipped and fell.
Our partners have won clients over $150 Million in verdicts and settlements, many of whom were injured in slip and fall accidents or related injury claims.
Our top attorney has received peer recognition from the LA Times, CNN, AVVO, Newsweek Magazine, ABC, Forbes, and NBC news.
We offer convenient meeting places throughout California, including So Cal and Northern California.
Our lawyers go above and beyond our duty. We'll come to you anywhere in the United States to discuss all case elements for accidents caused by a business owner at sports arenas, parking garages, and gas stations: Grocery store aisles, swimming pool areas, or even a public sidewalk.
Claim A Free Consultation From Fall Accident Attorneys Today
Claiming a free consultation for your slip and fall case or other premises liability claims is easy. You can use our online website contact form. In other words, enter your email address. Victims can also request a case review for all slip-and-fall accidents by calling our phone number at (424) 999-7246.
What Do Past Client Testimonials Say About Our Law Offices?
"I've worked with Mike on a number of issues and find him to be very professional and helpful. I never had a problem that he couldn't steer me in the right direction. Appreciate his help."
-Matthew Avitabile
"I would recommend … to anyone looking to win their case. Also has a wonderful office you can easily access off Pacific coast highway with no problems whatsoever."
-Alfredo D.
"Amazing! Michael fought for me and got me the best possible outcome. He communicated with me and kept me informed of everything happening. I couldn't have made a better decision going with Michael…"
-Edward M.
"I contacted this firm for information about a terrible work-related slip and fall [accident]… If I am ever in any other type of accident and need a lawyer, I will call on them again."
-Andrew R.
Free Consultation
---
Parties Involved in Falling Incidents Can Schedule An Appointment Today For A Free Consultation. Provide the information below about any slip, trip, or fall cases.
Comments. Please message us from anywhere in the State of California. The toggle navigation menu can be sued to describe your case with detailed information about any dangerous premises involved. * All Fields Required. Please include your first and last names, email addresses, and phone numbers. This field is for validation purposes and should be left unchanged. Compatible with internet explorer, Firefox, and Google Chrome. Learn about money damages today.
"Mike is a consummate professional… He is prompt at picking up and returning phone calls and is very knowledgeable about the ins and outs of what to do if in a car accident. From a client service standpoint, he's great because he takes his time and is reassuring … I would strongly consider going with Ehline and his people."
-Ellen C.
"I was severely hurt in a Los Angeles motorcycle accident and called Michael at Ehline Law Firm Personal Injury Attorneys, APLC. Michael and Irene helped me every step of the way…He also took steps to find surveillance video of the accident scene. Also, Ehline helped me understand the legal process and my rights… I would hire them again."
-Kevin G.
How Will Our Slip and Fall Lawyers Hold Property Owners Liable to Pay For Maximum Compensation?
A slip or fall in Southern California can lead to severe injuries, including broken bones, cuts, trauma, or even disability. Yet, falls are the leading cause of non-fatal injuries nationwide, whether minor or severe.
With over 30 years of experience, our Torrance slip and fall attorneys remain successful in securing satisfactory settlements for people harmed by a slip or fall. Our premises liability attorneys have won significant verdicts and settlements against shopping malls, local grocery stores, and other property managers. Even if you fall into a government building, we can help.
Don't let the shopping center or insurance adjusters off for falling injuries you suffered on someone else's property.
You may be entitled to compensation for your slip and fall accidents. We proudly serve all localities surrounding LA. So let our Torrance slip-and-fall law firm help you get a fair settlement offer.
Slip and Fall Accident Statistics
According to the U.S. Centers for Disease Control and Prevention (CDC), 9 million people annually experience a fall injury. (https://cdc.) Every five minutes, a victim is treated for injuries after slipping at work or home.
According to the National Floor Safety Institute, nationwide falls are the leading reason for ER visits (21.3%). Slips and falls account for over 1 million urgent medical care hospital visits or 12% of total falls. (https://nfsi.org/nfsi-research/quick-facts)
Did you know that more than a million people in the U.S. were treated in hospitals last year for tripping and falling injuries in homes and other properties? One out of five falls resulted in broken bones or a head injury.
Tripping and falling account for:
Over 800,000 hospitalized patients with hip fractures or broken skulls
Most brain injuries
95% of hip fractures (usually from a sideways fall)
$50 billion in medical expenses, including physical therapy, that Medicare and Medicaid primarily fund (by 75%) (Source.)
One can see why property owners should take their duty of care and responsibility seriously and take sufficient measures to prevent the risks of these situations.
According to the California Department of Public Health (CDPH), at least 768,536 slip and fall cases co-occurred. (https://cdph.ca.gov) Injuries from slip-and-fall accidents can be severe things to deal with, even fatal.
If you, your friend, or a loved one (husband, wife, etc.) were injured in an accident, call us, even if you think it was your fault. Grounds might exist for pursuing a premises liability case.
California Premises Liability Laws
The State of California has enacted the premises liability law to protect all consumers against negligent property managers, employees, and business entities allowing a hazard, dangerous behavior, or other conditions. The details covering consumer rights can be found in Civil Code section 1714(a).
What Are Some Common Injuries From Slip and Fall?
Records from courts show that most people older tend to hit their heads on a hard object when they fall. Elders with less strength remain less capable of bracing action following a fall hazard. Examples like spine/back injuries remain common kinds of damage after the distress of a slip or fall incident.
Typical examples of types of fall injuries in Torrance include:
Dislocated or broken shoulder
Traumatic brain injuries (TBI)
Other head injuries
Spinal cord injuries
Wrongful deaths
Severed nerves
A broken hand
Broken wrists
A broken arm
Knee injuries
Ankle sprains
Concussions
Hip fracture
Contusions
Bruises.
Common Causes Of Slip, Trip, and Falls
Falls on stairways cause up to one-third of all fail injuries in the U.S., which can result in a broken neck, spinal cord injury, or death claim. Lack of handrails on stairs or warning signs on wet ground can compound any falling risk, requiring medical attention.
Too often, spills and other short-term hazards are left behind on sidewalks, stairs, loose hospital bed safety rails, floors, and other complications. For example, poorly illuminated stairwells can result in a broken neck, related lifetime pain, and suffering damages.
Falling on uneven flooring or broken escalators can exacerbate a previous medical condition. Therefore, you must instruct the attorneys at our firm early about injuries you sustained to file your case efficiently.
Tripping on Bunched Up And Loose Carpeting
Any individual walking in public areas can have problems. For example, tripping on bunched-up and loose carpeting at a business, like a floor mat at an entryway, may result in trips or falls.
Construction Sites
Clutter on a job site from loose power/electrical cords may lead to a first or third-party insurance claim.
Slipping on a Wet Floor
Slip and fall injuries are a prevalent type of case during rainy weather, making surfaces slippery. Easy slip risk factors include melted snow or ice from machines or any substance making the floor wet or slick. It would help if, for example, you always looked for wet floor signs on walking surfaces.
Many property owners or building managers don't take the necessary precautions to warn of known dangerous conditions. Yet, we know the laws that protect you and your family from other people's negligence.
Our firm's top-notch slip-and-fall attorney has helped clients in Torrance obtain significant settlements and verdicts after a slip-and-fall or trip on a wet floor. Calling our phone number is the first step to understanding our duty of care and achieving a great result during these matters.
A Trip on Uneven, Misleveled Sidewalk Or Pavement
Our slip, trip, and fall, accident attorneys help consumers with premises liability cases and all severe injuries from slips. Over the past decade, Torrance has made a conscious effort to make its neighborhoods more walkable.
But the chances of Torrance residents falling remain great (with the city estimating there are about 4,500 miles of sidewalks), and many residents and guests sue when the municipality fails to maintain safe access ways, including any adjacent parking lot property.
Falls From Potholes/Cracks
This region's climate-controlled area of Southern California has a much higher number of potholes than other areas. They can be found on public streets, private parking lots, driveways, and pathways.
We know that as soon as you fall, the pain and stress of your injury may be overwhelming. Although Injury attorneys at many law firms turn down these hard-to-prove cases, we'll stick by your side till we recover the compensation you deserve.
Who Is Liable For Bills, And Expenses For My Slip and Fall?
The City of Torrance or Government: Sidewalk property owners are liable for the consequences of a slip and fall lawsuit.
Grocery stores: Food aisles like Ralphs, particularly with distracting signage or poor lighting, are famous locations for visitors to suffer a nasty fall.
Shopping centers: South Coast Plaza and Del Amo Mall have many staircases, elevators, and escalators. Poor or negligent maintenance upkeep can easily cause someone hospitalization with serious injuries or fatalities.
Other businesses: Places like Starbucks coffee are hot spots for slipping on hot, spilled liquids. Lowes or The Home Depot have smooth, concrete ground, often covered with debris, objects, and various drinks, not just water. Even parking lots are rife with potholes and bad lighting. No store is safe.
A slip and fall could cause serious injury when visiting the Torrance area. Our team of attorneys will make property owners and insurance companies pay the compensation that you deserve.
California Is A Pure Comparative Negligence State
How do you prove negligence when one or parties, including yourself, bear some degree of fault for causing the damages?
In California, you must prove that the other party acted negligently or with willful disregard for your safety. A judge or jury will apportion liability between negligent parties and those bearing no responsibility for damages sustained. "Comparative negligence" is assigned on an equal scale.
If one customer is 50% at fault and an organization is 50%, the judge or jury will divide the liability damage recovery payments in those percentages.
If you want more about justice for slip, trip, and fall accidents, call us today for a FREE case evaluation.
Steps To Take In Evidence-Gathering Tips For a Fall Accidents Slip Claims?
If you were injured by someone caused by negligence, you must gather evidence to hold the defendant accountable for the spill, defective walkways, etc. Evidence helps pay the full extent of your expensive rehabilitation.
Private Property Owner?
Ask the store manager for a slip and fall accident report if the property owner is at a grocery store or shopping mall. (Make sure to snap a picture of the information, as they are not obligated to give you a copy later).
Public Defendant Case?
If the at-fault party is a Caltrans or the City of Torrance, try to obtain a police report. This process helps document how your slip and fall accident case happened.
After these individuals talk with the victim, they should file a report and photograph the accident scene, including walking surfaces in office buildings. This information, including the name of any manager or witnesses, will benefit the victim in meeting their burden of proof obligation.
Because of this, the plaintiff can use photos, videos later, and statements to document the circumstances surrounding their case for use in court or insurance negotiations.
An attorney can demand the liable store owner or grocery store preserve pictures and video footage evidence. If injured, The best thing someone can do is call a slip-and-fall attorney with high ratings immediately.
You should hire someone who specializes in recovering damages from slip-and-fall accidents. During a free consultation, we'll discuss your future well-being and options covering the nature of your condition.
What Damages Can I Recover For My Torrance, CA Slip, Trip, and Fall Claim?
We can represent you and your family to recover medical bills, surgery costs, lost wages, diminished earning capacity, pain, and suffering. We'll insulate the grieving plaintiff after a slip and fall fatality on someone's property. We'll fight hard for every penny the plaintiff is owed as compensation, even for so-called "soft tissue injuries."
Our past clients highly recommend us for a reason. Our best slip-and-fall lawyer holds your hand every step of the way to get you back on your feet, pursuing the compensation you deserve. Put our aggressive representation to work for anyone.
Don't Blow The Statute of Limitations
California has laws telling plaintiffs and their slip-and-fall attorneys the time frame anyone may sue for hazards before their injury claim is time-barred. This law is called the statute of limitations.
Be careful because anyone without an attorney will be lulled into a false sense of security by the insurance company during settlement negotiations in all premises liability cases involving slip and fall injuries. Cheap talk is used to create an environment of failure. Don't allow this situation to happen. Instead, do your part to protect your body and your life.
We believe the deadline to begin litigation should extend in cases with this delay factor. After all, your loss is not the priority of the property owner's insurance company. In these challenging scenarios, trial lawyers with experience and expertise remain crucial to legal representation for you, your loved one, or another person.
Call the Best Slip & Fall Attorney In Torrance At Ehline Law Firm For Assistance Today
If you've slipped, fallen, or tripped when your shoes got stuck in a pothole or slid on a slippery floor surface, don't hesitate to call our experienced Torrance slip and fall attorney group. Our team has a proven track record of successfully representing people in any Torrance slip and fall accident for over thirty years.
Our slip and fall lawyers are available 24/7 to discuss your accident and slip and fall injuries. If you or anyone else suffered injuries in an accident, contact us at (424) 999-7246. Include medical information to help us evaluate the severity of your claim. Schedule your free and 100% confidential accident case consultation today.
Michael Ehline is an inactive U.S. Marine and world-famous legal historian. Michael helped draft the Cruise Ship Safety Act and has won some of U.S. history's largest motorcycle accident settlements. Together with his legal team, Michael and the Ehline Law Firm collect damages on behalf of clients.
We pride ourselves on being available to answer your most pressing and difficult questions 24/7. We are proud sponsors of the Paul Ehline Memorial Motorcycle Ride and a Service Disabled Veteran Operated Business. (SDVOB.) We are ready to fight.