If we don't win, you don't pay.
Speak to the Attorney.
Born to serve.
633 W 5th Street #2890
Los Angeles, CA 90071
(213) 596-9642.
Date Modified: September 8, 2023
Torrance is a major commercial shipping artery near San Pedro and the Port of Long Beach.


Commercial truck accidents in the surrounding area leave victims from all around the world in need of legal assistance, and we fill that space!
Ehline Law Firm Personal Injury Attorneys, APLC
3838 W. Carson Street, Ste 334
Torrance, CA 90503
torrance@ehlinelaw.com
(424) 999-PAIN → (424) 999-7246
Discerning accident victims already know they shouldn't have to direct a Torrance truck accident case by themselves. Beyond this, a non-lawyer should not have to handle documenting out-of-pocket expenses, and medical charges, and storing official documents without breaking the chain of custody. Beyond this, dealing with a deplorable insurance adjuster trying to hamstring negotiations will take years off your life emotionally.
The last thing you need is some out-of-state marketing company making false or misleading promises to you online while pretending to be a reputable Torrance truck accident lawyer in California.
Ehline Law Firm Provides Industry Average Fees With Above Industry Average Results With Honor and Integrity, NOT Gimmicks
We Help Clients Get The Medical Care and Financial Compensation They Deserve
Choose an experienced Torrance truck accident attorney from Ehline Law. We work for you and you alone. We won't try selling you case funding loans or some other scam to separate you from your settlement. We won't tell you we will waive our costs in violation of ethics laws either.
Instead, we combine our thorough, world-class understanding of truck safety regulations and local laws while maintaining a focus on your unique needs and stating ethical. Let's build trust and then build the strongest truck accident claim from the ground up. Let's hit the ground with our feet running.
Tips:
Be wary of lawyers offering 10% less in fees than the industry average, and look at their disclaimer.
Ask yourself how a law firm can do a good job and stay in business in the overregulated, overtaxed State of California without sacrificing quality of results.
Ask yourself if the promise applies to the lawyer they refer the case to.
Ask yourself if they will take some of the lien reductions to compensate for their loss.
Savvy clients can hire a proven lawyer who doesn't play games to steal cases from local counsel in Torrance. Just try calling Ehline Law Firm and get the straight scoop.
We can help you receive the medical treatment you need and the maximum compensation you deserve. You also don't need to stress about attorney's fees. We take zero fees unless we win. Our proven reputation gives us well over a 98% success rate. Contact our expert Torrance truck accident lawyers for a free consultation with 24/7 access.
Hawthorne Boulevard (424) 999-7246
Why Past Clients Chose Our Mighty Team?
We have recovered over $150 Million in Compensation In Settlements and Court Verdicts.
Our law offices have many meeting places throughout California, including Long Beach, Fresno, Rancho Cucamonga, and Sacramento locales.
Our firm is committed to ensuring justice with the highest compensation possible in all truck accident cases.
We won't be intimidated by large corporations or aggressive actions by legal insurance defense teams.
Our injury attorneys offer 'contingency fee basis representation.' (You will be charged nothing for our legal services. You owe us nothing unless we win your truck accident claim).
We will give you personal attention, meet your individual needs, and direct your course until the case results positively.
Our caring, compassionate, and mighty truck accident attorneys in Torrance understand you need to focus on restoring your health. Besides, most commercial trucking companies have dedicated defense lawyers as their legal represent an entire industry devoted to fighting people like you. But you will typically get stuck with a less qualified attorney with great radio ads and expensive billboards.
Many of Our Cases Were When Clients Fired their Bad Lawyer?
True. Clients don't like it when their Torrance truck accident lawyer pretends to be their friend and never returns calls. We know because many of our clients fired their lawyers after realizing they were con men with suits and multiple virtual offices.
Veteran Run Law Firm
Finding skilled truck accident lawyers just got easier because our Service Disabled Veteran Run Business (SDVOB) WILL maximize your settlement and alleviate your stress after you fire the wrong lawyer and choose us.
Gimmick Free Service
Our mighty team of LICENSED California attorneys won't falsely insinuate you save 10% or use some other gimmick that only applies to cases in Delaware or some other state. No, we are locals to the South Bay and don't sell prices; we sell better service. We don't demand you upload and share confidential HIPAA documents on a computer system shared by our potential competitors in other states.
Personable Service
Our best Torrance truck accident lawyer will deal with you directly to the final recovery. Even if it's a case outside our wheelhouse, when you seek legal support within our professional network, you already know we will use our USMC mentality to place you with crucial fire support we trust.
You will receive the following:
Ethical guidance
An easy-to-understand legal fee structure
Honesty and transparency throughout the entire claims process.
ON CALL 24/7
You must hire competent trial lawyers to get justice or a reasonable settlement after a truck accident that wasn't your fault. At Ehline Law, we help various victims who've suffered financial harm and pain after truck accidents in California. In furtherance of this process, we offer a RISK-FREE CONSULTATION at no charge to discuss your case and to see if we're a fit for establishing an attorney-client relationship.
If so, we'll provide quality representation to United States consumers and families injured by large semi-trucks. The trucking company and the truck driver may have significant insurance coverage for your injuries in a Torrance truck accident case.
You can battle with commercial insurance companies, adjusters, and their investigators. But insurers generally won't make a reasonable settlement offer to fully compensate you or a close loved one for total damages or expenses for Torrance truck accidents.
Our most qualified Torrance truck accident lawyer takes action for truck accident victims. We settle and litigate crashes with 18-wheelers and smaller tractors 18-wheelers. In addition, we have over 30 combined years of legal experience devoted to compassionately serving clients.
Established in 2005, the legal team and personal injury attorneys at our law offices have been in the business of helping consumers and families recover compensation from the trucking company. Our personal injury law firm has a time-tested track record for securing significant financial outcomes for clients with individual injury cases.
Statistics About Torrance Trucking Accidents
Traffic crashes involve one or more motor vehicles on a public road or highway. They do not include accidents that took place on private property. The terms "traffic crash" and "motor vehicle traffic crash" are interchangeably used by the National Highway Traffic Safety Administration (NHTSA).
Trucks are known to inflict more severe injuries on their occupants than other types of vehicles. The larger they are, the more likely they will inflict wounds on the victims.
United States Truck Accident Statistics
There were 4,965 fatalities in crashes involving large commercial vehicles in 2020. This is a one percent decrease from the 5,032 deaths recorded in 2019. Most of those who died in these accidents were killed in other vehicles.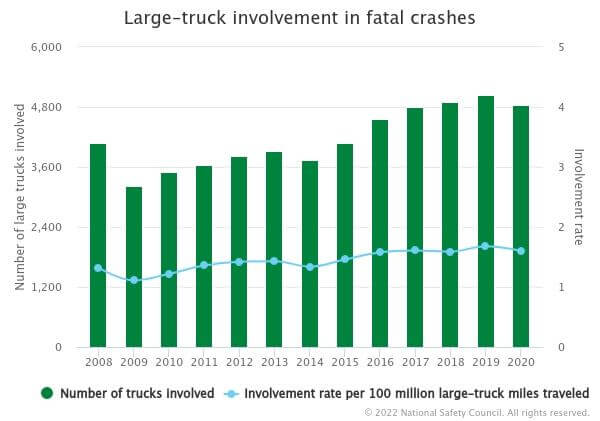 In 2020, about three percent of the drivers of large commercial vehicles involved in fatal accidents had blood-alcohol concentrations of over 0.08 grams per deciliter. This is lower than the BACs of other drivers of different types of vehicles, such as motorcycles, passenger cars, and light trucks.
The percentage of fatal crashes involving large trucks that have been previously recorded also increased.
The percentage of commercial truck drivers who had previously had their licenses revoked or suspended was lower in fatal crashes in 2020 than in other vehicles, such as passenger cars, motorcycles, and light trucks.
In California during this same period, 398 people died in truck wrecks. Source – NHTSA 2020
CGART National Safety Council https://injuryfacts.nsc.org/motor-vehicle/road-users/large-trucks/
Accidents involving trucks have increased significantly over the past couple of years.
Around 30% of these incidents were caused by defective tires.
97% of fatal accidents caused by large trucks involve passenger vehicles.
4% of fatal accidents were caused by large cargo trucks.
Passenger vehicle occupants are more likely to be killed in truck crashes.
Local SWITRS Data For Torrance Truck Accidents
From 2018-2020, the CHP and other agencies reported:
Total hits of 45
Real Victims: 0 Killed & 54 Injured
State Highway: 19 (42.2%)
Ped Crashes: 2 (4.4%)
Bike Crashes: 2 (4.4%)
Motorcycle Crashes: None.
Of the above-reported Torrance truck crashes, 33 cases (73.33%) involved serious injuries with "Complaint of Pain." In terms of when and where tractor-trailer crashes happen, trucking accidents can happen anywhere and anytime. However, most of these accidents occur outside of urban areas during daylight hours on weekdays.
This information highlights the importance of ensuring that commercial truck drivers are adequately trained and licensed to safely operate these large conveyances on the roads alongside a smaller vehicle or pedestrian.
Why Hiring A Torrance Truck Accident Lawyer Remains Important
As noted, after a big rig trucking accident, the trucking company's primary goal is to avoid liability or the risk of exposing its assets. But a commercial truck can be 30 times the weight of a typical passenger car. And despite carrying a higher insurance coverage (millions of dollars) than a standard passenger car, most trucking companies and potentially liable parties will never accept fault.
These Fortune 500 corporations will use their significant legal resources to honor their responsibility to shareholders (money/profits). When the facts show a breach of duty by someone liable, we put our services to work on your behalf.
Our top-notch trial lawyers will take the next step in protecting our client's interests. Our experienced truck accident attorneys have matching resources victims can put to good use, lessening your financial impact.
Your lawyer can build a strong case against the trucking company or liable truck drivers. We have the skills to help you prove legal liability elements using a combination of aggressive leg tactics.
We Don't Let Trucking Companies Settle For Less
None of our Torrance attorneys will let you settle for less than your case is worth during insurance negotiations. Our meticulous Torrance, CA lawyers will fight to recover maximum compensation from all at-fault violations.
The trial lawyers at our local office will take action to pursue all responsible commercial trucking companies and liable individual truckers. We'll get you the best result for every one of your serious injury claims. It all starts with a free consultation with a member of our team.
Common Causes of Truck Accidents?
Large semi-trucks and heavy truck traffic are a deadly combination. These conditions can lead to an auto accident, severe, catastrophic injuries, or a wrongful death claim.
Truck drivers are professionals bound by state, local, and federal safety regulations to keep everyone safe. Sadly, data suggests that overregulation has caused many truckers to ignore other traffic laws. Hence, truck drivers may work off the clock without adequate sleep, making them easily distracted or unalert when navigating the freeway or state highways.
For example, when a truck driver fails to follow road rules or comply with trucking regulations, car accidents happen, harming individuals and creating horrific challenges and costs for society.
Bad Trucking Is Negligence?
Driving a vehicle of such great size and weight poorly can cause an accident. This poor driving, significantly speeding by these motorists, remains among the most common types of negligence. The wrongdoers, possibly multiple parties, must be held liable when they drive recklessly while making deliveries around Torrance.
But to file a truck accident lawsuit for this negligence, your trial lawyers will spend thousands of dollars out of pocket to provide this service.
Here are some typical negligence factors causing trucking accidents or death claims:
Truck driver fatigue (falling asleep behind the wheel after being forced to work beyond legal limits to meet unrealistic delivery deadlines)
Failing to load or properly tie or strap down cargo freight material and goods, causing loads to shift or become dislodged during transit
Truck manufacturer negligence for creating a defect, faulty equipment, parts, or failure to warn of vehicle defects may cause a truck to lose control, leading to jackknife rollovers.
Trucking companies refusing to comply with weight restrictions
The truck driver failed to notice motorcycles or was unable to look for blind spots, resulting in fatalities
Truck driver error from stop-and-go behind the wheel
Stop-and-go traffic on the highway or freeway, including road conditions on a surface street
Unsafe tire shaving/carving and retread practices
Drunk driving (alcohol influence or drug use by the truck driver)
Poor truck maintenance
Hit-and-run accidents
Jackknife accidents
Defective brakes
Sideswipes
Blind spots
Poor roads
The above are a few examples of truck accident causation types. Our truck crash lawyers offer vital resources and legal services for getting a maximum compensation settlement from negligent drivers, no matter the severity or reason the other side gives to Worm out of liability.
FUN Fact: Some people can sue the trucker and their bosses directly.
Other Issues With Dangerous Truck Accidents?
We can also help with truck accidents on private property, including parking lots, docking/loading bays, or business warehouse collisions with cargo loaders and forklifts, etc. (Ex: vehicle and cargo damage and natural environment pollution.)
Ehline Law Torrance understands the importance of holding negligent parties accountable for violating safety regulations with this kind of impact. You came to the right place for assistance after your tough and unfortunate losses.
What Are Some Common Truck Accident Injuries We Take
As we just discussed, various reasons can lead to significant truck accidents, devastating those in smaller vehicles. A passenger vehicle colliding with other vehicles will likely have a much different outcome than one involving significant truck accidents.
If you compare similar minor crashes with passenger vehicles, deaths, and severe injuries from a long haul 18-wheeler or tractor-trailer accident are increased. You may have suffered a brain injury or broken bones suffering intense pain or memory loss.
Common long-haul commercial truck driver accident injuries our skilled professionals take include:
Broken bones/fractures and crushed long bones
Mild Traumatic brain injury (MTBI)
Neck and spinal cord injuries (SCI)
Traumatic brain injuries (TBI)
Wrongful death claims
Back injuries
Comatose.
Heavy hauler payload spills can cause victims to suffer disfigurement and paralysis-related injuries. A semi-truck accident injury victim might get truck operators burned alive, while others may endure minor injuries. (Ex: scrapes, cuts, or bruises).
If you or a loved one got injured in a Torrance, CA crash, consult an experienced commercial truck accident attorney. These professionals can protect the rights of the wounded truck accident victim.
Trucking Companies And Others Liable To Pay Compensation to Truck Accident Victims
Truck companies in Torrance and their wheel truck drivers are typically the at-fault parties responsible for preventing significant truck accidents. Those in the trucking industry should make use of programs to avoid negligence. These parties should establish policies and procedures, like performing regular inspections of trucks, hiring adequately trained employees, and following federal regulations. Sadly, obeying laws and avoiding lawsuit verdicts or losses isn't always the goal of the transport company.
If not, they will generally be vicariously liable to pay those who file a negligence claim. These parties will be held accountable to pay total and fair compensation. The at-fault party, including an independent contractor and negligent employees, may be liable to pay for any property damage or bodily injuries.
The trucking company would be liable for an accident caused by a truck driver, cargo loader, ground controller, or other trucking company employee. So if you suffered an accident with a big rig, it's always wise to go after the company rather than just the driver.
At Ehline law firm, we have also handled truck accident claims in Torrance with third-party defendants. Third parties like employers may not be directly involved in the collision but still face liability for accidents caused by their trucks and lack of proper safety protocols.
Defective Parts And Truck Accidents?
One typical example is a manufacturer of heavy trucks or a heavy truck manufacturer that produces defective braking systems. Other defendants could potentially include the City of Torrance, another motor vehicle driver. An experienced Torrance truck accident attorney from our office can help you determine fault and assign liability for any disputed question placing your safety at risk.
What Is The California State Statute of Limitations For Truck Accidents?
Regarding your Torrance accident claim, time is never a luxury in most cases. Under California law, an accident victim typically has a two-year time limit from the date of negligence claim to sue in civil courts unless an exception applies or a government agency must be held responsible. If you are suing an employer, you must bring a claim under other provisions, and mistakes are common.
The California statute of limitations may expire before you can file a suit against the truck company. Because of this, California Superior courts might dismiss your claim. Do not waste any time following a big rig accident. You or your close loved one should contact a truck accident attorney in Torrance today. We also maintain multiple easy-to-find, pressure-free locations in Northern California and the Central Valley if you were involved in a truck accident there.
What Types Of Compensation Damages Can Truck Accident Victims Recover?
Many financial compensation types are available to you or a loved one from people who cause a big rig truck accident. How much your case is worth depends upon many factors, including witness statements identified in the police report by Torrance PD, the LA County Sheriff, or CHP. Additionally, medical bills and stress mentioned by your doctor in hospital records will increase your chance of a significant economic recovery.
An award of financial damages could cover a wide range of losses in your trucking accident case. It starts when our charismatic, caring office staff speaks to potential clients for the first time about their cases.
When you discuss your case with our top-notch Southern California personal injury lawyers, before we file a damages claim, we will explain your right to recover:
Special Damages
All lost past, present, and future medical expenses, therapy care, and treatment costs.
All lost past, present, and future wages, including lost wages, contracts, and earning capacity.
Personal property damage (broken laptop computer, etc.)
Vehicle property damages, including diminished value
Life-altering disability care attention and job retraining costs
Out-of-pocket costs, including car rental, charges our clients may incur.
General Damages (Non-Economic Damages)
You can seek past, present, and future pain and suffering damages.
Punitive Damages?
Courts sometimes award extraordinary damages so that evil, cringe-worthy conduct can be punished. Courts seek to prevent similar extreme recklessness, gross negligence, or intentional behavior using this award. Punitive damages are generally not covered by insurance companies and get paid out of pocket to the plaintiff.
Our clients are encouraged to discover general accident case value amounts during their initial free consultation.
For the most part, severe and catastrophic truck accident cases will receive more excellent compensation than minor claims. A judge or jury may award more damages for wrongful death, life-altering, or fatal personal injuries.
Our attorneys are not afraid to take insurance company claims to court if we believe it will better compensate the client.
Tips For Dealing With Legal Issues In The Aftermath Of A Trucking Accident in Torrance, CA?
The number one thing you must never do is tell your side of the story until hiring a legal advocate. Before we file a claim, our lead personal injury lawyer from our office will want to have as much supporting information* and evidence as possible before starting an investigation.
*Some of the most critical evidence can be obtained immediately after the crash.
You should call 9-1-1 to get a police report.
To the best of your ability, you should try to take photographs of the damage and the crash scene.
After the collision, the truck accident victim should document any trucks and the names of any drivers, including their phone numbers or email address.
You should also try and gather witness contact information.
Recover as much information as possible about the truck driver and trucking company, including insurance company information.
Any lawyer you hire will need this vital evidence to learn about the case quickly.
How Much is Commercial Truck Insurance in Torrance, CA?
The average cost of insurance for a commercial truck in Torrance, California, can vary significantly based on several factors, such as the size of the truck, its typical usage, the trucker's experience, and driving record with the DMV. The type of goods being transported will also dictate the costs of coverage.
A standard commercial truck insurance policy in California typically includes the following:
Liability coverage
Physical damage coverage
Cargo coverage.
Liability coverage is required under California law. This insurance is designed to provide essential protection if an accident causes injury or property damage to other people.
Physical damage coverage protects the truck itself, whereas cargo coverage provides financial protection for the goods transported.
Due to the variability of these factors, it isn't easy to give a general average cost for commercial truck insurance in California. Because of this, most victims will not know how much coverage is available from the liability portion, and the defendant has no duty to disclose overage amounts unless litigation is commenced. There may even be multiple insurance providers if parties were working in concert.
How Much Insurance Coverage Does Truck Insurance Afford Victims on Average?
The insurance coverage provided by a typical commercial truck policy depends on several factors, including the type of truck, the goods being transported, the amount of coverage desired, and the state where the trucking company operates. Commercial truck liability insurance coverage ranges from $750,000 minimum to $5 million. It's best to consult with a licensed attorney to understand potential coverage for your specific accident better.
What is the Average Settlement for a Wheel Truck Accident in Torrance?
Our firm only handles large commercial crashes, so the typical case we settle will be around $150,000. But Torrance truck crash settlements can vary greatly depending on several factors, such as the severity of the injury, the extent of any property damage, and how much insurance coverage or bond money is at risk. Additionally, many settlements are confidential, and we are not allowed publicly disclose them, as the trucking industry does not want injured people to know their chances in future cases.
Because of this, it's almost impossible to provide a specific settlement amount for average Torrance truck accidents. Settlements can be a few thousand dollars or range in millions. When you retain a Torrance truck accident attorney from our superior network of lawyers, an expert will evaluate your case and prepare your claim for optimum results.
Is Hiring a Truck Accident Lawyer in Torrance Necessary?
No. But should you hire a lawyer for your truck accident in Torrance? Yes! A skilled lawyer can help you recover the settlement you deserve. Lawyers from our robust network have the requisite experience, authority, and industry trust to evaluate insurance settlement offers, record any trucking safety violations (work with Cal-OSHA, etc.) and pursue all potential forms of financial recovery.
How Much Will It Cost Me to Retain Counsel Through Our Mighty Case Referral Network?
We only charge you if you receive a settlement, and our fee structure is based on the amount of money you receive from the final check. If you have a lawsuit, our post-suit fee is typically 40%, and we also negotiate your medical liens and other bills down, which often amounts to 10% or more of the original disbursement to you! We take no additional fees for this service.
Is it Ethical for a Lawyer Pretending to Practice Law In California to Say They Will Waive Their Costs?
Yes. It is illegal! Another reason to avoid marketing companies trying to sell case loan funding and get referral fees in CA is their inability to understand California law.
It violates California law for lawyers to advertise that they will waive a client's out-of-pocket costs, as this may be considered fee-splitting and unethical in the state.
Under California Rule of Professional Conduct, Rule 1-400, attorneys are prohibited from splitting legal fees with a non-lawyer or offering anything of value to a client to solicit professional employment. Additionally, the State Bar of California has issued formal opinions stating that advertisements promising to pay a client's out-of-pocket costs could be considered improper inducements to retain counsel.
We also don't tell you we will waive our out-of-pocket costs, as this is a violation of California law. Were you induced to hire your lawyer based upon a promise to waive your charges and lower the industry standard fee? You can fire your lawyer, hire us and sue them for professional negligence. Let's go! (See also State Bar Rules 1-100(B)(2) and 4-400 of the California Rules of Professional Conduct.)
What Be Will Working With a Truck Accident Attorney from Ehline Law Like?
After you've phoned us or filled out the convenient website email form, our personable representatives will contact you to hear more about your case. They'll work with you to obtain essential documents, including medical records and photos. We'll also assist you in establishing a treatment plan to help you get back on track, which may include a doctor who will work on a lien basis.
We will get involved when your medical bills are due. Our best lawyer will file a claim with your insurance company. Usually, reasonable settlements are reached, and if not, in turn, lawsuits may be filed through options available in the Circle of Legal Trust case referral network.
How Long Will It Take to Investigate My Torrance Truck Accident Claims?
The average time to settle a personal injury case could be several months or extend beyond a year or more. Your claim for a truck accident may vary because of communication issues between the parties involved or a novel point of law. It will depend on how complex the case and parties are to manage. Anticipate several months of tough negotiating with the insurance adjuster and the commercial trucking firms they represent.
What Happens After My Torrance Truck Accident Case Gets Settled?
After your case has been resolved, we take our contractual fee. Sometimes we may waive our costs, but ethically, we can never promise such as this to induce getting you as a client. We will honor any liens, keep you fully informed, and you keep the rest of the settlement. We don't make absurd promises about reimbursing you for 10% of your total expenses, which is also probably unethical as an inducement. We are mainly honest former military personnel, giving you a fair day's pay for a fair day's work.
How Can I Receive A Free Case Evaluation From a Torrance Truck Accident Attorney Today?
Our trial lawyers take all tractor-trailer crash cases in the local community on a contingency basis. Our world-famous, tremendously sought–after Torrance truck accident attorney charges clients no fees unless we successfully obtain compensation for plaintiffs or their family members. We also help truck drivers injured at work with any truck accident litigation. Don't hesitate to contact our prominent big rig accident attorneys today to request a free consultation with an experienced personal injury attorney in Northern or Southern California.
Dial our phone number at (424) 999-7246 to get a RISK-FREE CONSULT with our law group. You can discuss your legal rights after a truck crash with our most experienced truck accident attorney 24/7. Our best injury lawyers are ready to fight, and we will start our Torrance, CA, damages recovery investigation process immediately.
Ford Electric Truck Owner Hears 'Loud Pop' at Charging Station
---
Proudly serving the following Torrance zip codes: 90501, 90502, 90503, 90504, 90505, 90506, 90507, 90508, 90509, 90510. Our best lawyers can even help injured victims in Greater Los Angeles County recover damages from Long Beach to Orange County locations like Santa Ana to San Juan Capistrano.
Michael Ehline is an inactive U.S. Marine and world-famous legal historian. Michael helped draft the Cruise Ship Safety Act and has won some of U.S. history's largest motorcycle accident settlements. Together with his legal team, Michael and the Ehline Law Firm collect damages on behalf of clients.
We pride ourselves on being available to answer your most pressing and difficult questions 24/7. We are proud sponsors of the Paul Ehline Memorial Motorcycle Ride and a Service Disabled Veteran Operated Business. (SDVOB.) We are ready to fight.