If we don't win, you don't pay.
Speak to the Attorney.
Born to serve.
633 W 5th Street #2890
Los Angeles, CA 90071
(213) 596-9642.
Date Modified: June 16, 2023
Our Torrance Premises Injury Lawyer sues negligent and reckless building property owners. We Fight For Premises Liability Claim Victims in Torrance.
Ehline Law Firm Personal Injury Attorneys, APLC
3838 W. Carson Street, Ste 334
Torrance, CA 90503
torrance@ehlinelaw.com
(424) 999-PAIN → (424) 999-7246
While on someone else's property, you have the right to reasonable care and safety provided by the property owners and property managers. In California, landowners are generally required by law to protect you from obvious and hidden risks, including faulty property conditions that might result in a fall or other significant events. In a nutshell, property owners must provide a reasonably safe environment to visitors on their land and structures.
Our competent, charismatic Torrance premises liability lawyers at Ehline Law Firm offer an all-new free consultation if you or a loved one suffered an accident on someone else's property leading to serious injuries or wrongful death. One or more parties besides property owners may be legally responsible for compensating you and your family for any losses incurred due to the incident. Since 2005, we've represented thousands of happy customers, and we make our clients lifelong friends.
Our experienced premises liability attorney is a former licensed building contractor. His legal team has put his advanced knowledge of tort law and statutory building regulations about any unsafe conditions to work for his client's financial recovery.
After establishing an attorney-client relationship, Michael Ehline will battle insurance companies and any responsible property owner or controllers to garner his clients' maximum compensation for medical expenses, pain and suffering, and more.
Call for a free case evaluation from a top Torrance, CA, personal injury law firm today at (424) 999-7246 for free legal advice about your potential personal injury claim.
Why Choose Ehline Law Firm To Handle Your Premises Liability Claim in Torrance?
With more than $150 million recovered for clients since our inception, our Torrance, CA, premises liability lawyers have a proven track record of success. We strive to achieve the best possible recovery against negligent property owners on behalf of each client.
We provide out-of-town accident victims with the same level of service as those who live in Torrance or Orange County. We have 15 offices throughout Southern California to serve you in your battle against liable property owners.
For all premises liability clients, we operate on a contingency fee basis. So you can be confident you won't pay us any money until we win an award from the defendant in your Torrance premises liability cases on your behalf.
---
What Is Premises Liability and Why Should You Care?
f you are injured on someone else's property in Torrance, CA, the premises liability rules will apply to your case. The legal duty of care and upkeep that a property owner owes to their property is premises liability.
In California, property owners must use reasonable care to keep their premises safe. This is the same level of attention that a cautious property owner would exercise under similar circumstances. If a property owner fails to use the appropriate level of caution, they will be held financially responsible for any injuries caused by their negligence.
$150,000,000+ RETRIEVED FOR WOUNDED CLIENTS
SINCE 2005 OVER 3000+ CLIENTS
SLIP AND FALL ACCIDENTS ON A CONTINGENCY FEE BASIS
CLIENTS TRUST US!
WE HAVE OVER 15 CALIFORNIA LOCATIONS!
24-HOUR PERSONAL INJURY LAWYER
CLIENT-FOCUSED 360° CONCIERGE SERVICE
PLUS 5-STAR-HOSPITALITY.
How a Torrance Premises Liability Attorney Can Help
Unless you have a legal background or a track record of defending premises liability claims, you may not know how to seek reasonable compensation from property owners and their insurers in Torrance. A local attorney at Ehline Law Firm who has previously dealt with clients in premises liability claims can assist you.
Your Torrance premises liability lawyer can fight for just compensation if you or a loved one has been harmed in a premises accident. If you or a loved one has suffered severe or life-altering injuries due to another person's negligence, an attorney can answer your queries and provide you with peace of mind throughout your case.
Various Torrance Liability Cases We File Against Negligent Property Owners?
Many different sorts of incidents are covered by premises liability law in Torrance. Unfortunately, these accidents are all too prevalent. According to the National Floor Safety Institute, slip and fall claims alone send over one million individuals to emergency departments throughout the United States.
Ehline Law Firm Personal Injury Attorneys, APLC, has years of expertise representing those who have been hurt due to property owner carelessness.
We handle a range of premises liability claims in Torrance, California, such as:
Child injuries Elevator and escalator accidents
Collapse due to structural failure
Store or restaurant accidents
Amusement park accidents
Swimming pool accidents
Workplace accidents
Animal attacks
These are examples of typical mishaps that frequently result in premises liability claims. You may be able to claim after any accident due to negligent property upkeep in Torrance. A negligent property owner might create numerous hazards and risks of injury through lackadaisical property management.
Important California Premises Liability Regulations To Know
All parties are legally accountable for the consequences of their ordinary care or skill in property management and their willful actions, according to Civil Code 1714 of the State of California. The crucial phrase is "want of ordinary care or skill." This refers to the legal principle of negligence, which underpins most premises liability claims.
Negligence is defined as a failure to take reasonable care, resulting in harm to people. In premises liability law, the property owner's negligence refers to being aware of a potentially hazardous component on their premises but failing to take the required measures to remove it. The owner of the property would be held responsible for any injuries or losses caused by a defective product, for example.
A defendant's duty of care is partly based on the negligence doctrine. The duty of care is the degree of caution a reasonable and prudent property owner would use in similar situations. Whether a property owner has failed to meet their responsibility of care is determined by a number of factors.
The foreseeability of the injury, whether or not the owner was aware of the problem, whether the owner contributed to it, and the property owner's duty to reduce risk are all considerations in premises liability claims. If you have any further questions regarding premises liability laws in California, contact a local Torrance premises liability attorney.
In Torrance, Who Can I Sue If I'm Injured on Someone Else's Property?
If you are hurt on someone else's property in California, you can usually hold the individual, company, or entity in charge of managing the property legally liable.
The defendant in your premises liability claim will be decided based on the circumstances. In most situations, the person or business that owns, leases, occupies, or controls the property will be held responsible.
---
Parties Involved in Falling Incidents Can Schedule An Appointment Today For A Free Consultation with a Los Angeles personal injury attorney. Provide the information below about any slip, trip, or fall cases.
Comments. Please message us from anywhere in the State of California. The toggle navigation menu can be sued to describe your case with detailed information about any dangerous premises involved. * All Fields Required. Please include your first and last names, email addresses, and phone numbers. This field is for validation purposes and should be left unchanged. Compatible with internet explorer, Firefox, and Google Chrome. Learn about money damages today.
Property management company
Business owner
Tenant or renter
Big box store
Homeowner
Organization
Restaurant
Employee
Landlord
Retailer.
The above are all examples of the defendant in your premises liability claim involving public or private property. Legal responsibility may be decided in court, but often we can engage in insurance company settlement negotiations with the responsible parties and talk out a resolution.
In premises liability law, control over property is generally considered enough to hold someone accountable for an accident; the defendant does not have to own, occupy, and manage the property to be liable. The sort of property involved will determine the liable party in your situation; legal questions, such as whether you were renting it under a rental agreement at the time of the incident, also play a role.
When Is a California Homeowner Liable for Injuries?
In California, property owners are not always held responsible for accidents and injuries on their premises. However, they owe a duty of care to people who visit their properties. If you're an invitee, a landowner must search the environment lawfully for hidden dangers, repair any apparent building flaws, and inform you about potential hazards that may
There are some instances when you may not be held liable in California. If you were trespassing at the time of the accident, for example, you are not required to adhere to the same standards as invited visitors.
However, some form of communication may be required to warn trespassers of dangers around buildings, such as guard dogs, etc. A review of the facts by a competent personal injury attorney can help eliminate any questions and complications regarding the trespasser, invitee, guest, etc.
However, if the visitor were a minor under 18, the landowner would nevertheless be responsible for specific duties of care to keep the property safe. If your Los Angeles accident lawyer can show that the property owner violated your duty of care and this is why you were harmed, you might be eligible for compensation.
How Does Your Advocate Demonstrate Premises Liability?
To succeed in pursuing a financial settlement for your injuries and holding a property owner liable for your accident in California, you must first establish premises liability. In all civil cases, the injured individual, or plaintiff, bears the burden of proof. It is up to the plaintiff to show that the defendant's behavior was responsible for or missed prevent the problem that resulted.
In a civil claim, the burden of proof is a preponderance of clear and convincing evidence that establishes the defendant's guilt of at least 51% responsibility for the accident. During a premises liability case in Torrance, your liability lawyer must show that the defendant is more likely than not responsible for your injuries and losses.
Personal injury claims, including a typical premises liability case, require proof of four main elements under California law as follows:
The defendant was the person or entity who owned or controlled the property at the time of the accident. This point establishes that the party is, in fact, the proper defendant and their legal duty to maintain and sustain the property in a safe condition.
The defendant was irresponsible; they neglected to exercise the appropriate degree of caution as needed. Your status as an invitee, licensee, or intruder will influence a defendant's carelessness.
The defendant's carelessness was a significant or immediate factor in causing your injuries. The defendant breaches the duty of care. The property owner will not be held responsible if anything else caused the accident or harm.
You sustained compensable damages as a result of the premises accident. Finally, you must show that you were hurt or damaged in the incident. This might require evidence such as medical invoices, payroll stubs, and photographs of your injuries.
A lawyer can assist you in presenting your case by gathering evidence that may persuade a judge or jury to rule in your favor. Photographs, CCTV video, firsthand testimonies, accident reports, medical papers, letters from your doctor or employer, medical bills, pay stubs, and expert testimony are all examples of proof. On your behalf, a Torrance premises liability attorney is standing by 24/7 to take your call.
Are damages Available in Premises Liability Cases Against a Property Owner?
Different legal obligations of care may apply to a property owner based on your visitor status and the specifics of your accident.
Some of the most common premises liability accidents we see at Rose, Ehline Law Firm are slip and fall accidents at LAX Airport, escalator accidents, moving walkway missing digits cases, elevator accidents with small children losing fingers, dog attacks, swimming pool drowning events, toxic chemical exposure, burns from fires, severe electrocutions, structural building failure and collapses associated with a construction defect claim.
If you were hurt in any of these situations, you might have a case against the property owner and tenant of a leased facility for negligence.
Compensation available may include:
If you were hurt in any of these situations, you might be able to claim compensation against the property owner and tenant of a residential rental for carelessness.
Available Compensation Might Include the following:
Economic damages (Specials): These are the actual, financial, or out-of-pocket expenditures associated with your premises liability accident. They can include past medical charges, future medical therapies, physical therapy, rehabilitation, drugs, lost wages, property repairs, and legal fees. (Thing brain damage and costs of keeping a safe environment at home, etc.)
Noneconomic damages (Generals): The following are examples of the intangible physical and emotional losses incurred due to the accident. You may be eligible for compensation for pain and suffering, emotional trauma, mental anguish, trauma, inconvenience, lost quality of life, loss of consortium, scarring or disfigurement, etc.
Punitive damages (Extraordinary): In rare, complex cases, a premises liability lawsuit may result in a punitive damage award. Punitive damages punish an individual for egregious or irresponsible behavior, such as gross negligence. It is up to the court's discretion whether you are eligible for punitive damages in a premises liability case for a landlord's failure to keep a property in a reasonably safe condition or negligent security, etc., in your case.
You might be eligible for additional types of compensation if a loved one died as a result of an accident at premises in Torrance, such as the cost of a funeral or burial, the lost future income and inheritance, and compensation for the loss of the victim's love, support, and companionship.
Depending on their unique elements, premises liability claims have widely varying worth before and after litigation commences.
The amount of money you're entitled to receive in compensation is determined by several types of factors, including the degree of injury, the time it takes to heal, your income level, your age, your health status, whether you have insurance coverage, and what actions or conduct on the part of the defendant.
Statute of Limitations Deadline for Premises Liability Claims in California
A stringent statute of limitations governs all premises liability claims in California to bring timely action. This is the length of time a victim has to bring a lawsuit after you identify the injury and the hazard that harmed the victim. Staying on top of your statute of limitations is critical, as the courts tend to dismiss cases filed after it. There are only a few exceptions to the rule, and you will typically only have six months to file a government claim against liable entities after the injury occurred.
In California, a dangerous condition/premises liability case has a two-year statute of limitations from the date of the accident (California Code of Civil Procedure Section 335.1). In most situations, you must file your claim within two years after the incident to have grounds for a viable lawsuit. If you did not discover your harm until after the statute of limitations, your legal options!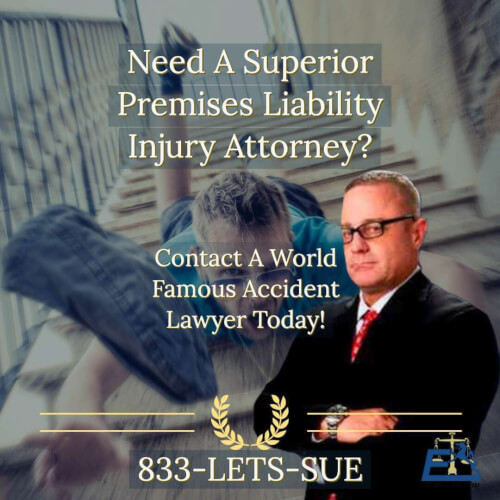 Schedule a Free Consultation With Premises Liability Attorney in Torrance Today
Our Torrance premises liability attorneys can assist you and your family seek fair compensation for a property owner's negligence or carelessness. For decades, we have helped accident victims with personal injury and wrongful death claims. During a free consultation with a qualified Torrance premises liability lawyer at our local law firm, you can discuss the dollars you think your case is worth.
Injury victims can call an experienced attorney at (424) 999-7246! Feel free to use our hassle-free website contact form for faster service where telephone service is not optimal, etc.
Call now before the injured party waives their right to recover compensation from a reckless or careless property owner under the statute of limitations.
We'll ensure the liable party is held legally responsible for any dangerous condition or problem when you put our vast years of experience to work for you.
Michael Ehline is an inactive U.S. Marine and world-famous legal historian. Michael helped draft the Cruise Ship Safety Act and has won some of U.S. history's largest motorcycle accident settlements. Together with his legal team, Michael and the Ehline Law Firm collect damages on behalf of clients.
We pride ourselves on being available to answer your most pressing and difficult questions 24/7. We are proud sponsors of the Paul Ehline Memorial Motorcycle Ride and a Service Disabled Veteran Operated Business. (SDVOB.) We are ready to fight.