Gas tanks help make modern life possible. However, in densely packed cities, the chances of a gas explosion increase, especially with motor vehicles idling in traffic on a hot Southern California day. Additionally, the risk of severe gas explosion injuries or death is ever-present with a diesel or refined gas explosion.
If we don't win, you don't pay.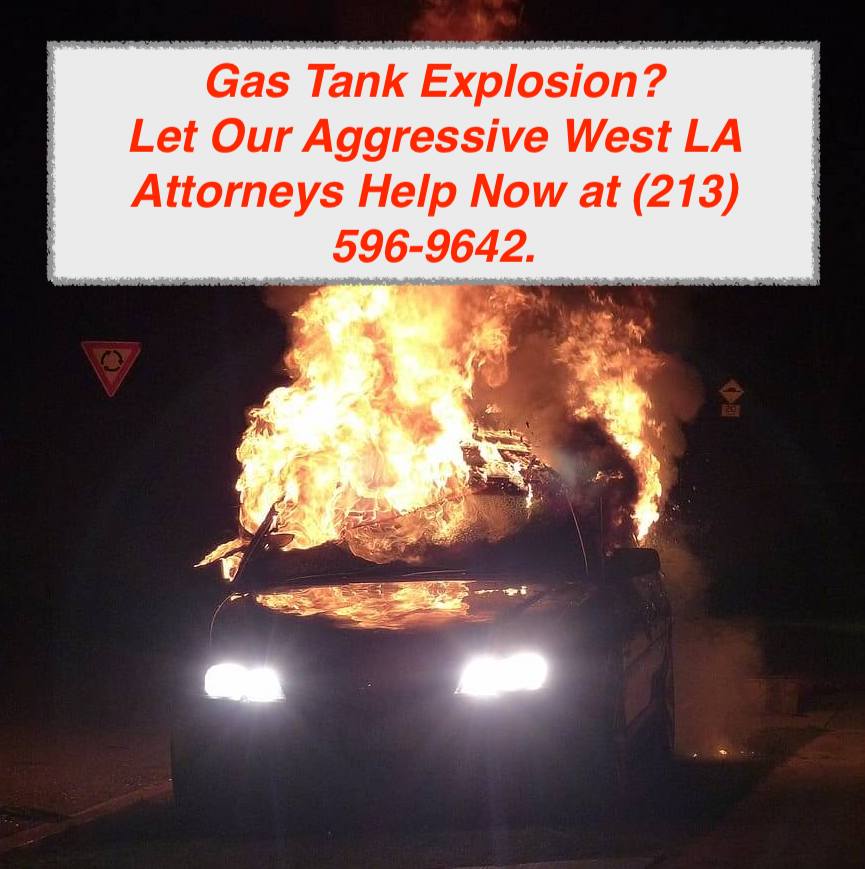 Did Your Car Engine or Gas Tank Explode, Injuring You?
BOOM. We help Los Angeles gas explosion victims in cars. When faced with such an event during a car accident, knowing what to do or how to recover can be daunting. The gas explosion accident could be due to many factors, requiring an investigation to make those responsible pay you for property damage and any medical bills for painful, burn-related surgeries, etc.
Some factors include mechanical or maintenance defects or too high or low octane added to the fuel mixture by the gas company leading to various gas explosions and fires. The award-winning Ehline Law Firm has dealt with car accident cases like this since 2005. So our highly rated personal injury attorney in Los Angeles can use our experience and skillful negotiating tactics to help injury burn injury victims who were blown up in a vehicle explosion.
What Car Designs are Known For Faulty Gas Tanks?
There could be many reasons for faulty gas tanks in automobiles exploding. These could be due to the defective manufacturing of the container itself or its poor design. So these are among the most common causes.
Examples would include:
Improper mounting of the fuel tank to the vehicle. These can usually get traced to the design stage. Defective designs mean building a product not suitable for its intended purpose yet negligently placing it into commerce. So here, gas tank mounts themselves could be the cause of the explosion. Maybe these devices were weak or constructed of inferior metals.
So can you see now that the design and manufacturing of the tank and its apparatuses are among the top reasons for the gas tank explosion?
These are major causes of severe personal injuries.
What are the Most Common Injuries from Exploding Vehicles?
Injuries from exploding gas tanks can be incredibly catastrophic.
These injuries can include:
Burns,
Melting skin (can lead to the inability to sweat),
Permanent nerve system damage,
The chronic, continuous pain,
Wrongful Death.
A case like this means accident victims are worrying about a lot more than a typical back injury. No, gas leaks and car explosions in locations like Los Angeles County can up the ante considerably. But even surviving gas explosions can mean significant physical trauma and scarring, including horrific, ugly disfigurement with years at the burn treatment center.
Questions will come up like, "did the automaker employees follow proper safety standards?" Or victims might ask: "Will the insurance companies pay full and fair compensation?"
---
Why is Melted and Charred Skin a Serious Issue?
Important: These types of injuries from gas explosions could lead to many surgeries. This includes plastic surgery, reconstructive surgery, and skin grafts. These injuries are particularly severe when faced with this kind of fire and explosion. The right gas explosion attorney for your location can help gas tank explosion victims get in touch with proper physicians and restitution from insurance companies to help these hurt individuals pay for various medical bills and associated medical expenses post-car accident.
---
What of the Manufacturing and Design Defect Case Studies?
There are many case studies of automobile manufacturing defects. This includes the original cases of poorly designed placement of gas tanks discussed here.
These defective vehicles can include:
Your favorite pickup trucks
Ford Pintos
Crown Victoria.
But many other types of conveyances are at risk of being set aflame from an inherent defect or failure to warn the end-user and others about defective gas lines, where gas pipelines to fuel tanks can crimp or fail, leading to a deadly explosion injury in Los Angeles County, CA. Typically gas companies can be held liable for home gas leaks and explosions. In contrast, auto manufacturers are often made to pay for a gas tank explosion in a motor vehicle case.
Important: The design of these vehicles places the fuel tank in a vulnerable position.
This risk also includes the following:
Saddlebag tanks in trucks outside the frame can make the vehicles susceptible to side and rear collisions, causing explosions.
The Pinto and Crown Victoria had become known for tanks that explode on impact even when no gas leak was present. Because mounting the gas tank between the rear axle and the bumper, it goes boom if hit just so. Hence, when struck in the back, an explosion can occur. The Pintos in the 1970s and the offending Crown Vics in the 1990s have their records too.
These models were mired in the media's tales of faulty construction and explosions. So naturally, these can lead to terrible fires and fuel line safety issues. So gas explosion injury victims and other burn victims would be served well to hire us in a Crown Vic gas explosion case. Our past clients have included police and law enforcement officials who heavily use these vehicles, making them prime gas explosion injury victims. Call today and schedule a free consultation to find out about forming an attorney-client relationship with our superior law firm.
Want to Find Out More from a Gas Tank Eruption Attorney?
If you or a loved one got blown up in a gas tank eruption, ensure you receive only the best in medical and legal care. But right after you're done doing that, Ehline Law is there to assist in these complex cases. We will use our experience to your advantage. Call us today for more information about getting the compensation you deserve for an automobile gas tank explosion case in Los Angeles, CA. (213) 596-9642.
California injury law firm with locations in Northern, Southern, and Central California.
More Car Accident Practice Areas
Car Accident Causation
Unique Traffic Accidents