If we don't win, you don't pay.
Speak to the Attorney.
Born to serve.
633 W 5th Street #2890
Los Angeles, CA 90071
(213) 596-9642.
Date Modified: June 11, 2023
Welcome to the Ultimate Guide to Compensation for So. Cal. Child Abuse by Los Angeles personal injury lawyer Michael Ehline. A child abuse attorney might be what you need to file your claim and start the legal process for what you're going through, even with many parents complaining that California's laws place limited value on the rights of parents in favor of judges and public school personnel in favor of Minor Attracted Persons (MAP).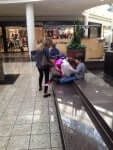 Hire a Professional to Help You with Your Case
This article explores all the intricacies of challenging cases of abuse against children. You'll also learn more about what lawyers from our law offices can do for you and why you should hire one. If your children were harmed by a private party, business, school, or other institution, Ehline Law Firm might be able to help you.
Do You Suspect Child Sexual Abuse Happened?
Child sexual abuse is one of the worst, most horrific situations a family can go through. If your child was sexually abused, you might feel like the person who did it broke your trust. Unfortunately, on many occasions, child abuse cases result from a known person's negligence. In other words, childhood sexual abuse usually occurs when someone you know takes advantage of your child.
Sexual abuse is as grave as physical abuse, child neglect, or emotional abuse, but the consequences of each one are different. If a kid is a victim of sexual assault, this can harm them for life. However, the criminal justice system protects child sexual abuse victims, so if you want to file a civil claim, a personal injury attorney can help you.
Child Sexual Abuse Victims and other Abuse Victims Can Suffer Life-long Consequences
As was mentioned before, child sexual abuse victims can experience negative consequences for the rest of their lives. If a child is a victim of medical malpractice, physical abuse, sexual molestation, indecent exposure, etc., they might have long-lasting issues. Here are some common problems abused children face in Los Angeles County, CA.
Psychological Effects
Child abuse and sexual molestation can have life-long consequences on a kid. The child might have self-esteem issues, problems with their own sexual development, and issues with emotional regulation.
Social Effects
Such transgressions can happen in many forms, and overall, they represent a traumatic experience for the child. When a child is a victim of child abuse, they might not want to make new friends or have problems socializing.
Impact on the Family
Dealing with child abuse or sexual abuse and filing a civil lawsuit to recover monetary damages impacts the family. On many occasions, when someone uses a person's child for sexual gratification, the parents also experience negative psychological consequences. Thus, getting legal counsel to file a civil suit is always the best alternative to protect the children without breaking the law and trying to get revenge.
How Do You Prepare Your Case for a Specialized Lawyer?
If you suspect your kid is a victim of child sexual abuse, hiring a personal injury attorney is the best option you can explore. When you don't have legal help for the children, you might make mistakes during the process. In some cases, this has led to false imprisonment. Thus, hiring a lawyer is imperative for filing lawsuits and taking civil action.
Additionally, many victims get sexually assaulted by a family member. The case might be even more challenging on these occasions, so hiring a California lawyer and gathering the evidence clients need is crucial to proving emotional trauma and physical harm. It would help if you also abode by the applicable statute of limitations to sue. Remember, different rules apply to children, so the adult guardian hiring the right attorneys is the best way to protect their physical claims.
Here are some things potential new clients can do:
Take Photos
Firstly, take photos immediately if you notice someone had physical contact with your child. If you see any bruises or other visible signs of abuse, taking pictures is the best way to record that evidence.
Gather Evidence
You need to get as much evidence as possible when you file lawsuits. Therefore, take other photos and videos, for example, of the places where you think abuse happened.
Talk to Witnesses
Another way to deal with a child sexual assault or abuse case is to talk to potential witnesses about what occurred. Ask them as many questions as you can, and if possible, get their contact information.
Discuss Your Case with the Lawyer
Once you hire your child abuse attorney, show them the evidence you have. They will probably ask several questions and try to get even more proof of what happened. They can also discuss ways to manage the helplessness, anxiety, and depression most people, including a loved one, may have after being raped or undergoing other child abuse.
Avoid Talking to Other People
Generally speaking, you should avoid talking to people about your child abuse or sexual assault case. Instead, discuss things with your attorney only since they are the professionals who know how to help you.
Child Abuse Victims Deserve Someone Who Defends Them
If you can prove sexual assault or child abuse in any way, the responsible person deserves to pay for what they've done and even get some jail time, depending on the case. Law offices are ready to take on child abuse cases, so if you want a confidential consultation with a lawyer who can help you, don't hesitate to ask for it.
Getting Medical Compensation for What You're Going Through
Child abuse can lead to catastrophic consequences such as pain or brain damage. Your kid does not deserve to suffer like that, so an attorney can protect you and get you the justice you deserve to pay for past and future medical treatment over this horrific crime from the perpetrator.
When someone is a victim of child abuse (Shaking or beating a baby), or another type of unreported incest, the law protects them. As a victim, you can get monetary compensation for what happened from a church or institutions that let it happen or concealed it from the parents. Families often need to pay for their children's medical expenses if they've been abused, which is unfair. So a lawyer with resources can get you justice and ensure a fair settlement.
Money for Postmortem Compensation
Unfortunately, some child abuse cases end in the death of the infant. The law can also protect families on these occasions, so you must get legal help. This is one of the saddest and most challenging things a person can go through. If you lost your child due to negligence and abuse, you can get monetary compensation since this could be wrongful death. Get legal help and make sure your outcomes are favorable.
Compensation for Catastrophic Injuries to Children
Sometimes, child abuse is not the only reason a kid experiences long-lasting negative consequences. Accidents occur occasionally; when this happens, you must ensure the responsible person pays for what they did. You must gather evidence like police reports and witness statements swiftly. Failure to do so can hurt the case.
As a working parent, you indeed have enough going on in your head to deal with a civil lawsuit for what happened to your child. However, it's what you must do if you want to get the settlement you deserve.
Here are some of the most frequent accidents that can leave your child suffering from injuries:
Catastrophic car accidents
Car accidents
Dog attacks
Babysitter rape or sexual assault
Doctor negligence
Drowning or similar damages suffered at a pool or a swimming camp – under supervision
Damages by broken toys under supervision.
Common Signs to Identify and People to Examine
There is no way to tell if someone is an abuser just by looking at them or knowing about their work. However, statistics show that some specific kinds of people might have more chances of being abusers. It would help if you never judged someone without evidence, and that's what your lawyer can help you with.
Nonetheless, if you already suspect abuse, you might want to take a closer look at the people around you:
How Can Lawyers Help?
Attorneys can help with your abuse case because they are the ideal professionals to guide you through the legal process and suggest the best alternatives and courses of action. When you hire attorneys, you get passionate professionals who aggressively defend you and your family and ensure they do everything possible to get you a fair settlement.
How Can You Find the Ideal Lawyer to Fight for You?
Finding the ideal lawyer for your child and family might sometimes be challenging, especially if you're already in emotional pain because of the rape, abuse, or other issues that you're going through. The first thing you need to know about attorneys is that they exist to help you. They understand what you're going through, and many ethical, passionate, and knowledgeable professionals are also empathetic, and they will listen to you and kindly guide you through the process. At the same time, to hire the ideal lawyer, you must examine different law firms and see what they offer.
Schedule a Free Consultation With Superior Child Injury Lawyers in Los Angeles Today
Even though hiring the perfect lawyer to defend you and your child might be challenging, Ehline Law Firm makes things easier by offering top professionals who will listen to you, help you gather evidence, and fight for you. Contact our legal office today if you want expert legal counsel by dialing (213) 596-9642, or use our online website contact form 24/7 for prompt, passionate, award-winning legal services.
Michael Ehline is an inactive U.S. Marine and world-famous legal historian. Michael helped draft the Cruise Ship Safety Act and has won some of U.S. history's largest motorcycle accident settlements. Together with his legal team, Michael and the Ehline Law Firm collect damages on behalf of clients.
We pride ourselves on being available to answer your most pressing and difficult questions 24/7. We are proud sponsors of the Paul Ehline Memorial Motorcycle Ride and a Service Disabled Veteran Operated Business. (SDVOB.) We are ready to fight.