If we don't win, you don't pay.
Speak to the Attorney.
Born to serve.
633 W 5th Street #2890
Los Angeles, CA 90071
(213) 596-9642.
Date Modified: August 18, 2023
Legal Support for Accident Victims Across California.
Our auto accident attorneys promptly provide crash victims with status reports, keeping them in the loop on a contingency fee basis since 2005.
Did you suffer West Hollywood car accident injuries in a rear-end collision or another traffic wreck?
If you sustained injuries in a West Hollywood car accident call our personal injury firm at (424) 666-3944.
Why Choose Ehline's Experienced West Hollywood Car Accident Lawyer Team?
Our experienced West Hollywood, CA personal injury attorneys are respected in the local community and have won multiple awards for our years of service. We represent clients injured and their loved ones injured in auto accidents in many ways. We have one goal, getting you the best results. The cost to cope with intrusive medical treatment, hospital medical expenses, rentals, lost wages, repair bills, and painful, steep debt stress can ruin your life.
A road traffic collision from an unsafe lane change, swerving, a speeding vehicle, distracted driving (eating, chatting on the phone, texting), or minor fender-benders can cause severe physical injuries, including brain damage or death.
How Local Car Crash Lawyers Help?
Our Southern California auto collision attorneys remain 100% committed to lowering accident victim tension and further injuries throughout the legal claims process. These award-winning lawyers have been acknowledged for their years of car accident case experience.
Our supreme Los Angeles personal injury attorneys have helped thousands of injury victims in motor vehicle crashes stabilize their lives. We can win any type of traffic accident claim against an at-fault party. Our attorneys aggressively handle claims for damages. Our legal services include attending meetings, filing lawsuits, and fighting for favorable jury decisions.
Additionally, our team members have won millions in verdicts and settlements. An accident victim who follows our law firm's attorneys every step of the way reduces their risks of receiving a lower money damages recovery from the vehicles involved. (Commercial trucks, buses, taxis, etc.) We'll make all at-fault parties involved cover the accident claim for injured victims.
Free Consultation
---
Parties Involved in Car Accidents Can Schedule An Appointment Today For A Free Consultation. Provide information below about any types of car accident cases.
Comments. Please message us from anywhere in the State of California. Describe your case with detailed information about any motor vehicles involved. * All Fields Required. Please include your first name, last name, email address, phone number. This field is for validation purposes and should be left unchanged. Compatible with internet explorer, Firefox, and Google Chrome.
Proven Track Record
Our highly compassionate team maintains a proven track record of success in other cases, winning over $150 Million in verdicts and settlements.
Our contingency basis lawyer has deep legal knowledge.
Our work lobbying congress for traffic safety and litigating tort claims lets us push for better solutions.
Our volunteerism advocacy helps us stay abreast of the latest statutory law changes for people injured in an accident.
We're on the cutting edge of transportation and safety laws related to West Hollywood car accidents.
Our best car accident lawyer, Michael Ehline, aims to improve the justice system by firmly protecting U.S. accident victims' rights.
Leadership And Convenience
Our top West Hollywood Car Accident Attorney team will personally explain everything to car accident victims step by step. After you accept our legal representation, you'll have strong, diligent legal representation by your side.
We maintain multiple fully-staffed offices throughout the United States, including Southern California, San Francisco, San Bernardino, Riverside, and San Diego, with full shuttle service. Our best lawyers can even help injured victims in Greater Los Angeles County recover damages from Orange County locations like Santa Ana.
Our private eye and team members will travel to Woodland Hills, Bakersfield, or 29 Palms. We have the trial advocacy know-how and money to meet any challenge 24/7. Contact our law firm today for a free consultation.
Many victims can learn whether they want to hire us for Southern California legal representation or not right over the phone. (424) 666-3944.
How Else Can West Hollywood Car Accident Lawyers Help?
The best car accident attorneys in West Hollywood at Ehline law offices are local veterans. These elite specialists have over 30 years of combined experience handling car accident cases from top to bottom.
West Hollywood car accident claims are novel, calling for help from a finely tuned legal negotiator and strategist. If you were seriously injured or a person you love has died from a motoring crash with seemingly minor injuries, your financial situation may be dicey.
Being paid your fair share means facing brutal car accident settlement talks with a hapless insurance adjuster. We'll do a great job navigating these barriers. Attorneys with less training may recover compensation lower than owed, with harm left untreated.
A car crash survivor who accepts an amount less than actual value will be on the hook to pay back past due bills and fees out of pocket.
A West Hollywood car accident lawyer can provide guidance and skill, avoiding important slip-ups that lead to disputes and delays. Whether your crash was a major or minor impact accident, our trustworthy legal professionals can make positive changes in your life. Are you stuck with expensive medical care?
Our top gun advocates will gather information, protect your family member and your financial welfare and security. Our highly trained maverick national trial lawyers will fight for the complete list of damages you deserve for your West Hollywood car accident case.
Car Crashes, Survivor Guilt And Auto Collisions?
You can counter your depression by retaining a turbo-charged car accident legal representative after your motor vehicle accident injuries. Our car accident lawyers have a keen grip on the survivor's guilt many auto accident victims face.
Our skilled lawyer and staff will create a guilt-free trajectory, guiding you and your loved one's car accident to recover compensation for a more significant amount.
Cases Similar to Yours We Take
We've handled hundreds of damages cases with many vehicles involved in a car accident.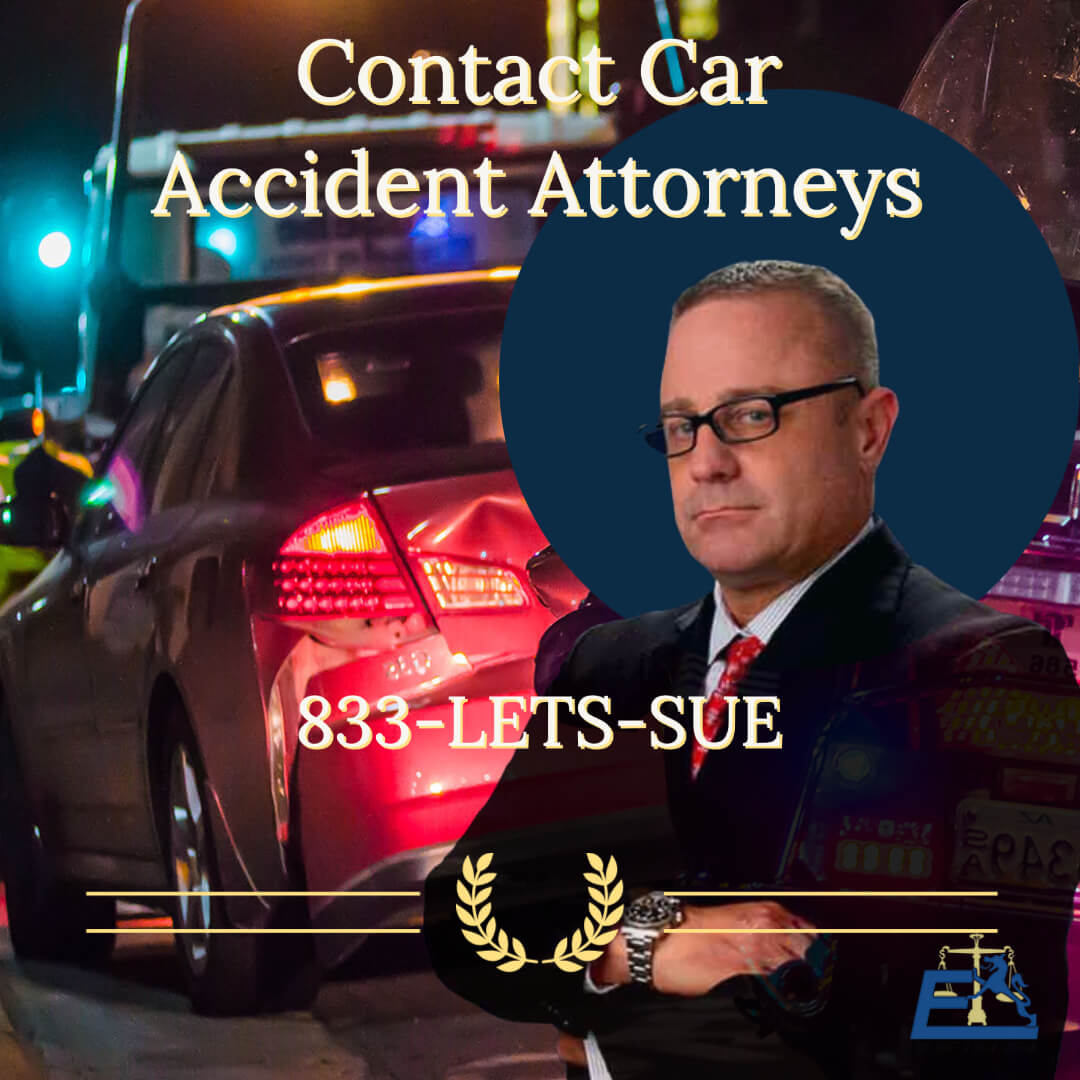 (Different types of car accidents, including bicycle, pedestrian, skateboard, or a motorcycle accident). Were you or your family members rear-ended in a drunk driving incident? Want the best possible outcome for your circumstances. Before recovering damages, determining fault is your first step.
Win compensation for your car accidents. Call us today. Speak with an accident lawyer in West Hollywood willing to give the personal attention you deserve is a good idea. Clients love us for a reason. Insurance carriers hate us. Don't let insurance companies give crash victims a raw deal.
After treating your doctor for ongoing medical care, call us by dialing (424) 666-3944 for more information about car crashes. Get the compensation you deserve in all types of motor vehicle accidents.
Types Of Car Accidents
Michael Ehline is an inactive U.S. Marine and world-famous legal historian. Michael helped draft the Cruise Ship Safety Act and has won some of U.S. history's largest motorcycle accident settlements. Together with his legal team, Michael and the Ehline Law Firm collect damages on behalf of clients.
We pride ourselves on being available to answer your most pressing and difficult questions 24/7. We are proud sponsors of the Paul Ehline Memorial Motorcycle Ride and a Service Disabled Veteran Operated Business. (SDVOB.) We are ready to fight.