If we don't win, you don't pay.
Speak to the Attorney.
Born to serve.
633 W 5th Street #2890
Los Angeles, CA 90071
(213) 596-9642.
Date Modified: August 18, 2023
This is the Ultimate Guide to Compensation for Dead Elders and survivors of death victims.
Why Hiring a Reputable Attorney Is Your Best Option
Do you want to take legal action after your elderly loved one was killed while under hospice care after failing to receive the personal attention and quality care they deserved?
Did a staff member deny your mom or dad basic needs? Leaving older family members to live in a nursing home is already hard for people. However, elderly family members need special care that they may be unable to cover, so they get moved to assisted living facilities.
Unfortunately, nursing home abuse is a reality, and in some cases, psychological or physical abuse of a nursing home resident can lead to wrongful death. Wrongful death is carelessly caused by circumstances far from natural causes and is quite common in nursing home cases.
In these cases surrounding nursing home wrongful deaths, the best thing you can do is call an attorney who's familiarized with California elder abuse laws.
Learn Everything You Need to Know About Nursing Home Abuse Attorneys
The following page was written by a dominant and aggressive personal injury lawyer in Los Angeles, Michael Ehline. Michael and his world-famous team of Super Lawyers help elderly people and other residents who died at a long-term care facility.
Below, we will outline everything you need to know about elder abuse in nursing homes and how you can file a wrongful death lawsuit with one of our Ehline Law attorneys in Los Angeles, CA.
What Makes Ehline Law Firm Better than Others in a Senior's Death Case?
In the Greater Los Angeles area, elderly wrongful death attorneys at Ehline Law Firm act promptly. They operate with fortitude and passion.
Assisting the family in obtaining the answers needed is what we do.
We do what it takes to hold the negligent parties accountable.
Ehline Law Firm commits to protecting the rights of the family left behind.
Our forte is holding the nursing home and staff members who were careless and responsible by proving each element.
We have had complete education on the law.
So if your elderly loved one got mistreated at a long-term care facility, we could help.
This law firm also has the resources to investigate all the claim elements to build a strong case.
World Class Service With Big Firm Results?
And we are world-famous for providing the high-quality work product of a larger firm. But we do it with the service and pride of a small business that most consumers prefer.
For example, we believe that clients are not only a manila folder or accordion file, so we work hard to know our customers, their likes and dislikes, and their heroes, and find common ground.
A caring nurse holding a kind elderly lady's hands in bed.
We believe that to have a trusting relationship, bridges need to get built.
So we foster long-term ties and earn the friendship of the people we represent. We do this by speaking plain English instead of legalese.
Also, we keep our clients fully informed of the status of their insurance claims and lawsuits. A cursory search online reveals a plethora of excellent client reviews. When you hire Ehline, you will quickly discover the Ehline difference.
If you're interested in how we can help you, arrange a free consultation with our team to discover all our legal services.
Who Investigates Nursing Homes in California?
Most of the state's nursing homes are licensed by the California Department of Public Health.
What Counts as Nursing Home Negligence?
Overall, negligence in nursing homes is when an elderly person experiencing abuse doesn't receive the care they need while living in an assisted living facility, leading to their death. Even if the reason for the death was due to a third party, the nursing home might still be liable.
Some of the most common elder abuse signs the average nursing home resident can experience in Los Angeles include the following:
Falling: If a person without supervision falls, they could experience fatal head injuries that could lead to death.
Physical Abuse: One of the most common signs of elder abuse. Someone attacks a resident here (who can be a roommate or anyone else).
Pressure Ulcers happen when the nursing facilities fail to diagnose and prevent a pressure ulcer, making the person more prone to developing a septic shock infection.
Medication Errors: If the facility prescribes the wrong medication to nursing home residents, they could experience complicated health issues.
Dehydration and Malnutrition: Any person who is malnourished or dehydrated when living in elderly care facilities is at risk of developing severe health conditions, such as urinary tract infections. These infections can lead to injuries and death.
Medical Malpractice: The death results from general nursing home neglect, meaning the facility failed to treat the elderly person's health correctly.
How Can Our Nursing Home Neglect Lawyers Prove a Lawsuit Against These Facilities?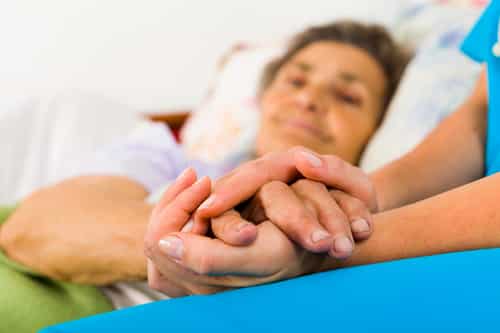 Our Los Angeles nursing home lawyers are experts in dealing with different types of elder abuse, including emotional, physical, and financial abuse. It's vital to note that a regular death of an older person differs from a wrongful death.
To prove a wrongful death case, our law firm must prove the following three elements:
A human being died.
The death occurred because of poor care, nursing home abuse, or problems with the staff.
The death caused an emotional, financial, or devastating impact on the lives of surviving family members.
In most cases, the California nursing home staff will not recognize they were at fault for the death of your loved one and claim that they took all the necessary actions to ensure proper care. Still, if you feel like the "skilled nursing facility" failed to take care of its elderly patients, you have a legal duty to sue.
What Can You Recover in Financial Compensation?
Generally speaking, you could recover some of the following damages if the nursing home staff fails to deliver care, and our law offices can prove that:
Funeral/Burial expenses
Loss of income and support
Loss of companionship
Loss of guidance
Pain and suffering
Medical care and bills.
Who Can Sue for Elderly Abuse in Los Angeles?
According to California law and the Federal Government, the people who can sue for sexual, emotional, financial, or physical abuse include extended and immediate families. Extended members include siblings and cousins, whereas immediate members include children and spouses.
What Makes Ehline Law Firm the Best Option for a Senior's Death Case?
Our lawyers have experience in nursing home law and have worked for years to develop an effective attorney-client relationship in every case.
Generally speaking, here's what you can expect from our expert lawyers:
Assisting the family in obtaining all the answers they need from the nursing homes.
Doing everything possible to hold the negligent party accountable.
Operating with fortitude and passion.
If skilled nursing facilities mistreated your elderly loved one, we can help you seek compensation. We have all the resources necessary to prove all the elements of negligence, so all you have to do is leave the case to our team.
Families Affected Can Seek Compensation from the Ehline Law Office Today
Whether you live in Los Angeles County, southern California, or any area nearby, you can seek compensation if your older family member didn't receive adequate care. The loss of older adults in the family can cause a lot of mental suffering, which is why we want to make things easier for everyone.
Schedule a Free Consultation With an Elder Abuse Wrongful Death Attorney Today
Our team believes that emotional, physical, or financial exploitation from nursing care facilities is unforgivable, and we will fight as much as possible to hold these staff members accountable. So we force those responsible for ponying up.
Most of all, we can help the family through this difficult time. Let us help you ease the legal stress off the family's shoulders. Contact the Ehline law firm to schedule a free consultation. Relieve your burden of holding the negligent nursing home accountable. Call the Los Angeles personal injury lawyers at (213) 596-9642. You can also use our convenient website form here.
Michael Ehline is an inactive U.S. Marine and world-famous legal historian. Michael helped draft the Cruise Ship Safety Act and has won some of U.S. history's largest motorcycle accident settlements. Together with his legal team, Michael and the Ehline Law Firm collect damages on behalf of clients.
We pride ourselves on being available to answer your most pressing and difficult questions 24/7. We are proud sponsors of the Paul Ehline Memorial Motorcycle Ride and a Service Disabled Veteran Operated Business. (SDVOB.) We are ready to fight.