If we don't win, you don't pay.
Speak to the Attorney.
Born to serve.
633 W 5th Street #2890
Los Angeles, CA 90071
(213) 596-9642.
2323 S. Voss Rd, Suite 244
Houston, TX 77057
(832) 592-1260.
Date Modified: March 21, 2023
One of the least talked about, yet devastating auto defect cases arise from a defective car seat back. This means in a car accident, or even normal driving conditions, you can break your back or suffer a severe spine injury.
If we don't win, you don't pay.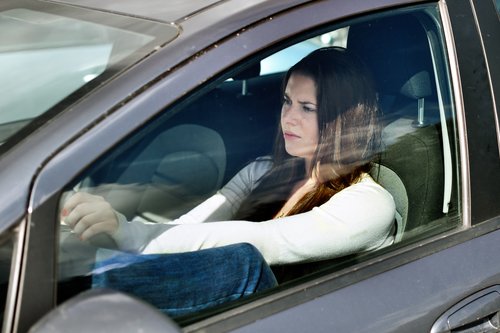 I am Los Angeles car seat back defect attorney, Michael Ehline. I have vast experience in personal injury law and auto defect cases.
As president of Ehline Law Firm Personal Injury Attorneys, APLC, I have litigated thousands of motor vehicle accident cases, including auto defects. I have won clients millions of dollars in the process, on behalf of a wide variety of clients. Below I will share with you the secrets of winning a defective seatback case in Los Angeles, CA.
Collapsed Vehicle Seat Backs Can Spell Doom?
You want to believe you can count on the safety features in your vehicle to protect you and your loved ones at the most critical times. The last thing you expect as a consumer is vehicle defects resulting in a collapsed occupant seat, especially with a high end German car like a Benz.
The results can include a vehicle ejection right through the vehicle safety glass, as the seatbelts no longer restrain you when the car seat back fails to brace the impact and g forces of a vehicle wreck.
And when you are in a car accident, nothing matters more than walking away whole and uninjured. That is why defects and failures in the design of seatbelts, the car seats, and seat back, and other safety equipment are so distressing to car drivers and their passengers.
When faced with vehicle defects like this, you must make sure you get covered both legally and medically. So after getting stabilized at the hospital, consulting a Los Angeles car accident attorney can mean all the difference in the world.
What To Do After a Broken Seatback Injury?
Once you get physically stabilized, you call us. If you or your loved ones have been in a defective motor vehicle car accident and suffered a brain injury, back injury and incurred medical bills and property damage, we offer a free consultation to discuss handling your case. If we form an attorney-client relationship over your Los Angeles auto defect case, we will make best efforts to obtain an award of maximum financial compensation on your behalf.
When Your Motor Vehicle Seatback Breaks is Your Seatbelt Useless?
Yes, the seatbelt becomes worthless in that case. Your seatbelt is the most basic safety instrument in your car. Most of all, it is meant to keep you from hitting the steering wheel, dashboard, or windshield. However, this safety a belt provides depends on multiple factors, including the absence of motor vehicle defects caused by the auto manufacturer.
Sometimes the actual belt itself can withstand the severe stress of a crash. But even then, your motor vehicle seat can buckle or even break — causing the seat belt to become useless.
What the Law Says?
Under U.S. federal law, auto manufacturers must report any safety defect within five days of discovery. Under negligence law, their duties are greater than the federal "floor." Automakers have a statutory and common law duty to manufacture safe vehicles for by Los Angeles, CA consumers. When automobile components or safety features fail, the vehicle is defective and the consumer is no longer safe.
When such a situation occurs, the loss of a seat's integrity can result in severe neck or spine injury. Also, this can cause the driver or passenger to collide with other people or parts of the car, including being thrown from the car at terminal velocity.
Broken seatbacks can create a multiplying in the number of potential injuries such as:
Brain injuries
Broken back
Broken or crushed skull
Crushed jaw
Broken teeth
Broken nose
Crushed sternum
Broken ribs
Broken clavicle
Also, when headrests break or snap off, there is a possibility of a catastrophic head or neck injury – potentially leading to death. So auto parts that fail can definitely maim or kill. We ca help you pursue the car manufacturer and any liable party who made, mislabeled or sold the defective auto parts or other components themselves.
What Are Your Legal Options in a Seat Back Motor Vehicle Claim?
Such an accident may not be avoidable. But you need to count on your car's safety equipment, (including seatbelts and seatbacks), was built right during the manufacturing process. Faulty seats can turn what should be an accident without injury into a tragedy.
When you cannot rely upon the reasonable expectation that your seats were built strong enough not to snap, causing you to lose control of the car, you need to seek legal counsel. Unlike windshield wipers, you can't just switch out a BMW car seat, for example. So you must learn about a breach of warranty, merchantability, and other legal theories of recovery when no recall was in place, yet the manufacturer knew about the problems.
So you need to go beyond just an ordinary product liability claim to get total compensation for your injuries. You should get a free consultation with injury attorneys at Ehline Law.
You may be eligible to file a full blown product liability lawsuit if you act quickly. This is how the responsible parties are held liable to pay consumers injured by a manufacturing defect in Los Angeles County state and federal courts.
Our Experience is Your Success?
Our experienced attorneys specialize in cases such as this. We have a proven track record winning tough Los Angeles cases. We have successfully litigated many cases involving cars and insurance companies throughout Southern California. So we know the auto safety case study regarding these horrific vehicle manufacturing defects in and out.
Compensation Available After a Broken Seatback Injury
If the manufacturer and other is the chain of commerce sold a defective car with a failing seatback, you can seek money damages for special damages and general damages as follows:
Special Damages
These are economic losses incurred as a result of the broken car seatback, including:
Lost wages (past, present and future loss of income and lost contracts, etc.)
Medical bills (and other medical expenses like physical therapy and out of pocket costs for prescription medicine and insurance deductibles.)
Property damage
Out of pocket losses
General Damages
These are intangible non-economic losses incurred as a result of the broken car seatback, including:
Pain and suffering (Ex: past, present and future emotional distress, etc.)
Loss of Consortium
Loss of Society
Schedule a Free Consultation With Seatback Defect Lawyers in Los Angeles Today
Our auto defect attorneys represent clients seriously injured by safety defects caused by car manufacturers. Ehline Law Firm has the knowledge necessary to get you where you need to be. We can assist you and hold those liable for their errors or carelessness.
Contact us today for a free, no-pressure consultation to discuss your safety related defect when you seat did not operate properly during a motor vehicle collision. Allow us to be a part of your recovery.
We can represent any vehicle occupants and are available 24/7 to begin the investigative process to recover fair compensation from all potentially liable parties. Put our over 30 years of combined legal experience to work for you and your family members today. Call (213) 596-9642.
California injury law firm with locations in Northern, Southern, and Central California.
Michael Ehline is an inactive U.S. Marine and world-famous legal historian. Michael helped draft the Cruise Ship Safety Act and has won some of U.S. history's largest motorcycle accident settlements. Together with his legal team, Michael and the Ehline Law Firm collect damages on behalf of clients.
We pride ourselves on being available to answer your most pressing and difficult questions 24/7. We are proud sponsors of the Paul Ehline Memorial Motorcycle Ride and a Service Disabled Veteran Operated Business. (SDVOB.) We are ready to fight.