If we don't win, you don't pay.
Speak to the Attorney.
Born to serve.
633 W 5th Street #2890
Los Angeles, CA 90071
(213) 596-9642.
Date Modified: September 8, 2023
Maritime Trial Lawyer and Long Beach, CA Cruise Ship Law Firm. We Fight For International Cruise Victims.
Tell Us About Your Long Beach Cruise Injury Case
Did you or a loved one suffer serious injuries, like a viral illness or a fatality, on a cruise ship vacation departing or arriving in Long Beach, CA? I am Long Beach's personal injury lawyer, Michael Ehline. I helped draft portions of the Cruise Ship Safety Act on behalf of International Cruise Victims (ICV) and the late Ken Carver.
Below I will discuss Long Beach cruise ship accidents and injuries sustained on a cruise ship and how our accident and injury attorneys can help you recover compensation for a Los Angeles personal injury, illness, or horrific wrongful death at sea.
The Port of Long Beach is the home of the Long Beach Cruise Terminal of Carnival Corporation.
Most Carnival Cruise Ships arrive and leave from Long Beach.
The Long Beach Port is also called "The Green Port," reflecting its environmental commitment. Still, many things can happen on any cruise line that moves through this port, requiring legal action, especially when faced with a viral or bacterial infection or life-altering illness.
These moves include cruise line accidents, injured maritime workers, and other cruise ship employees committing crimes.
Sailing on All Cruise Lines Can Be Dangerous
Consumers on major cruise lines, including Carnival Cruise Lines, Princess Cruises, Norwegian Cruise Lines, Seven Seas, Celebrity Cruises, and more, get injured in various ways– from personal injuries to issues of rape, slipping, tripping, and falling, or throwing someone overboard the ship.
You or your loved one do not deserve this as part of your recreational or leisure activity. No one should have to pay money to be exposed to an illness or be assaulted by a culturally inept cruise ship employee. If you suffered an injury or illness on a port of Long Beach cruise vessel, our mission is to help navigate your accident case against these vast, luxury vacation yachts!
Have You Been in a Cruise Ship Accident and Need Legal Help?
Where do maritime law end and California law begin? The team at Ehline Law knows this well, and we offer a free consultation for potential clients who have possible legal actions against cruise line companies.
Why Do You Need a Long Beach Cruise Ship Accident Attorney
Maritime law, state and federal statutes, international treaties, and agreements between governments made through the United Nations govern cruise ship liabilities for illness, injuries, and death claims at sea.
Consider speaking with a Los Angeles cruise ship injury lawyer as soon as possible. At the Ehline Law firm, we have a tremendous attorney-client relationship, and we understand that there are severe loopholes and limitations to pursuing your claim that you need to be aware of before you risk losing your share altogether.
Ehline Law Firm is a Team of Winners
At Ehline Law firm, examples of cases we have won include a winning $150,000.00 case for a slip and fall case against a cruise ship and $4,886,255.67 for a cruise ship assault for a client in Los Angeles and victims in other cities.
Kendall Carver, Champion of International Cruise Victims Passes Away, What Next?
After his daughter, Merrian, disappeared from a Celebrity Cruise Lines ship off Alaska's coast in 2004, Kendall Carver became a tireless campaigner for the victims of sexual assaults, crime, and disappearance on cruise ships sailing the high seas.
Kendall Carver Pushed Full Speed Ahead to Change the Law
Kendall became the founder of International Cruise Victims (ICV) and spent the rest of his life ensuring that crimes, wrongful death, or an incident like his daughter's never happened again.
About Our Attorney Awards, Reviews, and Accolades
Michael Ehline can handle cruise ship accident cases in federal and state court and be invited in pro hac vice to co-chair instances in places like Miami, Florida. Most of the major cruise lines are located in Miami, Florida, so many cruise lines choose to file and litigate lawsuits there.
Other cruise companies demand that cases be filed in California or Washington state like a federal or state civil action. Fortunately, our team of California, Washington, and Florida-based cruise ship accident attorneys can assist you with insurance companies and even finding affordable medical treatment.
In almost every scenario where passengers were unaware of the forum selection clause or disregarded it and filed a claim in a different state, the cruise ship accident suit was thrown out, ending the passenger's potential to negotiate a winning legal action against the insurance company.
The Superlawyers Rising Star Award was awarded multiple times to Michael Ehline from 2006-2015.
Newsweek Magazine awarded its "Premier Personal Injury Attorneys" award to Ehline Law Firm's attorneys in 2015.
CNN interviewed Michael Ehline about cruise ship law, and he was a guest on NBC discussing limousine law practice areas. Michael was also interviewed by Nancy Grace on CBS, discussing his expertise in California dog bite law.
*Member – Consumer Attorneys Association.
In 2005, in a TV interview, Mr. Carver narrated how sad it is to lose a family member while on a cruise by saying, "We've learned that if something happens on a cruise, you are on your own. No other parents should ever have to go through the crap we've been through. We don't know if Merrian is alive or dead.
We don't know if there was an accident or murder or suicide or something else… It is a sad story." No matter the venue, whether you embark from Massachusetts, Seattle, or Washington, our injury lawyers know that Carver played a role in making you safer on your Princess Cruises, Celebrity Cruises, Crown Princess, Carnival Cruise, Norwegian Cruise Line, Royal Caribbean Cruise ships, or other major cruise ships doing business in United States ports under state and federal laws.
Michael Ehline Played a Part Here, Too
Kendall Carver has campaigned for cruise ship safety, which made Congress enact the Cruise Vessel Security and Safety Act of 2010 to clamp down on cruise line negligence. The idea was to prevent and reduce every potential cruise ship accident through education, laws, and law enforcement.
This legislation has forced the cruise lines and the Long Beach-based cruise ships to disclose missing passengers, report crime on a cruise ship, equip items like rape kits and anti-retroviral medications, and install automatic man overboard systems, which many cruise ship companies follow.
This became possible with the help of Michael Ehline of Ehline Law Firm. As a pro bono attorney, he pushed for the protection of cruise ship passengers, which is why you need to work with one of our Long Beach law office members when dealing with the cruise line or maritime law issues.
What All Cruise Ship Passengers Should Know Before Boarding
The Long Beach cruise ship industry, is massive in size and scope. It covers two different ports with over 7500 acres and 43 miles of waterfront. The ports are the Port of Long Beach and the Port of Los Angeles.
A Long Beach Accident and Injury on A Ship May Happen for Many Reasons
To the bane of our accident attorneys, cruise ship accidents can happen to Los Angeles cruise ship passengers due to the following:
Other passengers.
Dangerous conditions aboard (Ex: action or inaction by cruise ship crew members like leaving water on the main deck, which causes slip and fall accidents)
Assaults (Examples are rapes and robberies while about or during shore excursions)
Another danger that cruises ship crews and passengers risk is external, such as attacks by armed pirates on speed boats. These responsible parties use assault rifles and rocket launchers to stage attacks on cruises and other large ships. Since 2003, pirates have become an increasing problem for ocean liners and other commercial ventures near places like Somalia. This is something no Los Angeles cruise ship passenger should have to suffer.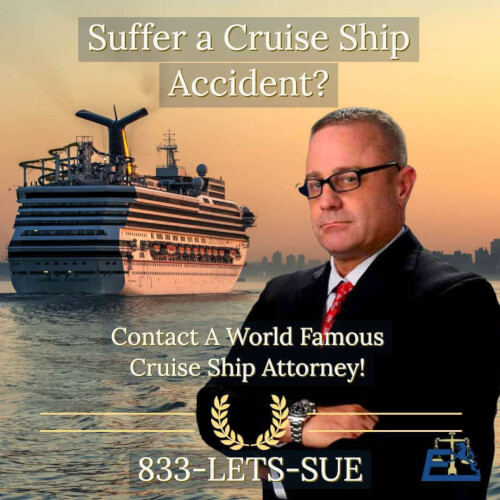 Most of these incidents are life-altering and could result from a breach of duty or pure comparative negligence of the company that chartered the cruise ship or the sea vessel.
Although you probably can't seek compensation from a pirate, our Long Beach cruise ship accident lawyers can still sue the cruise lines on your behalf. Our prior results speak for themselves, proving we will work hard for you or your loved one until the final victory over your cruise ship accident.
Our past results do not guarantee a win for every cruise ship accident, but we don't take on losing cases. Call today to discuss your legal options with top-notch Long Beach cruise ship accident attorneys by dialing 833-LETS-SUE.
Rights of the Injured Cruise Ship Passenger
You should know that an injured passenger has the right to:
File a lawsuit against the owner of the sea vessel
Sue, the company that chartered the cruise ship
File against the company that sold tickets
Sue, the charterer or operator of the boat
These claims may be subject to specific rules, which affect where and when a passenger can file a lawsuit and the applicable laws.
So if you sustain an injury on a cruise ship, you need experienced legal help to ensure the right people are held responsible. Whether a passenger or crew member, you need a legal representative like Ehline Law Firm.
Common Long Beach Cruise Ship Accident Injury Claims?
Maritime law is a highly specialized area of legal practice, and it may be bewildering even for cruise ship attorneys with a limited background in maritime law. While there are things, you can do as an educated and attentive passenger to avoid an accident while on vacation on a cruise ship, accidents occur with some regularity, no matter what result you intend to create.
Some of the most prevalent events that have been reported about injured victims, cruise ship injuries, and wrongful death include:
Cruise Ship Man Overboard (MOB) Falling Overboard Drownings
Gangplank Accident (Slip and Fall Accidents)
Cruise Ship Missing At Sea Disappearances
Shore Excursion Recreation Accident
Cruise Ship Swimming Pool Drowning
Cruise Ship Explosions or Fires
Crimes like Assaults and Rape
Shore Excursion Car Accident
Shore Excursion Dingy Accident.
After an accident on a cruise ship, you'll need to consult a top-notch attorney about whether you should pursue litigation. You may contact our firm by calling the toll-free number 833 LETS-SUE. We can also be approached from outside the United States and provide all clients with a free case evaluation 24 hours per day, seven days per week, and on weekends.
Common Injuries Our Cruise Ship Injury Attorneys Sue Over In Long Beach?
We will work tirelessly to help you recover monetary compensation for all cruises departing or arriving at LA's two ports, including:
Deadly Viral or Bacterial Infections
Broken Ankle
Broken Knee
Food Poisoning.
Once the head boat or crew is held liable for something they failed to do or did not do on your behalf occurs, we'll act quickly to make sure you are fully prepared to win your legal recourse in the form of monetary compensation they're entitled to, even if you lost your employment.
What Should I Do If I'm Injured on a Long Beach-based Cruise Ship Checklist?
Because there are so many ways a cruise can go wrong, many accident victims often ask, "What should I do if I am injured on a ship?" or "What actions should I take if I'm hurt on a vessel?"
Whether you were injured in a car accident or a cruise ship accident, you should obtain expert legal assistance as soon as possible rather than trying to deal with cruise ship management.
The answer to these post-cruise accident concerns is typically determined by the sort of mishap you had and the circumstances surrounding how your incident occurred.
But as a rule of thumb, passengers suffering cruise ship injuries should:
Ensure you get a copy of an accident or crime report before leaving.
Take photographs of the accident scene, get contact information for any witnesses, and record the names of any crew members to whom you report the accident.
Immediately seek medical help from the ship's doctors.
Immediately contact an experienced lawyer if you have been injured while aboard.
Furthermore, Ehline Law's lead maritime lawyers have added a free cruise ship lawyer contact form upload function to assist you in recording, keeping track of, and gathering evidence following an incident that may be utilized in the future to support your claim in your city.
Through our convenient website contact form, you can:
Capture and record data and photos about your accident or injuries.
Keep track of injuries-related medical costs, including surgery and follow-up treatment.
To aid you in a cruise accident, use incident response checklists responsibly.
Find the most significant medical facility in your area.
Even if you are sick at sea, you can use your smartphone to make calls using this application.
To submit a free case evaluation form, please visit our website at ehlinelaw.com and fill out our contact data form.
Contact your Ehline Law Firm family friends immediately for tragic cruise ship accidents.
You should contact an attorney immediately if you have been hurt in a cruise ship accident. We will devote the time and attention to your case that it requires and advise you on your legal rights and limitations regarding the statute of limitations—how much time you have to bring a lawsuit after an accident—as it pertains to your situation.
We can even help you with non-cruise ship accidents under the ADA for refusing to accommodate special needs passengers.
More About Ehline Law and Cruise Ship Law
Although the maritime law governing cruise ships uniquely combines legal and standard carrier rules, such claims are frequently called "cruise ship law." While much of the general law of the sea applies to cruise ship accident situations, certain exemptions apply only to events that occur on cruise ships.
Process Before You May Sue?
As noted above, cruise companies, for example, typically include special provisions in their passenger ticket agreements that limit the period during which a customer may bring a lawsuit against the cruise line to one year instead of three years under admiralty and maritime laws.
Forum Selection Clause?
Although the ship is registered in the Caribbean, it was built in China. Cruise lines also include a clause in their passenger tickets that designates the only place passengers can be sued.
However, there are a few exceptions. In Boehnen v. Carnival Cruise Lines Inc.,788 So.2d 1084 (2001), the Third District Court of Appeals held that a passenger's shortened statute of limitations under the contract on the passenger's ticket did not apply to mentally incompetent passengers who were not represented by a legal guardian as required.
According to several court rulings and legislation, hiring an experienced cruise ship accident lawyer is one of the most important decisions you can make if you are harmed or injured on a cruise ship.
What Is The Cruise Ship Accident Statute of Limitations?
Don't let weeks go by thinking a cruise ship employee with help resolves your service injury case. By law, a cruise line with a legitimate ticket may restrict your lawsuit rights with a time limit for filing a lawsuit of no less than one year. The statute of limitations in an admiralty case is usually three years. However, most, if not every, cruise line employs a one-year limit.
If you miss your deadline, depending on the circumstances, you may be able to show that the contract-based restrictions period was unreasonable and unenforceable or that you are exempt.
The odds of something going wrong on a dream cruise ship holiday are extremely low, so most people who go on them never consider what could go wrong.
Fortunately, in most situations, things work out properly onboard ships, which is why cruise travel proliferates. In the event of an unforeseen occurrence while aboard a seagoing vessel.
Get Fair Compensation For Accidents on Cruise Ships By Calling a Lawyer in Long Beach Today!
Did you suffer various losses on a luxury cruise, including pain and suffering lost wages? Our attorneys work on a no-win no, no-fee contingency basis. Your case could be worth nothing, hundreds of thousands or even millions of dollars. We invest much time in a free initial consultation to evaluate your case.
Contact us today, and let our Long Beach Cruise ship lawyer win your case as part of your cunning and charismatic legal team. Call us at (833) LETS-SUE and speak to an aggressive cruise ship accident lawyer.
Boat Accident

Long Beach personal injury lawyers proudly serve the following Long Beach zip codes: 90711 / 90712 / 90731 / 90740 / 90755 / 90801 / 90802 / 90803 / 90804 / 90805 / 90806 / 90807 / 90808 / 90809 / 90810 / 90813 / 90814 / 90815 / 90822 / 90831 / 90832 / 90833 / 90834 / 90835 / 90840 / 90842 / 90844 / 90845 / 90846 / 90847 / 90848 / 90853 / 90888 / 90895 / 90899
Michael Ehline is an inactive U.S. Marine and world-famous legal historian. Michael helped draft the Cruise Ship Safety Act and has won some of U.S. history's largest motorcycle accident settlements. Together with his legal team, Michael and the Ehline Law Firm collect damages on behalf of clients.
We pride ourselves on being available to answer your most pressing and difficult questions 24/7. We are proud sponsors of the Paul Ehline Memorial Motorcycle Ride and a Service Disabled Veteran Operated Business. (SDVOB.) We are ready to fight.