If we don't win, you don't pay.
Speak to the Attorney.
Born to serve.
633 W 5th Street #2890
Los Angeles, CA 90071
(213) 596-9642.
Date Modified: August 18, 2023
We welcome you to Ehline Law's wrongful death maritime matters at sea page. I am cruise ship lawyer, Michael Ehline. I helped draft legislation to help cruise victims and I am always helping cruise victims get the most money possible for their negligence claims against the cruise industry!
Ehline Law Firm Can Represent You
Have you lost a loved one at sea, and you're seemingly unable to get any useful answers from the captain or a former crew member? Were you injured on an oil rig or while ship-building and told to keep quiet about vessel passenger deaths or rapes at sea by a fellow crew member?
For years, cruise ship companies have tried to prevent maritime law from holding them to the same standards as land-based companies by lobbying Congress. To get what you deserve, you need your congressional lobbyist, like Michael Ehline, Esq, as legal counsel across important oceans and sea lanes on vessels like boats or barges.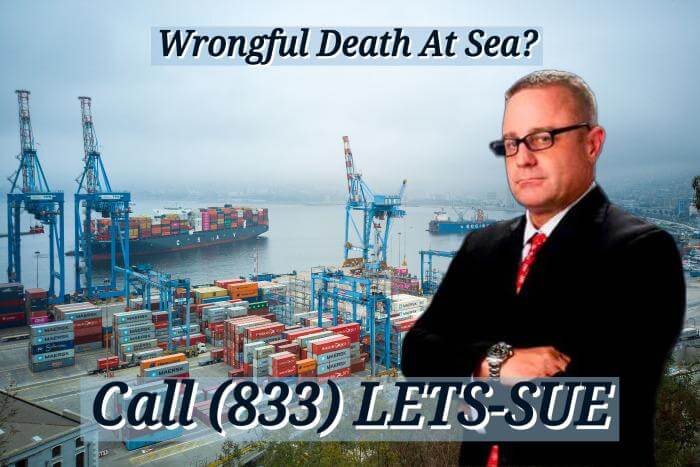 Choose Us or Risk Losing
Why face maritime cases alone when your fellow crew members want to join you to help with fatally injured passengers, and crew claims with the best lawyers helping? With our deep understanding of general maritime law, a bulldog lawyer from Ehline Law Firm can assist you and any crew member, depending on your unique situation's time constraints and issues.
We have helped many others hurt in international waters in all types of practice areas and different laws with loving compassion.
Why Choose Our Maritime Wrongful Death Lawyers?
We have lobbied Congress on behalf of the American people. Lead attorney Michael Ehline, along with the International Cruise Victims (ICV), has done so to secure more stringent maritime law elements that keep cruise ship passengers protected in the case of a maritime accident or circumstances involving death on the high seas.
Legal Pros
This is especially true when wrongful death action needs to be taken and supported by the underlying policies that killed the seaman or paying traveler. In any case, our foremost legal professionals can provide you and your loved ones with an experienced maritime attorney with a proven track record.
What Do Past Clients Say?
Our peer reviews and client reports show our team is famous for fighting big multi-million dollar companies for grieving families hurt or killed aboard negligent cruise ships or oil rigs in shipping lanes. We've handled many clients and unique claims every year, and we can get results for you too!
Does Ehline Law Firm Possess the Tools to Help You with Wrongful Death Claims Stemming from a Cruise Ship?
A maritime lawyer from Ehline Law Firm can assist you. With total dedication, we have helped thousands of families, spouses, and other dependent relatives of those who may have been lost at sea or the center of crucial wrongful death at sea case situations.
The advantages are many, with one being that we can maximize your result and cover out-of-pocket costs in advance. Surviving family members can never replace those they have lost, but at least they can get compensation in their time of pain. The damages we can recover in a wrongful death lawsuit include the lost wages of a deceased breadwinner, funeral expenses, pain, suffering, etc.
Proven Experience
It's a dark chapter in life when maritime accidents cause the loss of a mom, sister, child, father, grandma, etc. Hiring an experienced naval lawyer allows you to grieve without having to concern yourself with the legal side of things or depend on some moron you saw on a billboard with no experience practicing law.
Are You Allowed to Sue for Negligence-based Fatalities Based on the Jones Act?
Maritime injuries can be on the complex side of the spectrum. You're advised to reach out to Ehline Law so we can evaluate the legal options that may be available when you're ready to discuss the incident and other information to learn more.
The Jones Act (Merchant Marine Act) may apply in a Maritime wrongful death case born from boating accidents. The ability to recover damages depends on numerous factors.
You should also note that in some cases, the statute allows children, parents, or spouses to exercise elements of the Mariner's Jones Act in damage recovery.
What Does the Death on the High Seas Act Have to Say?
The High Seas Act does not allow for non-pecuniary damage recovery from employers, such as loss of consortium. Your maritime attorney must know how to handle wrongful death cases beyond US territorial waters. Of course, those within the territory yield more general damages.
Some cases may see a vessel owner on the other end of a maritime claim, while the employer may be the other party in other cases.
Wrongful Death Victims
Dockers, terminal workers, ferry accidents, etc., may also include wrongful death claims independent of maritime workers. Just about anything touching the water can fall within these personal injury lines.
Is It Possible to Sue Successfully for a Freshwater Death?
There are freshwater deaths that can fall under general maritime law. Jet ski fatalities are prime examples. Of course, maritime attorneys must evaluate several essential factors to see if these personal injury matters fall under maritime law.
Sometimes the wrongful death statute is where the claim should be filed. Again, you would default to your personal injury attorney to evaluate the circumstance in this case.
How Does the Jones Act Apply to Your Case?
The Jones Act is meant to protect working seamen and merchant mariners. Recovering damages, alongside other types of recovery, are at the fore here for injured workers.
Illness while employed and mishaps, for example, are covered items. The first step is to contact Ehline Law Firm to understand what kind of claim you may have.
Do Employees Have the Right Under the Act Like Their Land-based Counterparts Do?
Yes! The Jones Act protects those working on sea lines just as workers' compensation benefits would in land-based industries, yielding temporary or permanent disability damages after cases. Unseaworthy vessel injuries and other matters that see the owner directly responsible are covered too!
Does the Longshore and Harbor Workers Compensation Act Help Affected Employees?
Indeed it does! Under federal statute, this act makes provisions for payment of medical care, compensation, and vocational rehabilitation services to employees that may have been disabled from injuries that occurred on the job while on the navigable waters of the United States.
Conditions of Negligence
The owner fails to train, hire, or staff the vessel
Lack of protective clothing or proper equipment on cruise lines
No enforcement of safety practices
Lack of effective maintenance on the vessel
Having employees work in heavy seas or other dangerous weather conditions.
What Constitutes an Un-seaworthy Vessel under Maritime Law?
Unmaintained decks or slippery surfaces, passageways, and gangways
Excessive lifting or work that is dangerous for a person
Untrained crews or understaffed units
Improper cable, wire, and line storage
Loose or under-maintained rails, bulkheads, and rails
Insufficient lifeboats under applicable injury and safety laws.
The personal injury lawyers at Ehline Law understand maritime and admiralty laws to protect passengers, seamen, and others. We await your call to support you and prove your accident case. (both passenger and seaman claims.) Failure is not an option once you hire us to do our duty and advance costs.
Schedule a Free Consultation with a Top Los Angeles Maritime Wrongful Death Attorney Today
It all starts with a free case evaluation to find liability and damages. Ehline Law Firm pulls no punches in handling these cases. The success, experience, and knowledge of our Los Angeles personal injury attorneys, plus our ability to collect facts, are second to none!
Call us today toll-free at (833) LETS-SUE or use our contact form to schedule a free consultation so an experienced attorney can evaluate your negligence case. Let us help you with your injuries and your wounded or killed loved one. We will explain how the law applies to you, the victim, and help you recover what you are entitled to receive under California wrongful death law!
Michael Ehline is an inactive U.S. Marine and world-famous legal historian. Michael helped draft the Cruise Ship Safety Act and has won some of U.S. history's largest motorcycle accident settlements. Together with his legal team, Michael and the Ehline Law Firm collect damages on behalf of clients.
We pride ourselves on being available to answer your most pressing and difficult questions 24/7. We are proud sponsors of the Paul Ehline Memorial Motorcycle Ride and a Service Disabled Veteran Operated Business. (SDVOB.) We are ready to fight.