Introduction on How to Treat A Burn Injury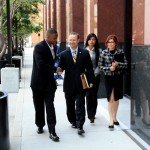 Assessing the severity of a burn is an integral part of determining how to deal with the burn injury and deciding whether to evacuate the burn victim.
What are the Burn Injury Treatment Instructions?
Difficulty Level: Check for Moderate Burns First.
What are the Steps?
1.
Step One
The first step in how to treat a burn injury is the most logical. Look at the wound site to be treated: If the skin is red and painful but there are no blisters, chances are it's a superficial burn.
2.
Step Two
Look for blistering and wetness and ask about the degree of pain. If blistering is present and the pain is severe, the burn is probably partial thickness.
3.
Step Three
Consider a full-thickness burn if the injured person reports no pain, or just a dull pain, in the center of the burned area. The skin may also look charred and grayish.
4.
Step Four
Look at the injured person's palm: The surface area of the palm represents approximately 1 percent of the individual's TBSA (total body surface area).
5.
Step Five
Compare this area to the extent of the burn to arrive at a TBSA figure. Burns covering more than 15 percent (15%) TBSA are life-threatening, especially partial- and full-thickness burns.
6.
Step Six
Continue with treatment for the burn (see also "How to Treat a Burn in the Wilderness").
---
Tips & Warnings
The terminology of burn depth has changed: Superficial, partial-thickness, and full-thickness used to be known as first-, second and third-degree. You may be more familiar with that naming system.
Blisters may take up to 24 hours to develop in partial-thickness burns, so the lack of blisters doesn't necessarily mean the injury is only superficial. The degree of pain may be a more reliable immediate measure.
Burns in particular areas are more dangerous than others on the:
Face.
Neck.
Hands.
Feet,
Armpits.
Groin.
Genitals.
Buttocks.
When in doubt, evacuate the burn victim. *This information is not a substitute for professional medical advice or treatment.