Exposure to wildfires, increases cancer, period. And it's not just a higher incidence of lung cancer. The reports mentioned many diseases besides the risk of certain cancers are growing in people who are unfortunate to be living near places where the wildfires are taking place.
Canadian Research Makes Alarming Revelations
It's not just climate change we're talking about when we mention health effects of human carcinogens in wildfire pollutants. Researchers at McGill University from Canada have recently shared their cancer risk research data about wildfires and the impact of wildfires on the nearby areas. The McGill University researchers have discovered that ever since the rise in the wildfire incidents, a great surge has been recorded in the cases of brain cancer and lung cancer from wildfire pollutants even after the fire has stopped burning.
The research has confirmed that the people living in close proximity to the 30-mile radius of the wildfires are more likely to grow symptoms and a greater incidence of lung cancer and brain tumors. The researchers based their research on a 20 year data. The first decade they researched was prior to the wildfire and the second decade was post-wildfire.
Their research has established that people with the mentioned radius have 10% more chances of being diagnosed with lung cancer and brain tumors. For the lung cancer cases, the same people have 5% higher incidence of lung cancer and brain tumors compared to people living outside the particular radius.
Scott Weichenthal Makes his Statement
Scott Weichenthal is an associate professor at the McGill University's health and biostatistics' department. Weichenthal reportedly led the research making very alarming discoveries about carcinogenic wildfire pollutants.
Weichenthal revealed that they were getting constant signals of rising brain cancer and lung cancer risks. When they paid a close attention and tried finding a similarity, they discovered they were all living near to the wildfire occurrences.
As per their research and tests, they have come to the conclusion of what has caused this problem. They revealed that it is carcinogens that get released into the air when a wildfire incident takes place. It is the only logical reason and explanation that is becoming the reason behind the constant rise in cancer cases.
What is Causing These Wildfires?
It is quite shocking that while there is only a single natural cause of wildfires, there are several causes that involve humans. These wildfires take place in prairies, grasslands, or forests. In majority of the wildfire cases, the causes were arson, power line sparks, cigarette butts that are still-lit, and unattended campfires.
Wildfires are Occurring in Almost Similar Areas
It has been recorded by the McGill University study that the wildfires are occurring at places that are commonly known for having several wildfire occurrences. This means that most of the areas with wildfires are highly prone to such disasters.
Therefore, the people living near such wildfires have a higher risk of developing lung cancer or brain cancer symptoms. Due to the repeated wildfire occurrences at the same places, people in the surrounding areas are being exposed to carcinogens.
Proximity To Forest Fires Could Increase Cancer Risk?
Yes. The presence of carcinogen chemicals in people living near the wildfires is much higher than the people living further away from such areas. In the recent years, the wildfire occurrences have picked up the pace as well. Due to increased number of occurrences of wildfires, the pollutants are becoming common in the areas causing huge damage to the health of people in such areas.
Over time, the wildfires have started growing bigger and they continue to burn for days and weeks. In the past, the wildfire cases were very few but now, they are growing in size as well as volume. The major attributes towards the constant rise in wildfire cases is the global warming situation.
It has continued impacting the global environment and season of wildfires has grown larger as well. Weichenthal confirmed that he was accompanied by his colleagues as well as one of the PhD students, Jill Korsiak. Jill Korsiak reportedly ran analysis on the data collected from the sources and helped in the research documentation about certain types of lung cancer and brain cancer risks.
"Many of the pollutants emitted by wildfires are known human carcinogens, suggesting that exposure could increase cancer risk in humans," according to Ms. Jill Korsiak. The study also gies into brain tumors, as discussed above. Believe it or not, many people could be held legally liable, including products manfacturers who knew or should have known that exposure to wildfires transmutes their products into cancer causing intoxicants, increasing the risks of developing cancerous diseases.
Schedule a Free Consultation With a Residential Fire Cancer Lawyer
What do you think about Jill Korsiak and her conclusions? We think she is on to something. Did you or your loved one contract lung cancer or brain cancer after exposure to So Cal Wildfires? Contact our severe burn injury lawyers today to discover more about cancer, fire and financial compensation from negligent parties causing the toxic exposure causing lung cancer or brain cancer in your family.
How about some other cancer and brain tumors? The incidence of lung cancer with wildfire victims is appalling.
Our world class law firm has helped thousands of people recover millions in financial compensation from at fault defendants. Learn more during our free case consultation, 24 hours a day, seven days per week from top notch personal injury lawyers in Los Angeles County.
Call us today at (213) 596-9642, or use our convenient online contact form for informational purposes only and a prompt call back. We are eager to help you get back on your feet after a fire related accident.
Citations:
Michael Ehline
---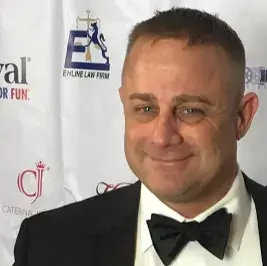 Michael is a managing partner at the nationwide Ehline Law Firm, Personal Injury Attorneys, APLC. He's an inactive Marine and became a lawyer on the California State Bar Law Office Study Program, later receiving his J.D. from UWLA School of Law. Michael has won some of the world's largest motorcycle accident settlements.