If we don't win, you don't pay.
Speak to the Attorney.
Born to serve.
633 W 5th Street #2890
Los Angeles, CA 90071
(213) 596-9642.
Date Modified: June 12, 2023
The beach-side cities of Los Angeles County in Southern California are hubs for 'bird' electric scooters. Santa Monica, Orange County, and Newport Beach are all well-known for their large communities of e-scooter riders, but none quite as much as Long Beach.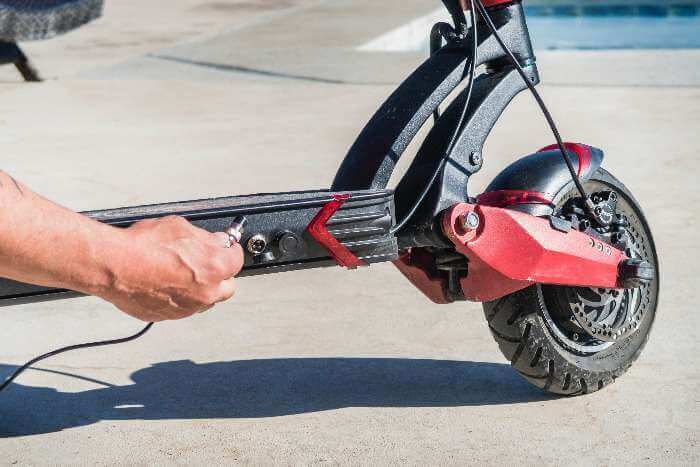 LBC Scooter Accident? – We Help Level The Playing Field
Bird, Lime, Jump, and Spin electric scooters dominate the streets of Long Beach, bringing a culture of eco-friendly, laid-back convenience to the area. However, it also brings a higher risk of accidents.
Hundreds of people suffer injuries in accidents involving electric scooters in LA annually, with numbers increasing year on year. Some incidents have even resulted in fatalities. Scooter riders, other drivers, and pedestrians are all at risk, so knowing the law and where to turn for assistance in e-scooter accident claims is essential.
Ehline Law is the first choice for this type of personal injury claim, with a winning legal team ready to help victims get the compensation they deserve. If you have an e-scooter accident claim, speak with our experts today.
Electric Scooter Accident Statistics
There are more people injured in e-scooter accidents than in motorbike accidents in LA.
The number of people injured in LA alone jumped from 595 in 2018 to 672 in 2019.
18 to 34-year-olds are most likely to be injured in an e-scooter accident.
More than 40,000 people in the US were treated for an e-scooter injury in emergency rooms in a one-year period- mainly for bone fractures or dislocations, lacerations, or soft tissue damage.
More About E-Scooter Accidents in Long Beach
Long Beach is a hotspot for young motorized scooter riders but is also home to a busy road system. Like much of Los Angeles, it has many pedestrians, cyclists, and other motorized vehicles on the roads.
Add the increasing number of Bird scooters into the mix: it is no surprise to see injuries increasing.
What Makes Electric Scooters So Dangerous?
Los Angeles continues to attract more and more e-scooters and riders: great for the environment, but not so great for the people ending up with serious injuries.
What is it about these scooters that makes them so dangerous?
Many factors may be involved- relating to scooter operator behavior, reactions from others, and general usage conditions. Here are a few things that make e-scooters dangerous for their riders and others around them.
Lack of Visibility
Bird scooters are compact by design and tend to move quickly and quietly. It is easy to miss one coming as a pedestrian or driver.
Limited Protection
Even with all the required safety gear, there is very little to protect a scooter rider from injury. The chances of a nasty injury are higher without any barrier between them and the road (or a moving vehicle).
Handling Road Conditions
Sometimes, even a minor imperfection on the road can throw a scooter rider off balance. The small wheels and lightweight frames are more susceptible to potholes, bumps, debris, and cracks.
A scooter accident because of general road hazards becomes even more likely in poor weather conditions.
No Special License Requirements
No special license is required for riding e-scooters on public roads, meaning inexperienced riders can depend on motor vehicles on busy road systems.
Irresponsible Use
Inexperience can often lead to irresponsibility. Although Los Angeles and most of California have restrictions on who can use e-scooters, plenty of people ignore the rules. Riding a scooter without proper care and consideration for other road users is an excellent way to cause an accident.
Vandalism and Vehicle Sabotage
Scooter wars are an issue for Los Angeles e-scooter riders. Even as far as San Diego, people are actively trying to stop motorized scooters from taking over, even going so far as to damage the vehicles purposely.
Unfortunately, this can cause an e-scooter accident if the rider does not realize something is wrong. Sometimes breaks are cut, or bolts loosened, which can easily cause an accident and injuries to multiple parties.
Most Common Causes of Electric Scooter Accidents in Long Beach
These are some potential dangers, but what actually causes most e-scooter accidents and injuries in Long Beach and Los Angeles?
Pedestrian and E-Scooter Collisions
Some of the people most at risk of injury by e-scooters are pedestrians. Although riding a motorized scooter on a sidewalk is illegal, many people do. Scooters can move up to 30 MPH or more, which is more than enough speed to cause significant injury to a pedestrian.
Another common cause of pedestrian injuries is scooters left lying around or sticking out too far. Riders may leave their scooter lying on the ground or leaning against something while they talk to a friend or run into a store rather than park it safely. Pedestrians can trip and fall in these instances.
Scooter Riders Injured when Attempting to Avoid Collisions with Others
Most e-scooter accident cases are solo rider injuries. Often, a person is hurt trying to swerve to avoid a pedestrian, obstacle, or other road user. They can drive into something else or fall off their scooter in the attempt.
Motor Vehicle Driver Injured when Avoiding Collisions with E-Scooter Riders
In some cases, scooters can cause a car accident, which can lead to severe injuries for other drivers. If an e-scooter driver is using the road irresponsibly or a car driver is not paying attention and doesn't notice them, it can mean a last-minute swerve to avoid a collision.
Unfortunately, it can end up worse for the car driver, who may drive into another car or obstacle or even cause a pile-up.
Electric Scooter Defects or Damage
Faulty scooters can malfunction and lead to accidents. Whether the fault is down to manufacturing or some other form of damage, it can cause harm. Luckily, this type of scooter injury is usually minor.
Single Scooter Accidents Caused by Road Hazards
Uneven roads, poor weather conditions, roadway debris, or potholes can also cause accidents. A small, lightweight scooter can be difficult to control and counter against bumps, dips, and obstacles.
E-Scooter and Car Collisions
The most common cause of electric scooter personal injury cases is a car and scooter collision. Many riders are hit by cars or car doors. Many drivers are not yet used to the increasingly high numbers of e-scooters in areas like Long Beach and Santa Monica, so they may not be fully vigilant and aware of the dangers.
Because of the limited protection afforded to e-scooter riders and the difference in power between a car and a scooter, these accidents can cause potentially catastrophic injuries.
Understanding Fault in Electric Scooter Accidents
As you can see, a scooter accident is far from one-size-fits-all, and knowing who is at fault is not always black and white. Speaking with a professional e-scooter accident lawyer at Ehline Law is the best way to establish who is at fault in your individual case.
Who Is Responsible for Damages?
The party at fault and ultimately liable for damages is the one that can be shown to have failed in their duty of care and directly caused the incident as a result.
Depending on the circumstances of the incidents, the responsible party to pay could be:
A scooter rider (if their actions caused a collision or injury to a pedestrian)
Other road users (in cases where the car driver etc., failed to pay proper attention to a scooter rider abiding by all the rules of the road)
The scooter company or scooter manufacturer (where a fault or flaw is found in the design)
An external party (someone who deliberately damaged the scooter)
Local council or property owner (party responsible for poor road conditions or debris lying around.)
In each individual case, all angles must be explored to ensure victims can claim against the right party for the right damages. The at-fault insurance company may try to claim against the victim, so having all the facts and a lawyer who can passionately protect your rights is essential.
What Damages are Claimable and By Who?
Police reports and other evidence collected from the accident scene can help determine who is liable and what can be claimed. The more evidence provided, the more detailed a claim can be.
Anyone injured or otherwise impacted by an e-scooter accident (the rider, a pedestrian, another driver, etc.) can claim damages if they believe there is clear fault and negligence by another party.
Here are some of the damages that may be included in an e-scooter accident claim in Long Beach. Remember, each case is unique, and specifics should be discussed with a dedicated lawyer.
Medical Expenses
A serious injury or minor injury both incur costs. The at-fault party's insurance should cover medical bills relating to the accident. If the scooter company is deemed responsible, they are liable for all medical costs, including paramedics, ambulance, hospital treatment, prescriptions, and follow-up medical checks.
Other Personal Injury Costs
It is not only the medical treatment that comes at a cost to the victim. Lost wages, parking expenses, additional support and care for dependents, and other funds lost due to injury can be included in a claim.
Property Damage
E-scooters and cars are often damaged in collisions. Just like when two cars are involved in an accident, information should be exchanged, and the person deemed responsible should pay for the repairs or replacements.
Other property that can be claimed for damage includes phones, protective gear, public property (lamp posts, walls, etc.), or other personal belongings. If an accident happens on your property that wasn't your fault, you can also claim for private property damage (garden fence, post box, etc.).
Pain and Suffering
Sometimes, the injuries sustained in an e-scooter accident can leave lasting troubles and disability. Pain and suffering cover the other side of an injury you can't see, including time lost, reduced quality of life, mental and emotional impact, and more.
Putting a figure on pain and suffering is difficult, which is where an experienced attorney can make a difference. Many people feel pressured to settle for far less than their pain and suffering is worth, but at Ehline Law, the team ensures that doesn't happen.
Wrongful Death
Luckily, e-scooter accident fatalities in Long Beach are very rare, but they are not unheard of. In the unlikely event, a person is killed because of an incident involving an e-scooter, their family can claim wrongful death compensation against the negligent party.
California Electric Scooter Laws and Regulations
In California, there are rules and regulations in place to help limit the risks of e-scooter riding and attempt to combat the rising number of incidents. All motorized scooters (including bird scooters) require the rider to be at least 18 years of age and have a valid driver's license or at least a learner's permit. Unfortunately, some people ignore this rule.
All riders must wear helmets and stay off of the sidewalk. They should exceed a maximum speed of 15 MPH. The only exceptions are bike lanes, where they can travel at 25 MPH. There are also rules about where scooters can park and how much space must be left clear for pedestrians.
California Vehicle Code section 21235 applies these rules to any scooter with an electric motor, handlebars, and a floorboard. Many of these laws are still fairly new, but the State of California is determined to press them for the safety of all road users- especially in areas such as Long Beach, where e-scooters are so popular.
How Can Long Beach Electric Scooter Accident Lawyers Help?
Any accident involving a motorized scooter likely has an at-fault party and a victim. An e-scooter accident lawyer can help determine who is who and protect the injured party's rights.
A free consultation with an experienced personal injury lawyer in Los Angeles who understands scooter accident laws and liabilities is the best first step to take toward recovery. With all the privileges of an attorney-client relationship, everyone involved in a scooter accident can get the advice and assistance they need.
Other ways an e-scooter accident lawyer can help include the following:
Dealing with insurance company negotiations
Helping establish fault and negligence under the law
Fully exploring what damages are applicable and pushing for maximum compensation
Taking the weight of the case off the victim's shoulders so they can focus on recovery
Ensure all evidence and paperwork are properly and compliantly handled and processed
Providing much-needed support in a difficult time.
Speak with an Expert Personal Injury Attorney You Can Trust at Ehline Law Firm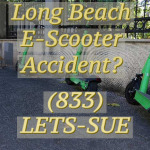 If someone else's negligence caused an electric scooter accident that led to your pain and suffering, Ehline Law Firm and its award-winning attorneys could help. As experienced scooter injury lawyers working in Long Beach and Los Angeles, the Ehline Law legal team is the best choice to support your claim. We work to the highest standard to uphold the stellar reputation built in Long Beach, Santa Monica, Beverly Hills, and across Los Angeles as one of the most reliable and talented legal teams available. Reach out today for a no-obligation consultation with skilled attorneys who care about helping victims get what they deserve, starting with a free case evaluation.
More than other law firms in the LA area, our team at Ehline's Law offices understands that personal injury cases are more than facts and figures: we see you and are ready to fight in your corner for lost wages, pain, suffering, and other damages from Long Beach to San Diego, CA. Arrange a free consultation or case evaluation now with Ehline Law at the Los Angeles office: led by the best personal injury lawyer in Long Beach, Los Angeles County.
Long Beach personal injury lawyers proudly serve the following Long Beach zip codes: 90711 / 90712 / 90731 / 90740 / 90755 / 90801 / 90802 / 90803 / 90804 / 90805 / 90806 / 90807 / 90808 / 90809 / 90810 / 90813 / 90814 / 90815 / 90822 / 90831 / 90832 / 90833 / 90834 / 90835 / 90840 / 90842 / 90844 / 90845 / 90846 / 90847 / 90848 / 90853 / 90888 / 90895 / 90899
Michael Ehline is an inactive U.S. Marine and world-famous legal historian. Michael helped draft the Cruise Ship Safety Act and has won some of U.S. history's largest motorcycle accident settlements. Together with his legal team, Michael and the Ehline Law Firm collect damages on behalf of clients.
We pride ourselves on being available to answer your most pressing and difficult questions 24/7. We are proud sponsors of the Paul Ehline Memorial Motorcycle Ride and a Service Disabled Veteran Operated Business. (SDVOB.) We are ready to fight.