Why Form An Attorney-Client Relationship With Ehline Law Firm in Long Beach, CA?
You already know you can get more with a great lawyer, even after paying legal fees. But no matter how much you like your result, if your lawyer or their staff are jerks, you lose your quality of life. Who pays you for that lost time and unhappiness? No, you need a lawyer who is not only aggressive and hard nosed with the insurance company.
You also need someone from the streets who has compassion about your dire situation since losing your only job after becoming disabled from your slip and fall, dog bite, car accident, truck accident or scooter crash near the Long Beach Aquarium and Hooters.
You need a lawyer who can answer all your questions so you can maximize your financial recovery after an injury-accident. Don't you want to be treated as a partner and also as a client? Don't you want to be fully informed and know your options? If so, keep reading what our personal injury attorneys have to say below before you make your selection! We make it easy because only we can provide the personable service Long Beach injury victims deserve.
Your Personal Injury Claim and You Will Be Treated With Compassion and Respect!
What's the verdict about our service and compassion? A cursory review will show you right away, Ehline Law offices are second to none when it come to better quality, better service and even better results in both criminal defense and with legal help for negligence claims.
As an inactive Marine, our lead counsel has inspired a tradition of service and respect for our clients, who we look at not as files, but as friends. We want to help you and your family in the future too. From San Bernardino, to clients seeking legal representation in Riverside and Long Beach, CA, we go the extra mile. We make it happen, that's the Ehline difference.
An experienced Long Beach personal injury attorney at our firm can note how the insurance company will value your claim in dollars and cents. For example, you may qualify for an award of economic damages for hospital medical bills, lost wages, as well as general damages related to pain and suffering. But in fact, in serious and egregious cases, punitive damages may be available. You can get answers and support by picking up your phone and obtaining your free consultation today on your account.
A Free Consultation Could Save You Thousands in Time and Stress!
Without a great lawyer to give you a free consultation and explain everything, how would you ever know who to hire? Getting a free case evaluation is your first step to understanding your rights and protecting you and your family from financial problems after a bad accident in Long Beach CA!
A free consultation means just that, it's a free consultation in person or over the phone. It's also risk free and totally confidential. Our experts will review any documents, videos, and statements and hear what you have to say. Anything you say or submit to us will be accompanied by the attorney client privacy, including any questions. We follow confidentiality rules in the State of California, under both statute and State Bar rules.
What Types of Cases Do Our World Class Personal Injury Lawyers Take?
Many of the cases our devoted, dedicated elawyers are handling in Los Angeles are motoring accidents, typically involving an e-scooter, bicycle or motorcycle.
Personal injury cases with physical injuries and property damage our attorneys help victims with include: 
Drivers must abide by a reasonable "duty of care" to respect the safety of others, as partners, sharing the roads. If another driver or road construction crew breaches duty and violates duty that by operating their car, truck, bicycle or bus recklessly or negligently, the victim deserves an award of maximum financial compensation.
Sometimes a long haul trucker, or another employee is wounded, such as a long haul trucker. There may be third parties who can pay more than what is available under workers compensation laws. So you may have a choice to pursue additional funds from another party by hiring the right personal injury lawyers.
The port of Long Beach is famous for big rig truck crashes along the 710 Freeway, in particular. When a semi-truck crashes into a person or motor vehicle, the injuries are often fatal. The accident could have been the fault of the trucker, the other driver, the truck manufacturer, or a parts maker business. Even the truck company, de-facto owner, and people who loaded the truck could face responsibility. Even someone who leased the truck for a trip can be held liable. We will seek out all liable parties with insurance money to pay using extensive investigations with our goal of finding out the truth. 
Los Angeles County bike lanes must follow Caltrans bike safety regulations and cars must maintain at least an arms length. Even so, bicycles have far, far less protection than enclosed motor vehicles. So when you're hit or struck while riding, the chances are the car driver is liable.
Believe it or not, despite the police and public bias against motorcyclists, most of the time, the motorcyclist is not at fault for the wreck. Our personal injury lawyer team has represented many people injured in Long Beach motorcycle accidents over the years. Our experts leave no stone unturned in our quest for maximum recovery, by taking charge and winning big!
Our best personal injury lawyer has handled many cases where people on foot are run over by cars or E-Scooters in Long Beach, CA. You deserve to be compensated when fail to abide by the sidewalk regulations, or rules of the road, If someone strikes you with their vehicle, a flying or falling object selects us to handle your matter. 
Did you know that a small dog bite puncture wound can lead to permanent muscle damage, a deadly infection, or wrongful death? Find some time to call us before you make your scratch and puncture wound fester. 
If you slipped, tripped, or fell on the ground at someone else's property, including a private or public place, you may be entitled to money damages and compensation from the at fault party and we can help. 
If you were injured on a job site due to the negligent actions of an employee for another business, you can file a personal injury claim with their insurance company or work comp insurance to cover your injuries.
We understand how ridesharing has changed the City of Long Beach, with novice drivers doing the work of professional common carriers. If suffered a passenger injury or were wounded as an Uber or Lyft driver in an auto accident, choose us to make your claim against their insurance policy. Both are supposed to cover up to $1,000,000 during transport accidents.
There is no question that wrongful death is among the worst travesties of justice that exists. The best lawyers understand you are grieving for a passed human, not money. However, keep it real. We represent you with vast resources and aggressive representation. We fight and focus on building evidence to make up for the loss of income and suffering. We passionately serve on your behalf in and out of courts until our duties are complete.
Tips for These Accidents?
First step: Remain calm. Find a place of safety away from new or existing hazards. If in a car, without fleeing the scene of the accident, pull the vehicle over when safe. Telephone the authorities at Long Beach PD after checking yourself and others for injuries. If so, tell them to send an EMT or ambulance for a trip to the emergency room.
If you are physically capable, try and write down what transpired into your Smartphone notepad, or using pen and paper. By law, in a crash, you must exchange your contact and insurance proof of financial responsibility with any person involved in the wreck. Use your phone to snap pictures of the accident scene, skid marks, and debris fields.
Try and locate eyewitnesses and identify any video cameras at local buildings or businesses. If so, get their addresses and try to speak to the store owners about preserving evidence of fault on your behalf.
TIP: Never make admissions of liability like "sorry, I didn't see you," etc. These are things scared people do who may be intimidated by the other driver, etc. All this does is make you look stupid and sink your insurance claims, forcing courts to decide.
Q: How Much Does a Long Beach Personal Injury Attorney Charge?
Answer: Ehline Law Firm handles negligence claims on a contingency fee basis. This means we charge nothing upfront. We will also advance out-of-pocket costs on your behalf. For Michael P. Ehline or his legal team to be your personal injury attorney, you will sign a "contingency fee" agreement. Once done this will create an attorney-client relationship documenting that we receive our fee from your ultimate settlement award, or "winnings." This is also known in popular culture as a no-win, no-fee promise. In essence, we are sort of a partner, or mercenary working on your behalf, tied at the hip in search of a decisive legal victory.
Q: How Much is My Settlement Worth?
Ethically, your lawyer cannot guess your case for you, by using a set formula for how much a personal injury settlement is worth. Like humans, each case is unique in problems and positive aspects.
In any event, the charismatic attorneys at Ehline Law Firm in Long Beach have recovered millions in verdicts and settlements for our past clients.
The value of your case will depend on many factors, including:
Medical bills and other medical expenses like physical therapy
Loss of earnings
Pain & Suffering
Property Damages
Our lead personal injury lawyer will need to document everything you suffered after the accident. What we can say is we fight for you and we fight harder. Our U.S. Marine mentality means you are getting a proven champion who truly understand torment, suffering and good will. You can receive your free consultation with our proven fighter by calling us to discuss fair compensation at (562) 731-0668. 
How Long Before I Settle My Personal Injury Case?
To determine settlement value, insurance company negotiations are arduous, even in cases of clear liability. Because of this, the negotiating process can average a few weeks to six months or longer.
If there is a lowball settlement offer, it will take more back and forth and wrangling with the insurance adjuster. Less than two percent of will ever see a courtroom. Once settled, it can take up to sixty days to receive the draft and even longer to negotiate with your medical providers for any potential reductions and assure your credit stays clear of any collections reports.
Who Pays for My Injuries?
You can file a lawsuit against anyone who caused your injuries or death, even if it's more than one person or a business. They will be held jointly and severally liable to pay up. Our team of experts and investigators will put of proven track record and vast resources to work investigating your accident.
After our comprehensive work is done, will identify and list all liable parties in an insurance claim, or claims with each insurer. If we can't come to a global settlement, we file a lawsuit and let the jury decide.
WHAT IF I WAS PARTIALLY AT FAULT FOR MY Accident – CAN I STILL GET SOMETHING?
Yes, under California's pure comparative negligence rules, you can recover even if you were partially at fault. Here, your compensation will be offset in proportion to your percentage of fault for causing the accident.
For example, if you were 50% responsible for the event, insurance companies will offset your full recovery by 50%, meaning you would get half of your total damages paid to you. If you face the insurance company alone, it could cost you. You may not get the compensation you deserve, a raw deal.
Long Beach Personal Injury Attorneys at Ehline Law Are Here to Fight
Handling your own personal injury case can be daunting, even for a trained paralegal or law clerk. By having a personable, engaging personal injury attorney fighting by your side, you'll be instilled with confidence, trust, and fortitude. You will know for sure we will do everything under the sun to make sure you obtain an award of just compensation.
To get what you deserve while getting back on your feet, schedule your free consultation today at (562) 731-0668. A little free legal advice can go a long way when considering how difficult all the practice areas are in California.
---
Michael Ehline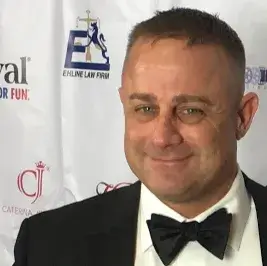 Michael is a managing partner at the nationwide Ehline Law Firm, Personal Injury Attorneys, APLC. He's an inactive Marine and became a lawyer in the California State Bar Law Office Study Program, later receiving his J.D. from UWLA School of Law. Michael has won some of the world's largest motorcycle accident settlements.
---
Recent Personal Injury News
Check out our most recent Long Beach, CA accidents and more, including the famous, infamous and everyday people wounded by at fault parties around the world.