If we don't win, you don't pay.
Speak to the Attorney.
Born to serve.
633 W 5th Street #2890
Los Angeles, CA 90071
(213) 596-9642.
2323 S. Voss Rd, Suite 244
Houston, TX 77057
(832) 592-1260.
Date Modified: July 2, 2023
Welcome to Ehline Law. We hope this ultimate guide to compensation for Tanker Trucking Wrecks in Los Angeles will help you understand your rights after being injured due to negligence. After all, tanker trucks can spontaneously combust and explode, seriously burning and killing people.
Hire a Fantastic Tanker Crash Law Firm Today!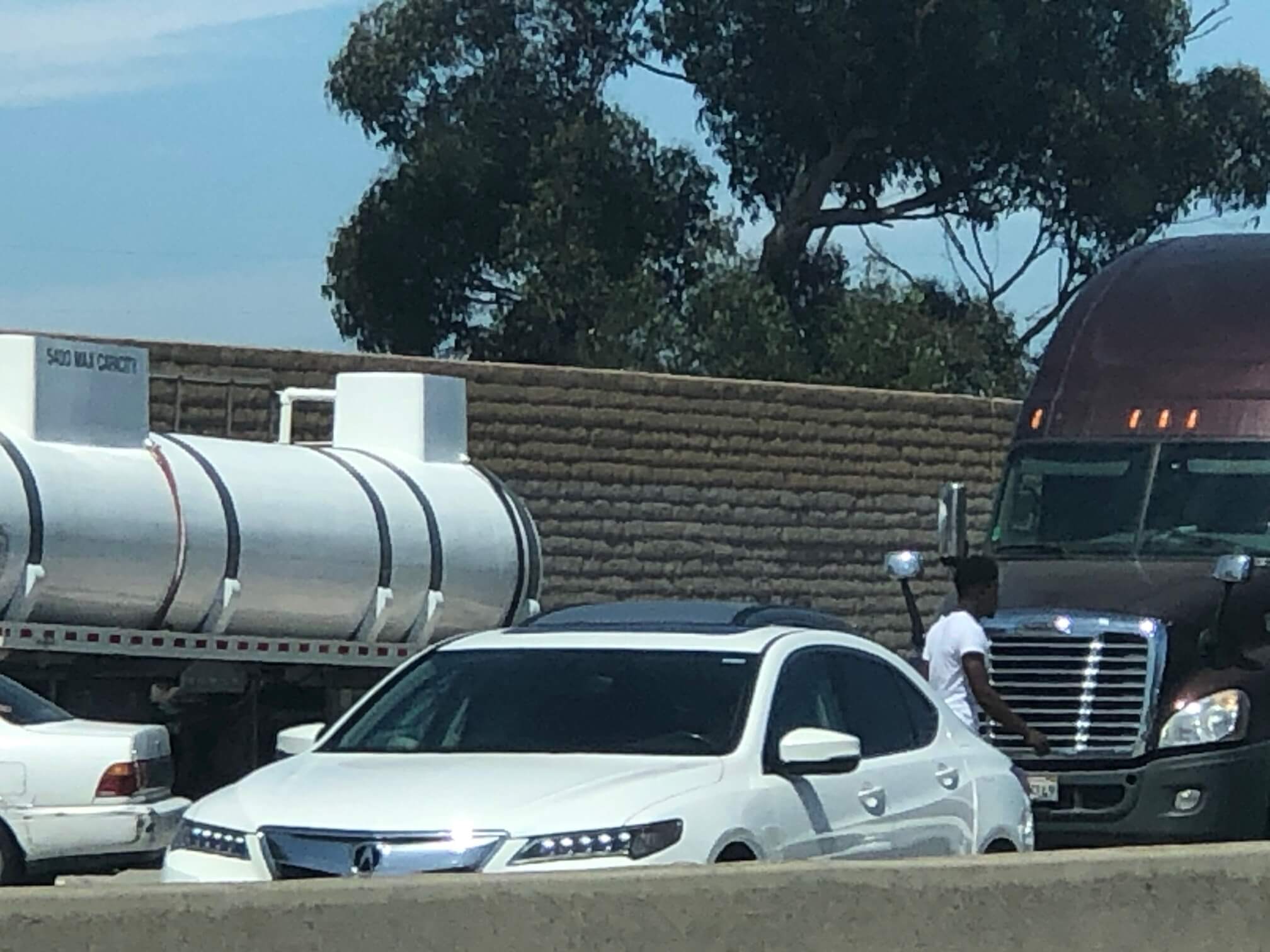 And depending on what they transport, they can spill dangerous, toxic chemicals on roads. These cases usually get defended by greedy insurance companies. After getting injured in a tanker truck accident, you probably have to deal with a long recovery process that will cost you thousands of dollars. Therefore, you are entitled to receive financial compensation, and here at the law offices of Ehline Law, we are happy to help you get the justice you deserve.
Our truck accident attorneys know everything about truck regulations and laws, making us ideal for managing your case and representing you in court. Let us take a massive weight off your shoulders by stopping by our law offices and hiring one of our well-trained professional Los Angeles lawyers.
What Is a Tanker Truck?
Tanker trucks are large commercial vehicles that transport liquid gasses, fuels, and other flammable materials in a regional haul. Thanks to their round design, you can easily recognize them. They usually have several compartments meant to carry several fluids simultaneously and reduce the movement on the road to prevent accidents.
Types of Tanker Trucks
It is also crucial to be aware of the several types of tanker trucks in Los Angeles and how to identify them. Some are straight trucks, but you can find semi-trucks hauling individual tanks. These tanks can also be pressurized, non-pressurized, vacuum sealed, and insulated.
They can also be categorized depending on the type of liquid they transport, and they can fall into the following categories:
Oil tanker
Gas tanker
Chemical tanker
Agricultural tanker
Liquid food tanker
Water tanker
Compressed natural gas tanker (CNG.)
Each type of cargo carried by these trucks has special regulations that the trucking company and the driver must follow to prevent accidents and ensure everyone is as safe as possible from a greater chance of a future catastrophic explosion. They also differ in size and can be categorized as light, medium, and heavy-duty trucks. The larger the vehicle, the greater chance of spilling load of toxic chemicals onto the roadway.
What Do Tanker Trucks Carry?
Tanker trucks in Los Angeles can carry several different things. These fuel carriers are not high-performance vehicles. Usually, they transport dangerous materials such as gasoline and diesel. But these large diesel trucks can also transport water, juice, milk, etc. Sometimes they even transport dry materials, such as sand.
How Much Fuel Is in a Tanker Truck?
Large tankers usually weigh up to 80,000 pounds, which gives us a better understanding of how much fuel they can carry. Still, it is crucial to remember that tankers vary in size, so not all of them can transport the same amount of fuel and natural gas.
Small tankers may only carry 1,000 gallons, while the largest tankers can carry up to 9,000 gallons of fuel or any other liquid.
Common Tanker Truck Accidents
Most tankers can suffer the same accidents and collisions as other vehicles, such as rear-end collisions, jackknife accidents, etc.
However, due to the design and cargo of these vehicles, they are exposed to additional risks, such as the following:
HAZMAT spills
Fires and explosions
Natural gas exposure.
Remember that these trucks carry dangerous materials that can be highly hazardous to people and the environment, such as natural gas and gasoline, which is why they mustn't spill or leak. The drivers must also be properly trained to avoid collisions that could cause the natural gas to spill or explode.
Tanker Truck Rollovers
One of the most common tanker truck accidents is rollovers. More than 1,300 cargo tank rollovers happen yearly in America, including in Los Angeles, but most can be prevented with adequate safety measures.
Many myths surround tank rollovers, such as that poor driving conditions cause them, yet the FMCSA determined that bad weather only causes about 4% of these accidents. The second myth regarding these semi-truck accidents is that speeding may cause them, but crossing the speed limit is only a factor in 28% of them.
Others commonly believe that inexperienced drivers cause these accidents, but more than 66% of truck accidents in Los Angeles involve drivers with more than ten years of experience. Therefore, the following are the three main reasons for tanker truck rollovers.
Driver Error
The years of experience the driver may have doesn't matter; they can still make mistakes that could be easily prevented. Sadly, a moment of negligence can have terrible consequences, such as not paying attention to the road and causing a rollover that spills out all the liquefied natural gas.
Vehicle Condition
Another common cause of truck rollovers is poor vehicle maintenance, such as poorly installed brakes that may stop working in the middle of the road.
Size and Weight of Loads
The last common cause of commercial vehicle rollovers in Los Angeles is the size and weight of the loads, especially if the tank isn't full. This means the load can "slosh and surge," causing instability and a drastic weight shift, especially when the truck turns or stops.
Who's Liable in a Tanker Truck Accident?
When getting in an accident involving a tanker truck in Los Angeles, the first thing that needs to be done is to determine liability, as this will help you decide who must pay for your damages.
Several parties can be held liable in these accidents, but the most common are the following:
The truck driver
The trucking company
The manufacturer of the truck
Government agencies.
Proving Negligence
Truck accident lawyers must prove liability by providing enough evidence of negligence, which includes the existence of a legal duty, the breach of that duty, the harm suffered by the plaintiff, and the relation between the breach of duty and the injuries suffered by the victim.
Additional Qualifications for Tanker Truck Drivers
Due to the hazardous nature of the materials transported by tanker trucks, truck drivers must be properly trained and certified to carry that cargo and drive those trucks. Therefore, regular people with a commercial driver's license can't drive a tanker truck.
The truck driver must be prepared to handle the weight of the natural gas and liquid load as it shifts when the truck moves, which is the most common cause of truck accidents. The trucking companies must also provide their drivers with personal protective equipment to load and unload the natural gas, so they don't get exposed to this or carbon dioxide gas, etc.
When you hire a law firm, its lawyers must inspect these aspects of the trucking company, as they are crucial to determine liability and create a strong case.
Compensation for Tanker Truck Accident Injuries
In most cases, after getting in an accident involving a tanker truck, the victim is entitled to financial compensation for all of their injuries caused by the hazardous materials.
The most common damages awarded to trucking accident victims in Los Angeles are the following:
Economic Damages
These damages include all medical bills, lost wages, and other countable economic damages you may have suffered. You must hire a lawyer and an accountant to create a realistic estimate of all the money you lost because of the accident.
Non-economic Damages
These damages include all psychological suffering the victim may have gone through due to the accident, such as the loss of partnership, pain, and suffering, emotional distress, serious injuries that led to disabilities, etc.
Punitive Damages
Finally, if the case goes to litigation, these damages might be awarded depending on the aggravating factors that can enhance the damages portion of your claim. Extraordinary damages like this can be granted by a judge in cases of road rage, chatting on the phone, or not paying attention to the road while driving commercial delivery vehicles like tanker trucks.
Another example would be a business allowing dangers like a known drunk operating their commercial truck while under the influence of alcohol on California highways.
Contact a Top Fuel Truck Accident Lawyer in Los Angeles at Ehline Law Firm Today
Want a free consultation to discuss your big rig accident? Contact our law offices if you're in Los Angeles and just suffered a truck accident with a fuel tanker or fuel tender carrying explosive, liquid cargo. Find out about forming an attorney-client relationship with our law firm by talking to a specialized truck accident attorney ready to help you fight for your case.
To get a free case evaluation, fill out the form at the bottom of this page, and we will reach out to you in no time. Or just call us at (213) 596-9642 before your case's statute of limitations to sue expires.
Other Common Carrier Accidents
Michael Ehline is an inactive U.S. Marine and world-famous legal historian. Michael helped draft the Cruise Ship Safety Act and has won some of U.S. history's largest motorcycle accident settlements. Together with his legal team, Michael and the Ehline Law Firm collect damages on behalf of clients.
We pride ourselves on being available to answer your most pressing and difficult questions 24/7. We are proud sponsors of the Paul Ehline Memorial Motorcycle Ride and a Service Disabled Veteran Operated Business. (SDVOB.) We are ready to fight.