If we don't win, you don't pay.
Speak to the Attorney.
Born to serve.
633 W 5th Street #2890
Los Angeles, CA 90071
(213) 596-9642.
2323 S. Voss Rd, Suite 244
Houston, TX 77057
(832) 592-1260.
Date Modified: June 11, 2023
Did you suffer an injury entering or exiting a bus or van wheelchair ramp and want to help to secure your legal rights with the right lawyer by your side? Are you facing expensive surgery and permanent disability?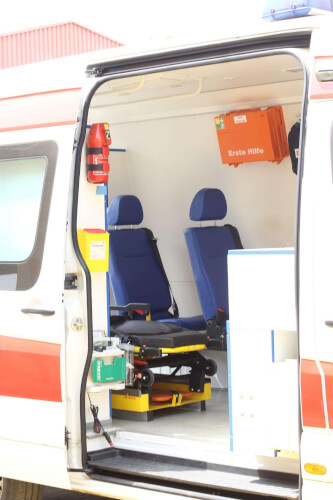 Is the insurance company offering you the least amount possible based on past similar settlements? Do you want to discuss your legal options before you blow the California statute of limitations and lose your rights to obtain compensation? Before ramps, wheelchair users were confined to their homes. But since the advent of ramps, it has helped them get around the city and live a non-restricted life.
However, ramps have also exposed them to risks of accidents that can lead to severe injuries and, in worse cases, death. Ehline Law and our personal injury attorneys have over a decade of experience serving clients. During this time, we have helped injured victims get the justice they deserve in the form of full compensation.
Our Los Angeles injury law firm has assisted thousands of clients in San Diego County, Orange County, and Los Angeles County, CA, since 2005.
Contact us at our local law firm for a free case evaluation and learn more about your rights as an injured victim against the other party in any motor vehicle accident. Whether you have a strong case or a weak case, we can discuss the events and weigh the cost of taking action or not during our intimate, confidential talk!
What is a Wheelchair Ramp Van?
A wheelchair-accessible van is a type of custom van modified by manufacturers, custom coach-makers, or end users to increase the interior space of the vehicle and well as equipping it with a mechanical device or ramp to assist in wheelchair entry for those unable to walk. Modernly, many municipal buses and shuttle bus vans use such a wheelchair ramp or powered lift.
Common Causes of Van Wheelchair Ramp Accidents
The following are common causes of van wheelchair ramp accidents our past clients sustained to the body and mind.
Car Accidents
When wheelchair users access the ramp to get into their van to drive, it is a slow process and needs to be carried out with precision. However, there have been incidents where wheelchair users are boarding the ramp, but their van gets involved in a car accident.
These accidents typically occur when an inexperienced driver drives their vehicle out of its parked position or fails to come to a complete stop. Whether they're in a hurry, not paying attention to road conditions, or they reverse quickly, or have no sense of driving, they hit the van when the wheelchair user is boarding it.
A car accident can shake the van and cause the wheelchair to fall from the ramp, resulting in serious injuries to the wheelchair user during this challenging time.
Pedestrian Accident
In vans where the loading of the wheelchair passenger happens from the back, a pedestrian may not see what is going on if they're coming from the opposite direction.
If they're not careful while walking or running and take a turn at the back of the van, they can bump into the ramp that is carrying the wheelchair user.
Depending on the force of the bump or collision, it can cause the wheelchair user to fall off the ramp and hurt themselves.
Defective Ramp
Van ramps are automatic equipment, and in some large vans, a hydraulic ramp lifts the user's wheelchair to an adequate height where they can board the van from the back.
Since these are electronic equipment, there is a chance of malfunctioning, which can lead to wheelchair-related accidents in a parking lot or even at an intersection, depending on how it happened.
Slippery Ramps
Van ramps have rubber to provide friction during wet conditions such as rain and snow. However, the rubber may need replacement after considerable wear and tear as it could become slippery for a wheelchair user. Slippery ramps can cause the wheelchair to slip and fall, leading to devastating injuries.
Improper Installation
The ramp installer must ensure they properly install the ramp without hurrying the process. A few missing or loose bolts can cause the ramp to break or malfunction, resulting in catastrophic injuries to the wheelchair user.
Ramp installers must install the ramp so that it levels with the ramp properly, does not bounce when functioning, and then weight test it to ensure that it can support individuals up to a certain weight.
Negligent Drivers
Failure to obey the speed limit isn't always the reason for crashes or wheelchair van disasters. Some wheelchair users hire van transportation services that cater to their transportation needs. To avoid accidents, the company must ensure its drivers have the necessary training in loading and unloading wheelchairs. Drivers also receive a daily schedule for every customer that includes essential information such as passenger equipment and any assistance they may require for the rest of this lives.
If the driver is not paying attention or acting in a hurry, they may forget to follow appropriate steps when securing the wheelchair user on the ramp before bringing them up to the van's level. An improperly secured wheelchair can slide and fall from the ramp causing traumatic injuries to the wheelchair user.
Common Van Wheelchair Ramp Accident Injuries
Van wheelchair ramp accidents can occur when entering or exiting the ramp. It can cause all types of injuries depending on when the accident occurs. Your medical record will often contain a report of the nature of your case and a narrative of vehicle damage, including other injuries you may have sustained during a crash or ramp failure.
Some of the common injuries seen by our personal injury law firm include the following:
Traumatic brain injuries
Internal bleeding
Facial injuries
Head injuries
Whiplash
Depending on the height the victim falls from, it can cause devastating injuries leading to emergency medical treatment resulting in hefty medical bills. Fortunately, injured victims can pursue a personal injury claim against the responsible party to recover compensation with help from our charismatic, caring trial lawyers.
Were you struck down in a wheelchair van accident? Dealing with your problems and recovering a big dollar win is our job. Going to the doctor and healing is your job. If you or a loved one were hit in the roadway or suffered other circumstances, contact us to learn more about the laws and your rights at (213) 596-9642. We can assist you 24/7 till the expected victory!
Who Is Responsible for Your Los Angeles Van Wheelchair Ramp Accident?
Whenever an accident occurs, it is crucial to investigate and determine the cause of the accident to pursue a lawsuit against the responsible party. In some cases, more than one party may be responsible for your Los Angeles van wheelchair ramp accident.
Sometimes a witness statement gets documented by first responders. The police officer at the accident scene often will create a police report with the license plate, addresses of witnesses, and insurance information of the other vehicles.
Our professional law group can obtain this extremely important report to help prove liability due to the other person's negligence (Speeding, texting, chatting on cell phones, running a stop sign, or red light, other reckless behavior by cars and trucks, etc.).
We may be able to prove there are several at-fault parties for your injuries and damaged property under personal injury law. Sometimes we can show that one or more distracted drivers are the cause of your permanent disability and need for long-term medical care during your life.
Let's look at the parties responsible for your minor or major accident with our injury attorneys in Los Angeles. Afterward, you can contact our personal injury lawyer team for a free evaluation of your Southern California wheelchair van accident and put our over 30 years of past combined experience to work for you.
Let us help you try or settle your past or present case and speak on your behalf to get you adequately compensated on a contingency fee basis. Call us anytime, day or night, 24/7. Compensation for your medical bills and other losses in the State of California could be just a phone call away.
Car Accident Driver
Drivers must ensure they're careful while pulling out their vehicles from parking. They must take care of any vehicles on the road and vehicles parked in front and behind.
If they fail to exercise reasonable caution resulting in an auto accident, experienced auto accident lawyers can help the injured victims by holding the driver responsible for their injuries. Your health is our priority. Call today for a free consultation about receiving the full and fair compensation you deserve at (213) 596-9642.
Pedestrian
Pedestrians must exercise reasonable caution, including looking where they will avoid accidents with a motorist or other party. Suppose a pedestrian bumped into the ramp because they were negligent. In that case, injured victims or families of people killed might be able to hold them responsible for the damages incurred to offset the costs of doctors.
A great lawyer can help you build a strong case and provide the service you will need to deal with any cost or concerns in your matter. Let us help get you to get the compensation you deserve. We can explain everything and get you what you are entitled to under the law.
Maintenance Company
The maintenance company is responsible for conducting the necessary checks during maintenance to ensure everything is in optimal condition.
If the ramps have considerable signs of wear and tear or some parts of the ramp are flimsy, they must tighten or replace the bolts.
Failing to conduct maintenance checks properly can lead to a maintenance company's liability, for which the injured victims can hold them responsible. The team at our law firm can help you discover the at-fault party and discover just how the accident caused your injuries.
Ramp Manufacturer
Product manufacturers have the duty to ensure that their products are safe for use before selling and failing to do so can lead to serious negligence on their behalf.
If a ramp manufacturer cuts corners on safety testing or quality materials to manufacture the ramp, they may be responsible for any damages that may arise due to their negligence.
Negligent Third-party Driver
Third-party transportation services in Los Angeles must provide their drivers with the necessary training to load and unload a wheelchair user safely.
If they do not train their drivers correctly or if their drivers do not follow the safety protocols, injured victims can pursue a personal injury claim or a lawsuit against them for their injuries.
Installation Company
You can't always avoid collisions. But you can When installing a wheelchair ramp in a vehicle; the installation company must ensure that they correctly install the ramp and test it before allowing the wheelchair user to use it.
Improper installation can lead to a loose/flimsy wheelchair ramp that bounces and can cause wheelchair rollover accidents. If that happens, an injured victim has the right to recover compensation from the installation company for their losses, not just the other driver or van operator. This is what our accident attorneys and their legal team do in the best interest of the injured parties involved.
Damages You Can Recover in a Los Angeles Personal Injury Claim
Every Los Angeles, CA, wheelchair ramp accident case is unique. Some injuries, such as traumatic brain injury, can have a devastating impact on a person's future life, leading parties to pay more excellent recoveries. An experienced personal injury attorney in California can help assess the damages incurred, including spinal injuries, emotional distress, and lost income, as part of the recovery process.
We will keep the insurance adjuster busy reviewing your external and internal injuries with your medical records, using a vast understanding of medicine California law. Large insurance companies know we will hold the responsible parties accountable.
Generally, there are two types of damages that you can recover in a negligence case, and these include:
Economic damages: These types of damages are out-of-pocket expenses and include medical bills, lost wages, and property damage, and they are much easier to calculate than non-economic damages.
Non-economic damages are subjective and concern an injured victim's emotional and psychological injuries. They may include pain and suffering, emotional trauma, disfigurement, and reduced quality of life.
How Can Los Angeles Van Wheelchair Ramp Accident Attorneys Help Accident Victims?
Here are a few ways our top Los Angeles personal injury lawyers can help injured victims, including car passengers, bicyclists, and pedestrians, following their collision accident.
Determine the Negligent Party
Determining the negligent party is one of the critical factors of a claim. The court will dismiss your case if you don't bring a civil action against the right person by hiring the right car accident lawyer. Experienced personal injury lawyers in Los Angeles will assess your case and investigate the accident scene to help determine the responsible party and document your post-traumatic stress disorder and other associated outcomes of car accidents. If we have to, we will file a lawsuit and let the jury or judge intervene to get you fully compensated for the vehicle accident.
Gather Evidence
When pursuing a civil action, gathering the necessary evidence to strengthen your personal injury case is crucial. Lack of evidence can lead to case rejection or a low settlement offer.
In the case of auto accidents, an auto accident attorney can help gather the relevant evidence to show that your injuries occurred due to a negligent driver.
If you called 911 for help following your accident, an attorney could retrieve a police accident report, adding further weight to your case.
The more evidence your attorney has against the negligent party, the more firepower the attorney has during settlement negotiations, allowing them to recover maximum settlement.
Establish Elements of Negligence and Calculate Compensatory Damages for Your Severe Injuries
An essential part of a personal injury lawsuit is establishing the elements of negligence, which include duty, breach, causation, and damages. The most challenging part is proving that the defendant's negligence resulted in your injuries and calculating damages.
When it comes to damages, the plaintiffs must calculate compensatory damages that include medical expenses, lost wages, pain and suffering, and others.
If a car accident was the cause of your injuries, a car accident lawyer can assess your claims and calculate the economic and non-economic losses suffered following your accident.
Follow the Legal Process and File a Personal Injury Lawsuit For Wheelchair Accidents
When filing a complaint, it is crucial to follow the legal process to ensure court proceedings. Otherwise, the court may reject the complaint. For example, suppose the injured victim suffers injuries from a negligent car driver. In that case, they must file a complaint in which they must mention the incident, why they're suing the driver, the law that applies to the point, and other details. For example, in truck or traffic accidents involving a common carrier like an Uber or municipal bus, multiple people may be on the hook to cover your personal injuries.
They must also serve the driver with the complaint and the summons within a specific time frame and let the court know when they do after they sustained injuries. Traffic accidents happen, but not all personal injury cases are the same. Experienced Los Angeles car accident lawyers can guide you on the time frames and the legal process and even handle your claims on your behalf. At the same time, you take some time to recover from your injuries, including brain injuries and soft tissue injuries.
Handle the Insurance Company
Once you've sorted everything out, you must negotiate with the insurance company, which is a hectic and stressful experience. An insurer will use all tactics to coerce you into taking a low settlement offer or deny your claim.
But with an experienced attorney on your side, they can fight for your rights and negotiate a settlement you deserve for all types of wheelchair-related accidents during a car crash. We can help you with your Los Angeles County accident claim and will never give up till you receive the maximum compensation you deserve as financial compensation.
Schedule a Free Consultation with a Wheelchair Van Ramp Accident Lawyer, Today
Were you partially paralyzed or badly hurt in a wheelchair van accident? Are you seeking car accident lawyers to help you obtain reimbursement for medical bills, pain ad suffering, and lost wages? Our best Los Angeles car accident lawyers stand by 24/7 to come to the car accident scene, your home, or your hospital after wheelchair accidents.
Our experienced personal injury attorneys can help with any automobile accident. Our team can help you seek compensation, protect your rights, and hold the responsible party accountable for your loss. We will focus and work hard to answer questions and deal with any complications of crashes like this using our vast resources and training to get you money.
Whether your injuries occurred due to a car accident, a negligent manufacturer, or a reckless third-party company, contact us at (833) LETS-SUE for a free case evaluation, as you may be eligible for compensation for your vehicle accidents.
Michael Ehline is an inactive U.S. Marine and world-famous legal historian. Michael helped draft the Cruise Ship Safety Act and has won some of U.S. history's largest motorcycle accident settlements. Together with his legal team, Michael and the Ehline Law Firm collect damages on behalf of clients.
We pride ourselves on being available to answer your most pressing and difficult questions 24/7. We are proud sponsors of the Paul Ehline Memorial Motorcycle Ride and a Service Disabled Veteran Operated Business. (SDVOB.) We are ready to fight.