If we don't win, you don't pay.
Speak to the Attorney.
Born to serve.
633 W 5th Street #2890
Los Angeles, CA 90071
(213) 596-9642.
2323 S. Voss Rd, Suite 244
Houston, TX 77057
(832) 592-1260.
Date Modified: June 12, 2023
Welcome to the Ultimate Guide to Compensation for LAX Wheelchair Accidents.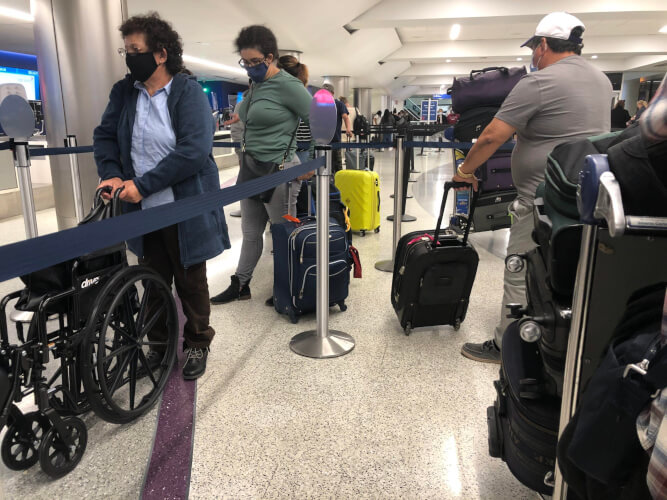 We Help Get People Paid for Serious Injuries
A July 2022 US Department of Transportation (DOT) report recorded 158 complaints in May filed by flyers with disabilities, a 108% increase.
Wheelchair accidents at the LAX are more common than you think, resulting in catastrophic injuries. Although we offer a free case review, we believe it's in your best interest to read this before calling our injury lawyer if you're an injured person.
Fortunately, Ehline Law firm and our team have over a decade of experience serving clients. Our Los Angeles, CA, personal injury lawyers have the resources and knowledge to build a solid case and help new clients get maximum compensation for medical bills or other damages claims.
Our California Personal Injury Attorneys Can Get Justice for Car Accidents and Other Practice Areas
Families can get justice for deaths as they make their recovery from all their pain and suffering, disability, and lost earning capacity. Below is an overview of some common causes of LAX wheelchair accidents.
Contact us today if you're suffering from injuries riding wheelchairs caused at LAX. You or your disabled loved one could be entitled to millions of dollars in verdicts and settlements with help from our superior injury law firm.
Do Wheelchair Accidents Occur at Airports?
Although wheelchair-related accidents are not as common as auto accidents in the United States, they often occur at airports due to the sheer volume of people traveling into and from them.
Let's look at some recent wheelchair-related accidents at airports across the US:
On February 25, 2022, a Florida woman filed an injury lawsuit against Southwest Airlines after suffering paralysis when an employee threw her off the wheelchair down the jet bridge in her individual case.
In July 2021, a wheelchair user suffered injuries, including fractures, when boarding a Delta Airlines flight, which later resulted in his death.
In July 2021, a woman waited in a manual wheelchair for 5 hours after her custom wheelchair broke during handling at the LAX. The 5-hour wait opened an old sore resulting in her death three months later.
ADA Issues?
Even after passing the Air Carrier Access Act of 1986 and the Americans with Disabilities Act, people with disabilities face severe challenges while traveling by air within the United States, including falls. Recent terminal construction hazards have made it difficult for employees and passengers to walk or a vehicle driver to make a trip, let alone a wheelchair operator on the LAX grounds.
Types of Wheelchair-Related Accidents at LAX
Here are some common types of wheelchair-related accidents that can occur at LAX, California, when someone violates the ordinary duty of care owed a victim:
Airport slip and fall
Defective wheelchairs
Ramp failure (broken or defective parts)
Negligence or mishandling
A Wheelchair user was hit in a car accident in the parking lot, and other injuries were caused by negligence.
We can help you hold the negligent wheelchair manufacturer or other defendants liable to cover this avoidable incident.
Common Injuries at LAX
Federal laws require trained wheelchair assistance at airports, including LAX, for people with disabilities walking with crutches or in wheelchair vehicles. However, due to understaffing, underprepared staff, and negligence, wheelchair users are becoming victims of accidents at airports resulting in serious personal injuries, such as traumatic brain injuries, spinal injuries, paralysis, and internal bleeding.
Victims or their families might suffer other severe injuries from cars or shuttle buses. Ehline Law firm provides legal services across Los Angeles County, San Diego County, Orange County, San Francisco County, and many more locations.
We will fight for eligible survivors and their children from any site to prove liability and recover money, damages and costs until we rest their case as a victory! We want to help get you paid for common and not-so-common injuries.
Seek an Attorney-Client Relationship Today
The attorneys at our Los Angeles office are revered for maintaining solid relationships. We can help pedestrians and others file a personal injury lawsuit against negligent airport, airline, and motor vehicle operators. We will handle settlement negotiations and recover compensation for your medical expenses, lost wages, and other damages perhaps caused by a dangerous condition or defective product like a wheelchair ramp. If we cannot settle with the defendant on your behalf, we will sue and take your case to trial immediately.
Schedule Free Case Evaluation with Our Best Wheelchair Accident Attorney for LAX
We will work hard to help you get what you deserve over your lifetime against individuals or companies who caused your trauma and hospital visit. Get a free consultation on your personal injury claim with our legal experts before the statute of limitations expires against the liable party or parties involved.
Our LAX wheelchair accident lawyers will assist in holding Los Angeles World Airports or other responsible parties accountable. Whether you are riding a powered electric wheelchair or pushed by an LAX employee walking you down the terminal we will put our wealth of experience to work for you.
Our investigation is dedicated to getting your maximum compensation for your loss, without upfront legal fees is our business. If you suffered injuries riding wheelchairs from an LAX accident due to another's negligent actions, contact us to discuss the circumstances at (213) 596-9642. Se Habla Español.
Michael Ehline is an inactive U.S. Marine and world-famous legal historian. Michael helped draft the Cruise Ship Safety Act and has won some of U.S. history's largest motorcycle accident settlements. Together with his legal team, Michael and the Ehline Law Firm collect damages on behalf of clients.
We pride ourselves on being available to answer your most pressing and difficult questions 24/7. We are proud sponsors of the Paul Ehline Memorial Motorcycle Ride and a Service Disabled Veteran Operated Business. (SDVOB.) We are ready to fight.