At the same time, using an electric scooter allows you to diminish gas expenses. If you don't have to go very far, riding these vehicles might be more convenient and less expensive than taking your car.
The Dangers of Electric Scooters
Although riding an e-scooter is both fun and convenient, it's also immensely dangerous, especially if you live in a busy city such as Los Angeles. Accidents are not new, but statistics show that there have been more of them in the past few years, particularly since companies released shareable vehicles.
At the same time, releasing thousands of rental e-scooters has led to numerous accidents in Los Angeles. Riders who have never used these vehicles are now going next to cars at 15 miles per hour, and in some cases, they don't wear helmets, so they also break the law.
Moreover, there is a risk of driver distraction, and when someone drives slowly, frustrated car and truck drivers might put scooter riders in danger.
Generally speaking, dangerous driving practices could lead to an e-scooter accident, which, in turn, can cause numerous perilous injuries such as road rash, broken bones, neck and back issues, or even head or brain damage.
Why People Need an Electric Scooter Accident Lawyer
Since the number of e-scooter accidents is increasing, it is no surprise that some people are worried, especially if you already own one of these vehicles.
Accidents involving electric scooters can end in life-threatening injuries, so having an experienced lawyer to help is essential, particularly if the person wants to file a personal injury claim.
California scooter laws are often challenging, especially in Los Angeles. Since motorized scooters are available to anyone, scooter injuries are becoming more common, which is a worrying issue.
Filing a claim and going against an insurance company or scooter company might be immensely challenging, especially if the victim has sustained soft tissue injuries or is going through pain and has to pay for medical bills.
Therefore, if you are in a scooter crash, you should get a free consultation with personal injury lawyers, such as the ones at Ehline Law Firm.
Common Causes of Accidents Involving Scooter Riders
An e-scooter accident can have different causes depending on where it happens and the person or persons involved. Thus, analyzing what happened is essential, especially if the victim wants to file a claim and get a settlement from the insurance company.
The following are some of the most common issues that may occur:
Inexperienced scooter riders
Unsafe conditions of the road
Damaged pavement
Vandalism
Mechanical malfunctions of the motorized scooter
Operators of e-scooters riding under the influence
Car doors opening
Other negligent e-scooter drivers
Negligent car drivers
Constructions and work crews
Pedestrians
Regardless of the cause of the issue, if there are victims, they have a right to file an e-scooter accident claim. An accident involving multiple vehicles or pedestrians can cause many consequences, particularly if there were injuries sustained. Thus, the person must have a lawyer by their side to navigate the law of Los Angeles and handle the legal process.
Types of Electric Scooter Accidents
Since multiple causes can lead to a scooter accident, there are, of course, also several types of issues. This section discusses what can occur.
Single Scooter Rider Accident
The first type of e-scooter accident is the single-rider one, which is self-explanatory. In this case, you might be the only one involved, and you might have lost control of the vehicle.
Even though the rider might have lost control of their motorized scooter, it doesn't mean that the accident was their fault. Sometimes there are bumps, cracks, or other things on the road, which may influence their driving.
Moreover, the vehicle can malfunction. In both of those cases, the rider is not the one responsible for the scooter accident.
If the victim sustained injuries, they can get a settlement from the insurance company after going against either the scooter rental companies or the municipality, depending on what caused the accident.
Pedestrian Tripping on an Electric Scooter Accident
A pedestrian might trip on an e-scooter and sustain injuries, and in some cases, they're able to file a claim as well.
If the driver left the vehicle in an inconvenient place and this caused the scooter accident, they can be held liable. Moreover, the city or municipality (in Los Angeles) can be held responsible if they must remove used e-scooters from the streets.
A specific person might also be held responsible for the e-scooter accident if the vehicle was on private property. Lastly, the e-scooter company can be held liable if the scooter was on the street for an unnecessarily long period of time.
Scooter Rider and Pedestrian Accident
This is a catastrophic type of scooter accident, especially if the rider strikes the pedestrian from behind. It can not only cause broken bones but also graver consequences, for example, brain injuries.
If this occurs due to defective scooters, the scooter manufacturer might be held liable for the damages. However, the rider must prove they're not responsible, and this is why hiring a personal injury attorney is essential.
Car and Scooter Accident
Just like the previously mentioned type of scooter accident, when a scooter and car crash happens in Los Angeles, it can lead to grave injuries.
Motor vehicles are very convenient, but they can also be dangerous if the person doesn't have a valid driver's license and has enough experience to be out on the streets. Victims shouldn't have to deal with someone else's negligence, especially if they sustained injuries and lost wages.
Defective Electric Scooters
As the article mentioned before, scooter riding requires the vehicle to be in optimal condition, and this doesn't always happen.
On occasions, vehicles are defective, and if it occurs, scooter companies are the ones responsible for the accident and its consequences. A legal team such as the one at Ehline Law Firm is able to help injury victims and guide them through their process.
What to do After an E-scooter Accident
Being in a scooter accident can be confusing and devastating, especially if it's in Los Angeles since it's a very populated city. However, there are several things the victim can do to ensure their process is as smooth as possible, particularly if they're thinking of hiring a personal injury lawyer or a legal team to handle it.
Call Healthcare Professionals
First of all, you must call healthcare professionals. If someone sustained e-scooter injuries, they need help as soon as possible.
In some cases, you might be hurt, so you may not be able to call anyone. However, if there is someone nearby, ask them to do it for you.
Take Pictures
An essential part of handling the legal process of an accident and filing personal injury claims is getting evidence to support what happened to you. Therefore, you must have proof of what occurred, and a fantastic element of this is taking pictures.
If you're too injured to take any pictures, try to ask someone else to do it instead. It can be very beneficial for your case, and once you get your free consultation with your personal injury lawyer, you might realize why.
Your lawyer has the duty to passionately defend your case, but they must prove by the law that you're not responsible. Thus, if there was a bump in the road, defective parts on the e-scooter, or anything similar, taking pictures of it is a fantastic way to show you're not liable.
Call the Police
Once you've taken pictures and gotten professional health from healthcare experts, you must call the police and tell them what happened.
Similar to what happens when you're in a car crash, e-scooter accidents require a police officer to file a report of what happened. Therefore, you have to call them too as quickly as possible.
While you wait for the police to arrive, there are other things you can do. You might, for example, take more pictures if you need to, and you can also check and see if there were any witnesses to see what happened.
If you find witnesses, talk to them and try to ask for their contact information. Once the police arrive, they will ask you some questions and do the same with the other party (if there is one).
Contact a Lawyer
The best thing to do next is to contact a personal injury lawyer that offers a free case evaluation. These professionals are ready to help you regardless of whether you're in Los Angeles, San Diego, Newport Beach, or other parts of Southern California.
Sustaining a serious injury, being the victim of negligent drivers, or crashing against pedestrian traffic can devastate someone's life. Therefore, hiring an e-scooter accident lawyer is essential since they're the experts who can guide you through the legal process and help you get a fair settlement for what happened.
Start the Legal Process
If you've never filed a claim before, you might be very confused at first. However, part of the lawyer's job is to guide you through the process, make sure it's as smooth as possible, and guarantee that you understand every step you take together.
Therefore, once you contact the lawyer you want, the next step is to file the claim. They will probably advise you to start the process as soon as possible since you shouldn't wait too long after having the accident.
It's essential to keep in mind that you should hire a lawyer who understands and empathizes with your situation. It's not only about getting the best person in the field, it's also about hiring someone you can trust and rely upon with your case.
Considering the previously mentioned aspects, Ehline Law Firm is one of the best firms you should keep in mind when filing a claim since Michael Ehline is an ex-Marine who understands what it's like to sustain an injury. At the same time, he respects the law and justice is one of the most crucial values for him, so he will passionately defend your case and make sure you get the settlement you deserve.
Determining Electric Scooter Liability
Overall, e-scooter accidents are immensely challenging to navigate because they might include different aspects. If there was a bump on the road or any other unsafe conditions, for example, proving that that's what caused the accident may not be very straightforward.
When you're filing an e-scooter accident claim, you should keep in mind that you're going against significant companies or the municipality itself. Therefore, you need an experienced lawyer who can guide you through the process, empathize with what you're going through, and also aggressively defend you to guarantee you get a fair settlement.
Ehline Law Is the Firm You Need
There are many lawyers out there, but finding the ideal one might not be a straightforward process, especially if you don't know where to start or how to identify who will be the ideal professional for you.
Firstly, you should keep in mind that the attorney-client relationship is essential. Thus, you must hire someone you feel comfortable with, and you should make sure they're experts with years of experience and enough knowledge to handle your case.
On occasions, clients hire the first lawyer they meet when they start researching online, and this is a mistake because they might not be the person you're looking for. Instead, try to get a free consultation, since this helps both you and the attorney.
During the free consultation, you can talk about your case, discuss it with the lawyer, and determine if they're the person you want to hire to defend you. Once you meet Michael Ehline, you might quickly discover that he is kind, compassionate, professional, ethically oriented, and also keen to help clients with their issues, especially if they were recently in e-scooter accidents, especially when facing head injuries.
Although there are numerous lawyers out there, few can say that they are ex-Marines who now dedicate their time to defending people's rights. Thus, Michael Ehline is special and so are the clients of Ehline Law Firm, since he, as an attorney, guarantees that he will passionately defend each case he takes with serious injuries, in and out of the bike lane. Whether you follow all the rules or not, you are always at risk of someone with faulty brakes breaking traffic laws and costing huge medical expenses and ongoing, long-term medical treatment.
Contact The Best E-Scooter Accident Lawyers in Los Angeles at Ehline Law Today
Did you slip and fall on an e-bike, or were you run over? If someone else's negligence caused your injuries, get prompt, specialized help for your e-scooter accident claim today. You should immediately contact Ehline Law Firm today in Los Angeles, or Orange County today. Hiring an attorney for these cases might be challenging, but things will change once you meet Michael Ehline since he is one of the best lawyers around for common injuries, and his law offices remain committed to swiftly helping all of his clients throughout Santa Monica, and all beach cities these accidents regularly occur. 
Fortunately, there are straightforward, robust, knowledgeable, and experienced experts out there, and Michael Ehline is one of them. Therefore, you should call us today, set up an appointment, and start handling your case with one of the best professionals in the field. The process may be challenging at first, but we will do our best to make sure it's as smooth as possible!
Call us today for a free legal consultation at (213) 596-9642. You can also use our convenient online contact us form for verification purposes only and a prompt return call 24/7.
---
Michael Ehline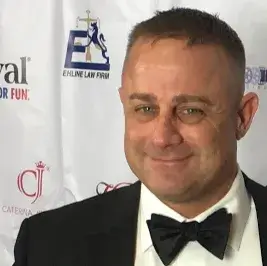 Michael is a managing partner at the nationwide Ehline Law Firm, Personal Injury Attorneys, APLC. He's an inactive Marine and became a lawyer in the California State Bar Law Office Study Program, later receiving his J.D. from UWLA School of Law. Michael has won some of the world's largest motorcycle accident settlements.
---
Recent Personal Injury News
Check out our most recent Long Beach, CA accidents and more, including the famous, infamous and everyday people wounded by at fault parties around the world.