If we don't win, you don't pay.
Speak to the Attorney.
Born to serve.
633 W 5th Street #2890
Los Angeles, CA 90071
(213) 596-9642.
2323 S. Voss Rd, Suite 244
Houston, TX 77057
(832) 592-1260.
Date Modified: June 13, 2023
Congratulations, you just landed on the Ultimate Guide to Compensation for Playground Equipment Injuries. Falls remain the leading cause of playground injuries, our top California personal injury lawyer represents.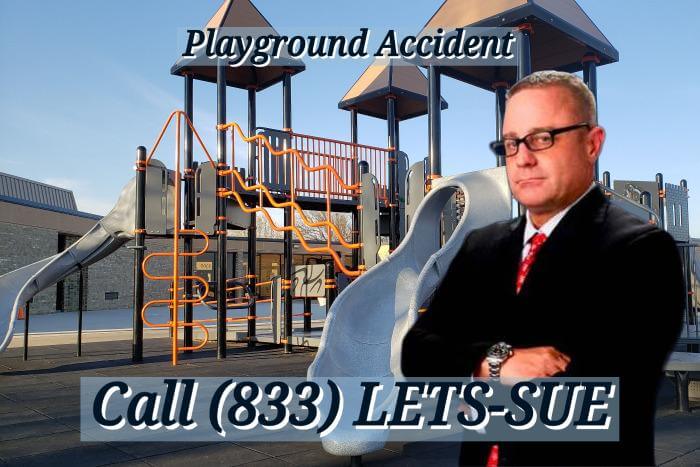 Look to Ehline Law Firm
Regardless of how old the monkey bars or other equipment gets on the playground or even a school bleacher, your child can still find fun using it. Unfortunately, the play days don't always end well.
Playground and amusement park accidents happen more often than you realize in Los Angeles. Now, you have a crying child bleeding with potentially serious injuries and an excuse-making, inattentive supervisor who let it all happen while playing with other friends.
The emotional weight of it all is bad enough. So the financial side makes things even worse. Let's say your insurance company will help cover the injured child's medical expenses. What if traumatic brain injuries are at play? How will you find the money to handle the long-term effects and care needed to manage your child's injury?
You need the services of an expert Los Angeles personal injury attorney. Our aggressive, competent injury lawyers have handled thousands of cases over the last decade. Our injury lawyers have won millions on behalf of injured parents and children at our Los Angeles office, and we can help any victim or students of any age.
Statistics on Playground Injuries
Typical playground injury tropes include a bumped elbow or a skimped knee. If your daughter came running to you with one of these, for example, you'd know there's no danger to her future or her life, so you'd take it in stride. You may think motor vehicle accidents, such as school bus accidents, are where child injuries hit staggering figures, but playground injuries are up there too. According to information from the Centers for Disease Control, medical care must be administered to about 20,000 children yearly in the USA.
Like a birth injury or a car accident, however, playground accidents sometimes require the intervention of a law firm in the form of solid legal representation. Your child's injuries could mean brain damage is at play alongside broken or lost limbs. This is where injury attorneys may need to take the case to trial.
Over 50% of these kids suffer contusions or skull fractures that range from minor to severe. About 10% of them deal with mild traumatic or traumatic brain injury. Approximately 45% of playground-related incidents treated by doctors caused bruises, severe fractures, internal problems, concussions, joint dislocations, and challenging amputations.
What Are Some of the Causes of Child Injury Cases on the Playground?
Amusement parks or playgrounds typically see children trying to have fun. Mild to catastrophic injuries can occur during the normal course of play, just like a school bus accident can happen during the normal course of travel. If negligent supervision is at play, however, you may need the assistance of experienced lawyers in filing a claim.
Los Angeles playground accidents can be because of the following:
No supervision
Shards of broken glass
Broken fiberglass or metal components
No warning signs
Rusty or improperly maintained equipment.
Who Is the Responsible Party?
Look at occurrences surrounding:
Car seats
Birth injuries
Car accidents
School buses
Truck accidents
Slip and fall cases
Construction accidents
Other personal injury cases.
You'll notice a trend where personal injury liability is concerned. Simply put, several kinds of private or government liability may be at play, which applies to playground injury cases depending on the accident's occurrence.
Suppose playground equipment severely injured your child, and the responsible parties failed to cover reasonable dangers. In that case, they must be held accountable to pay, in or out of court, for all these injured victims using the same equipment.
Experts in private HOA liability or governmental tort claims must effectively investigate what led to your child's personal injury. If an adult supervisor, such as a teacher in a school district, failed to supervise your child responsibly, taking legal action against the school or individual with responsibility may be necessary before a suffering parent can sue them for an injury.
Dedicated Los Angeles, CA personal injury attorneys are important here as they consider other important factors, such as the presence of another emergency claiming the attention of the designated supervisor over the child. In this case, your lawyer would help you weigh your options by discussing how an accident occurred and offering advice and moral support.
In another instance, an aggressive playmate may be to blame for a child's wrongful death, etc. This is often seen in sports injuries like shoulder, knee, or elbow dislocations, where your child may participate. This means a coach and even teachers may be liable for the costs of medical bills and even funeral expenses, depending on the circumstances.
Again, such accidents can be compensated, and our law offices help children get a settlement from the person responsible (negligent party) for causing their pain by using evidence. Note that if the parent has a relationship with the perpetrator's family member, you may sort things out amicably before reaching out to a law firm for justice on behalf of the hurt child.
Barring this, you're certainly within your right to seek legal aid if you suffered and have to deal with hospital medical bills, lost wages, and loss of health and wellness from losing your daily activities or your child's life. So, fortunately, we do great work in all practice areas. We can file a claim to protect the statute of limitations and pursue damages for you and the affected families.
Most importantly, you deserve the best team of lawyers in Los Angeles, CA. We are in it to win it. Failure is not an option, and we never surrender when protecting Southern California adults, children, and their families from harm on a playground. Call us to discuss your case by obtaining a free consultation to learn what you possibly may be entitled to if you win. Our number to tell our compassionate staff the facts and your situation is (213) 596-9642.
Other Essential Public Entity Liability Information
Depending on where a playground is, different parties may be at fault, such as:
City governments
School districts
Private entities.
Winning is never guaranteed when you bring an action. These parties may be responsible for maintaining a safe environment for children to play in and avoiding concussions at private and public playgrounds. Some states directly prohibit you from bringing a lawsuit against any of these parties, even if you're dealing with children younger than 13 years old, for example, with internal injuries.
In the vast majority of states, including California, a version of the Tort Claims Act is used to defeat sovereign immunity and any assumption of the risk arguments. Nevertheless, legal action against these parties has requirements and limitations that an expert law firm can only navigate. Our most talented, swift injury lawyer, Michal Ehline, can assist parents with paperwork preparation and any other steps that may be essential in a claim for your family.
Additionally, remember that these entities will not simply accept anything you put out there. The chances are that they are ready to fight negligence claims with their own office of lawyers. It doesn't matter if your child needed an emergency room visit because of their negligence. They are responsible for paying a fair settlement.
Even with safer playground equipment, kids get hurt. Your only counter is to retain an attorney who will be aggressive enough to advocate on behalf of clients and navigate the slippery slope of the legal system against the at-fault parties. Maximum compensation is our business, and you can start the process by receiving a free case review about the incident today at (213) 596-9642. We are also contingency fee lawyers, so there is no charge unless we recover a verdict or settlement result for your important losses.
Contact a Seasoned Playground Accident Lawyer in Los Angeles County Today for a Free Consultation
Clients trust us, and you will too. If you need a playground accident attorney in Los Angeles or other parts of California, Ehline Law Firm is the place for you. Our contingency fee style means you don't have to worry about upfront legal fees when dealing with pain and suffering, including emotional distress caused by a playground accident and related situations.
We offer a free consultation for your case and remain ready to help you get fair compensation for your child's suffering at schools or other parks. What are you waiting for? Questions? Schedule your free case evaluation today and allow us to do the amazing job we always do for our clients!
Let us prove your case. Call us at (213) 596-9642 or use our online contact form to reach out and put our veteran experience to work defending your rights to maximum financial compensation for a playground accident.
Michael Ehline is an inactive U.S. Marine and world-famous legal historian. Michael helped draft the Cruise Ship Safety Act and has won some of U.S. history's largest motorcycle accident settlements. Together with his legal team, Michael and the Ehline Law Firm collect damages on behalf of clients.
We pride ourselves on being available to answer your most pressing and difficult questions 24/7. We are proud sponsors of the Paul Ehline Memorial Motorcycle Ride and a Service Disabled Veteran Operated Business. (SDVOB.) We are ready to fight.