The product and the company had violated all expectations of consumers when the product did not work properly and soon started to explode, causing burn injuries to many. In fact, these are the same lithium ion batteries causing so many e-cigarette and Juul vape explosions across the world.
When product defects, manufacturing faults, and fraudulent marketing gimmicks cause harm to a person, the victim can hold the company responsible for any damage by hiring top-rated trial lawyers.
Ehline Law and our product liability lawyer can help provide you with sound legal advice. They are aware of all the relevant laws and will aggressively pursue your personal injury case to obtain fair compensation, including lost wages, medical bills, and other damages. If we can't settle during insurance company negotiations, the lawsuit filed on your behalf by our firm will be built upon years of compassionate, aggressive legal experience in Los Angeles County courtrooms.
The Exploding Lithium-ion batteries: When it All Started
Around July of 2016, social media saw a frenzy of worried consumers posting about the newly released, overheating Samsung Galaxy Note 7. There were a total of 92 reports made directly to the cell phone manufacturer Samsung about their phone batteries overheating and catching fire. This isn't the only smartphone prone to disastrous explosions leading to severe burns. Recently another lawsuit alleged a Galaxy S6 Active threw flames at least five-inch, severely burning a user, leaving them with "melted flesh."
Around 26 of these reports included burn injuries to the consumers, while the remaining were reports of product damage. These unfortunate incidents resulted in Samsung asking their loyal consumers to contact their consumer product safety commission department for any emergency services over this dangerous product.
The company also rolled out a list that mentioned the phone devices that were eligible for a refund or a replacement phone. Consumers could feed the product ID mentioned on the back of their smartphones onto the Samsung website to determine if they were eligible for any.
The list was quite extensive and included 97% of the Samsung Galaxy Note 7 phones that were sold in the United States. The company not only had to provide a refund or replacement but also source a new battery for their Samsung model, which was initially deemed by the third party as completely safe.
Consumers found relief in the action that Samsung had taken to replace their phones and started to apply for replacements.
However, upon receiving the new replacement phones, the problem did not stop and there were new incidents of explosions and fires. It was about time people reached out to Galaxy Note 7 explosion lawyers and filed lawsuits against the tech giant to compensate them for their loss.
The Start of Legal Lawsuits against Samsung
In September, the first of many lawsuits started to take place. Johnathon Strobel, aged 28 and a resident of Florida, was the first to file a lawsuit involving the phone's combustible battery, against the cell phone maker, Samsung.
Strobel went on to explain in his lawsuit that the phone had exploded in his front pocket at Costco, where he was working at the time. Strobel's lawyer mentioned that their victim had deep and large second-degree burns on his thigh.
While on duty, Strobel started to feel his thigh getting hotter to the point that it had become unbearable. He went on to reach for the phone with his left hand, and upon impact, the phone exploded in the pocket, not only damaging his thigh but also his left hand.
Strobel's lawyer argued that his client faced serious injuries and some permanent disabilities, resulting in pain and suffering, emotional trauma, lost wages, medical bills, and other damages. It was this incident that forced Samsung to work with the US consumer product safety commission on officially recalling the cell phones in the United States to prevent any further harm.
A List of Samsung Phone Incidents
Although Strobel was the first lawsuit, it was not the first incident that resulted in harm to the consumer. Here is a list of some of the incidents that occurred due to the faulty battery cells in the new Galaxy Note 7 Samsung phones.
The faulty battery in the Samsung phone had sparked a fire on a Southwest Airlines flight waiting for takeoff, resulting in an immediate evacuation of the aircraft.

The lithium-ion battery on Note 7 had caught fire in the bedroom of a Kentucky man who was sound asleep. However, due to suffocation, the man woke up "vomiting black".

A 13-year-old girl suffered severe burn injuries when a Galaxy Note 7 overheated in her hand and melted.

A 19-year-old boy faced serious burn injuries when the phone immediately exploded in his hand, also causing immense pain and suffering.

A woman woke up to her phone burning next to her face, causing panic in the house and resulting in her husband removing the melting phone using oven mitts.
A Total Recall
Soon after a few serious incidents started to surface, the mobile phone manufacturer worked with the US consumer product safety commission to recall all the Samsung Galaxy Note 7 phones in the United States. Due to the high risk of battery malfunction, Samsung has also announced that they will no longer be manufacturing the Note 7.
By the end of October 2016, Samsung had recalled a total of 1 million mobile phones from consumers, giving them a choice to either replace their phones with other Samsung Galaxy Note variants or receive a monetary incentive to purchase a phone from other cellphone manufacturers.
What Caused the Samsung Note 7 Phones to Catch Fire?
The public was in the dark about why the newly released Samsung Galaxy Note 7 cell phones were catching fire and exploding. However, four months later, after a full recall, Samsung had completed its investigation into the exploding phone incident. It finally announced what the lithium ion battery caused the phones to catch fire after overheating, sometime in a pants pocket.
In total, there were two batches of the Samsung Galaxy Note 7 phones that were faulty, and the reasons why the two batches had issues were completely different. Samsung announced that their first new device batch of Samsung Galaxy Note 7 phones had a design fault while the second batch of phones had a battery and manufacturing defect.
Many believed that it was the new batteries that the manufacturer had placed in the new phones that were causing the overheating issues. However, that was not the case, as Samsung made it very clear that it was the design issues that resulted in the negative and positive poles of the battery coming into contact with each other, a rare manufacturing process error, resulting in heating problems.
What Does The FAA Say About Samsung Galaxy Note 7?
To prevent any further incidents like this from happening, a Samsung representative stated that they are implementing new testing standards and that their lithium ion batteries now have to go through much more stringent testing measures. Even airline passengers are being warned by the FAA not to use the Galaxy Note 7 when flying, and to never pack it into luggage to prevent a fire aboard. The Federal Aviation Administration has banned this new product from all domestic flights, as it sees the Note 7 as a problem that can cause more than reports of property damage when they overheat, despite the recall by Samsung, Inc.
Who Is Liable for Product Defects?
Samsung knew the Note 7 battery cell plates contained in the batteries were under too much pressure, causing both positove and negative poles to make contact, causing heat and eventuall a fire explosion. The duty of care to provide safe products to consumers applies to everyone who is part of the supply chain, including those making direct sales.
Whether it is the manufacturer who did not test their products thoroughly or a company that uses faulty parts to assemble the products or even the vendor who is selling the product without exercising care, they all have a duty of care to prevent any harm to consumers caused by their products.
The law requires the product's design to be completely safe for appropriate use. The product must also satisfy the criteria of extensive testing before being released to the public for sale. The manufacturer must also be very clear about warning labels on their products and advise consumers on how to use them. If the seller is selling a defective product, they must market it in such a way that the consumer knows they are buying a faulty product.
The disastrous case of the exploding Galaxy Note 7, a much-awaited and hyped phone, provides sufficient evidence that even after the company tries to rectify its mistakes, the danger continues to exist. Buyers and other individuals must exert extreme caution whenever they decide to buy any new product that may not have gone through stringent testing to prevent such incidents. To put a Note 7 in your hands till you know the powerful loss you could face, resulting in injury, or even a wrongful death fatality claim in Los Angeles Superior Court.
We Win Big!
Our attorneys remain committed to providing excellent legal representation to all injured victims in California. During the initial free consultation, we will assess your case and provide you with the legal options to move forward. Ehline Law has successfully litigated more than 3,000 cases and recovered over $150 million in damage.
Schedule a Free Conidential Case Evaluation With Galaxy Note 7 Explosion Lawyers Today!
Our experienced, aggressive attorneys are ready to fight for your rights and obtain the compensation you deserve, including handling lawsuits against Samsung and its exploding smartphone products. If you receive any injuries from using a product like Note 7s due to a product defect, contact us at +(833) LETS-SUE for a free review of your case with our skilled product defect attorneys.
For more information on how we can help with your injury case, contact us now.
---
Michael Ehline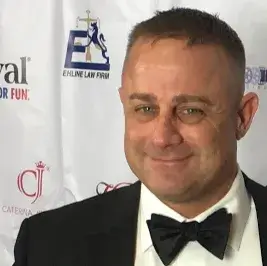 Michael is a managing partner at the nationwide Ehline Law Firm, Personal Injury Attorneys, APLC. He's an inactive Marine and became a lawyer in the California State Bar Law Office Study Program, later receiving his J.D. from UWLA School of Law. Michael has won some of the world's largest motorcycle accident settlements.
---
Recent Personal Injury News
Check out our most recent products liability law blog posts about the famous, infamous and everyday people wounded by at fault parties around the world.