If we don't win, you don't pay.
Speak to the Attorney.
Born to serve.
633 W 5th Street #2890
Los Angeles, CA 90071
(213) 596-9642.
Date Modified: August 18, 2023
If you suffered injuries in a cruise ship gangplank accident, you must immediately seek experienced legal help, as depending on the accident, different laws may apply to your case.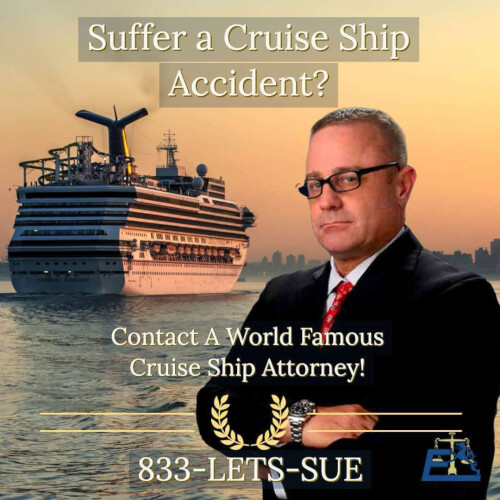 Ehline Law and our experienced Los Angeles cruise ship gangplank accident attorneys understand the federal, state, and local laws and treaties. We will aggressively fight for your rights and ensure you don't leave money damages on the table.
What Is a Cruise Ship Gangplank?
Traditionally made out of wood, gangplanks are walkways extended from the cruise ship to the dock to allow the movement of people and goods onto the vessel or the port.
Gangplanks are now made from durable steel, making them more sturdy and weather-resistant. Originally, gangplanks were just flat boards, but manufacturers added many safety features to them with time, such as guardrails.
Since gangplanks are flexible and portable cruise ship equipment, there is a risk of a collapse if it is not properly designed, manufactured, secured, or maintained, causing injuries to cruise ship passengers.
Cruise Ship Accidents Involving Gangplank Collapse
Cruise ship accidents involving gangplank collapse are rare, but they can happen. Let's go over a few gangplank accidents on cruise ships in the past.
Gangplank on Queen Mary 2 Collapses, Killing 13 and Injuring 32 Cruise Ship Passengers
In 2003, a gangplank collapsed on the world's most luxurious liner and largest passenger cruise ship, Cunard Line Queen Mary 2.
Families of the French shipbuilders were walking on the gangplank to receive a tour of the ship when the 25 ft. high gangplank collapsed, and the scaffolding fell on them. The gangplank accident on Queen Mary 2 resulted in 13 deaths and 32 people injured.
Following an investigation into the incident, the findings showed serious negligence, as there were no diagonal support beams.
Gangplank on Bahia Belle Cruise Ship Collapses Causing Injuries to 15 Passengers
In 2010, a gangplank on the Bahia Belle cruise ship collapsed, with most people falling into the water while some were clinging to the dock.
The accident resulted in 15 injuries, with two passengers immediately taken to a nearby hospital for medical treatment. Bahia Resort did not comment on the incident, covered the destroyed gangplank with a tarp, and added security to keep media away. Many injured guests suspect the accident occurred due to wear and tear on the wooden gangplank.
Gangplank on Norwegian Encore Collapses Following High Tide
In November 2022, multiple passengers suffered injuries after a gangplank on the Norwegian Cruise Line Norwegian Encore collapsed at a port in Panama City.
Medical rescue units immediately took the injured passengers to a nearby hospital for medical treatment, while the cruise line also dispatched their CARE team for further assistance.
The cruise line did not mention the details of the accident, how many suffered injuries, or how it happened. However, witnesses stated that the gangplank was put out during low tide, but as the tide got higher, the gangplank got steeper, causing guests to bounce on it, leading to its collapse.
Slip and Fall Accidents on Gangplanks
Slip and fall accidents on gangplanks are far more common than gangplank collapses. Many cruise ship passengers suffer injuries during embarking or disembarking cruise ships while on gangplanks.
Slip and fall accidents on cruise ship gangplanks can happen because of the following.
Improper Length
Cruise ships with shorter gangplanks can result in a steeper elevation, increasing the risk of a fall accident.
Another issue with gangplanks could be that they're too wide. In that case, it can make it difficult for passengers to hold both side handrails for support, leading to accidents.
Faulty Non-skid Surfaces
Gangplanks should have adequate anti-slip strips to ensure that the guests walking onto them do not slip and fall.
When the cruise lines do not conduct routine maintenance, the gangplank non-skid surfaces can deteriorate over time, losing their anti-slip properties.
Defective Handrails
When passengers lose footing, they often grab onto the handrails to prevent injuries. However, it could be possible that the cruise line does not have railings on its gangplank, just like in the old days, or it could be faulty due to wear and tear, increasing the risk of a cruise ship accident.
Objects or Liquids
Unnecessary objects or items left on gangplanks are a hazard that can lead to cruise ship accidents.
Spills can compromise traction, so crew members must mop wet surfaces. Wet surfaces can cause passengers to slip, resulting in cruise ship injuries.
Improper Fastening
A cruise ship captain and crew members must properly fasten the gangplank and align it to the ship. Improperly secured gangplank can move when guests start walking on it, increasing the risk of a cruise ship accident.
Poor Lighting
When walking on gangplanks, it is crucial to watch your step for any hazards or slippery surfaces, but inadequate lighting can make it difficult to see where you're stepping, increasing the risk of tripping or slipping.
Misevaluating Weight Load
Gangplanks can withstand up to a certain load, and the crew member should know how many people to allow walking on the gangplank at a single moment.
Too many passengers can cause an overload, increasing the risk of a gangplank collapse.
Common Cruise Ship Injuries after a Gangplank Accident
The injuries passengers can suffer on a gangplank depend on the type of accident, whether a slip and fall or gangway collapse accident. The following are some common gangplank cruise ship injuries:
Head and neck injuries
Traumatic brain injuries
Broken bones and fractures
Soft tissue injuries
Drowning.
When a passenger suffers a cruise ship injury in a gangplank accident, it is crucial to seek medical attention immediately.
Can Injured Passengers File Cruise Ship Injury Claims for Gangplank Collapse Accidents?
Medical treatment following an accident can result in unexpected finances, affecting the financial situation of cruise ship accident victims.
Cruise ship accident victims may be able to recover compensation for their loss. However, gangplank collapse is a complex area of the law, as general maritime or foreign law may govern your case, depending on the location of the accident.
If you suffered injuries in a cruise ship accident involving a gangplank, contact an experienced ship gangplank accident attorney to learn more about their legal rights.
Who Is Liable for Your Cruise Ship Accident Injuries?
Cruise lines are responsible for ensuring their guests' safety, including during boarding and disembarking. If you suffered injuries in a gangplank accident on a cruise line, the cruise company is responsible for the damages.
Cruise ship crew members must ensure that they follow the cruise line SOP to avoid injuries to passengers while embarking and disembarking the vessel. They are responsible for ensuring guests board the cruise ship in a civilized manner to prevent overloading the gangplank.
The cruise line must ensure proper routine maintenance of the vessel and all other equipment, including the gangplank. With wear and tear, gangplanks can become weak, resulting in a serious risk to cruise ship passengers. Routine inspections can help identify issues with the gangplank structure integrity allowing the cruise line to carry out the necessary repair or replacement works.
Injured passengers can hold the cruise line responsible for the damages if the cruise ship, captain, or cruise is negligent.
Where Should You File a Cruise Ship Injury Claim?
Whether the cruise ship departs from or docks in California, Florida, or any other state, it is essential to note that you must file a cruise ship injury claim where the company resides.
Florida is home to the largest cruise ports, where most cruise lines have their headquarters, so you may have to file your claim in Florida. However, not all cruise lines have their headquarters in Florida.
If you're unsure where to file a cruise ship accident claim, speak to an experienced cruise ship accident attorney.
How Long Do You Have to File a Cruise Ship Accident Claim?
Unlike the California statute of limitations that allows injured personal injury victims to pursue legal action within two years following the date of the accident, this law does not apply to cruise ship accidents.
Cruise lines have lobbied for laws in favor of the companies operating in the industry rather than the guests or passengers. When a passenger uses a cruise ship ticket to board a cruise ship, they agree to the terms and conditions mentioned at the back of the ticket, which also includes shortening the statute of limitation.
The cruise ship ticket includes the passenger's rights, the location to file a claim, and the specific time. The statute of limitations for most maritime injuries is three years, but because of the binding contractual agreement (cruise ship ticket), you may have as little as one year.
Typically, the ticket also includes a notice requirement that requires all injured victims to provide the cruise line with a notice of claim within six months.
A consultation with a knowledgeable cruise ship accident lawyer can help you understand the time you have to pursue a claim against the cruise line and your legal options.
What Law Applies to Your Los Angeles Cruise Ship Accident Claim?
The laws pertaining to cruise ship injuries are highly complex, and injured cruise ship passengers need to consult with experienced cruise ship injury attorneys.
Generally, injuries occurring in state waters (three miles extending into the Atlantic coast and nine miles extending into the Gulf coast) are governed by state laws. An injured victim may pursue a cruise ship injury lawsuit in a county or state court that has jurisdiction over the case.
Most cruise ship accident claims against cruise lines fall under maritime law, meaning injured victims must file a case in federal court. However, cruise lines have the right to choose which court has jurisdiction over claims against them.
An experienced Los Angeles cruise ship accident lawyer can assess your case and help navigate the complex legal waters.
Is It Important for Accident Victims to Hire Los Angeles Cruise Ship Attorneys for Their Case?
You may want to consider filing a cruise ship accident claim against the cruise line without the help of a cruise ship injury lawyer, but doing so will put you at a severe disadvantage.
The complex laws surrounding your cruise ship accident claim and the aggressive legal teams of cruise lines can make it challenging to pursue legal action on your own.
An experienced cruise ship litigator can determine the laws applicable to your Los Angeles cruise ship accident case, gather evidence, and pursue legal action to hold the cruise line accountable for your loss.
Schedule a Free Consultation with Ehline Law
Ehline Law and our Los Angeles cruise ship accident attorneys have more than a decade of experience handling cruise ship accident cases against major cruise lines and helping protect the rights of cruise ship accident victims.
If you suffered injuries in a cruise ship gangplank accident, contact us at (833) LETS-SUE for a free consultation, as you may be eligible for compensation. Our Los Angeles cruise ship gangplank accident attorneys will investigate your accident and hold the cruise line responsible for the damages to recover compensation for your loss.
Michael Ehline is an inactive U.S. Marine and world-famous legal historian. Michael helped draft the Cruise Ship Safety Act and has won some of U.S. history's largest motorcycle accident settlements. Together with his legal team, Michael and the Ehline Law Firm collect damages on behalf of clients.
We pride ourselves on being available to answer your most pressing and difficult questions 24/7. We are proud sponsors of the Paul Ehline Memorial Motorcycle Ride and a Service Disabled Veteran Operated Business. (SDVOB.) We are ready to fight.