If we don't win, you don't pay.
Speak to the Attorney.
Born to serve.
633 W 5th Street #2890
Los Angeles, CA 90071
(213) 596-9642.
Date Modified: June 14, 2023
Injuries can happen anywhere; whether it is in a retail store, convenience store, or gas station, people can get injured. However, when an injury does occur, you should call a personal injury attorney to help. This is because filing an injury claim can be time-consuming and difficult for people who have never done one before.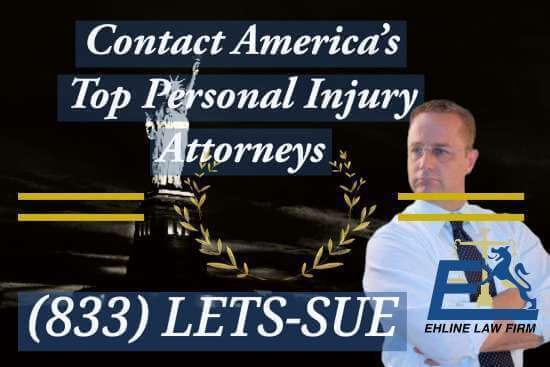 Injured at an AM/PM Mini Market?
If you're hurt, you mustn't delay forming an attorney-client relationship with the right law firm or solo practitioner. There are time constraints on any injury claim, so having a personal injury lawyer complete this for you is the best thing to do.
Receive a Free Consultation Today!
You must call an attorney when a personal injury has happened at a gas station. If you have any questions about your recent fall, contact Ehline Law to discuss your options. Everything you tell us is confidential, and the consultation is cost-free for you. There is no risk and no obligation to get our two cents.
How Often Does a Slip and Fall Accident Occur in Convenience Stores?
Slip and fall accidents happen more often than we think. Both men and women will have an accident. Current statistics show that workplace falls can account for 5% of job-related injuries for women and 11% for men. Additionally, falls are the leading cause of hospital visits. A whopping 21.3% of hospital visits are due to falls.
If you think it will never happen to you, you should think about what you must do if it does.
Slip and Fall Facts for You:
A slip and fall is the leading cause of compensation claims.
Floors and flooring materials have contributed to more than two million fall injuries yearly.
Hip fractures typically happen when someone falls on a hard surface.
22% of slip and fall accidents result in 31 days away from work.
Typical Injuries That Happen in a Gas Station Convenience Store
Many injuries can take place in a convenience store, but these are some of the most common ones:
Spine injuries
Back injuries
Traumatic brain injuries
Wrist, finger, and hand fractures
Broken nose.
What Causes These Accidents to Happen?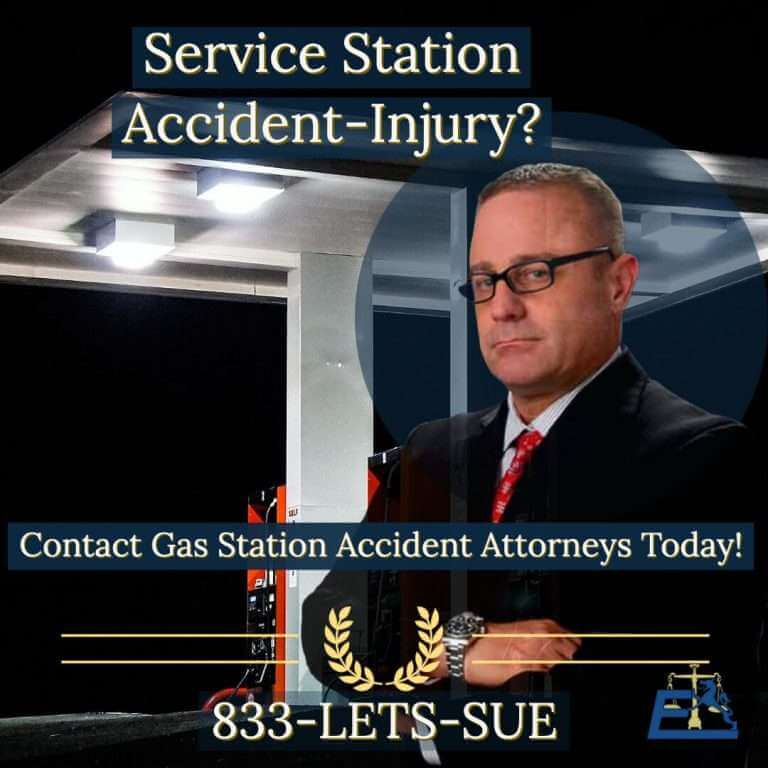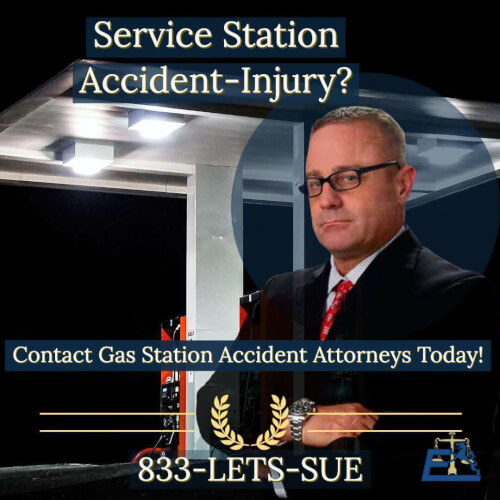 These injuries can occur for many different reasons. A convenience store accident can happen because of the negligence of the convenience store owners. If an employee slips and falls because the owner mopped the floor and didn't put out a wet floor sign, the owner is liable for damages. Many people forget to put out warning signs, resulting in a personal injury lawsuit.
A gas station has many different kinds of products on its shelves. If food or liquid is spilled or leaking, this becomes a hazard that people should clean up immediately.
Uneven flooring can also cause an accident at a gas station. This is because someone could trip and fall. The owner would be held accountable because they should ensure that all surfaces are safe for customers and employees to walk on.
Lastly, entranceways and exits can be a place where injuries can happen. This is especially true if water has been tracked after a storm. The entranceway has now been made wet and slippery, so if it is not cleaned up and a warning sign is not put out, the owner will be held accountable if an accident happens.
Types of Damages You Could Recover with Personal Injury Lawyers
The victims can recover damages if injured in convenience stores or gas stations. However, the best way to recover these damages is to contact personal injury lawyers so that they can help you with the claim.
Some of the damages you could receive are:
Payment for any medical bills
Lost wages
Pain and suffering
Loss of future earnings
Compensation for future medical treatment
Emotional and psychological damage.
How Personal Injury Attorneys Can Help
When someone gets hurt at a convenience store or gas station, their claim falls under the liability law. All property owners, including the gas station and convenience store owners, must keep their property safe for all visitors and employees.
With this in mind, all shoppers have faith in the property owner to keep their property in a condition where no serious injuries will occur. They can do this by warning everyone of potential dangers if they cannot be repaired immediately or by getting the repair done.
If a convenience store accident has happened, they need to prove that the owner owed them a duty and has breached that duty, the owner was made aware of the dangerous condition, and the slip and fall happened. The primary focus of any lawyer is to prove that the owner was aware of these issues before the accident occurred.
Convenience store accidents are more common than people realize. It can happen at gas pumps, on cracked or uneven pavement, in parking lots, etc. A personal injury lawyer will be able to help you gather the right information to help prove that the owner did know about these unsafe conditions.
What if the Gas Station Owner Does Not Know There are Harmful Conditions?
Making a personal injury claim could be difficult if a victim hurts themselves and the owner says they did not know about these conditions. However, a lawyer can help with that. When an owner should have known that something was wrong at the gas station, it is called 'constructive notice.' An example would be a gas station employee who continuously saw the same spill on the floor for a week. This employee never told the manager or the owner.
However, routine inspections of the property should be scheduled for any problems. The key here is to prove that the spill has been around for an extended period. If a routine inspection had occurred, the owner would have been aware of this problem.
Additionally, it is not just left to a routine inspection. An attorney can defend your claim with other means, like surveillance footage. The owner will be held accountable if it can be shown on camera that the spill was around for over a week.
What Happens If the Spill Was Only There for a Short Time?
Now, this is where it gets tricky. Constructive notice can only exist if the problem has lasted for an extended period. This means that if someone drops a can of soda, the drink's contents fall on the ground, and you fall on it after five minutes, which is not long enough for constructive notice.
Also, it depends on the size of the gas station. Some gas stations only have two aisles; if the store manager can see everything from their spot, they should have already gotten up to clean it. However, this can be not easy to prove to a jury if you do not have the proper evidence.
What Should You Do if You Have Been in a Fall Accident?
Assess the Situation
When a fall happens, everyone needs to check on the victim. Make sure that they are conscious.
Call Emergency Services
Call the police to come and assess the situation. They will write up a police report about the incident, which can be used later as evidence. Additionally, an ambulance should be called if the victim has hit their head or has any serious injuries. In this instance, looking after the victim's health should be the top priority.
Photographic Evidence
If it is safe to do so, gathering photographic evidence will help all personal injury cases. This is because this is evidence of the incident, so there is no evidence lost if someone cleans up the accident afterward.
Get Looked at By a Professional
All victims should speak to a medical professional after a slip and fall. Some accidents cause injuries that people cannot feel until after the adrenaline wears off. Ensure to grab the medical report once it has been written because it will be used as evidence.
Speak to Ehline Law Firm
Speak with an attorney about what has happened to know what you need. The team will be able to give you all of the information you need about your case and will take care of it for you.
Why Choose Ehline Law Firm?
We specialize in negligent security cases and are experts and obtaining footage from security cameras against most convenience stores. Ehline law firm has been assisting people who have been involved in convenience store accidents for many years. The entire team is knowledgeable, experienced, and passionate about their work. Also, they understand the importance of the attorney-client relationship. All the information you provide to the team will be kept private, but you will not be held in the dark.
The team understands transparency is key in every case because victims want to know that they are being looked after. Also, if you are unsure about choosing Ehline to help you, call and ask for a free consultation.
A team member will speak to you, and they will give you a free case evaluation for your car accident at pumping stations or sexual assaults 24/7.
Schedule a Free Consultation With A Top Rated AM PM Mini Market Injury Lawyer Today
Injured victims should call the managing attorney at Ehline Law to help if someone was involved in a personal injury accident. The team understands the stress that all victims are under after an accident. Our best attorneys will handle the case and keep your sensitive information private. We'll do our best to act quickly and recover compensation by jury verdict or insurance company settlement.
Are you badly injured? You can get a free consultation and speak to a team member to help you. We offer a no-recovery, no-fee promise for all serious and common injuries. Remember, you will benefit from having the right team behind you during these stressful times. Call Ehline Law now for superior legal help based on prior results and millions recovered. Dial (213) 596-9642 to learn more.
Michael Ehline is an inactive U.S. Marine and world-famous legal historian. Michael helped draft the Cruise Ship Safety Act and has won some of U.S. history's largest motorcycle accident settlements. Together with his legal team, Michael and the Ehline Law Firm collect damages on behalf of clients.
We pride ourselves on being available to answer your most pressing and difficult questions 24/7. We are proud sponsors of the Paul Ehline Memorial Motorcycle Ride and a Service Disabled Veteran Operated Business. (SDVOB.) We are ready to fight.