Los Angeles Injury Attorneys / Practice / Target Injury Lawyers
If you suffered injuries at a Target retail store, you must reach out to a personal injury law firm to protect your rights and win your personal injury case. Ehline Law and our personal injury attorneys have helped win legal battles against large corporations for injured victims across California. Secure yourself financially by calling us now to review your case.
Target's Responsibility and Premises Liability Law
To understand Target's responsibility towards its customers, you must know what premises liability law is and its key elements.
California Civil Code 1714 mentions all the obligations of property owners to ensure "reasonable care" towards their occupants and guests. Those who own, lease, operate, or control a property must ensure adequate safety measures and must also identify any potential hazards that may cause accidents.
Whether or not you have a premises liability case depends on these four elements:
The defendant owns, controls, leases, or operates the property.

The defendant did not provide "reasonable care" to avoid any injuries.

The plaintiff suffered injuries due to the negligence of the defendant.

The negligence resulted in damages to the plaintiff.
Under premises liability law, property owners have a duty of care towards all their occupants, guests, and workers to ensure a safe environment. In the case of a target, the store must take adequate safety measures to prevent injuries, and failing to do so may hold them liable for damages such as medical bills, lost wages, pain and suffering, and more.
Slip and Fall Accidents in Target
There are many ways a slip and fall accident can occur at any Target locations across the United States.
Some of the dangerous conditions that could lead to a slip and fall accident at a Target store (inside the store and in the parking lot) include:
Failing to remove ice or snow accumulated on the store's premises.

Failure to take adequate measures to ensure that the store floors are always dry during the rainy season.

Failure to replace poorly maintained carpets that can cause trips and falls.

Low lighting in the parking lot of a Target store that previously had a history of parking lot assaults.

Uneven surfaces at a Target store or an improperly constructed sidewalk.

Poorly placed warning signs that are not clearly visible to customers result in accidents.

Target employees that are failing to carry out their duties, such as mopping wet floors to ensure a safe environment for all the visitors.
Is It Hard to Win a Target Slip and Fall Case?
Unlike many other types of personal injury cases, a slip and fall case is challenging to prove, especially if there are no witnesses around to have a slip and fall claim. An injured victim must prove that Target was aware of the dangerous situation and failed to take action.
For example, on a rainy day, the store should be aware of the potential hazard of wet floors and put out a mat at the entrance. Failing to take the necessary precautions can hold Target accountable for any injuries.
However, if the victim slipped due to a spilled drink that was not brought to the attention of any Target employee earlier, Target may not be liable for any accidents caused by it.
Although slip and fall claims are challenging to prove, it doesn't mean that your attorney can not win the case no matter what.
Here are some of the examples of premises liability lawsuits won against Target for injuries on their store premises:
A woman slipped due to a slippery floor caused by a puddle of bleach, resulting in spinal cord injuries at a Target store in Florida. The jury found Target 87% liable for the injuries and awarded a sum of $336,274 to the injured woman.

A man in his late 40s in Florida slipped due to a slippery floor caused by liquid soap at a Target store, resulting in serious knee injuries. The jury found Target 90% liable for the injuries and awarded just under $208,000 to the injured man.

A woman in Pennsylvania was carrying a box in an aisle and stepped to the side to give way to an elderly woman. However, in doing so, the box got caught on a display shelf, and the woman slipped over a chair left in the aisle, resulting in a knee injury requiring surgery. The jury found Target 10% responsible for the accident and awarded $15,000 to the injured woman.
The case outcome depends on what you do after the accident and how good your attorney is. Remember, Target's insurance company cares about Target, not you. Their main goal is to protect Target's best interests and minimize the payout. Target retail store slip and fall attorneys can look out for your best interest, protect your rights, and pursue your personal injury claim.
What Damages Can You Recover for a Slip and Fall Accident at Target?
There are many types of damages an injured victim can recover from a slip and fall accident, but the exact types of damages you can recover in your case will depend on your situation.
You can sue Target for the following damages from a slip and fall accident at their store:
Medical expenses (current and future bills)

Lost income

Loss of companionship

Disfigurement

Impairment or permanent disability

Physical limitations

Emotional trauma

and more
In the event a family member loses their loved one due to an accident at Target, they may be able to recover the following wrongful death damages:
Medical bills incurred until the passing of the victim

Funeral costs

Burial expenses

Loss of financial support
These are just some of the common damages injured victims to file claims against a negligent store owner. You may be entitled to even more damages depending on the situation, so speak to an attorney first about your case.
The Statute of Limitations and Your Premises Liability Case
A state's statute of limitations can affect the time period an injured victim must pursue a personal injury lawsuit against the negligent party. Depending on the state you're in and your situation, the time period may vary anywhere between one and six years.
In California, under the state's statute of limitations, injured victims must file a personal injury claim against Target two years from the accident date. If the accident victim fails to file a lawsuit two years after the accident, they lose the right to take legal action and recover compensation for their loss.
After a Slip and Fall Accident at Target: What to Do Next?
Reporting the accident
The first thing you must do after an accident is to report it to the store owner or a store manager. It is crucial that you only stick to the basic facts as they can use any unnecessary information against you, jeopardizing your chances of making a financial recovery.
Go to a Hospital for a Medical Checkup
Fall injuries can take some time to manifest or get worse over some time. You must get a medical examination and keep a record of medical documents, appointment schedules, and bills with you. Any delay in medical visits can negatively affect your case.
Contact a Personal Injury Attorney
If you wish to pursue legal action against the store, you need to hire a qualified personal injury attorney immediately. Target's insurer will call you after you report the accident to get some information from you, but if you have an attorney, they will deal with the insurance companies on your behalf.
Schedule a Free Consultation with a Personal Injury Attorney Today
Ehline Law is an award-winning personal injury law firm that helps injured victims by holding negligent parties, including large corporations, responsible for their actions causing fall accidents. We have recovered over $150 million for injured victims across California.
 During the free case review, our attorney will listen to your case, determine whether there is a liability case, and help you understand your legal options to cover medical expenses and other financial compensation.
An accident can affect your physical, mental, and financial situation, and it is not fair that you have to bear the burden of an accident that was not your fault. Don't deal with the insurance company representatives by yourself.
If you slipped and fell, contact us now for more information. Learn about how we can strengthen your case. You can also visit our law offices to form an attorney-client relationship. Acting swiftly that's how you get all the compensation you deserve.
If you suffered injuries from an accident at Target, make an accident report with the store manager. Next, contact us at (213) 596-9642 for a free consultation with our legal experts to learn about Target's liability.
---
Michael Ehline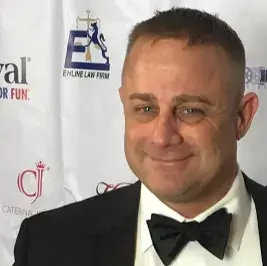 Michael is a managing partner at the nationwide Ehline Law Firm, Personal Injury Attorneys, APLC. He's an inactive Marine and became a lawyer on the California State Bar Law Office Study Program, later receiving his J.D. from UWLA School of Law. Michael has won some of the world's largest motorcycle accident settlements.
---
Recent Personal Injury News
Check out our most recent premises liability blog posts from celebrities crashing cars to everyday people getting run over, rear ended or otherwise colliding.