If we don't win, you don't pay.
Speak to the Attorney.
Born to serve.
633 W 5th Street #2890
Los Angeles, CA 90071
(213) 596-9642.
2323 S. Voss Rd, Suite 244
Houston, TX 77057
(832) 592-1260.
Date Modified: June 13, 2023
Considered the home venue for the Lakers and Clippers, Staples Center has always been at the heart of Los Angeles County. Shockingly, fans had to bid farewell as the venue was recently re-named Crypto.com as a first step in the partnership between the fastest-growing cryptocurrency platform and AEG, the owner and operator of the arena.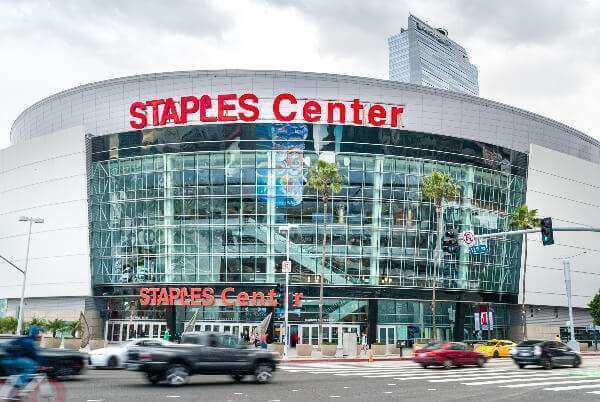 Injured at Crypto Stadium in LA?
Receive a Free Consultation Today! The arena will still host some of the world's largest live sports and entertainment events but with the Crypto.com brand at its center.
Of course, the fans showed some resistance towards the name, it's a connection to Kobe, and it's not the most painful thing, considering the Lakers missed the playoffs with Lebron. However, what's more, painful than anything is suffering injuries at the Staples Center.
At Ehline Law, our personal injury attorneys have helped thousands of injured victims recover over $150 million in compensation. We can help you too.
Common Accidents at Staples Center
According to our experience of taking on personal injury cases at arenas and other events, some of the common accidents at Staples Center may include:
Slip and fall accidents: You could either trip over electrical wires or debris or slip on a wet floor, resulting in serious injuries such as fractures, concussions, and more.
Falls from the skybox: If one is not careful, they can easily fall over the skybox and onto the chairs below, which can either cause injuries or even death. In 2010, a young boy overcame the glass barrier and fell over the skybox to his death on some empty chairs three floors below.
Falling debris: Although the staples center is fairly new compared to other venues across the United States, there is still a chance of debris falling from the wall or ceiling onto the unsuspecting people below.
Defective products: Many devices and equipment are installed across the arena, including the skybox. These can malfunction and injure fans nearby. Even the seats could collapse due to an unfinished job or improper installation.
Food poisoning: Mishandled food or unsanitary conditions could cause contamination, and those ingesting the food can get sick.
Assault: Although the Staples Center has security to ensure no violent outbreaks, fights still break out in bathrooms, stands, or even in the parking area.
Whether a car accident in a poorly lit parking lot, an assault, or any other type of accident, victims can suffer serious injuries requiring immediate medical treatment.
Medical bills, lost income, and emotional trauma can be overwhelming, and you shouldn't be the one facing the damage from an accident that was not your fault.
Speak to a relevant attorney, whether a car accident lawyer or a Staples Center accident attorney, about your personal injury case, as you may be entitled to financial compensation.
California and Premises Liability Law
To understand whether you can pursue legal action, you must understand California's premises liability law.
The law requires those who own or control property to take adequate measures to ensure the safety of their occupants and guests. This includes repairing hazards and investigating the property to uncover potential risks that may cause harm to people in the future.
Can You File a Personal Injury Claim for an Accident at Staples Center?
You can pursue action against the owners of the Staples Center or a third party.
Holding the Owners Responsible
Operators or owners of Staple Center must ensure that the premises are safe for visitors. Depending on the circumstances and past experiences, Staples Center must take reasonable steps to keep its visitors safe.
For example, for the young boy who fell from the skybox and died, his parents sued Staples Center for the inadequate barrier that led to the accident. After that event, Staples Center should improve its barrier situation to avoid further mishaps.
Holding Third-Party Responsible
Due to the premises liability law, you can pursue legal action against relevant parties for the accident caused at Staples Center.
Another law, the Dram Shop Act, holds the bar responsible for the actions of an intoxicated customer as they are the ones pouring already intoxicated customers' drinks when they should politely refuse.
Can Injured Employees Also Pursue Legal Action?
Workers at Staples Center are also at risk of falls, electrocution, injuries from lack of safety equipment, and more.
Surprisingly, it is much more challenging to sue as a worker than as a fan in the stands or parking lot because, due to California's negligence law, employees cannot sue their employers for any acts of negligence. However, there are some exceptions to it.
Workers Compensation Law in California
California's workers' compensation laws protect employees from injuries regardless of who is at fault. This law is fantastic for protecting employees but also shields businesses from any personal injury lawsuits from workers.
However, this rule is still the exception, and some situations may hold employers accountable for damages and losses.
Should You Reach Out to a Los Angeles Car Accident Lawyer?
If you've gotten into a car accident in the Staples Center parking lot, whether as a driver, passenger, or even a pedestrian, you must reach out to car accident attorneys as they are well-versed in California car accident laws.
Our experienced car accident lawyer has helped protect the rights of accident victims and recover maximum compensation for their loss.
Do You Need a Los Angeles Personal Injury Law Firm to Pursue Legal Action?
Some personal injuries cases, like slip and fall accidents, are hard to prove and win for personal injury attorneys, unlike car accidents, where there is a whole lot of evidence, including CCTV footage, to determine negligence for causing injuries like traumatic brain injuries and property damage.
Car accident lawyers can retrieve police accident reports and other evidence to support car accident victims' cases and file for a car accident claim. Still, accidents like Los Angeles slips and falls are the victim's own accounts. There may be no witnesses or other evidence that proves the negligent party knew the hazards yet did not take reasonable measures.
Besides the different accidents, there is the question of who is liable for the victim's injuries. You may want to believe that the Staple Center operators would be the responsible party for damages from a fight. However, that may not be the case, as their security could be from a third-party organization.
Do you need legal representation for a motor vehicle accident with spinal cord injuries? An experienced personal injury attorney can help determine the party involved and pursue traffic accident claims against their insurance company for motor vehicle accidents in the parking lot or other types of personal injury claims. Our top car accident attorney has recovered millions for personal injuries. He can help recover fair compensation from the at-fault driver for all Los Angeles car accidents and related car accident claims like truck accidents or bad motorcycle accidents (hit-and-run crashes, a wrongful death auto accident, etc.).
Contact a Los Angeles Personal Injury Lawyer for Compensation
Ehline Law and our Los Angeles personal injury lawyers have over 30 years of collective experience helping injured victims recover medical expenses and lost wages for catastrophic injuries. If you suffered severe injuries at Staples Center, contact us at (213) 596-9642 for a free case evaluation with our Staples Center accident attorneys on your personal injury case. Our top Los Angeles personal injury attorney will help investigate the facts of the case, determine the negligent party, and pursue a personal injury lawsuit to ensure you get what you deserve.
Contact experienced personal injury lawyers in Southern California now for a confidential, risk-free consultation under California law.
Michael Ehline is an inactive U.S. Marine and world-famous legal historian. Michael helped draft the Cruise Ship Safety Act and has won some of U.S. history's largest motorcycle accident settlements. Together with his legal team, Michael and the Ehline Law Firm collect damages on behalf of clients.
We pride ourselves on being available to answer your most pressing and difficult questions 24/7. We are proud sponsors of the Paul Ehline Memorial Motorcycle Ride and a Service Disabled Veteran Operated Business. (SDVOB.) We are ready to fight.