If we don't win, you don't pay.
Speak to the Attorney.
Born to serve.
633 W 5th Street #2890
Los Angeles, CA 90071
(213) 596-9642.
2323 S. Voss Rd, Suite 244
Houston, TX 77057
(832) 592-1260.
Date Modified: June 13, 2023
Congrats. Under California negligence theory, you just landed on the Ultimate Balcony Injury Attorneys Guide to WINNING Compensation.
Premises Liability Claims
Did you or someone you love suffer serious injuries due to a faulty balcony railing or violation of local building codes? Is the pain and suffering unbearable?
Balcony railings act as an aesthetic piece to a building like a hotel or a condo and protect individuals from falling and injuring themselves. However, some apartment complexes or properties fail to inspect for loose railing and maintain balconies, making it a serious safety hazard for residents and guests. Besides that, guests could trip over poorly placed furniture and fall to their doom.
Ehline Law firm and our personal injury attorneys have extensive experience holding negligent property owners or even bad contractors who build homes responsible for disregarding the safety of guests and residents, leading to severe injuries. If you suffered an injury from a balcony fall, contact us to learn more about your rights as an injured victim.
Our charismatic, aggressive, skilled attorneys may be able to help help you receive fair compensation against a negligent building owner or construction company. Even if they made routine inspections, the responsible parties may have performed improper maintenance, leading to dangerous conditions and even death.
Common Causes of Balcony Fall Accidents
Many residents and guests assume that balconies in apartment buildings, shopping malls, and other commercial buildings are adequately maintained, which is why it may be difficult to comprehend how a balcony fall can occur. However, balcony fall accidents are more common than you think, and there are several reasons why such accidents happen in the first place.
In most balcony fall accidents, the underlying cause is the property owner's negligence. Wear and tear and changes in weather conditions can weaken a balcony's structure, and lack of inspection and maintenance can cause weakened balconies to break, causing injuries to people.
The following are some causes of balcony falls in the United States.
Rusted Nuts and Bolts
Over the years, nuts and bolts can become rusty due to precipitation, causing them to eat and weaken the metal. In such situations, if a resident or a guest leans against the balcony railing with rusted screws, it can lead to the railing snapping and causing the victim to fall off.
Overload
Balconies have a weight limit, and those tenants who have guests or parties may weaken the structure holding the balcony, making it a severe hazard for the next tenant moving in.
Lack of Warnings
If the balcony is structurally deficient and the property owner knows about it, they must provide a warning sign to let people know. However, property owners may fail to inform the residents and guests, leading to serious accidents.
Lack of Inspections
The property owner must conduct inspections to identify weak balconies or carry out routine maintenance to ensure the structure's integrity. It could involve replacing the railings, the rusted nuts, and bolts, or resolving any other structural problems.
Failing to ensure adequate inspections and maintenance can lead to a weakened balcony, becoming a safety risk for everyone.
Common Injuries from Balcony Falls
Balconies are often at a height, and depending on the distance you fall from, it could lead to catastrophic injuries.
The following are some common injuries from balcony falls:
Traumatic brain injuries (TBI): A TBI is one of the most devastating injuries one can sustain and can occur when the victim falls on their head. TBIs have a long-term impact on the victim, from physical and cognitive impairment to a serious financial burden.
Spinal cord injuries: The spine is responsible for sending signals from the brain to other body parts and receiving signals back. A devastating fall on the back can seriously injure the spine, severing the link between the brain and other body parts and affecting bodily functions, motor and sensory signals, and cognitive functions. In the worst-case scenario, spinal cord injuries can lead to lifetime paralysis, requiring life care, medical assistance, and home modification equipment, costing millions of dollars for the victim.
Fractured bones and shattered joints: A balcony fall can lead to broken bones depending on the impact. Severe fractures may require extensive surgical procedures and rehabilitation to recover some movement.
Internal bleeding and organ damage: When a person falls from a balcony, it can cause internal organ damage. Broken ribs can pierce the lungs or rupture the spleen, causing serious internal bleeding and damage. These types of injuries are dangerous as the victim is unaware of their bodily health without a proper medical examination, leading to medical complications.
Secondary injuries: After sustaining injuries, the victim needs to seek medical help and follow their doctor's treatment plan. Failing to do so can lead to medical complications, such as an infection spreading throughout the body.
The prognosis for victims surviving a balcony fall is rarely favorable, and in some cases, it can even lead to an instant or painful death. Balcony falls can lead to medical bills, lost wages, and other damages for which injured victims must pursue personal injury claims to recover compensation for their loss.
Who Is Responsible for Balcony Falls?
Under premises liability, the property owners must ensure that their property is safe for all guests and residents. This responsibility includes inspecting and maintaining balconies or warning people about potential hazards to prevent balcony accidents from happening.
If the property owner is negligent in maintaining their property, and it causes injuries to an individual, they may be liable for the damages caused.
Balcony accidents can happen due to a lack of maintenance, poor construction job, or failure to follow the law. In such situations, injured victims can bring a personal injury lawsuit to obtain compensation for their injuries.
Filing a Premises Liability Case for Compensation
An injured victim may pursue a personal injury case for a balcony accident due to the property owner's negligence. However, proving a property owner's negligence can be challenging, and injured victims must contact an experienced personal injury attorney for legal representation.
There are several elements under the premises liability that the victims must prove to have a valid personal injury case, and these include:
The property owner had a duty of care toward the plaintiff
The property owner breached their legal duty
The plaintiff suffered injuries
The plaintiff sustained injuries due to the property owner's negligence.
Falls from balconies can lead to complex legal cases. An experienced personal injury lawyer can help investigate the accident, gather the relevant evidence, and pursue legal action against the property owner to recover damages.
Can You File a Wrongful Death Lawsuit for Balcony Fall Accident?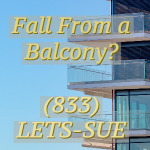 Depending on state laws, our law offices may be able to pursue a wrongful death lawsuit and obtain compensation when a property owner's negligence results in the death of a guest and other injuries suffered.
In California, surviving family members have the right to bring a wrongful death action against negligent parties for their loved one's death to obtain financial compensation.
Schedule a Free Consultation with the Best Falling From a Balcony Accident Lawyer in Los Angeles Today
Ehline Law is an experienced law firm that has represented injured victims of serious personal injuries for more than 15 years. Our falling from a-balcony injury attorneys deeply understand premises liability laws and can help protect your rights and aggressively fight for justice on your behalf.
If you suffered a serious injury, contact us at (833) LETS-SUE for a free consultation, as you may be eligible for compensation. Call us today because our business is protecting you and your loved ones from shady defendants and insurers.
Michael Ehline is an inactive U.S. Marine and world-famous legal historian. Michael helped draft the Cruise Ship Safety Act and has won some of U.S. history's largest motorcycle accident settlements. Together with his legal team, Michael and the Ehline Law Firm collect damages on behalf of clients.
We pride ourselves on being available to answer your most pressing and difficult questions 24/7. We are proud sponsors of the Paul Ehline Memorial Motorcycle Ride and a Service Disabled Veteran Operated Business. (SDVOB.) We are ready to fight.