If we don't win, you don't pay.
Speak to the Attorney.
Born to serve.
633 W 5th Street #2890
Los Angeles, CA 90071
(213) 596-9642.
Date Modified: July 2, 2023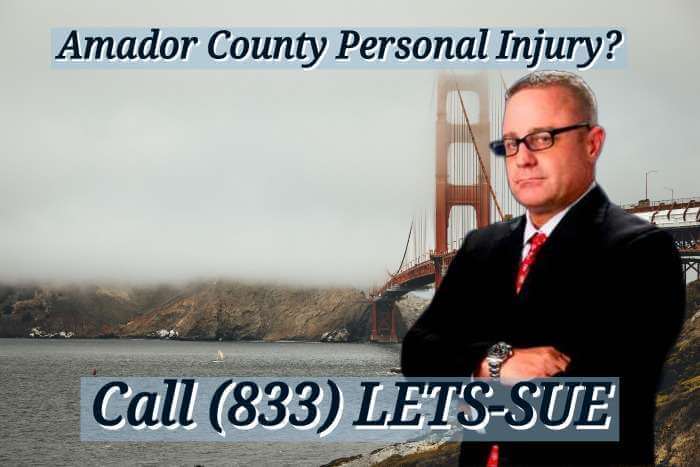 Suffer an Amador County Personal Injury?
Did you slip and fall or get into some other accident caused by the fault of another? Are you laid up in the hospital and penniless?
When an individual is seriously injured from an accident that clearly wasn't their fault, they can hire a personal injury lawyer to handle their claims.
What exactly does a personal injury lawyer do? Many people box personal injury lawyers into legal representatives who assist an individual when they're involved in a car accident. A personal injury lawyer does a lot more than just handling car accident cases for personal injury victims in Amador County.
Attorneys at Ehline Law Firm cover various practice areas under personal injury law, including product liability and insurance claims. A plaintiff must, therefore, contact Ehline Law Firm Personal Injury Attorneys, APLC, for a free consultation when another person or company injures them carelessly, recklessly, or intentionally.
Some History
We built our reputation on providing swift, honest, excellent service by working with Congress, helping to draft and pass consumer protection laws on behalf of consumers, pro bono! Our caring staff of Amador County CA, personal injury lawyers love their jobs. Many legal team members are USMC veterans dedicated to providing excellent services with a higher calling of loyalty, courage, and commitment to clients. That is our employment, and that is our sacred business model.
Why Else Should You Hire Us?
We are local to all clients, including residents and accident victims injured in:
Calaveras County
Cameron Park
El Dorado Hills
Folsom
Los Angeles County
Modesto County
Roseville
Sacramento County
San Joaquin County (Cities like Stockton, etc.)
San Francisco County
Sacramento County
Sutter Creek
Tracy
Valley Springs.
Our Awards and Accolades include:
Multiple Super Lawyer Rising Star Awards
Multiple Hollywood Weekly Magazine Cruise Ship Attorney of the Year Awards
Personal Injury Warriors International Best Attorney's Award
Multiple Nominations from U.S. News Best Attorneys and more.
Can a Personal Injury Lawyer Protect Injured Victims?
Whether an injured victim sustains injuries from a fall, defective product liability, or dog bite injuries, a personal injury lawyer can help them receive justice. Usually, this period is a trying, intense time of pain and suffering for wounded plaintiffs of their close loved ones. These victims will need to concentrate on their recovery and medical treatments.
Personal injury lawyers will help victims protect their legal rights and establish a barrier to people who may disrupt them. All they need to do is contact them for a free consultation. We recommend you do so immediately. It is an easy, risk-free, confidential process.
We are experts at this, with well over 10 years in the game. Compared to other law offices, we are a cut above. Find out why so many past clients believe we are the best law firm in Amador County with a quick, painless free consultation over the phone.
Common Things a Plaintiff Is Likely to Experience During a Personal Injury Case
While personal injuries cases are underway, whether it's a wrongful death due to products liability, motorcycle accidents, dog bites, or pedestrian accidents, a plaintiff may experience the following:
When a plaintiff's medical bills start to pile up, the physician would want to know how the personal injury victim will clear up their bills.
If an individual is involved in a car accident, the police may want answers about the driver at fault.
The plaintiff's insurance company will require a statement to determine if they owe the plaintiff PIP benefits or if it owes the other driver benefits for damages.
If an injured party fell on private property, the liability insurance company would want to know what happened.
The other driver's insurance company will want to know the version of the plaintiff's injury story.
If the injuries were sustained in the workplace, the plaintiff's HR and the employer would want to ask the plaintiff questions.
While the plaintiff can try to do everything on their own, too much is at stake not to seek out legal counsel in Amador County. During post-accident periods, a personal injury lawyer can intervene by letting him deal with these people on a plaintiff's behalf. Amador County Personal injury lawyers would remain vigilant the minute a plaintiff asks for legal representation during a free consultation up to the very end.
Personal Injury Lawyers Perform Complex Jobs
An Amador County personal injury lawyer will protect an individual's legal rights. This may sound simple, but it's not. Personal injury attorneys recognize and prepare for legal issues when they arise. The process involves a continuous flow of tasks better explained during a free consultation with the lawyers.
Discussing the Car Accident Case with the Plaintiffs and Advising Them on Their Rights
If an individual is injured due to another person's negligence, they deserve compensation for losses and damages incurred from product liability or accident in California. Through a free consultation, Amador County personal injury lawyers will discuss steps with a plaintiff on how to negotiate for a settlement.
Moreover, if the insurance company fails to come to reasonable settlement terms, personal injury attorneys in Amador County should be ready to take personal injury cases to court.
Usually, personal injury attorneys in Amador County use the plaintiff's version of the story as a road map to protect their interests. In instances where the plaintiff was involved in motorcycle accidents, personal injury attorneys in San Jose City – Amador County will find information by discussing the events leading up to the accidents.
They'll ask the client about the circumstances of the accident, injuries, recovery, and disability insurance claims to clarify the situation more. This is all done during a free consultation with an attorney in California once personal injury attorneys in San Francisco determine the plaintiff's case is viable. Both parties will sign a fee agreement to formalize a lawyer and client relationship in a free consultation.
Case Investigation and Discovery
After formerly becoming the plaintiff's lawyer, he'll proceed to conduct investigations and perform a discovery, which is vital when it comes to case preparation. The investigation can be on-site or in-person investigations. Attorneys in Amador County can go as far as tracking down key witnesses in California.
A plaintiff has a good chance of winning a case with personal injury attorneys on board.
While using the services of an investigator, personal injury lawyers will:
Obtain accident scene pictures, videos, and diagrams if they're available.
Attain police or employer reports.
Photos of vehicles involved in the accident.
Documents of adverse conditions at the accident scene.
This information provides evidence for personal injury attorneys to review and determine who's at fault.
Discussing Personal Injury Claims with an Insurance Company
If it's a car accident case, the insurance carrier and other driver's insurance would want to talk to the plaintiff. Most of these experts will want to downplay the gravity of the accident to avoid making settlements. Personal injury attorneys in Amador County will make arrangements, plus coach the injured victims on what to say before time.
Moreover, the lawyers will have additional conversations with these insurance companies to see if both parties can come to some sort of agreement.
Placing the At-fault on Notice
Personal injury attorneys from Ehline Law Offices will contact the at-fault parties, informing them that they're representing the plaintiffs. This ensures they don't contact the injured victims regarding the personal injury case. The lawyers will also ensure further communications are done through their law office in Northern California.
It enables personal injury attorneys to track insurance claims communications, injury prognosis, medical bills, treatment, and other important information.
Sending Letters of Representation
After making an initial notice through a phone call or email, Amador County CA, personal injury attorneys follow it up with a formal letter. The representation letter is usually sent to the other drivers involved in an accident, injured workers' employers, medical care centers, and a nursing home. It may be due to manufacturers of defective products, dog owners, and insurance companies.
The letter may act as evidence that the defendant received notice of the personal injury case. However, it can also be the case it is considered a confidential settlement communication. This is why it is so important to seek legal counsel to make sure you don't blow any claims filing deadlines for your particular legal matter.
Reviewing Applicable Insurance Covers
Whether a plaintiff suffered injuries due to medical malpractice or pedestrian accidents in Northern California, a personal injury lawyer in Amador County will request and review relevant policies from the plaintiff's insurance company. Our lawyer will also eliminate any concerns about the plaintiff's insurance coverage and benefits.
Personal injury lawyers in San Diego will review applicable PIP, product liability, medical expenses payments, uninsured motorists, underinsured motorists coverage, and health insurance carriers' benefits.
Documenting a Plaintiff's Insurance Companies' Subrogation Rights
A personal injury lawyer in Amador County will review a plaintiff's applicable subrogation provision in their car and health insurance policies during a free consultation. It indicates a plaintiff's duty to protect their subrogation rights, including insurance companies as a party to future lawsuits. A personal injury attorney must know the insurance company's right to damages like lost wages and the emotional distress they pay.
When a personal injury lawyer represents a plaintiff, they also represent their insurance companies – if a County CA personal injury lawyer seeks insurance claims and sues for damages, they also protect the interests of a plaintiff's insurance company.
Picking Up Defective Products
If a personal injury accident happens in Amador County, CA, due to product liability, the defective product is essential evidence. A personal injury attorney will ensure that this defective product is in their possession. Without question, we will advise the plaintiffs not to relinquish this critical piece of evidence. So regardless of whether they got it from a health facility or nursing home in California, they must never lose sight of this crucial material. Our personal injury attorney will have investigators pick up the defective product and bring it to storage for product liability testing.
Preparing for Non-destructive Testing
Once the personal injury lawyer gets the defective product, he'll conduct non-destructive testing to confirm there is evidence of product liability. Usually, the process maintains the structural integrity of a product.
Researching for Product Defects
If the tests confirm that the product is defective, then a personal injury attorney in Amador County will conduct research regarding the product. He'll look at consumer sites, government sites, and prior lawsuits to determine similar incidents.
Requesting Product Testing Reports
After testing the product, the plaintiff's personal injury lawyer will request a detailed review outlining the findings.
Analyzing Potential Legal Issues
Once a personal injury attorney in Amador County has gathered enough evidence, the experts will move on to perform a detailed liability analysis. The experts will use the attained information to outline a valid rationale for pursuing the personal injury case. Moreover, the process becomes simple when the injury circumstances are simple and complex when the situation is complicated.
Gathering Hospital Records and Medical Bills
As the plaintiff's medical treatment and recovery winds down, a personal injury attorney in Sutter Creek will start accumulating the medical expenses and ask if he has still attained them.
Usually, the attorney asks for the following:
Getting the medical reports
Requesting information on lost wages
Finding medical experts
Requesting economy projections
Getting a medical expert evaluation.
Confirming PIP Tort Excerption
An attorney practicing personal injury law and other related practice areas understands that a plaintiff has no right to file, claim or sue a negligent driver when his medical report hasn't met the PIP exception.
Therefore, the attorney will ensure the plaintiffs meet these conditions, then present the insurance claims to the other driver's insurance carriers. The attorney will, however, explain all these processes during a plaintiff's free consultation.
Filing a Lawsuit
The attorney starts a new representation phase for his plaintiffs at this stage. The expert will formalize everything from legal theories to allegations and damages. Parties involved give up some control to a judge, who in turn pushes for a settlement.
A lawyer is always ready to go to trial if the settlement negotiation claim fails. The attorney will schedule a trial date and inform the defendant's side. A trial can be quick or stretch out for a couple of days, depending on the gravity of a case. If we win big, clients can rest assured they will receive their checks in a timely fashion, without excuses. Besides providing excellent service, our job is to win big and make sure clients are happy with the result.
Plaintiffs Should Schedule a Free Consultation with an Attorney Today!
Plaintiffs in Amador County, CA, seeking to file a lawsuit against a negligent party must reach out to Ehline Law Firm at (833) LETS-SUE before they screw things up permanently. Our experts will determine if a plaintiff's claim is viable during the free consultation. Moreover, our charismatic, caring legal team will advise a plaintiff on what options to take.
If your case is eligible, we are ready to make it happen. Call us 24/7 to learn more about our no-win no, fee guarantee. Potential new clients can also use our convenient online website contact us form to tell us more details and receive a prompt return phone call.
Michael Ehline is an inactive U.S. Marine and world-famous legal historian. Michael helped draft the Cruise Ship Safety Act and has won some of U.S. history's largest motorcycle accident settlements. Together with his legal team, Michael and the Ehline Law Firm collect damages on behalf of clients.
We pride ourselves on being available to answer your most pressing and difficult questions 24/7. We are proud sponsors of the Paul Ehline Memorial Motorcycle Ride and a Service Disabled Veteran Operated Business. (SDVOB.) We are ready to fight.