Posted on Motorcycle Lawyer / Practice / Motorcycle Road Hazards Attorney
Small and lightweight, these vehicles can easily lose balance and cause an accident, even in the case of minor obstacles. It's surprising to know that even leaves can make a smooth surface slippery, causing motorcycles to slip.
It is crucial that motorcycle riders know what a road hazard is before they hit the road. Let's look at some of the most common road hazards for motorcyclists in California.
Poorly Maintained Roads
A major problem in California seems to be the unmaintained or poorly maintained roads. 87% of the roads in the San Francisco-Oakland area and 60% of the roads in the Los Angeles-Long Beach-Anaheim area are poorly maintained. Drivers in Los Angeles lose $61 billion annually due to uneven road surfaces.
Riding a motorcycle at high speeds on an uneven surface is an accident waiting to happen. Other drivers in their cars can easily speed over bumps and cracks, but riders must slow down as they could risk losing balance.
Gravel
Considered a tricky hazard to navigate for riders, gravel poses a dangerous threat during cornering. Some parts of California have long, winding roads that provide amazing views. Unfortunately, these roads are laden with gravel and require a lot of cornering, making them a hazard for motorcyclists to ride on. Riders without sufficient skills often end up in accidents due to gravel, especially if they're speeding.
Edge Breaks
An edge break in a road is when one lane is slightly higher than the other. Although this is not an issue when it comes to cars, it can be troublesome for motorcyclists, especially those traveling fast on a freeway.
Open Bridge Joints
To hold pieces of the bridge together, there are open bridge joints in place, and these gaps are sometimes wide enough to make it difficult for motorcyclists to navigate around. 56% of the bridges in the state are more than 50 years old, and around 77 of the bridges are structurally deficient. Open bridge joints add another challenge for motorists to the already crumbling infrastructure.
Animals
According to one report, tens of thousands of animals have become roadkill after getting hit by motorists in California. These include deer, lions, birds, lizards, and other wild animals.
A deer out of nowhere is a huge nightmare for cars as it can cause serious damage to the vehicles. Now imagine hitting a small animal with a motorcycle. Hitting a small animal can affect the motorcycle's balance, and most motorcyclists do not have enough shielding to protect themselves in such situations.
If you're at a halt due to an animal in front of you, check your mirror and blind spot before maneuvering around the animal. Always travel at slow speeds to allow enough time for braking or evading the animal.
Slippery Surfaces
Due to its lightweight and two-wheeled nature, a motorcycle is more prone to causing a motorcycle crash due to slippery surfaces than a car. Slippery surfaces are even more dangerous when a motorcycle rider is turning. If you're not careful, crosswalk lines, leaves, wet pavement, and oil on a surface make it slippery, increasing the chances of a motorcycle accident.
May, June, July, and August are some of the driest periods in the state, and rain after a dry spell is extremely dangerous for motorcyclists. The mud and oil, combined with the rain in its first hour, form a slippery surface. It is best to avoid traveling in the rain or decide to ride slowly.
Snow or Ice
California has an average annual snowfall of 450 inches, and it's not unheard of that snow or ice on surfaces can cause motorcycle crashes with deadly consequences. Riding in the snow is just careless, and round motorcycle tires can cause riders to lose traction over icy surfaces.
Rail Tracks
For other vehicles, it is easy to overcome rail tracks, but for motorcycles, riding over the rail track can cause a motorcycle to lose balance and tip over. A motorcycle falling on a rider's leg can cause broken bones or fractures.
Railroad crossings have tracks made from metal and wood, which become slippery when wet, making it difficult to maintain motorcycle control. Motorcyclists are highly advised to slow down, be aware of their surroundings, and cross cautiously.
Debris
Road debris and other obstacles like tire treads, branches, or rocks, do not only cause motorcycle accidents, but these objects can also hit the motorcyclist causing severe injuries.
Work with an Attorney on Your Motorcycle Crash Claim
According to the National Highway Traffic Safety Administration, motorcycle riders are 29 times more likely to die in a motorcycle accident than drivers or passengers in cars. Injuries from a motorcycle are often severe and require extensive medical treatment.
Most accidents are preventable, and it is best to avoid them by riding slowly, wearing protective clothing, and always having your helmet on. However, at times, you may be driving carefully, but due to an obstacle or an unexpected bump, you might end up in an accident. If you receive injuries from an accident that was not your fault, you may be eligible for compensation.
Contact us at (213) 596-9642 for a free consultation with our motorcycle accident attorneys. During the first consultation, our legal experts will listen to your case, provide you with legal options, and guide you accordingly.
When filing claims, you need to know who the negligent party is that caused your accident. An experienced attorney can investigate your case, identify the negligent party, file claims, and negotiate with the insurance company for a fair settlement.
---
Michael Ehline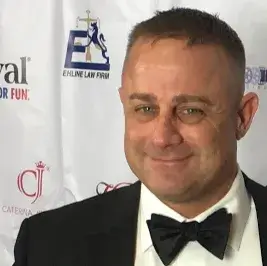 Michael is a managing partner at the nationwide Ehline Law Firm, Personal Injury Attorneys, APLC. He's an inactive Marine and became a lawyer in the California State Bar Law Office Study Program, later receiving his J.D. from UWLA School of Law. Michael has won some of the world's largest motorcycle accident settlements.
---
Recent Personal Injury News
Check out our most recent motorcycle law blog posts about the famous, infamous and everyday people wounded by at fault parties around the world.