If we don't win, you don't pay.
Speak to the Attorney.
Born to serve.
633 W 5th Street #2890
Los Angeles, CA 90071
(213) 596-9642.
Date Modified: June 16, 2023
This is the Ultimate Guide to Compensation for Butte County Personal Injury Insurance Claims.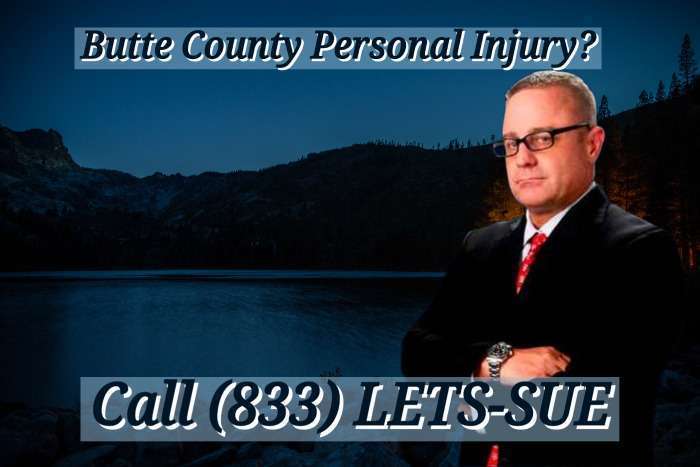 Butte County Personal Injury?
Did you or a close loved one suffer a serious injury in Butte County, CA? Did you lose your employment after missing too much work after a car crash or other accident? If so, you could face bankruptcy and divorce if you can't turn things around quickly.
If this sounds like your situation, you will need a top-rated lawyer to fight the defendant's insurance company on your behalf. Our founder and lead counsel, Michael Ehline, is an inactive U.S. Marine with a hard-core work ethic you won't find with fat, lazy, rollie-pollie lawyers in CA.
Personal Injury Lawyer
Unlike a criminal lawyer, a personal injury lawyer is a legal expert who represents personal injury victims who have sustained injuries due to another party's negligence, including:
Legal Malpractice
Intentional wrongdoing (like sexual abuse.)
The individuals on our crack legal team are all experts in these practice areas, even cruise ship law. Personal injury law covers a wide area, which makes it hard for an individual to find the right lawyer for a specific type of case.
Why Clients Choose Us
Over $150 Million has Been Recovered on Behalf of Wrongful Death Victims and Seriously Injured Clients
We've Successfully Handled Thousands of Lawsuits
Multiple Super Lawyers Rising Star Awards
Inactive U.S. Marine Veteran Run Law Firm
Over a Decade of Helping Clients Working on Cases and Getting them Fully Compensated
Prompt Come to You, 24-Hour NO WIN NO FEE Services
We will Handle all Insurance Company Negotiations on Your Behalf.
Call us for a free consultation to learn more. You'll be grateful you discussed your matters with us. We will listen to your side of the story and potentially form an attorney-client relationship if you decide to hire our lawyers to handle your case.
If so, you'll be equipped with top-rated, award-winning lawyers who don't understand the word "quit." So call us for legal advice before you hurt your chances of a full and fair financial recovery. Unlike less qualified law firms, our very best lawyer will guide your path to victory while you heal and get back on your feet. That is our job.
Requirements for Filing a Lawsuit with a Personal Injury Lawyer
Personal injury law outlines the requirements an injured victim must meet to file a lawsuit.
They include:
A plaintiff must file a personal injury lawsuit within their state's statute of limitations with the help of a lawyer.
The claim should be valid and should be settled through legal processes; the grievance must be reasonable. With the help of a lawyer practicing personal injury law, the plaintiff should prove that they've been injured (physically and emotionally), someone else was responsible for these injuries, and he incurred monetary losses due to the injuries sustained.
A plaintiff must consider whether or not the chance of winning is worth the cost. Plaintiffs must understand that under personal injury law, not every injury warrants a personal injury case. Moreover, it's vital to understand that not every personal injury lawsuit will end in a settlement.
In a free consultation with a personal injury lawyer from Ehline Law Firm, injury victims can ask a lawyer all questions about their cases to get a full idea of what to expect from our multi-million dollar personal injury attorneys.
What Is Protected in Personal Injury Law?
When they hear the word "personal injury," most people think of:
Broken bones
Lacerations
Soft tissue damage.
However, different types of personal injury don't necessarily involve body damage.
These injuries can be divided into four groups:
Intentional
Physical
Financial
Injury to reputation.
In most instances, personal injury cases can involve two or more of these categories. Our business is winning these cases swiftly and competently. We have an intense understanding of the problems you face. We are compassionate listeners and will help with your complicated situation. We collect no fees unless we win, as noted above.
Physical Injuries
Bodily injuries are frequently regarded as personal injuries by law. It includes all types of physical damages, illnesses, and disabilities caused by another person's negligence. A majority of personal injury cases involve minor to catastrophic physical damages.
Financial Injury
Many personal injury cases involving bodily injuries have some degree of financial injury. There are instances where injury victims would incur financial losses in terms of lost wages and medical bills as they nurse their injuries to recovery. When a financial stature of an individual is threatened, or property is devalued due to another person's negligence, a financial injury has occurred.
Injury to Reputation
Personal injury law allows a plaintiff to sue if there's damage to their reputation, which can cause emotional distress and affect an individual's financial well-being. Therefore, cases of slander and defamation fall under the category of personal injury, as explained by the lawyer during your free consultation.
Intentional Injury
Many personal injury cases involve negligence, which refers to failing to fulfill a responsibility that results in harming others; however, in some cases, it's intentional or as a result of gross negligence, which is actually intentional.
Benefits of Hiring Personal Injury Lawyers in Butte County
Hiring a great personal injury attorney at Ehline Law Firm in Northern California has various benefits for clients.
Here are some of them:
Butte County personal injury lawyers will help a plaintiff determine if they have a case: It's quite likely for injured people to have a personal injury case; however, the circumstances of the accident may detract from a particular case. A personal injury lawyer will know what to look for to determine if a plaintiff has a case. All of this will be outlined during a free consultation with the attorney.
Assist plaintiffs in meeting statute of limitations: A personal injury lawyer in San Francisco understands that each state has a time limit for personal injury victims to press charges. The reputed lawyer would, therefore, ensure their clients meet these deadlines.
Pursue damages for plaintiffs: Butte County, personal injury lawyers, can help plaintiffs get compensation for damages for physical and, potentially, emotional suffering. Moreover, injured people who hire a lawyer who practices personal injury law have a chance of attaining a size-able settlement from the case.
Hold the at-fault party accountable: A personal injury attorney knows that the defendant and insurance company may try to evade making a settlement. A lawyer from Ehline Law Firm is familiar with the ins and outs of legal issues. Therefore, the said lawyer will work on a particular case to ensure the defendant doesn't prevail.
Statute of Limitations
Various states have different statutes of limitations. An injured party has one or two years to press charges before the case is considered null and void. Therefore, plaintiffs must schedule a free consultation with a Butte County personal injury attorney to remain abreast of their statute of limitations.
Types of injury: Many states, including Butte County, have different time limits for specific personal injury cases. Specific instances include a car accident causing wrongful death or product liability cases.
Age of parties involved: The age of the parties involved affects the statute of limitations. Depending on the state and type of injury, a minor has up to 18 years to press charges. On the other hand, medical malpractice will take a shorter limit when a minor is involved, as stated under family law.
Factors That Determine Liability
With the help of a personal injury attorney in Butte County, one can hold a defendant that caused a wrongful death up to a certain degree.
It would, however, depend on several factors, namely:
Strict liability: A defendant under the strict liability doctrine will be responsible for damages resulting from his negligence actions, whether or not the injury was his fault.
Defendant's experience, knowledge, and background: In situations where a defendant is a doctor who gives first aid and is involved in an accident in Northern California, they'll be held more accountable than a layman in terms of a higher level of care.
If the defendant is solely responsible for the accident: In circumstances where more parties, including the injury victim, are responsible for the accident, then comparative negligence will apply.
Did the defendant's actions cause the accident? A personal injury attorney providing legal representation to a plaintiff in Butte County will need to show the court that the defendant's actions directly caused the accident. If his actions fostered a series of events that led to the accident, he could be dismissed from responsibility.
Location and the circumstances of the accidents: The location and how the accident occurred may affect the defendant's liability. In premises, liability cases, slip and fall accidents due to wet floors, dog bites, elder abuse in a nursing home, or defective products are examples of scenarios that can affect the outcome of a defendant's liability.
Damages for Personal Injury Claims
National trial lawyers in Butte County provide legal representation to plaintiffs with various legal issues, including lawsuits; people can receive compensation after successful legal services.
Plaintiffs might get economic, non-economic, and punitive damages to cover the following:
Medical expenses and future medical bills
Lost wages
Pain and suffering
Permanent disabilities and disfigurement
Loss of enjoyment in life.
Getting a Settlement from a Case
Personal injury cases can be settled through a lawsuit or informal settlement with the help of an attorney. In both instances, County CA personal injury attorneys will provide legal services that'll give a plaintiff a chance of attaining a sizable settlement. These attorneys have excellent negotiation skills that come in handy when dealing with such legal issues.
Typically, most personal injury cases in Northern California involving minor injuries will get a lump sum of settlement, whereas severe injuries are settled with a more structured settlement. While in a free consultation, a County CA personal injury attorney will highlight every possible outcome as far as compensation is concerned.
Common Causes of Personal Injury
Personal injury is a broad area that County CA personal injury lawyers study in law univ like Northern School or McGeorge School.
A plaintiff must find an attorney who is well versed in the practice areas they require legal services from, including:
Dog bites: Animal attacks comprise a large percentage of personal injury cases. Depending on the state and circumstances of the situation, a victim may be entitled to compensation. A lawyer can help you get compensation for damages.
Motor vehicle accidents: A personal injury lawyer can help California auto accident victims get compensation. An injured party must schedule a free consultation with County CA personal injury attorneys when involved in any type of auto accident.
Premises liability: When injured victims have a severe or minor accident due to negligence of a property or premise, they're entitled to compensation. The most common one is slip and fall accidents.
Defective products: A product liability may sometimes result in an accident causing injuries. It's imperative for a product to be safe for consumption. An individual should talk to a County CA personal injury attorney in California during a free consultation when injured by defective products.
Accident victims should seek legal services from attorneys who have studied personal injury law at reputable law schools like McGeorge School or the California State Bar Law Office Study Program. This particular lawyer can help the plaintiff get the justice they deserve from the negligent parties through a settlement or verdict. Moreover, a plaintiff or their loved one should seek out an experienced lawyer who has been practicing this type of law.
Schedule Free Consultation with Butte County, CA Personal Injury Lawyers at Ehline Law Firm
An experienced attorney in California with such credentials increases a plaintiff's chances of winning a lawsuit claim. Therefore, plaintiffs should immediately reach out to Ehline Law Firm for a reputable accident attorney to represent them. That way, they can get the settlement they deserve. New clients can fill out our online contact form with their name, address, and case contact details and upload pertinent documents like a police report. We will respond right away.
It's just a mouse click away to get the help and answers you need with better service and case outcomes from aggressive Northern California attorneys. For an even faster turnaround, call (833) LETS-SUE to schedule a free consultation in California and immediately speak with a high-quality advocate. We will deal with everything to navigate your troubles and help you get back on your feet.
Michael Ehline is an inactive U.S. Marine and world-famous legal historian. Michael helped draft the Cruise Ship Safety Act and has won some of U.S. history's largest motorcycle accident settlements. Together with his legal team, Michael and the Ehline Law Firm collect damages on behalf of clients.
We pride ourselves on being available to answer your most pressing and difficult questions 24/7. We are proud sponsors of the Paul Ehline Memorial Motorcycle Ride and a Service Disabled Veteran Operated Business. (SDVOB.) We are ready to fight.