If we don't win, you don't pay.
Speak to the Attorney.
Born to serve.
633 W 5th Street #2890
Los Angeles, CA 90071
(213) 596-9642.
Date Modified: June 17, 2023
This is the Ultimate Guide to Compensation for Colusa County Personal Injuries.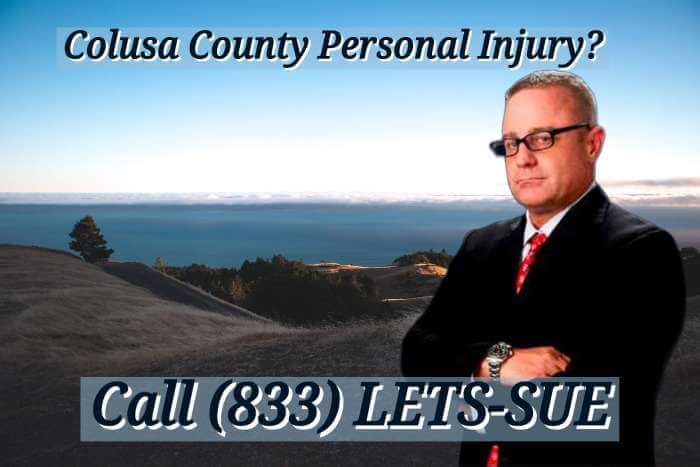 Colusa County Personal Injury?
With as many as 21,000 individuals, Colusa County residents deal with their fair share of personal injury accidents.
Those who have been harmed or have had a loved one harmed as a result of the reckless or negligent acts of another will sympathize with how it can change one's life forever.
Apart from suffering serious injuries, victims may also suffer emotional, physical, as well as financial challenges. This is why criticality is placed on victims to be represented by a personal injury lawyer who cares about them and their future and is wholly dedicated to pursuing fair and total damages.
Ehline Law Office has been established around its clients and their needs, thus creating a team of professional personal injury lawyers committed to providing their clients with a superior experience. Therefore, those living in Colusa County, California, whose actions of somebody else have seriously injured them can count on Ehline Law Firm to help.
They can get in contact with these Colusa personal injury lawyers today for a free consultation.
About Ehline Law Firm and How it Serves the Residents of Colusa County, California
Even though the people of Colusa County, California, are away from the hustle and bustle of city life, those traveling Colusa's roads and highways are still at risk of a car accident and may sustain serious injuries or death. An experienced lawyer at Ehline Law Office can represent anyone who has sustained severe injuries in personal injury accidents.
The personal injury attorneys at this firm help people who have not only been injured in a car accident but other personal injury accidents as well, some of their areas of practice include:
Dangerous or defective products
Traumatic brain injuries
Motorcycle accidents
Pedestrian collisions
Nursing home abuse
Industrial injuries
Slip and fall cases
Bicycle accidents
Airplane crashes
Truck accidents
Plane accident
Car accidents
Dog bites.
Wrongful Death Cases in Colusa County, California
Sometimes, injury accidents end up costing people their lives. Accidents that end up being fatal have devastating effects, and an overwhelming amount of grief and financial issues are left behind for the victim's family to deal with.
During times like this, it is often hard to focus. Taking legal action is either the last thing a grieving family wants to deal with, or they are simply unaware of personal injury law and their ability to file a wrongful death claim.
The Colusa personal injury lawyers at Ehline Law Office believe that a victim and their beloved families are entitled to fair compensation for the trauma and other damages arising from the death of their loved one. A lawyer at this law office will go above and beyond to ensure that their clients are financially secure after suffering such a traumatic event.
What Can Be Recovered in a Personal Injury Claim?
Severe injuries will affect a person's life in numerous ways. It is, therefore, for this reason, that various types of compensation are made available to the people who have suffered injuries as a result of somebody else's negligence. Losses, in general, are both widely varied and far-reaching but can be divided into two main categories, namely non-economic damages and economic damages.
Economic Damages
Economic damages are generally referred to as damages with a substantial monetary value.
Common examples of economic damages include:
Home modifications
Medical expenses
Vehicle damage
Loss of income
At-home care
Therapy.
Non-economic Damages
Non-economic damages, on the other hand, have a tendency to be more complex. This is because they generally do not have a dollar amount; for example, it is difficult to put a value on emotional trauma or loss of quality of life.
More so, when it comes to these types of damages, insurance companies often undervalue their offers by undermining the damage caused by an injury. Thus, it is vital to have a skilled lawyer in situations like these. They will know exactly how to negotiate with insurance companies in a personal injury case so that their clients receive the compensation they deserve.
Things to Consider When Deciding on a Colusa County Personal Injury Attorney
Victims need the right attorneys in situations as serious as a personal injury case. Below is some advice that can prove useful when determining whether a personal injury lawyer has the necessary skill and expertise to take on a personal injury claim. The following things to keep in mind include:
Reputation
When picking the right lawyer, they should have the utmost respect from their colleagues and clients. It is very easy to see what other clients have thought of a lawyer by reading through the many reviews that can be found on their online profiles.
History
Another valuable way of checking if a lawyer knows what they are doing or are good at what they do is to look at their previous settlements or verdicts. Many lawyers should have these already listed on their websites, but one should also feel comfortable to bring this up during real-time consulting. Good attorneys will be more than happy to speak with potential clients about their previous successes and how they have helped change the lives of their past clients.
Preparedness
In some cases, one will find that an agreement cannot be reached, meaning that the case will be taken to court. It is vital that the lawyer hired for the job is comfortable with presenting a client's case before the jury or judge. Lawyers not satisfied with the idea of representing their client in court may indicate that they are willing to settle for less than what is deserved during a negotiation.
Why Victims in Colusa County, California, Should Choose Ehline Law Office
The lawyers at Ehline Law Office understand that every accident, injury, and client is unique. Thus, they will listen specifically to their clients and answer any questions they may have in a prompt, clear, and precise manner.
An attorney's goal at Ehline Law Office is to ensure that their client's legal rights are being protected and that they are doing everything they can to get their client's life back on track in the present and future.
A lawyer at Ehline Law Office understands the different dimensions that are associated with legal rights and will negotiate aggressively on behalf of their client to fully pursue their right to be compensated for rehabilitative care, future loss of income, lost wages, medical care, emotional trauma, property damages, and pain and suffering.
Lawyers at Ehline Law Office can even help those who do not desire to take the injury claim to trial.
There are many benefits to hiring a lawyer from Ehline Law Office to take on an injury case, and the earlier a lawyer is hired, the better the chance a client has of receiving full compensation. Insurance companies often begin to ask questions immediately, and an attorney at Ehline Law Office can answer all of these questions on their client's behalf, allowing them to focus on healing from the injuries caused and preventing them from saying anything that could potentially harm their case.
Insurance companies will also try their best to get victims to agree to an early settlement. Initial settlements like these are often far less than what a client's claim is actually worth. Thus, if a skilled lawyer is not representing them, they may fall into the trap of settling for an undervalued claim.
Lastly, strict laws govern exactly how a personal injury lawsuit needs to be filed and its accompanying deadlines. Clients who take too long to file a claim will be denied, even if the claim is valid.
The personal injury lawyers at Ehline Law Office are waiting to provide victims of serve injuries with representation on all car, auto, motorcycle, bicycle, and pedestrian accidents and wrongful death accidents throughout the Colusa County area. Victims injured in an accident can contact Ehline Law Office today to schedule a free consultation; these skilled lawyers will immediately begin pursuing the compensation that victims and their families deserve.
Lawyers Who Put the Personal in Personal Injury Lawyer
A personal injury attorney at Ehline Law Office will pride themself on putting the person in a personal injury lawyer. This is achieved by establishing a meaningful client-attorney relationship, producing much more desired results. As a general rule of thumb, a personal injury attorney is much more effective if they can understand their clients on a personal level, as they can effectively communicate with insurance companies and courtrooms the severity of their client's injuries and how deeply it has affected the rest of their lives.
While many lawyers serving the Colusa County area are said to keep their attorney-client relationship at arm's length, a personal injury attorney will make it their mission to sympathize with their clients and their families. They understand that many people dealing with a personal injury claim have a challenging situation, and it is their job to help them recover the compensation they deserve.
Call the Personal Injury Lawyers in Colosua County at Ehline Law Firm Today for a Free Consultation!
Those who have suffered severe injuries in an accident should contact an attorney at Ehline Law Office as soon as possible for free, friendly legal advice. These lawyers have been providing free consultations to all residents of Colusa County who need them.
They have also helped clients claim fair compensation in personal injury and wrongful death cases for a very long time. Dial (833) LETS-SUE or feel free to contact us by email using our convenient online website contact us form 24/7. We will provide swift, prompt, and caring service.
Michael Ehline is an inactive U.S. Marine and world-famous legal historian. Michael helped draft the Cruise Ship Safety Act and has won some of U.S. history's largest motorcycle accident settlements. Together with his legal team, Michael and the Ehline Law Firm collect damages on behalf of clients.
We pride ourselves on being available to answer your most pressing and difficult questions 24/7. We are proud sponsors of the Paul Ehline Memorial Motorcycle Ride and a Service Disabled Veteran Operated Business. (SDVOB.) We are ready to fight.