Los Angeles Premises Liability Attorneys / Practice / Los Angeles AirBnb Accident-Injuries
People could experience homestays, where they stay with local families, where they get to understand their culture and enjoy local delicacies. Unfortunately, lax regulations and a lack of company responsibility have led to situations where guests have suffered injuries and even death.
If you suffered injuries while staying at an Airbnb, the property owner might owe you compensation for your loss. To find out whether you can claim compensation for your injuries, contact Ehline Law and our personal injury attorneys for legal counsel.
Gruesome Incidents at Airbnb in the U.S.
Sexual Assault at New York Airbnb
Many have always criticized how slow the Airbnb task force implements safety measures for all their guests. In June 2021, a 29-year-old Australian woman and a couple of her friends booked a listing in Manhattan to celebrate New Year in New York.
However, after returning from the party alone, a man was patiently waiting in the bathroom of the listed property and attacked her. The woman was then raped on the property before the man fled the place. Fortunately, the police arrested the man after an hour following the tragic incident.
Investigations showed that the man had taken extra keys from a local convenience store as per the host's check-in instructions. The sexually assaulted woman decided to get her attorney involved and press charges. Eventually, she settled for $7 million on conditions that she could not speak about the incident or pursue legal charges against Airbnb.
Murder in a Costa Rica Home
In February 2020, a woman made a booking at Villa Le Mas, one of the active listings at the time in Costa Rica, where she wanted to spend her vacation. Everything was going fine until one day when she returned to the property alone, where she was viciously attacked by the property's security guard, murdered, and her body dumped nearby.
Upon hearing about the incident, the worried family pressed charges against the security guard, who received 16 years in prison for second-degree murder. However, the family believed that the man was not alone and may have had some accomplices to carry out the murder.
The grieving family also decided to pursue legal action against Airbnb after realizing that the company did not conduct any background checks, nor did they warn guests about the security guard who was illegally staying in Costa Rica. Airbnb settled the case for an undisclosed amount without admitting liability for the loss.
Not So "Super Host" in Los Angeles
In July 2017, the first-ever sexual assault lawsuit of its kind against Airbnb raised questions about the legal responsibilities of the tech firm. The 59-year-old Mexican woman, Leslie Lapayowker, rented a room for a stay from Carlos Del Olmo, a super host at the time.
The woman moved to Los Angeles to pursue a career as a mortgage broker, and while looking for permanent housing, she decided to rent a room on Airbnb for a month. The rented place was a verified studio listed by a super host where many people had already stayed. The owner also had positive reviews, making it easy for Leslie Lapayowker to make her decision to rent the place.
Things became weird immediately when she moved in with her son in the rented studio. Del Olmo would make sexually suggestive comments to her and harass and scare her child too. After three uncomfortable days, Lapayowker decided to move out. She returned to the studio to pick up her laptop and let Del Olmo know that she would not resume her stay at the property.
In her lawsuit, the woman mentioned that Del Olmo asked her to step inside the property because he wanted to show her something important. As she did, the property owner locked the door and started masturbating. He didn't care for her plea to stop and began sexually assaulting her before finishing off in a trashcan and letting her go. On her way out, he asked her to leave a 5-star review on the Airbnb listing.
After a month of silence, Lapayowker approached the law enforcement authorities and Airbnb, resulting in an immediate ban of the listing and the host. The woman's attorney's investigation led to a stark revelation that Del Olmo was previously arrested for domestic violence, which made this a case of negligence where Airbnb failed to conduct a proper background check before listing the property.
Del Olmo argued that the woman was lying about the incident, but without much evidence and background of domestic violence, the Lapayowker case was strong. Her attorney settled the case for an undisclosed amount.
These are just some of the many unfortunate incidents that have already occurred at Airbnb properties. The company pays out almost $50 million annually to hosts and guests for property damage and lawsuits.
Types of Accidents at an Airbnb
Airbnb properties are just like any other property, which means there could be potential hazards and defects. Since no one lives in most of these properties as full-time occupants, the chances of hazards increase over time if there is no regular inspection conducted and maintenance carried out. Failing to maintain the property by the property owner could lead to disrepair.
Some of the most common types of accidents at an Airbnb include:
Slip and fall

Falling objects

Structural collapse

Sexual harassment

Animal attacks

Swimming pool accidents

Electrocution

And more
A guest could face serious injuries from any of these accidents. Hiring a Los Angeles Airbnb accident attorney can increase your chances of recovering financial compensation for your loss.
Airbnb Injury Claim: Who Is Liable?
If you're injured at an Airbnb property and are looking to file a personal injury claim against the negligent party, you must determine who the negligent party is.
Unlike other types of personal injury, such as a car accident, it is difficult to determine who the liable party is for an Airbnb injury claim. Since Airbnb is a tech company, premises liability law does not apply if you're looking to file a lawsuit against the company for any injuries.
However, since it is a company, accident victims can hold Airbnb responsible for injuries due to the company's negligent actions. For example, Airbnb may not be liable for any slip and fall accidents. Still, the company may be responsible for any injuries arising as a result of a failure to screen their hosts thoroughly.
Airbnb may also be responsible for misrepresentation. Hiring a Los Angeles Air BnB injury attorney can help determine the cause of the accident, identify the negligent party, and aggressively pursue compensation for your loss.
If you suffered injuries at an Airbnb property, it is best to file a complaint with them, let them know what exactly happened, and do not admit fault. Airbnb provides protection coverage to hosts that wish to purchase the insurance policy. If the host does not have protection coverage, you must pursue a premises liability claim against the property owner.
Property Owners and Their Duty of Care
Airbnb property owners have a duty of care to ensure reasonably safe conditions for all those staying at their property and warn them of any existing hazards on the property.
In the event of a dangerous condition on the property causing injuries to the guest and the owner knows about it or should've reasonably known about it, the injured victim can pursue legal action to recover damages if they did not warn them about the dangerous condition or fix it.
Dangerous conditions could include wet floors due to leaks, tripping hazards due to uneven surfaces, security issues due to failed door locks, loose electricals, aggressive property dogs, and more.
Injuries can lead to hefty medical bills, lost wages, emotional trauma, and other damages. It is not fair that you bear the financial burden of an accident that was not even your fault. Speaking to a personal injury lawyer can help you understand whether there is a liability and provide you with the legal options to move forward.
A Premises Liability Claim Against an Airbnb Property Owner Is Challenging
Premises liability law financially protects occupants and guests of a property from any injuries caused on the property due to the negligence of the property owner.
Although there may be strong evidence against the property owner for any injuries caused on the property, claiming for injuries is often challenging.
When you pursue a lawsuit against a property owner, you're expecting their insurance company to pay for the damages. However, not all insurance policies cover properties used for profit. Many homeowner insurance policies have strict clauses against properties being used for profit, and if the property owner wishes to use that property as a bed and breakfast or list it on Airbnb, they must carry additional insurance coverage.
To save money on insurance, some property owners do not mention the fact that they are renting their property to others. If the property owner has not mentioned that they are renting out their property on Airbnb, the insurance company could refuse to pay out for any claims against the policy.
Although the insurance company may refuse to pay, injured victims can hold property owners responsible, but it can be very difficult to recover sufficient compensation for the damages.
Airbnb does provide protection coverage to its hosts if they wish to purchase insurance. The protection provided includes up to $1 million in coverage for bodily injuries in the case of Airbnb accidents. If the property owner has already purchased this protection, then you may be able to recover maximum compensation by making an Airbnb injury claim.
Damages You Can Recover in a Personal Injury Claim
There are two types of damages you can recover with Airbnb injury claims, and these include economic and non-economic damages.
Economic damage is that which is easily quantifiable. Some examples of economic damage include medical expenses, lost income, rehabilitation costs, therapy, and lost earning capacity. After an injury, you must head to a hospital for a medical examination. Ensure that you have all the receipts and bills to help determine the value of economic damages.
On the other hand, non-economic damages are those that are difficult to value. Emotional trauma, pain, loss of quality of life, and mental anguish are some examples of non-economic damages.
In the event of disregard for human life, the jury may also award punitive damages as an act to punish the negligent party. These are usually rare in Airbnb injury claim cases, but our experienced attorney can help pursue these damages if applicable.
Do You Need an Attorney for Your Airbnb Injury?
If you suffered serious injuries at an Airbnb, you need to contact a Los Angeles Airbnb lawyer immediately to help you recover financially.
Although you don't need an attorney to file a claim, you definitely need one to help you with your case. Firstly, you need to determine whether the claim is against Airbnb or the property owner, and an attorney can help you with that.
Depending on whether it is a premises liability case or a personal injury case, you must prove the important elements of these types of cases.
In a personal injury case, the four important elements you must prove are:
The defendant had a duty of care.

The defendant breached the duty of care.

The plaintiff suffered injuries.

The breach of duty of care caused damages to the plaintiff.
In a premises liability case, the four important elements you must prove are:
The defendant owns, controls, or leases the property.

The defendant acted with negligence.

The plaintiff suffered injuries.

The negligent actions of the defendant caused the injuries.
To successfully sue Airbnb or the property owner, an attorney can help prove the four important elements of the case. Our skilled attorney will investigate the case, gather the relevant evidence against the negligent party, and protect your rights by negotiating with the insurance company for a fair settlement on your behalf.
Why Choose Ehline Law?
Ehline Law is a premier Californian personal injury law firm that excels at maintaining a fantastic attorney-client relationship while ensuring superior results. Injuries can completely derail one's life, and at Ehline Law, our mission is to help injured victims get their lives back on track.
With more than 30 years of collective work experience and our passionate work ethic, we have recovered over $150 million in compensation for our clients. Some of the cases we have won include the following:
$10,500,000 – Lanham v. Doe Texas-Based Oil Company (brain and spinal cord injuries)

$8,700,000 – Doe v. Doe (spinal cord injuries)

$4,886,255.67 – Doe v. Doe (cruise ship passenger assault)
Our attorneys are some of the best in California. Don't just take our word for it. Some awards Ehline Law has won over the years include the Superlawyers Rising Star award, Premier Personal Injury Attorneys, Best Attorneys of America, Top 100 Trial Lawyers, and many more.
When choosing a law firm for legal representation, the lawyers working there must always be up-to-date on the latest developments in the legal field. Attorneys at Ehline Law are always active by contributing to the California Bar Journal and creating awareness of legal issues on different media platforms, including CNN, NBC, and more.
Ehline Law also understands a victim's financial struggles after sustaining injuries and helps alleviate that burden. We offer to locate a lien doctor for your medical treatment. Our attorneys also work on a contingency fee basis, meaning you don't have to pay us a dime unless we win the case.
Another benefit of retaining our attorneys is that we go above and beyond to serve our clients. That kind of work ethic stems from the founder of Ehline Law, Michael Ehline, a former U.S. Marine who served his country before receiving an honorable discharge for service disabilities. Ehline understood the rigors of what injured victims go through, and since then, he decided to continue serving his country and helping the injured by becoming a lawyer. That commitment, passion, and dedication are now the core values that make Ehline Law.
Schedule a Free Consultation with a Los Angeles Air BnB Injury Law Firm
If you suffered injuries at an Airbnb property due to an accident that was not your fault, contact us at (213) 596-9642 for a free consultation with our Los Angeles Airbnb lawyers.
---
Michael Ehline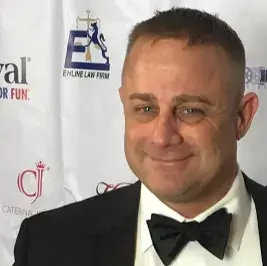 Michael is a managing partner at the nationwide Ehline Law Firm, Personal Injury Attorneys, APLC. He's an inactive Marine and became a lawyer on the California State Bar Law Office Study Program, later receiving his J.D. from UWLA School of Law. Michael has won some of the world's largest motorcycle accident settlements.
---
Recent Personal Injury News
Check out our most recent car accident blog posts from celebrities crashing cars to everyday people getting run over, rear ended or otherwise colliding.