Wrongful Death or Birth of a Child – Who Can Sue?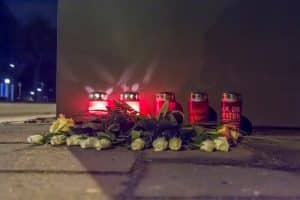 When a child suffers a negligent wrongful death, the family is going to be grieving for some time. But surviving families must act fast to hold the killer liable in court. First, survivors must know who to sue. Below we discuss this in a detailed video. People who can sue become the "plaintiffs."
They include moms, dads, close family members. And even LGBTQ couples suffering the death of their partner can sue in the Golden State. So adopted or blood parents get labeled as presumed plaintiffs. And the people who get sued become the defendants. They are "parties" to the lawsuit.
---
Easier to Calculate Damages for Death of a Parent Than a Child?
What happens if the negligence of a person in California causes the loss of life to an adult? What if the adult was a provider like a mom or a dad? First off, it is easier to calculate the claimant's family's monetary loss than if a small child passes away. So if lousy conduct causes the death of a parent, their child can more easily pursue damages. This money is for the loss of support, love, guidance, care, and income.
Contrast Calculating Income Damages for the Death of an Adult With That of a Child or Newborn.
Contrast the death of a child, and an adult seems bizarre to a non-lawyer at first. So let me try and explain how the law looks at death and evidence law. First off, some kids don't breathe oxygen and pass away at birth. Because of this, there, it becomes difficult to know if the child would have been a bum or a brain surgeon.
Even if your departed teen had been accepted into USC, calculating, or even speculating what your child may have provided you is generally, no easy task. So calculating the lost future income, you would have received from a child remains challenging. While true, you will have an easier time proving loss of love and community; your damages award would generally be higher if it involved the death of a famous, wealthy trial lawyer.
In that case, the adult's survivors could likely show how much he earned and what they would have gotten over their lifetimes. No matter what, you need a good lawyer to hire the right experts. Only then can we flesh out the facts that would be helpful to your case.
Above all, various stages of development can determine damages amounts down the road. So a birth injury could go back to a car accident during pregnancy. Also, it could arise from a negligent medical procedure by a doctor. Mother's should collect any paperwork relevant to her or their baby's health as far back as the emergency room.
Ask friends or family members to record their testimonies. Many of these people may have observed something afoul with the child. Trusted people seem the prime suspects in many cases. Their statement could hold weight. But unless these people record their testimonies, they could move, forget, or even die in a car crash. Laying a foundation becomes the most challenging part of getting economic damages.
Negligent Death of a Child Damages – Less than for a Wage Earning Adult?
Damages for loss of a newborn or small child remain few in comparison to a grown-up gets killed. Parents get restricted due to a lack of foundation. In other words, one would have to speculate how much money or love the child would have contributed.
Many factors at play would require a jury or experts to guess. Loss of love or affection remains easier to prove. Any child gives love and affection, for example.
So the surviving adult's recovery usually gets limited to loss of affection, love. Yes, potential economic expenses remain part of the award. For example, what if the child were a genius and had a Harvard scholarship? In that case, the parents would have an easier time arguing for monetary support. Even then, however, most kids do not help parents with funds. It is usually the reverse.
Contrast Wrongful Birth Damages.
A child killed from birth from negligence creates the nexus of a wrongful birth case. Parents get left providing for the impaired or mentally challenged child. Often they incur outrageous costs and expenses.
They will sue product makers, physicians, hospitals, and others to get at the deep pockets. To prove damages, they would also want records of how the baby behaved from birth.
Videos and audios showing sluggishness, high-pitched crying, refusal to eat, etc.easy, all help prove the case. But alas, it remains problematic evidence to collect. Many parents live in denial. As a result, they do not keep journals on this. These remain things they don't want to document. Sadly, these things parents want to forget. But this documentation helps a wrongful birth attorney to win the case.
Potential Damages For Wrongful Death and Birth Include "Chores."
Damages recovery would include what the child had expected to provide to the households of the survivors or claimants. And victims can pursue that potential monetary gain. But usually, it stays a small amount. Most lawyers agree it's tough to prove the baby would have been a primary income provider.
Getting a large award often means the child would have been excellent. Also, as discussed above, parents might want to show the baby would have been a doctor, lawyer, or pro.
The Older the Child Wage Earner, the Greater the Potential Future.
Had the child grown up and become a big earner, the survivors would have a stronger position. Cases involving promising child actors and athletes come to mind.
So these victims become entitled to more money. But the bottom line for juries comes down to this. The decedent(s) died by no fault of their own. So this becomes a compensable loss for those that lived.
Negligently Killed Elders Contrasted with Dead Minors and Middle-Aged Wage Earners.
As noted above, a late-middle-aged male adult provider probably contributed the most to the household concerning financial support. Hence, he was in the best position to put food on the table for his family. So his wife and kids can go after all the money he'd of provided them over their lives.
Conversely, if elders die, the recovery limitations stay similar to those involving kids. Mostly, the potential for future economic recovery becomes limited. (after all, a senior probably was no longer generating income).
Quite a bit of speculation surrounds doing an economic damages work up. Because there is no record of support, what does a lawyer do?
Profiling a decedent lays the foundation for those damages. You cannot profile a child who has not lived or grown up to a point reflecting monetary support given.
But a noncontributing elder gets profiled as a non-provider.
The Jury Cannot Guess at Financial Support.
So a wrongful death case involves unique landmines to economic losses recovery. Mostly this remains true after the loss of a child or older adult. Intangible and tangible harm like financial losses become much harder to determine in cases like this.
Estimations and using complete guesswork can be a waste. In other words, amounts the child might have contributed to the support of both parents need foundation evidence.
Had the child ended up becoming an adult and big earner, then the survivors are always in a stronger position to get real money when the decedent(s) finally departed life due to no fault of their own.
Life expectancy charts could be used by juries to determine a starting point. That way, they can more easily come up with answers for such complex calculations. (See Example of a Social Security Life Expectancy Chart Here).
Typically, a life care planner gets called by both sides. Then the parties argue whether the payout should be more or less. And this depends on who's the side they are on. Only experts can express this type of opinion.
Wrongful Death Rules of Court and Evidence.
The Rules Court and evidence barring the use of speculation does not mean the parents will be limited to a small recovery. However, the courts of California have frequently affirmed lower recovery amounts in cases that involve the loss of a child due to wrongful death. What that happens, a remittitur is issued. The following is a non-exhaustive list of potential legal damages a parent can pursue.
Upon proof, payments to survivors can include:
Potential future earnings that get lost – This would be the possible amount of wages the child may have earned in their lifetime.
Direct expenses – This includes medical expenses, hospital bills, and the cost of the funeral.
Loss of consortium (companionship) – This happens after a person loses society and community. (affection and love). And if pertinent, the attorneys work to recover monetary support the child provided. Also, it compensates for the loss of benefits. So if they would have become eligible at some point, they apply. Examples include retirement, a pension, or any trust. (if the child had become profitably employed at the time of death).
So some damages like funeral costs can be easy to estimate. Even easier to digest would be tangible, direct expenses from medical bills. But other damages can be much for trying to calculate. And these damages are more elusive with kids.
There remains a complicated process for calculating damages. And this will be a legal analysis that includes many determinative factors.
A few factors to consider in a child death claim:
The level of dependency the parent had on the child – This refers to situations where the parent was receiving support. Financial experts can factor this. There are several factors courts examine to determine the level of dependency. So, upon death, certain family members can seek monetary losses. These items include the survivor's circumstances. And often, this entails their age and overall health conditions.
The nature of the parent and child's relationship – This will usually be easy to document. Also, if the child's parent claims wrongful death relations remain essential. But some states differ. However, in California, the child's past regular support applies fully.
Do Wrongful Death Emotional Type Support Claims Matter A Lot?
Yes, they make up a significant amount of your monetary recovery. So the support lost includes more than just money. It provides love and emotional wellness has given. Thus, it is tangible and intangible. Also, this requirement helps to prevent parents that were absent from recovering the necessary money. Even if on a short or long-term basis throughout the child's life, they only get what they deserve.
That prevents them from gaining financially on the death of the child. In other words, it prevents unjust enrichment.
Child Death Money Recovery Factors.
The state of California does not yet adopt these above, additional requirements. But the closer the parent and child's relationship, the higher the damages will be.
Examples of Admissible Evidence With Foundation.
Some of the things that can help to show this relationship would include such elements as home movies, joint vacations, photos, holidays. Father's Day and Mother's Day cards, and birthdays, etc. remain real proof. Physician appointments and medical bills will be relevant too.
This kind of paperwork might contain nutrition guides and other pamphlets given to a mother. Parents would also want any written-down instructions. So they should find insurance waivers, discharge paperwork, and check-in records. Of course, hospital notes, medical reports, and bills can be extraordinary evidence. Also, you must make efforts to secure medical images. (these include CT scans, x-rays, MRI's, EKG's and EEG's).
Expected employment benefits and earnings – This will often be difficult to calculate. And it becomes hard because most children have not yet started a career path.
Child's estimated lifespan – You should consult experts on human life to calculate this.
Comparative fault amount (if it applies) on the child's part –California accepts the percentage of fault theory.
Deductions come out depending on the degree of fault. So this fuels the main issues. Last, don't forget to learn more about wrongful death damages in our next article or Youtube Video Series.
Conclusion.
In this piece, we discussed the differences between adult and child wrongful death claims. We also learned about the wrongful death legal process. If you wish to get money for a negligent killing, disease, disability, or disfigurement of your child, call (213) 596-9642.