If we don't win, you don't pay.
Speak to the Attorney.
Born to serve.
633 W 5th Street #2890
Los Angeles, CA 90071
(213) 596-9642.
Date Modified: June 12, 2023
Did you or someone you love get injured in a construction accident or fall while welding with fall protection equipment? In most California construction sites, brazing and welding are required, but they come with significant health hazards, including scaffolding accidents. The Occupational Safety and Health Administration (OSHA) has devised welding safety requirements because welding is inherently dangerous. When those rules are broken, major accidents can occur, resulting in traumatic injuries. At Ehline Law Firm Personal Injury Attorneys, APLC, numerous attorneys are familiar with this field of law dealing with welding equipment and safety regulations.
These attorneys know exactly how to hold liable parties responsible for construction injuries. Our brazing and welding accident lawyers provide clients with aggressive representation in a construction accident. While people may be eligible for payments via California's worker's compensation program, these benefits don't address pain, suffering, or other intangible losses on many construction projects.
Ehline Law Firm Personal Injury Attorneys, APLC, can help with that. Our legal team investigates what caused the welding accident and assists the victim in filing a personal injury case to recover damages. We work relentlessly to help you obtain damages for all your losses, whether your injury resulted from third-party negligence or an OSHA violation.
All welding accident claims are dealt with on a contingency fee basis, meaning you don't have to pay us anything until we get your compensation. We can start working on your personal injury case as soon as you contact us for a risk-free consultation. During our free case review, we will discuss obtaining lost wages and setting up a personal injury claim with insurance.
What Are Brazing and Welding?
Welding is a metal-joining method that melts the base metal and generates fusion. Brazing is distinct because it unites metals by melting and pouring a filler metal into the junction. It presents serious safety hazards from gas explosions due to extreme heat, heights and proximity to heavy equipment, and loose scaffolding, no matter how properly trained the worker is at their job to avoid serious accidents.
In a nutshell, brazing and welding are required to create, fix, or join a variety of materials, including:
Stainless steels
Steel
Copper
Aluminum
Plastic
Cast iron.
Welders in California employ specialized welding techniques and equipment to combine materials at high temperatures, especially when constructing high-rise buildings.
While these instruments are modern and effective, they can cause catastrophic damage if used incorrectly or with defective equipment.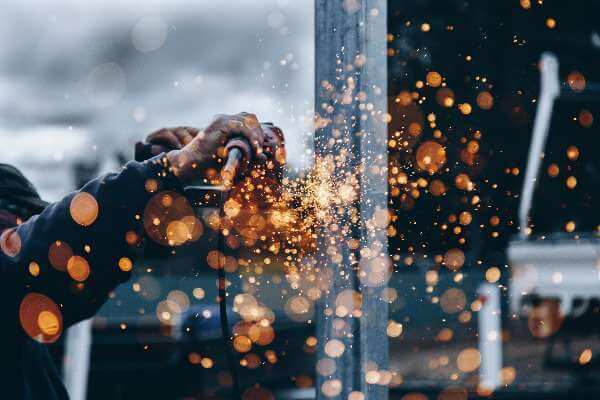 Furthermore, welders must train for years to refine their profession, and OSHA has developed stringent safety rules. Employers must also follow the standards and ensure that welders are adequately trained; welding accidents involving heat, equipment, and materials can result in catastrophic injuries and long-term medical issues.
Why Is Brazing and Welding Dangerous?
Brazing is one of the most dangerous workplace practices, according to OSHA. Many welding processes demand intense heat, which can result in electric shock and burns.
During this process, workers are also exposed to hazardous gases, poisonous welding fumes, thermal burns, hearing loss, and extreme UV radiation. Heavy metal poisoning, metal fume fever, lung cancer, and flash burns are all possible side effects of such exposure.
Toxic fumes can also injure workers' skin and eyes. Long-term exposure to hazardous light or inhalation of poisonous fumes can be fatal: according to OSHA, one out of every 250 construction workers die due to a welding injury.
Legal Options
If you have been seriously injured in a welding accident, you should think about all of your legal alternatives. An attorney can assist you in exploring such possibilities and taking steps to improve your financial status.
The legal principle of negligence may apply to welding lawsuits. Negligence is defined as the failure to act with the level of caution that a prudent person would have applied in identical circumstances. When there is a duty to act, the conduct normally consists of activities; however, it can also include omissions.
Additionally, when construction accidents cause death, the lawsuit may be considered wrongful. Wrongful death is death caused by another person's wrongful act, either unintentionally or intentionally. Furthermore, wrongful death cases are typically filed by family members seeking compensation for the loss of a loved one's life and income.
What Are the Common Causes of Brazing and Welding in Los Angeles?
At construction sites, the most common reasons for brazing and welding injuries include the following:
Faulty equipment
Improper training
Lack of protective safety gear
Improper supervision
Using welding torches in enclosed spaces.
Common Injuries Sustained at Construction Sites in Los Angeles
The most common types of sustained injuries in welding accident cases include the following:
Broken bones
Brain and head trauma
Blindness
Amputations
Burns
Ear or eye injuries
Electrical shock
Cuts or lacerations
Spinal cord injuries
Joint injuries
Respiratory damage
Paralysis
Loss of hearing or sight
Post-traumatic stress disorder (PTSD)
Death.
Are Construction Site Accidents Preventable?
The Occupational Safety and Health Administration has developed a wide range of safety precautions due to the inherent risks of brazing and welding, including:
Only authorized and trained construction workers can use high-risk soldering, welding, brazing, or cutting tools and equipment.
Proper safety equipment needs to be used and available at all times – examples include shoes, safety goggles, heat-resistant gloves, and full-face shields for employees.
All welders must work in safely ventilated areas to avoid exposure to toxic fumes and particles created by welding at extremely high temperatures.
There must be fire extinguishers nearby. Various components in the welding process, such as compressed gas cylinders and electrode stubs, can cause explosions.
Workers can suffer catastrophic injuries in a bad construction accident if these safeguards are not followed. Injured workers might have a viable third-party claim against contractors, construction site owners, subcontractors, equipment manufacturers, and retailers when safety breaches, incorrect use, or equipment faults cause brazing and welding accidents.
Because proving fault in a construction site accident can be difficult, working with an experienced attorney is essential. Ehline Law Firm Personal Injury Attorneys, APLC, has the expertise and resources to assist you in obtaining the maximum compensation you are entitled to in your workers' compensation claim, including construction site falls while welding on loose scaffolding, etc.
Who Is Liable?
Employers who fail to provide a safe working environment can be held liable for injuries caused on the job in welding accidents – for example, if the personnel is welding in regions with insufficient ventilation or where engineering controls haven't been implemented. Exhaust ventilation and fume extraction welding guns are examples of engineering controls.
An employer may be held accountable if they fail to provide safety equipment or follow proper OSHA safety rules and guidelines.
Manufacturers might be liable if poor equipment or equipment design causes an injury. For instance, an explosion can result from a design defect in the valves on an acetylene tank.
A welding mishap can permanently harm or kill anyone, not just workers. A person passing by while someone is welding may be scarred or blinded as a result of flying sparks.
Why Should You Contact an Occupational Safety Construction Accident Lawyer?
Welding accidents, irrespective of their cause, can result in amputations, severe burns, eye injuries, fractures, and wrongful death. Negligent parties must be held liable for the harm they create if measures are not taken.
Our brazing and welding accident lawyers at Ehline Law Firm, Personal Injury Attorneys, and APLC have decades of experience representing injured construction workers. You can be confident that we will strive tirelessly to obtain fair compensation for you.
Contact an Experienced Welding Accidents and Brazing Welding Injury Lawyer in Los Angeles Today!
If you've been hurt in a brazing or welding accident, you're probably worried about healing from your serious injuries, paying medical bills, and replacing missed wages. Ehline Law Firm Personal Injury Attorneys, APLC's skilled welding accident attorneys, will assist you in addressing such issues by providing you with knowledgeable representation and dependable service. We have a track record of obtaining favorable settlements and significant jury verdicts for our clients, having recovered millions of dollars. Contact our office today for a free consultation at (213) 596-9642 or use our convenient contact form above.
Michael Ehline is an inactive U.S. Marine and world-famous legal historian. Michael helped draft the Cruise Ship Safety Act and has won some of U.S. history's largest motorcycle accident settlements. Together with his legal team, Michael and the Ehline Law Firm collect damages on behalf of clients.
We pride ourselves on being available to answer your most pressing and difficult questions 24/7. We are proud sponsors of the Paul Ehline Memorial Motorcycle Ride and a Service Disabled Veteran Operated Business. (SDVOB.) We are ready to fight.