If we don't win, you don't pay.
Speak to the Attorney.
Born to serve.
633 W 5th Street #2890
Los Angeles, CA 90071
(213) 596-9642.
Date Modified: June 13, 2023
When walking around Lowe's, one of the leading home improvement stores in the US, you may not think about the hazards present on the premises, but unlucky customers find out about it the hard way. For some customers, a trip to Lowe's can become a nightmare, resulting in injuries due to the store's negligence.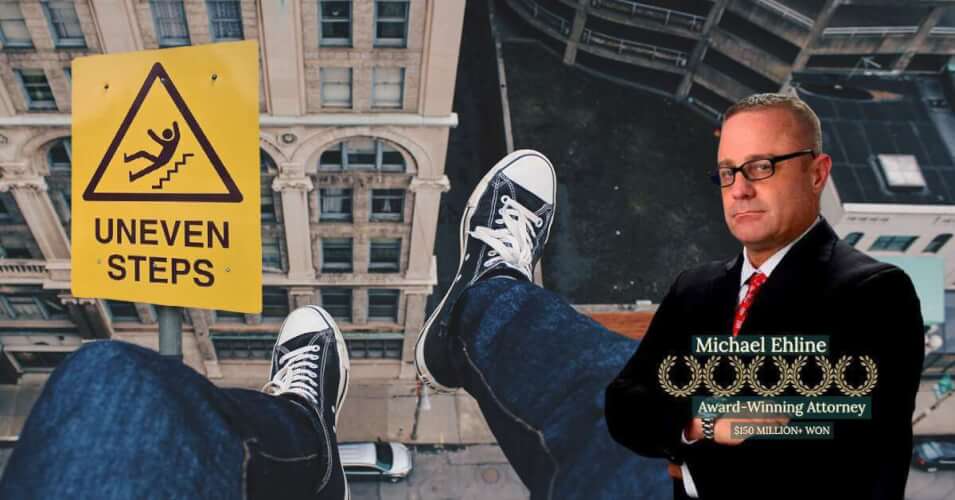 If you suffered injuries at Lowe's, reach out to our Los Angeles Lowes accident attorneys, as we will offer legal advice with a zero-fee guarantee to help you learn more about your rights as an injured shopper.
What Can Cause a Lowe's Slip and Fall Accident?
Slip and fall accidents are common in stores like Lowe's for many reasons, including the following.
Slippery Floors
A slippery or wet floor is the most common cause of slip-and-fall accidents. Although a slip and fall accident can happen to anyone, the elderly and young children are most at risk.
A slip and fall accident at Lowe's can occur because of several reasons, including:
Freshly mopped floor by an employee who forgot to put up warning signs for customers
A customer spilled a drink on the floor while roaming around Lowe's and failed to report the incident to the store
Some products start leaking, such as grease or varnish, due to employee mishandling, and they did not clean the floor or put up warning signs
Cracked roof or ceiling pipes resulting in a water leak inside the store.
Tripping Hazards
Tripping hazards could include torn carpets, shopping carts, and items placed haphazardly in an aisle by an employee or a customer. Another customer may walk into the aisle without seeing the hazard and trip over it, resulting in serious slip and fall injuries.
Uneven Floors
Uneven floors, sidewalks, and pavements can increase the risk of slip and fall accidents. Owners who fail to maintain the store's flooring or ignore floor conditions requiring repair are a severe hazard to unsuspecting customers. Property owners must repair the hazard or place a warning sign visible to everyone.
Parking Lot Hazards
Slip and fall accidents can also occur in Lowe's parking lot due to cracked concrete, potholes, and uneven surfaces. Tree roots can push the ground upwards, and weather conditions can result in extreme wear and tear, resulting in such hazards. Store owners failing to ensure customer safety can lead to premises liability.
After establishing an attorney-client relationship, Michael Ehline will battle insurance companies and any responsible property owner or controllers to garner his clients' maximum compensation for medical expenses, pain and suffering, and more.
Call for a free case evaluation today at (213) 596-9642 for free legal advice about your potential personal injury claim.
Why Choose Ehline Law Firm To Handle Your Premises Liability Actions?
$150,000,000+ RETRIEVED FOR WOUNDED CLIENTS SINCE 2005
OVER 3000+ CLIENTS
SLIP AND FALL ACCIDENTS ON A CONTINGENCY FEE BASIS
CLIENTS TRUST US!
WE HAVE OVER 15 CALIFORNIA LOCATIONS!
24-HOUR PERSONAL INJURY LAWYER CLIENT-FOCUSED 360° CONCIERGE SERVICE
PLUS 5-STAR-HOSPITALITY
Multiple Super Lawyers Rising Stars Awards
---
What Is Premises Liability and Why Should You Care?
If you are injured on someone else's property, including construction sites or a grocery store in Los Angeles, CA, the premises liability rules will apply to your case. The legal duty of care and upkeep that a property owner owes to his or her property is referred to as premises liability.
In California, property owners must use reasonable care to keep their premises safe. This is the same level of attention that a cautious property owner would exercise under similar circumstances. If a property owner fails to use the appropriate level of caution, he or she will be held financially responsible for any injuries caused by his or her negligence.
How a Los Angeles Premises Liability Attorney Can Help
Unless you have a legal background or a track record of defending premises liability claims, you may not know how to seek reasonable compensation from property owners and their insurers. A local attorney at Ehline Law Firm who has previously dealt with clients in premises liability claims can assist you.
If you or a loved one has been harmed in a premises accident, your Los Angeles premises liability lawyer can fight for just compensation. If you or a loved one has suffered severe or life-altering injuries due to another person's negligence, an attorney can answer your queries and provide you with peace of mind throughout your case.
Other Types of Accidents in Lowe's Stores
Besides slip and fall accidents, other types of accidents can occur at Lowe's, resulting in serious injuries to its patrons.
Falling Objects
Lowe's stores are designed like a warehouse, and with thousands of products and inventory at hand, the store stacks them over one another vertically on massive shelves.
It is a more efficient way for employees to replace products and provides accessibility. However, improperly stacking heavy items can increase the risk of heavy objects falling onto unsuspecting customers.
Employee Error
Although Lowe's employees may not be entirely liable for the incident, Lowe's may face liability as they must adequately train their employees to ensure their actions do not harm Lowe's customers.
Customer Error
Your personal injuries could also be because of a customer's error. A customer is not trained to handle hazardous objects, increasing the risks of accidents and injuries.
Unsecured Objects
With heavy appliances and other items at the store, Lowe's employees must secure these objects to the floor or the wall so that it does not tip over and hurt the store's patrons.
A child may pull on a heavy appliance that can fall on top of them and crush them if the object is not properly secured.
Common Injuries from Accidents at Lowe's
The following are some of the possible personal injuries that can occur following an accident at Lowe's:
Traumatic brain injuries (TBI): A severe blow or impact to the head can result in a TBI, and symptoms may range from mild to severe. In worse cases, a blow to the head could cause permanent damage and even death.
Spinal cord injuries: A slip and fall accident can directly impact the spine, resulting in spinal cord injuries which can affect an individual's motor skills or even lead to paralysis.
Broken bones: Hitting hard objects at Lowe's or tripping and falling can result in broken bones and fractures.
Soft tissue injuries: Sudden jolts, jerks, or falls can lead to sprains and strains. If left unaddressed, these injuries can manifest into chronic pain and increase the risk of injuries in the future.
You must seek medical attention immediately if you suffer injuries at a Lowe's retail store. In some cases, injuries can take time to manifest and become troubling later on, which is why you must receive a proper medical evaluation.
Filing an Accident Injury Claim
To win an accident injury case against Lowe's, the injured victim must file a claim against the home improvement retail giant and prove the following elements of a premises liability:
The defendant is Lowe's property owner or occupier
The defendant did not maintain a reasonably safe environment for the patrons
The plaintiff suffered injuries
The plaintiff's injuries occurred due to the defendant's negligence in maintaining the property.
Lowe's has a legal duty of care towards its visitors and must ensure that its property is reasonably safe to prevent harm to others. For example, if a customer spills a drink, it poses a risk of a slip-and-fall accident. Lowe's employees must mop the floor and place a warning sign for customers to prevent any slip and fall accidents from occurring.
An experienced attorney can establish how Lowe's:
Created a dangerous condition
Was aware of the hazards in the store and failed to take measures or warn their customers
Management and employees had sufficient time to discover the hazard at the store but did not take any action.
Lowe's has an in-house adjuster that works with their Safety and Risk department, ensuring they either settle Lowes' injury cases for a minimal amount or deny claims for no legitimate reason. An experienced law firm can help accident victims pursue personal injury claims against Lowe's to recover the compensation they deserve.
Damages You Can Claim for Injuries at Lowe's
Serious injuries can result in substantial losses to the accident victim, which they may include in their claims, and some of these include:
Medical expenses: An injury can result in medical bills, surgery, emergency transportation to the hospital, and medical expenses. If you've suffered permanent injuries from an accident at Lowe's, you may also be able to claim future medical expenses, therapy, rehabilitation, and more.
Lost income: If your injuries result in you missing out on work, you may include lost wages in your personal injury claim against Lowe's.
Permanent disability: An injury resulting in permanent disability can lead to reduced quality of life, in-home care, mobility aids, and other damages which you can add to your claim.
Pain and suffering: Besides direct out-of-pocket expenses, you may also claim for pain and suffering, emotional distress, and other psychological damages suffered due to your injuries.
Property damage: If you suffered property damage due to an auto accident at Lowe's parking lot due to the store's negligence, you could add repair or replacement costs to your personal injury claim.
Wrongful death: Some injuries can be so severe that they can lead to wrongful death. If you've lost a loved one due to Lowe's negligence, you can seek compensation for funeral and burial costs, loss of financial support, and other losses.
The damages mentioned above are compensatory damages that an accident victim can pursue in a claim against Lowe's for their injuries. However, in rare cases, if the victim can prove that gross negligence or intentional misconduct by Lowe's, the court may also award punitive damages to punish the retail store.
Discussing your case with an experienced personal injury lawyer can help assess the damages incurred and your legal options following the accident.
Types of Evidence Required to Build Your Personal Injury Case
The types of evidence depend on the injuries sustained, and these may include the following:
Lowe's security camera footage
Incident report
Photographs and videos of the injuries and the accident scene
Medical and psychiatric evaluations
Medical bills, payslips, and other relevant documentation to prove economic damages
Expert testimonies and witness statements.
In most cases, Lowe's will deny knowing about the hazard, making it challenging to fight your personal injury case alone.
Experienced personal injury attorneys have the knowledge and experience to help protect your rights and fight for a fair settlement.
How Can Los Angeles Lowes Accident Attorneys Help You?
Although hiring a personal injury lawyer following an accident is not mandatory, seeking legal assistance can improve your chances of securing fair compensation. Lowe's store probably has homeowners insurance, and dealing with an insurance company can be stressful.
An attorney from a reputable law firm can help investigate the incident, find out how Lowe's failed to ensure your safety, gather strong evidence, reach out to professionals for expert testimonies if required, file your claim or Lowes' lawsuit, and handle settlement negotiation on your behalf.
What Should You Do Following an Accident at Lowe's
Whether it is a slip and fall accident or any other accident at Lowe's, you must take the following steps to help strengthen your claim:
Call for medical attention at the store.
Photograph and record videos of your injuries and your surroundings, showing objects or people that caused your accident.
If there are any witnesses around, ask for their names and contact details.
Call for the manager to file a Lowes incident report and request a copy.
Ask to call 911, as police can assess the situation and create a police report which can strengthen your claim.
Head to a medical center for medical evaluation and treatment. Sometimes injuries can take time to manifest, so make sure to note down your symptoms in the following days and go to the doctor if you notice any symptoms.
Reach out to an attorney to start working on your case immediately. If you do not file a claim to recover compensation within the statute of limitations time frame, you lose your right to pursue legal action. It would help if you also gave sufficient time to your attorney to gather evidence and build a winning case, which is why reaching out to an attorney as soon as possible following your accident is crucial.
Schedule a Free Consultation with Ehline Law Lowes Accident Lawyers
Ehline Law and our personal injury attorneys have over a decade of experience handling personal injury cases, recovering more than $150 million in compensation for our clients.
If you suffered injuries at a Lowe's store in Los Angeles, contact us at (833) LETS-SUE for a free consultation, as you may be eligible for compensation.
Michael Ehline is an inactive U.S. Marine and world-famous legal historian. Michael helped draft the Cruise Ship Safety Act and has won some of U.S. history's largest motorcycle accident settlements. Together with his legal team, Michael and the Ehline Law Firm collect damages on behalf of clients.
We pride ourselves on being available to answer your most pressing and difficult questions 24/7. We are proud sponsors of the Paul Ehline Memorial Motorcycle Ride and a Service Disabled Veteran Operated Business. (SDVOB.) We are ready to fight.