Los Angeles Injury Attorneys / Practice / Dramshop
A business can occasionally be held liable for an individual's injuries under dram shop laws if the establishment serves alcohol to a customer who injures or attacks another person while inebriated, including as a drunk driver.
The company could be held accountable for harm if they:
Served alcohol to a minor

It was clear that the minor was already inebriated at the moment of serving

The intoxicated person subsequently injures another individual
Dram shop laws apply to any establishment that serves alcohol, including:
Bars

Restaurants

Taverns

Liquor stores

Hotels
Dram shop regulations differ from state to state; however, they are not to be confused with "social host liability" legislation.
When a person distributes alcohol at a private house, such as an apartment, they are liable as a social host. In most circumstances, the host is not accountable for any harm caused by intoxicated guests.
What Is California's Dram Shop Law?
Dram shop regulations in California are simple: you cannot sue a dram shop for damage caused by a drunk person. As a result, if you're hurt in a bar brawl, you might not be able to sue the California business for compensation.
According to Section 1714 of the California Civil Code:
Everyone is accountable for their acts

Selling an alcoholic beverage to a customer is not the "proximate" cause of another person's injury on the premises.
In a nutshell, the injuries were caused by someone drinking and harming another person. The dram shop cannot be held liable only for selling alcohol to someone because they can't be held responsible for the acts of others.
However, there is an exception to this law for intoxicated minors.
Put, if a business sells alcohol to a minor who is already clearly intoxicated, such as unsteady walking, slurred speech, or other signs of intoxication, the business may be held accountable for any damages caused by drunk driving crashes.
As previously stated, California state law generally does not hold social hosts civilly accountable for serving alcohol to inebriated guests, except minors who become inebriated, then depart in a vehicle and cause a car accident.
When Are Dram Shops Liable for Damages?
Let's look at an example. Peter goes to a local bar for a drink. The bartender continues serving alcohol to Peter even after he has consumed an excessive amount of alcohol and is visibly inebriated. Peter gets in his car, heavily inebriated, and begins driving home (he's a drunk driver).
He runs a red light and collides with Kevin's car, suffering a concussion, breaking his arm, and causing extensive property damage. Kevin would have a reason for a legal claim against Peter in this instance for the drunk driving accident; however, the establishment that served Peter drinks after he was drunk will probably share some blame for Kevin's damages.
A bar, tavern, restaurant, or any other establishment that offers alcohol may be liable for dram shop liability. It could also refer to a liquor store or another establishment that offers alcoholic beverages. In a dram shop liability claim, the plaintiff must show that the dram shop should have known better than to serve alcohol to the individual who caused the plaintiff's injuries.
To demonstrate proximate cause, proof of sale to the criminal or other evidence may be required. If the plaintiff's damages were caused by the dram shop's negligent service or sale of alcohol, the dram shop is partially accountable for such damages.
When Are Those Who Serve Alcohol Liable for Injuries in Dram Shops?
That being said, you may be able to sue dram shops for injuries sustained due to a bar fight, a car accident, or a slip and fall.
Anyone who knowingly provides alcohol to an intoxicated minor can face third-party liability for any drunk driving deaths or injuries caused by the minor. At the same time, they're inebriated, according to California Business and Professions Code 256022.1.
A restaurant or bar owner's irresponsible and reckless behavior may frequently result in a catastrophic injury. Injury or death, not only the drunk minor or intoxicated individual but also other persons who come into contact, forces the business to share responsibility in dram shop cases.
In other sorts of dram shop injuries, you may be able to sue the company even if the dram shop rules don't apply. Even if they don't sell alcohol, the business owner failed to keep their facilities reasonably safe. You may have a case. If their carelessness caused the injury from a high blood alcohol concentration, drunk drivers under the influence of alcohol, intoxicated persons, and their insurance company might not be the only defendants with civil liability or shared responsibility.
Do You Need Superior Los Angeles Dram Shop Liability Lawyers in Los Angeles?
Ehline Law Firm's Los Angeles dram shop litigation lawyers have frequently obtained justice for those a negligent establishment has wronged. Suppose someone served alcohol to a minor or allowed someone to consume alcoholic beverages despite the person being intoxicated. In that case, they can be sued if the visibly intoxicated injures themself or others. Victims can claim lost wages, medical bills, pain, and suffering.
We have vast experience in personal injuries and dram shop law. Our experienced lawyers work tirelessly to help you with a dram shop claim against parties with the legal responsibility to pay. Ehline Law Firm values the attorney-client relationship, so you can trust us regarding drunk driving accidents against the at-fault establishment. Contact us today for a free consultation with questions about the legal drinking age and consuming alcohol in general!
The intoxicated driver may not be the only person on the hook. You may have a viable financial compensation claim against businesses like local bars and restaurants for your personal injury claim.
---
Michael Ehline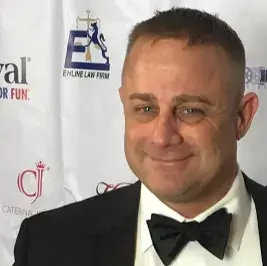 Michael is a managing partner at the nationwide Ehline Law Firm, Personal Injury Attorneys, APLC. He's an inactive Marine and became a lawyer on the California State Bar Law Office Study Program, later receiving his J.D. from UWLA School of Law. Michael has won some of the world's largest motorcycle accident settlements.
---
Recent Personal Injury News
Check out our most recent premises liability blog posts from celebrities tripping and falling to everyday people getting run over, rear ended or otherwise colliding in a private parking lot at LAX.