If we don't win, you don't pay.
Speak to the Attorney.
Born to serve.
633 W 5th Street #2890
Los Angeles, CA 90071
(213) 596-9642.
Date Modified: June 17, 2023
This is the Ultimate Guide to Compensation for Glenn County Accidents in CA from Ehline Law Firm Personal Injury Attorneys, APLC.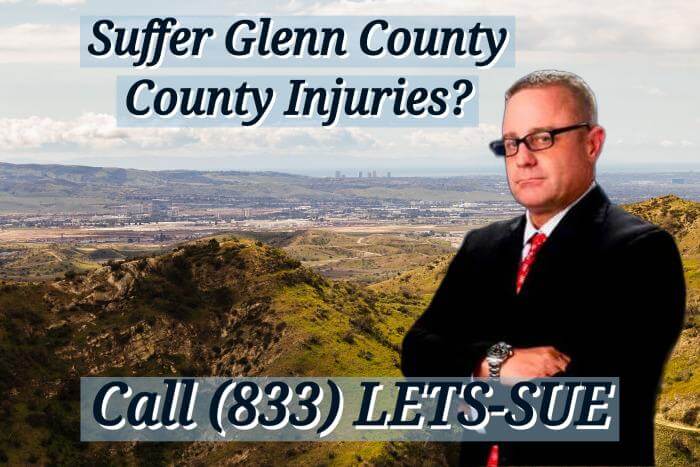 Hire a Top-notch Lawyer Today!
At Ehline Law, we provide all kinds of legal assistance to the community in Glenn County, CA, and many other areas in Northern California, from Sacramento to the Oregon border.
Our law firm has the best attorneys to help you resolve issues, especially personal injury claims. Ehline has done many VA claims Pro Bono services for vets and offers a reasonable contingency fee for non-VA matters. Don't end up in divorce court, needing a criminal defense attorney over the prospect of bankruptcy. Hire an injury lawyer at Ehline Law today.
Contact our law office immediately if you are involved in an accident anywhere in Glenn County, California.
Why Do You Need A Lawyer?
Often, cases are not just about what the law says. Glenn County lawyers at our firm understand the cost involved when you get injured and ensure you get the appropriate compensation. Although we don't take medical malpractice or criminal cases, we help with legal malpractice and related civil claims.
To do this well, we need to know how you got injured and establish what the law says about the situation. Our free consultation enables you to get in touch with a personal injury attorney for proper assistance.
Car Collision Lawyer
Car accidents are prevalent within Glenn County. The problem with such cases is that many people who get hurt in such events rarely seek medical attention for fear of how much it will cost. Others also try to avoid the problem of dealing with insurance companies who try to frustrate victims to reduce legal compensation as much as possible.
Talk to Our Glenn County Lawyers in Such Situations
This comes at no charge under our free consultation policy and our services. We usually take up some car accident cases at no upfront cost to the client on a contingency fee basis. This is part of our pro bono services. Our responsibility is to provide you with legal assistance, deal with the insurance company of the party at fault, and monitor any related criminal cases so we can ask the prosecutor for restitution as a victim of crime. We have extensive experience in this business, and we won't back down.
According to Glenn County law, you have a good case if there was a DUI conviction after you got injured by a drunk driver. Even though the driver may face criminal charges, the law allows victims also to sue them.
You can recover the following:
Medical treatment costs incurred
Lost wages
Property damage in the process.
If a DUI driver kills a family member, your personal injury lawyer can also sue for damages to help you fully recover benefits from the loss. Reach out to Ehline Law to help you with your DUI cases. Our fully licensed and insured Glenn County lawyers can always offer you a free consultation on what to do after a DUI incident.
Wrongful Death Claims Lawyer
As a law firm serving Glenn County, we can't act like we understand the pain people feel in the situation when they lose their family members or loved ones. Accidental or wrongful death is painful. That is why our Glenn County lawyers are always ready to help you get maximum compensation in such cases through research and filing the right legal documents.
Apart from the emotional pain from the loss, the family incurs costs such as funeral expenses and loss of economic support if the victim was the breadwinner. Our lawyers have experience with such family law cases and can help the affected family get some financial security. They also help them get some closure when they know that the person responsible for the wrongful death of their loved one has been punished in a legal manner.
Slip and Fall Injuries Lawyer
The premises liability law in California requires property owners and occupants to ensure that they maintain a reasonably safe condition in their property. They are to warn visitors if there is any danger that may not be obvious. By this law, they have to carry out regular inspections and repair works.
Find a personal injury lawyer as soon as you sustain such injuries because of a property owner's mismanagement. We will come to you wherever you are in Glenn County. In such a case, a personal injury attorney with proper training is supposed to help a plaintiff determine if the injuries they suffered were due to the defendant's negligence.
Contact Ehline Law if you or a family member is injured because of a hazard on private or public property in Glenn County without warning. Time is vital to the relevance of your case. Reach out immediately for a free consultation to talk to our experienced lawyers about your money issues and the next steps.
Uninsured or Under-Insured Driver Claims Lawyer
The laws in Glenn County, California, and its local cities require a driver's insurance company to pay for injuries and property damage they cause.
An injured victim or family of one dead person will be entitled to receive up to a minimum of $15,000.
Multiple injury victims or more than one death require minimum compensation of $30,000 minimum.
The insurer must pay up to a minimum of $5,000 if the event causes just property damage.
There are situations when these drivers do not have sufficient insurance coverage to compensate victims. Some may find they don't have insurance at all as they search their documents and create their claim.
California Department of Insurance reports uninsured or under-insured drivers to get involved in more accidents than insured ones. This means that most motorists on the roads put others at risk daily without paying compensation for the outcome of their reckless actions. If you get injured in an accident involving a driver who falls in this group, you need an auto accident or personal injury lawyer to help you.
They can determine other legal options available to compensate you for such situations. This is a claim with your personal insurance policy or against the other party, even if their coverage is not enough.
If this appeals to you, obtain a free consultation with a top lawyer available to help you. Speak to an attorney in Glenn County or anywhere in Northern California with enough resources to win your case. We aim to ensure you don't suffer the consequences of another person's bad decisions.
What to Consider When Hiring a Personal Injury Lawyer
A personal injury lawyer is the best person to help you after an accident. They allow you to file compensation claims or lawsuits against the other party. Personal injury cases mostly don't get to the trial stage, but you should choose the best representation for any scenario to be safe.
Insurers also tend to take your claims more seriously when you make them via lawyers. An attorney will ensure that you get a fair settlement as quickly as possible.
When selecting attorneys, you should consider the following to find the best:
Experience
Professional
Reviews and Testimonials
Verdicts and Settlements
Initial Consultation
Attorney Fees and Costs.
Search for Experience
Experience is very important when choosing an attorney to represent you. The more lawyers take up cases, the more familiar they become with the processes, common mistakes, and interests of the parties involved.
Also, ensure that this experience is specialized and knowledgeable to your situation. They may all be lawyers, but a criminal defense attorney may not be the best option to investigate a family law case.
Understanding the scope of a situation beyond the law is critical to its outcome and degree of success. Law firms usually have a range of attorneys with different expertise to handle your legal issues.
Professional Record
The professional record of your attorney is also important, especially if you have to go to court. A lawyer with a lot of experience may have lost many cases they handled, which is why results speak. Other records, such as disciplinary actions and violations, also tell you more about their personality and values than their ability to achieve results in court.
Most information is available on most state bar websites. Search for the details of your attorney and determine if there are any red flags or defenses you want to avoid before you connect.
Reviews and Testimonials
Reviews and testimonials are always good places to look at when determining how good anything is. But so many are fake that friends, family, or even a local paralegal may be a better way to find someone during this critical period.
The concept applies to clients looking for the services of a good attorney.
Be careful not to trust everything former clients say.
Check out the details of the testimonials and who they are coming from.
Reviews from other lawyers should indicate a lawyer's reputation in the legal community.
Our lawyers at Ehline Law are well respected among Glenn County lawyers and in most law offices in Northern California.
Verdicts and Settlements
A personal injury attorney will likely discuss their successes on their website. The verdicts and settlements of any lawyer give you a fair idea of the capabilities and specialties. If you are looking for a criminal defense lawyer, you should look at the type of cases they handle. It is the same for a lawyer who specializes in family law.
You can determine if the person is a personal injury attorney expert or in other parts of the law. The profiles of our personal injury lawyers in Glenn County, CA, are available on our website for you to check out.
Initial Consultation
Personal injury lawyers offer a free consultation to potential clients with legal issues. You can arrange one via phone or visit their law office to discuss the details of your case. This helps give them insights into the personal injury compensations available.
It also enables them to decide whether the lawyer is capable enough or not. Our law offices in Glenn County are always open to you. Call us or walk in for advice on your personal injury case.
Attorney Fees and Costs
You should discuss fees and payment options during the consultation. Several personal injury lawyers take up cases on contingency fee grounds. This means they take payment only after a verdict.
The lawyer gets a percentage of the settlement depending on the agreement with the client.
In addition to the attorney fees, personal injury cases may have other service fees such as expert witness fees, document copying fees, litigation costs, etc.
Lawyers who handle other cases, such as family law, have arrangements different from that of personal injury attorneys.
Our law firm has some of the best payment options in Glenn County. Reach out or visit our law offices for help with your personal injury cases and other forms of litigation.
Why Choose Ehline Law?
Whether you need a criminal defense or a personal injury lawyer, you need to be able to trust your attorney.
A few reasons why you should hire us include:
Before you decide to hire us or not, we offer free consultation services so that you can speak to us about your personal injury.
We then explain the legal issues of your case clearly so that you understand how personal injury law affects you.
You will receive honest feedback from our personal injury attorney about the merits of your claim and the legal processes to navigate.
Your answers will help us establish the seriousness of your injury, the kind of advantage you have, and how your concerns can be well communicated in law.
Schedule a Free Consultation With Superior Personal Injury Lawyers in Glenn County, CA Today

Ehline Law is the personal injury law firm you can count on in Glenn County, Yuba City, and all of Northern California. Reach out for superior legal representation from top-rated Glenn County injury lawyers by starting with a free consultation at (833) LETS-SUE. You can also schedule a call back using our convenient online contact form.
Michael Ehline is an inactive U.S. Marine and world-famous legal historian. Michael helped draft the Cruise Ship Safety Act and has won some of U.S. history's largest motorcycle accident settlements. Together with his legal team, Michael and the Ehline Law Firm collect damages on behalf of clients.
We pride ourselves on being available to answer your most pressing and difficult questions 24/7. We are proud sponsors of the Paul Ehline Memorial Motorcycle Ride and a Service Disabled Veteran Operated Business. (SDVOB.) We are ready to fight.