Guardrails Can Mean The Difference Between Life And Death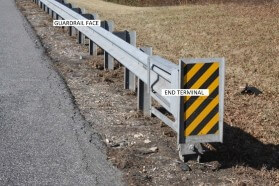 True. Guardrails can keep you from plunging off a cliff, among other calamities avoided when driving a motorized vehicle. These human-made barricades may act to deflect a moving motor vehicle back into the roadway. Also, they can help slow a car to a complete stop. Moreover, sometimes guardrails can slow the car down and allow it to break through the barrier.
Our guardrail injury attorneys know most guardrails are only useful with a vehicle traveling at a velocity of 62 miles per hour or less. So barriers can only prevent some car accident scenarios near you. Drivers often drive faster than 65 mph. And motorists face so many unique situations that, in some cases, the guardrail could cause more harm than good. Moreover, the automobile or heavy truck's size and speed have a role to play in guardrail effectiveness. Also, the position of the oncoming vehicle plays a role in the damages and injuries to occupants. For example, a sliding or drifting vehicle might strike the guardrail, which could cause a passenger ejection out the window.
Most of all, our car accident lawyer in California knows many factors will combine determining where the state or locale places, replace rails or use them. But what must you do when guardrails exist but fail to perform as promised due to some defect or poor maintenance? Well, for one, people can be severely hurt or even die from defective or missing guard railings.
So victims won't be happy hearing recent reports showing many guardrails installed on the sides of American roads fail to meet the latest safety standards. Rails were installed or replaced after the government conducted guardrail tests based on older standards. According to state and federal transportation agencies officials, these guardrails failed to provide the safety expected from their deployment.
A report presented and prepared through joint efforts of the American Association of State Highway and Transportation Officials and The Federal Highway Administration provides that guardrails are safety barriers intended to shield motorists from leaving the roadway, typically after losing vehicle control. Ultimately, a guardrail's purpose is to keep a careening vehicle from flying off the road, maintaining occupants safer, and allowing the car to rest unhindered from rolling down an embankment, for example.
Unfortunately, stretches of American highways exist at locations where setting up side barricades won't remain possible. For example, take a look at Malibu Canyon as you cruise through Santa Monica, CA. There you will observe roads abutted by steep embankments and side slopes. As you head towards Oxnard, you will watch streets lined with shrubs, bushes, trees, and even bridge piers on other sections of PCH.
You will also notice retaining walls present, including sections of power poles and pull-out shoulders. Sometimes the government will say no feasibility exists to remove those obstructions, often arguing that money and costs were their main concerns as their excuse for failing to make locations safer. A local car crash attorney knows how to protect your legal rights when a guardrail is missing or fails. On the other side of the coin, sometimes guardrails can make a location less safe.
For example, there are cases where the rail extends towards oncoming traffic, presenting a crash risk itself. So traffic safety engineers will balance the consequences of a vehicle striking an immovable guardrail instead of other issues like driving off the road, or striking a tree or power pole, for example. If the benefits are great, the government should demand installing guardrails.
At the very least, the government should adjust speed limits and add proper traffic safety signage to warn oncoming motorists of roadside hazards. In some cases, especially on steep inclines, guardrails can prevent an out-of-control big rig truck from properly pulling off the shoulder or blocking the pathway into a runaway vehicle escape lane. However, in most cases, a proper expert will order a simple guardrail as part of their traffic safety study. And this can make California's already taxed roads safer while simultaneously lessening the severity of roadway crashes. Our Los Angeles guardrail accident lawyers offer help 24/ 7 to answer your guardrail defect questions.
Officials Demand New Guardrail Strength Standards
The report had records of many accidents that clearly showed that the guardrails were not the safest bet in unavoidable accidents. Officials taking part in the report analysis suggested meeting new standards using stricter tests. Also, in 2011 the feds updated safety guidelines for guardrail testing, adding more stringent testing aspects. But U.S. states still had the autonomy to buy and install guardrails that only met the old standards. All the people from the field of law concerned about the safety of people have been against this allowance. Car accident attorneys top the squeaky wheel list.
The presented reports focused more on the equipment prepared by a company called Trinity Industries. Their ET-Plus is the guardrail under much criticism for its poor and threatening performance in unavoidable accidents. The justice department is investigating why Trinity Industries failed to inform the Federal Highway Administration about changing its roadside safety equipment.
The investigation conducted against the company remains within criminal investigation parameters. Trinity has faced some disfavoring circumstances because of a few negligent acts. Trinity lost a case against Joshua Harman when a judge from Texas awarded the point to Trinity's opposition with a massive $663 million.
The case was filed against the company because it did not inform federal regulators about the alterations to its renowned ET-Plus roadside equipment. Trinity is seeking some help in this regard and has already filed an appeal. Trinity's case did not go well for them. The trial judge found the company was nothing but a fraud against our government and our country.
After finding out about the conduct of Trinity, the Federal Highway Agency called for information on the crashes that had taken place in the real world where the guardrails from Trinity were involved. Investigators sent the report to federal officials on Friday, but this report contained more information than required. It broadened the scope of scrutiny in addition to ET-Plus from Trinity. Moreover, it documented records of guardrails put on the roads' sides by other companies. Also another big company raising safety questions is Road Systems.
The vice president from Road Systems came forward and talked about the proceedings of the report. He admired the efforts of the organizations and individuals who collected the documents and evidence for the story. He said that it was a significant step by the federal government to apply better and newer standards for the guardrails. However, he shifted liability immediately by saying that poor installation, damage from extreme weather, and negligent roadway maintenance were beyond his duty or control, even with the right equipment, poor installation, damage from harsh weather, and negligent roadway maintenance.
He made clear that Sequential KinKing Terminal's special equipment was undergoing tests, with official findings to follow. Investigators didn't single out Trinity for bad accolades. Investigators discovered roadside safety system vulnerabilities with almost all equipment. Although the report proved that different guardrails had disadvantages, the report failed to recommend removing the installed equipment.
The lawyers are not happy about the decision that the old equipment should still stay on the road's sides. But the lawyers taking part in this case and others want the equipment installed on the roadsides straight away. Officials from the Trinity also gave kudos to the entities that prepared the report. However, according to them, their questioned guardrail system, called the ET-Plus, is more than reliable. On the other hand, an analysis based on 161 crashes proved that accidents involving shallow angles and side impacts were proof of the equipment's failure.
Next, shallow angle tests are not a strict part of the currently installed guardrails' old standards. However, accidents with the same shallow angles are significant in the tests conducted according to the newest standards. Federal Highway Administration had already put the company through rigorous testing. Our guardrail accident attorneys in Los Angeles are surprised that companies were allowed to install equipment failing to meet modern standards. Yet, the company announced that their tests were conducted successfully with no issues.
An executive from Federal Highway Administration, Jeffrey Paniati, stated that these tests remain very useful. However, the agency is still interested in tests ET-Plus has already gone through, especially side-impact collisions with low angles. Their finding will likely decide the nation's driving fate. Our Los Angeles guardrail accident lawyers remain persistent in their demand – the state must remove these dangerous, installed guardrails. You can watch several public videos online demonstrating guardrail roadside safety effectiveness during daily driving. If you have questions, concerns, or updates about dangerous guardrails, contact Ehline Law Firm Personal Injury Attorneys, APLC (213) 596-9642. Let us earn your trust by answering a critical question at a time. Accident victims can also use our online contact form 24/7 to telegraph their significant case concerns. 
Citations: