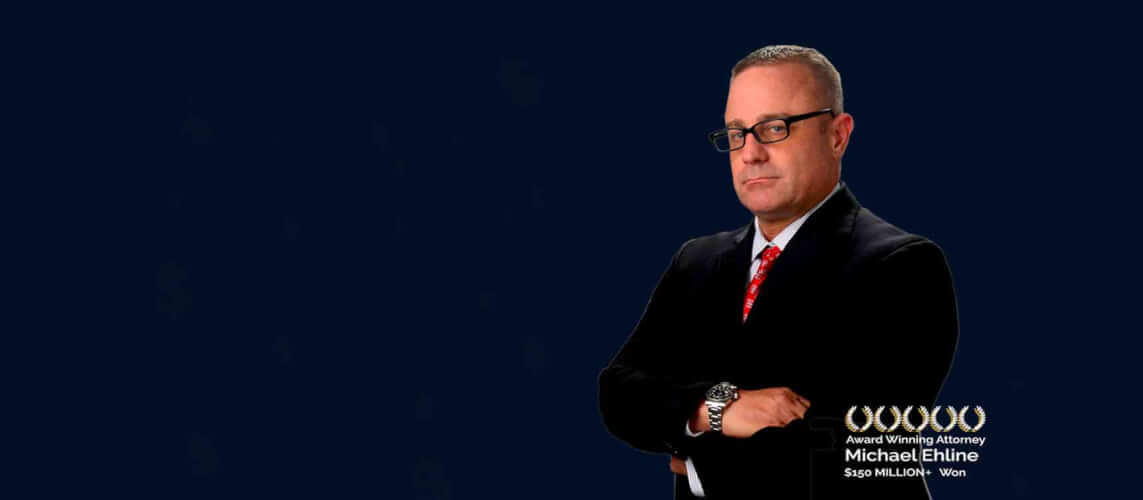 An accident can occur anywhere, and the most important thing to do after an accident is head to the ER to get an examination done by a medical professional to help assess the damages after most auto accidents.
However, car accident victims often do not notice any severe injuries on the outside and decide to go home, hoping that things will get better.
Little do they realize that the accident can cause internal damage without the symptoms showing up immediately, and there can also be a delay in pain post-car accident.
Your Insurance Company Should Pay for a Medical Exam Following an Accident
Got into a car accident that was not your fault? Contact Ehline Law and our expert personal injury attorneys today for an evaluation of your car crash case.
Victims Must Seek Medical Treatment Immediately after a Car Accident
Conditions like post-traumatic stress disorder, spine injury, and more develop slowly after a while. Those who avoid going to medical in the worse place make matters worse for themselves later on. Discovering an injury early on can help you avoid all the pain and suffering that may come later if you prolong your visit to the doctor after suffering a car accident.
Many automobile accident victims avoid going to the doctor after an accident if they feel fine, as they don't want to spend money on different types of tests. However, they often fail to forget that there are guidelines for doctors to follow to help assess patients, whether they require emergency treatment or an x-ray after a motor vehicle accident or not.
Assessing Patients in the Wake of Motor Vehicle Accidents
There are always obvious signs of injury and trauma. Before a doctor recommends an emergency room receive extensive treatments or radiology scans, they assess the patients to determine the severity of any injuries sustained and the prognosis for repair or recovery. (Diagnosis examples include spine damage, cervical neck strain, sprain fracture, infection, strained tendons, pulled muscles, minor or major swelling, and other disorders).
The patient is initially asked important questions by a trained physician that covers causation. The physician will ask about the accident scene and even the ambulance ride to help diagnose the injuries suffered using X-rays, a CT scan, and other visual methods. (immediate care helps avoid long-term complications or making your injuries progressively worse after suffering a car wreck)
The patient will explain the biomechanics of the crashed vehicles to make the doctor aware of the extent of force and angles experienced by the victim's body will demonstrate. All this helps document the impact and injuries in the medical records. This evidence and other documentation are used to help diagnose visible and hidden injuries to the naked eye and will be used in your settlement demand package later.
If the injuries are to the head, then the doctor looks for different signs or questions the patient regarding the following:
Headache: Up to 78% of mild traumatic brain injury patients have headaches when they walk to the hospital to seek medical care. Headaches in severe accidents can be life-threatening, as can be the case of subdural hematoma, injuries to the vertebral arteries, or any other serious complication. However, these headaches can sometimes be from stress or the emotional trauma associated with the auto accident.
Epidural hematomas: Around 10% of the patients experience epidural hematomas, and in such cases, a patient will either lose consciousness when the incident occurs or have an altered behavior after the accident. Further symptoms like headaches, dizziness, vomiting, and lack of awareness may develop slowly. This is due to blood accumulation that shifts the brain, leading to a drop in consciousness and death. Patients must seek medical treatment immediately, while doctors will refer them to the ER after the medical evaluation.
Subdural hematomas: Patients here have decreased consciousness and exhibit symptoms of headache-like pain and irritability due to minor bleeding in the brain. This can deteriorate over time, and seeking medical treatment immediately is advised.
Post-concussive syndrome: These symptoms last for a week as the patient exhibits headaches, irritability, and inability to focus on things. Since the symptoms of this and intracranial bleeding are the same, neuroimaging can help identify the differences and allow doctors to start the necessary treatment.
Assessment and Discharge
It can be challenging to determine the severity of the injuries to a patient and refer them to the ER. Hence there, doctors must follow guidelines CT scan guidelines and more. If the injuries are not severe (soft tissue injuries) and can get treated with home care, doctors will discharge patients with a caretaker to continue treatment at home and take rest. If the outpatient condition deteriorates during the home treatment, they must head to the hospital immediately.
Other types of injuries like neck pain, abdominal pain, and more have a separate list of extensive guidelines to follow.
Besides avoiding complications down the road from a car accident, car accident victims need medical records to claim compensation to pay for the medical bills and physical therapy expenses.
To Seek Compensation from the Insurance Company
Physical therapy, medical costs, surgery, and more can be expensive, but if you were not at fault, you might be eligible for compensation. A visit to the doctor, proper treatment, complete medical reports with evaluations, and medical receipts are essential for a personal injury case. Your medical insurance should provide you coverage for the damages done. But to claim compensation for medications from the responsible party, you must file personal injury claims against the negligent party and show medical proof.
Schedule a Free Legal Consultation Over Your Potential Car Crash Medical Examination Today!
Or you can receive a free consultation today from a compassionate, caring Los Angeles car accident attorney. Our best personal injury attorney will provide you with the right legal advice to move forward and protect your rights. Discover the Ehline difference. If you've gotten injured in a car accident, contact us at (213) 596-9642 and make an appointment. Contact us for more information at our helpful 24-hour personal injury lawyer HOTLINE to seek the best lawyers.