Today around 12:05 pm, an SUV was involved in a major car accident. California Hwy Patrol was on the scene around 12:25 pm, as well as American Towing.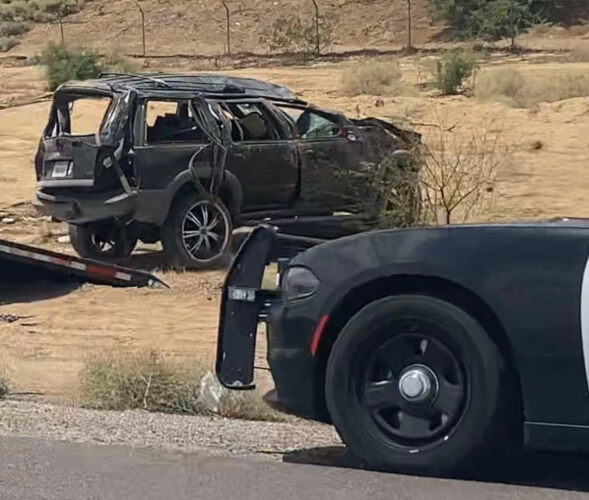 The major crash occurred on the 15 FWY near 1 Yates Well Rd, Nipton, CA 92364. The vehicle looks to have rolled multiple times and ultimately landed facing west.
The camera car was heading South on the 15 FWY as depicted in the San Bernardino County car accident video evidence.
Accidents in and around Nipton, California, are unfortunately not uncommon. Nipton is an unincorporated community in the Ivanpah Valley in San Bernardino County, California.
If you or a loved one were involved in this accident and would like to speak to a California Personal Injury Attorney, contact:
Ehline Law Firm, Personal Injury Attorneys APLC
(833) LETS-SUE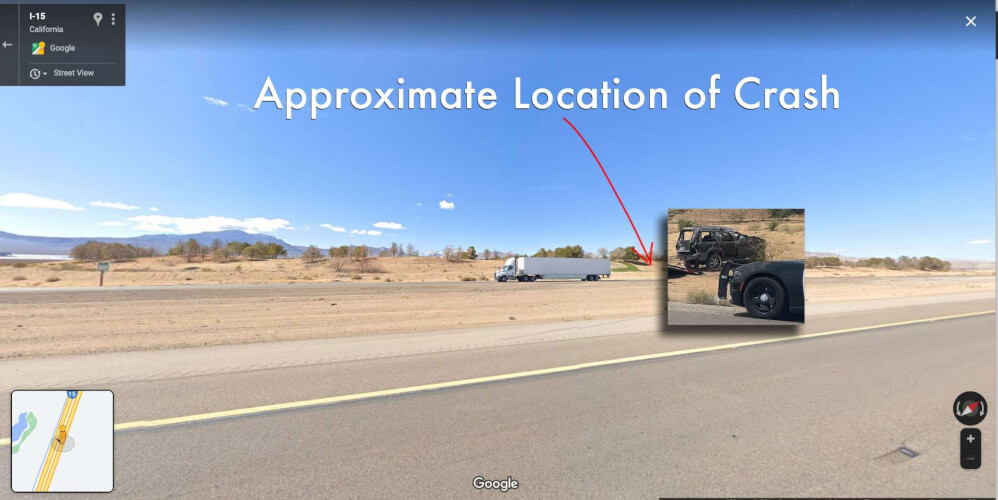 Nipton, CA (July 22nd) – Today, a rollover crash happened on the 15 Fwy near the Primm Valley Golf Course some 35 miles North of Baker, California. The rollover accident happened around 12:05 pm; one vehicle (a dark-colored SUV) was in a rolloverthath landed on the shoulder of the 15 Fwy facing west. It is not yet known what caused this severe car crash and rollover. Both lanes of the 15 Fwy were blocked for a couple of hours, and then only one road was reopened around mid-day.
Rollovers like this happen several times a year, and we're not surprised to hear about it, unfortunately. A rollover accident like this one can be fatal to the critically injured if the driver or passengers are ejected with the car rolling on top of pedestrians or other cars in traffic. It's always important to wear seat belts and never drink alcohol or smoke marijuana if you plan to drive at all. The California Highway Patrol will investigate this rollover and car crash, so we'll keep you updated as soon as they release more information.
Baker accident 15 freeway roll
It is not yet known what caused this severe car crash and rollover, which led to delays for passengers traveling. This story will be updated with more information as it becomes available to us. We are not sure what caused the accident.
California Highway Patrol
CHP Officials were on the scene with a hard closure and are currently investigating the traffic collision. It is also uncertain at this point if there were any injuries or fatalities from this SUV rollover crash and incident. Rollovers tend to result in critical injuries to the driver and passengers. Traffic was backed up for some time due to the closure of both lanes on the 15 Fwy.
Update at 3:31 pm: We have been able to confirm that there were two rollover car accidents near the Primm Valley Golf Course in Nipton, California, in the last week, one on Saturday and another one today, July 22nd, 2021. The rollover happened early this afternoon, not far from each other, about 35 miles north of Baker, CA, along Highway 15.
The CHP team advises that drivers are to use extreme caution when driving on the 15 Fwy near Baker, California, because of rollover incidents like this one. Speed could have been a factor in this rollover car accident, so drivers are advised to slow down and be aware of their surroundings.
Major Vehicle Rollovers
Major rollovers like this can result in severe injury or death for the driver or passengers involved. It appears that anyone riding in the SUV was injured, but we don't have specific details yet.
Witnesses report seeing a significant SUV rollover on 15 Fwy near Baker, California, today around 12:05 pm Pacific time. Construction is being done on various parts of the 15 Fwy in California.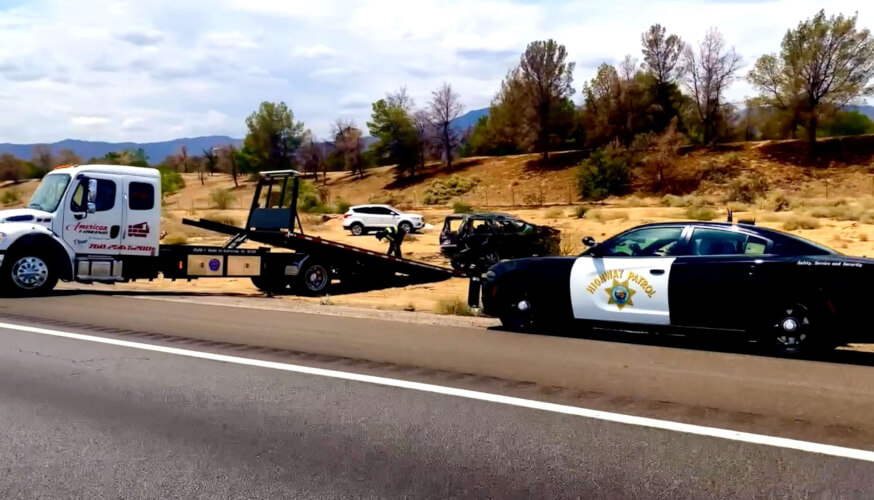 We hope to provide more details soon as we get them from our sources on this rollover accident near the Primm Valley Golf Course in Nipton, California (San Bernardino County). We will update you with any new information that becomes available through social media or other means, including police reports, witness testimony, and others.
If you have any information you would like to share with us, please email it, and we will be happy to look into what has been submitted. If you were personally involved in this accident and would like to discuss your legal rights or if compensation may be due to you, please get in touch with us for a free consultation.
Thank you, and stay tuned for updates.