It is no surprise that distracted driving is a contributing factor in many of today's car accidents.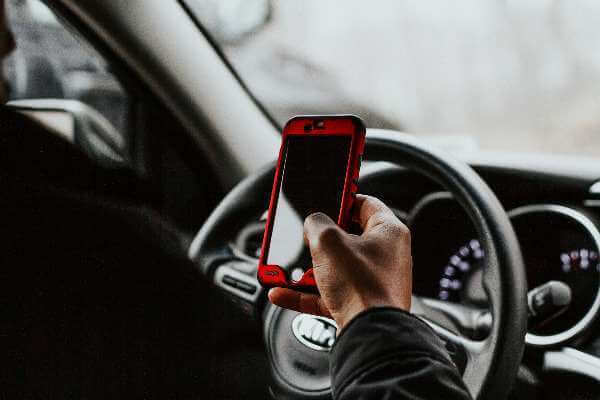 Whether you're eating fast food, texting on your phone, or conversing with another passenger, not completely concentrating on the road might lead to an accident.
This is behavior that could have been avoided. If you are involved in an accident, you should contact a car accident lawyer as quickly as possible.
According to recent distracted driving statistics from the National Highway Traffic Safety Administration and the National Safety Council, distracted driving is to blame for more than a quarter of all car accidents. Something preventable is to blame for a quarter of all motor vehicle crashes.
Furthermore, many driving safety experts feel the proportion is considerably more significant because it is impossible to verify whether a driver was distracted before an accident.
According to a report published by the US Department of Transportation in 2018, distraction-related collisions accounted for nine percent of fatal car accidents in 2016. Distracted driving raises the likelihood of an accident and the likelihood of the collision being fatal.
In this guide, we look at the epidemic of distracted driving and why mobile phone use isn't the only thing that can result in a distracted driver. Distracted driving is dangerous, and learning to avoid common diversions while driving can help you and those around you stay safe.
If you've recently been in an accident, you should contact a car accident lawyer as soon as possible. We can walk you through your predicament and be there for you every step. Call us today at (213) 596-9642 for legal assistance.
What Is Distracted Driving?
Distracted driving, in its most basic form, refers to any activity that diverts your attention away from the road while driving. While most people identify distracted driving with cell phone use, which is a factor, distracted driving includes a variety of actions, such as turning around, talking on the phone, and, in some circumstances, eating while driving.
What Are the Most Common Causes of Distracted Driving?
The Most Common Cause of Distracted Driving
If you were asked what the most common kind of distracted driving was, the most likely answer would be "cell phone use." Cell phones are a frequent cause of distracted driving-related car crashes, but they are not the only cause.
The use of the radio is the leading cause of distracted driving accidents. Moreover, the average individual spends about 30 minutes daily commuting to and from work, and many people listen to the radio to pass the time. You might not think that tuning into your favorite station or turning up the music is a big problem; however, even taking your eyes off the road for a fraction of a second can have a tremendous impact on how quickly you slam the brakes in a crisis.
The car radio is highly distracting for various reasons; for one thing, you must take your hand off the steering wheel and maneuver it toward the buttons to increase the volume or change the station. Nevertheless, physically changing the radio with your hands is not the only way it might be distracting.
While driving, listening to your favorite music or talk show host can reduce your awareness and make you less alert. If you listen to the news while driving to work, for instance, a certain news article may cause you to feel a range of emotions, which could affect your driving.
Driving while angry, upset, or thrilled might cause you to lose concentration on the road and result in an accident. Furthermore, many drivers who listen to the radio choose to listen to their music or show at a deafening volume, making it practically impossible to notice environmental noises.
If your tire is low on air pressure, it might make a loud thudding sound when driving. While you can usually tell if your tire is low by looking at a warning light or feeling vibrations in your car, there are occasions when you can only tell by hearing it.
If your radio is excessively loud, you may not notice the sound until the tire has popped, resulting in a serious collision. High-volume radio listening can make it harder to hear other essential sounds, such as a train horn or a police siren.
Finally, your radio can visually, cognitively, and physically distract you.
Were you in a car accident recently while listening to the radio? To speak to a trusted automobile accident attorney, contact us at (213) 596-9642 or via email.
Other Causes of Distracted Driving
As previously said, an individual can become distracted while driving in a variety of ways.
The use of a car radio and cell phone use is the most well-known distractions; here is a thorough list of other possible causes of distracted drivers:
Sending emails or text messages on your cell phone or tablet while driving
Texting while driving
Eating while driving
Brushing your hair or teeth
Putting on makeup
Watching videos on your phone, in-car device, or tablet
Looking at a physical map or a map on your phone
Talking to other passengers
Uncontrollable emotions or tiredness
Looking at objects or things outside the car while driving.
Anything that takes your attention away from the road while driving is a distraction that must be avoided at all costs. While many drivers believe they are skilled enough to ignore these distractions, the truth is that even a split second of lack of focus can result in a devastating accident.
Though driving without distraction is challenging, the less distracted you are, the more likely you will avoid a fatal crash. Don't make the mistake of thinking an accident will never happen to you! Here are a few pointers on how to avoid becoming distracted while driving.
Tips for Distracted Drivers
Do Not Drink or Eat While Driving
Drinking and eating while driving is another prevalent source of distraction that numerous drivers engage in. It may only take a fraction of a second to look away and pick up your can of Coke, but an accident can happen in that fraction of a second. If you must drink or eat while driving on a long road trip, pull over for 15 minutes and eat your food safely.
Only Use Technology in the Event of an Emergency
Using your cell phone solely for emergencies is easy to reduce distracted driving quickly; for example, if you witness someone driving recklessly and jeopardizing others on the road, you may use your cell phone to report the license plate. The safety of you and others on the road is more significant than a phone conversation or a text message.
Consider employing hand-free electronic devices if you have to take a phone call.
Stop Driving if You Are Angry, Tired, or Upset
When you are behind the wheel of a car, your emotions greatly impact how effectively you can focus on the road. If you're feeling unusually drowsy, furious, or upset, consider pulling over to the next exit and taking a few minutes to regain your calm. One of the most dangerous distracted driving behaviors is driving while you're tired.
You can do unsafe things, which is thought to be equivalent to driving while inebriated. Under no circumstances should you drive if you are having difficulties staying awake.
Give Your Passengers Safety Rules
If you are driving with a large group of passengers, they mustn't chat loudly or engage in any other distracting actions. Establish ground rules, such as no roughhousing, heated discussions, or anything else that might divert your attention away from the road. It may seem extreme, but it leads to distraction-free driving!
Save the Grooming for Home
Committing to focusing on your appearance at home is one of the best methods to minimize distracting driving. It is understandable to want to look presentable for a date or work; however, brushing your teeth, applying cosmetics, or enhancing your appearance while driving can be fatal.
Distracted Driving Accidents Can Happen to Anyone
Finally, don't think it can't happen to you regarding distracted driving. You can attempt to avoid fatal crashes that are ultimately avoidable by taking the appropriate safeguards and becoming aware of possible distractions.
Although avoiding distracted driving accidents is not always feasible, making every effort to limit distractions improves your chances of arriving at your destination safely.
Distracted Driving Statistics
While we may think of distracted driving as a newer issue as more technology becomes available in our automobiles, it has been a concern for many years.
In April 2006, students and scientists at the Virginia Tech Transportation Institute and the National Highway Traffic Safety Administration issued independent research. Their finding showed that over 80% of collisions and 65% of near-crashes involved some driver inattention within three seconds of the occurrence, including applying makeup and cellphone use.
The report says that using a cell phone while driving was a common distraction, followed by tiredness. Cell phone use was shown to be considerably less probable than other distractions to cause an accident in the study. Grabbing for a moving thing increased the risk nine times, but conversing on the phone only increased it by 1.3 times.
The key facts from 2015 show that 3,477 people were killed, and approximately 400,000 others suffered car accidents caused by distracted drivers.
According to historical data from the National Highway Traffic Safety Administration, the number of distracted driving fatalities appears to have reduced between 2010 and 2018. When the total number of distracted driving accidents is compared to the total number of collisions, distracted driving continues to be a significant contributor, accounting for 14% to 17% of all crashes.
Risk Factors
When you look at the facts on distracted driving, you might notice a few important risk factors:
Age: While parents commonly assume that teen drivers are the most distracted, statistics suggest that is inaccurate. The number of fatal crashes harming victims caused by distraction was highest among drivers aged 20 to 29 (adults), compared to only 9% among teen drivers aged 15 to 19 (typically high school students). Visual processing at higher speeds is hazardous, with a cognitive distraction on the roadway.
Passengers: According to studies, limiting the number of passengers in vehicles driven by young drivers minimizes the incidence of fatalities. A backseat driver can divert attention and cause other cognitive distractions. Furthermore, according to a national survey of young drivers, fatal crashes were 21% fewer when no passengers were allowed and seven percent lower when only one passenger was allowed.
State Distracted Driving Laws (Cell Phone Calls/Texts)
Research shows that distracted driving has many adverse effects, including points on your driver's license, fines, license suspension, and even jail time if you cause a collision.
Rather than broader driving laws, most states only have legislation prohibiting cell phone use while driving. Twenty-four states prohibit using portable devices while driving, 20 prohibit cell phone use while driving, and 48 states ban texting behind the wheel. Montana and Missouri are the only states that do not prohibit texting with cell phones while driving.
Nevertheless, just because your state doesn't have a specific restriction on eating or applying cosmetics while driving doesn't mean you won't get caught. If a police officer sees you committing a primary violation while distracted and pulls you over, you may be charged with a secondary offense in some jurisdictions. Remember that if your behavior qualifies for unsafe or reckless driving, police have the authority to issue a ticket, so your best strategy is to avoid driving while distracted.
Does Distracted Drive Impact Car Insurance Rates?
The Centers for Disease Control (CDC) driving statistics say yes! Distraction-affected crashes, even using a hands-free cell phone, harms drivers ages 16 years old and up. If you are distracted while driving in some jurisdictions, such as Kansas, the police can charge you with reckless driving. This type of charge may make it challenging to apply for jobs, and it can indeed impair your ability to shop for vehicle insurance, perhaps raising your rates.
According to The Center for Policy and Research, distracted driving has increased insurance prices by 16 percent nationwide since 2011. Distracted driving can easily result in a crash or even cause you to press harder on the gas pedal. Driving when drunk can also lead to distractions. The traffic safety facts in this regard are undeniable, and if at fault, insurance premiums will go up for crashes involving visual distraction and a handheld cell phone.
Contact Ehline Law Firm Today for Distracted Driving Car Crashes
Despite your best efforts, you may be involved in an accident due to a distracted driver trying to multitask using smartphones. Though all collisions are dangerous, driving distractions can bring specific legal problems that must be addressed. The severity of the accident heavily influences any potential legal or financial consequences.
We understand how frightening and nerve-wracking distracted driving accidents may be, and we've helped thousands of clients get back to their everyday lives as soon as possible.
Call us today at (213) 596-9642 for a free consultation, and one of our automobile accident lawyers will help you deal with the uncertainty and stress that your accident has brought.
Citations:
Main Los Angeles Location
633 W 5th Street #2890 Los Angeles, CA 90071 (213) 596-9642.