Legalities Of Riding With A Child On A Motorcycle?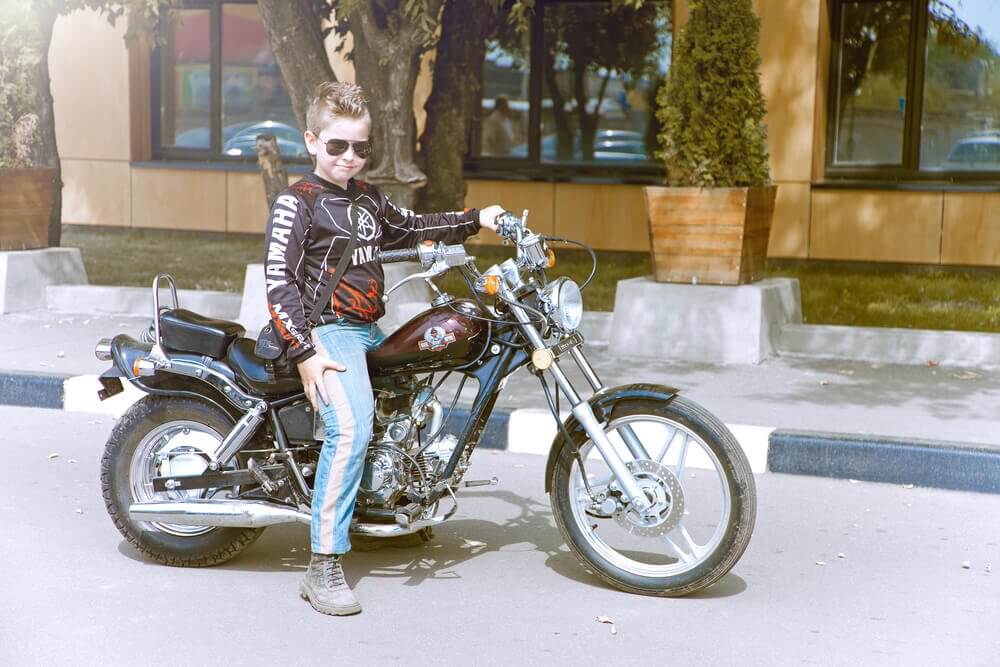 For some, it's a death wish; for others, it is a rite of passage. But riding a motorcycle as a child in Los Angeles is very dangerous. There are two main ways children get hurt while riding on motorcycles. The first-way kids get hurt while straddling a moving motorcycle is when they are passengers on the back of the bike or in front of the operator. The other way they get hurt is while behind the handlebars as motorcycle operators.
First, it is legal for kids to ride on the back of a motorcycle on public roads. And although sitting on a moving bike as a passenger is legal for minors in California, there remain height and other safety protocols to do so legally. I am attorney Michael Ehline. And I am among the most successful biker lawyers in Southern California. With the help of my competent lawyers and staff, Ehline Law Firm Personal Injury Attorneys, APLC, has earned millions of dollars for its customers. We have assisted thousands of personally injured people and their families in grieving and stabilizing their families after the fallout of serious motorcycling collisions and spills.
Second, when it comes to the operation of a motorcycle, it is not legal for the youth to operate motorcycles on our public roads without permission from the California Department of Motor Vehicles ("DMV"). Legitimate ways for some kids 15 1/2 to 17 years old to ride choppers or cruisers include getting a parent's written permission and obtaining a learner's permit or a license, discussed more below.
Below, I will discuss a few of the rules regarding child motorcyclists and passengers and some injury avoidance tips. Next, I will cover the duties of parents and the police regarding on and off-public road riding.
Most of all, this is a delicate topic for many moms and dads. Many fathers and mothers are ok with their kids riding an ATV or a dirt bike while off-road, helmeted, booted up, and supervised. But few parents would agree to let their children ride a Ducati street bike on the asphalt streets of Los Angeles, whether the road is public or private.
By nature, motorcycle crashworthiness is a far cry from the protections offered to passengers inside a closed vehicle. Bikers are far less visible to vehicle drivers, bicycle riders, and pedestrians. Because of this, riders must be doubly cautious when sharing the roads. Also, motorcycles are less stable when compared with cars. And they are no match for an oncoming big rig or commercial bus. Even the lightest passenger vehicle will make mincemeat out of a motorcyclist upon a slight impact. Parents and kids need to exercise a lot of care to avoid fatal accidents or catastrophic disability.
What is the Age Requirement For Children to Ride Legally as Passengers On The Back of Motorcycles?
There is no statutory age for a child to ride on a motorcycle as a passenger with an appropriately licensed operator in California. Ironically, every state in the union requires occupants of enclosed motor vehicles to strap in with a safety harness. But nationwide, seat belt legislation does not apply to motorcycles. Most safety experts argue that strapping a child on to an unstable vehicle will not keep kids safe during a crash. In fact, rather than being ejected from the bike, the child ends up becoming part of the motorcycle, grinding to a halt, and ending up wherever the motorcycle comes to a stop.
On the other side of the argument, some experts opine that strapping the child to the cycle will keep the child from falling or flying off when riding as a passenger. Either way, motorcycles are not as safe as cars. But the law is the law. As a supplement to the California Driver's Handbook, the DMV has published rules for child riding. These rules are found in the California Motorcycle Handbook.
Are There Age Requirements for Youthful Passengers on Motorcycles?
While California doesn't have a minimum age to ride as a motorcycle passenger, it does have height guidelines for children riding on motorcycles. Interestingly, the California legislature has decided to use the same height guideline as that governing security restraining devices in enclosed motorcars.
A child must be four feet eight inches tall to ride on the back of a motorcycle. But let's say the child has short legs or it's a tall bike. And what happens if the kid can't reach the footpegs or rest their feet comfortably? So, in that case, the LAPD or CHP will likely cite the rider and force the passenger off the bike. In some cases, law enforcement may involve Child Protective Services or arrest the operator for child endangerment. So this is no joke. Get a safe bike for short riders, modify the bike to suit otherwise unlawful passengers, or ride solo.
To recap, with "appropriate precautions," children who meet certain height and weight requirements can ride as passengers on motorcycles. But there is no specific law we could find addressing whether a child could ride on the lap of the motorcycle operator while straddling the gas tank, for example. We will address this later.
Only experienced riders should carry passengers or large loads. The extra weight changes the way the motorcycle handles, balances, speeds up and slows down. Before taking a passenger or a heavy load on the street, practice away from traffic. (Source DMV).
Imagine driving with a child on the back of your bike while navigating a hairy intersection of the city at rush hour. Could you not do it? After the ambulance comes, assuming the child makes it. You are the one bereaving and kicking yourself.
Breakdown of Child Passenger Rules for Riders to Follow:
Install the Proper Equipment for Passengers
Install a seat big enough for the passenger and the rider without crowding. Also, the rider should not have to sit more forward than when solo riding.
Equip the bike with footrests for the passenger. These precautions remain vital to helping prevent a passenger from falling off and pulling the rider off in the process.
Make suspension adjustments to deal with the extra weight. The bike owner may want to pump extra compressed air into the bike's tires to compensate for additional passenger weight.
While seated with your passenger, "adjust the mirror(s) and headlight according to the change in the motorcycle's angle."
You may want to install a passenger seat and sissy bars.
Simple Rules for Child Motorcycle Passengers
Even if your passenger is a motorcycle rider, provide complete instructions before you start.
Make sure the child is tall enough to reach the footrests.
Ensure the child wears a DOT-approved, snug-fitting helmet that is not top-heavy.
In the best-case scenario, the child wears safety clothing, including leather chaps, long jeans, riding boots, shielded gloves, and a riding jacket with a kidney belt.
The child should not straddle the bike until it's started. And this is especially true for riders who kick-start their bikes. The weight will be off, and this could cause the bike to fall over.
The smaller person on the back should hold on to the operator's belt, waist, or hips.
The child should always keep their feet firmly resting on the footpegs, whether moving or stopped.
Warn the child to keep their ankles and thighs off the exhaust pipes, belts, chains, and other moving parts that could catch a finger or foot.
Match and mirror the movements of the rider as you cling and lean, looking to your left or right in the direction of the driver's turn.
Don't fidget or move in any way that can shift the weight of the motorcycle.
Don't chat or BS with the operator, even if you have a communications system in place. Avoid anything that will distract the motorcyclist.
Operators Should Warn their Occupants About the:
When accelerating from a stop or rolling stop.
Any sudden or sharp, unexpected turns.
Understanding the Physics of Riding Motorcycles With a Rear Child Passenger
No matter if you're in a bike club or are a veteran rider with years of experience, riding with a passenger, especially a heavy one, can be less safe and lead to distractions. Anytime you add extra weight to the bike's frame, the performance of your motorcycle becomes degraded.
The more massive CC the motor and louder the pipes, the better it will be, but it's no guarantee you will be able to ride as you did when solo. And the more abundant and taller your passenger, the longer it can take to brake or accelerate your bike.
Take precautions to go slower when riding with precious cargo like a child. The lead time needed for taking corners and safely rolling over maintenance hole covers, dips, potholes, and bumps, is drastically increased.
Don't lane split, and maintain a safe cushion of space 360 degrees around your bike at all times.
Allow time for more significant gaps in traffic before attempting to merge or enter an onramp or offramp.
Are There Front-Riding Passenger Rules for Kids on Bikes?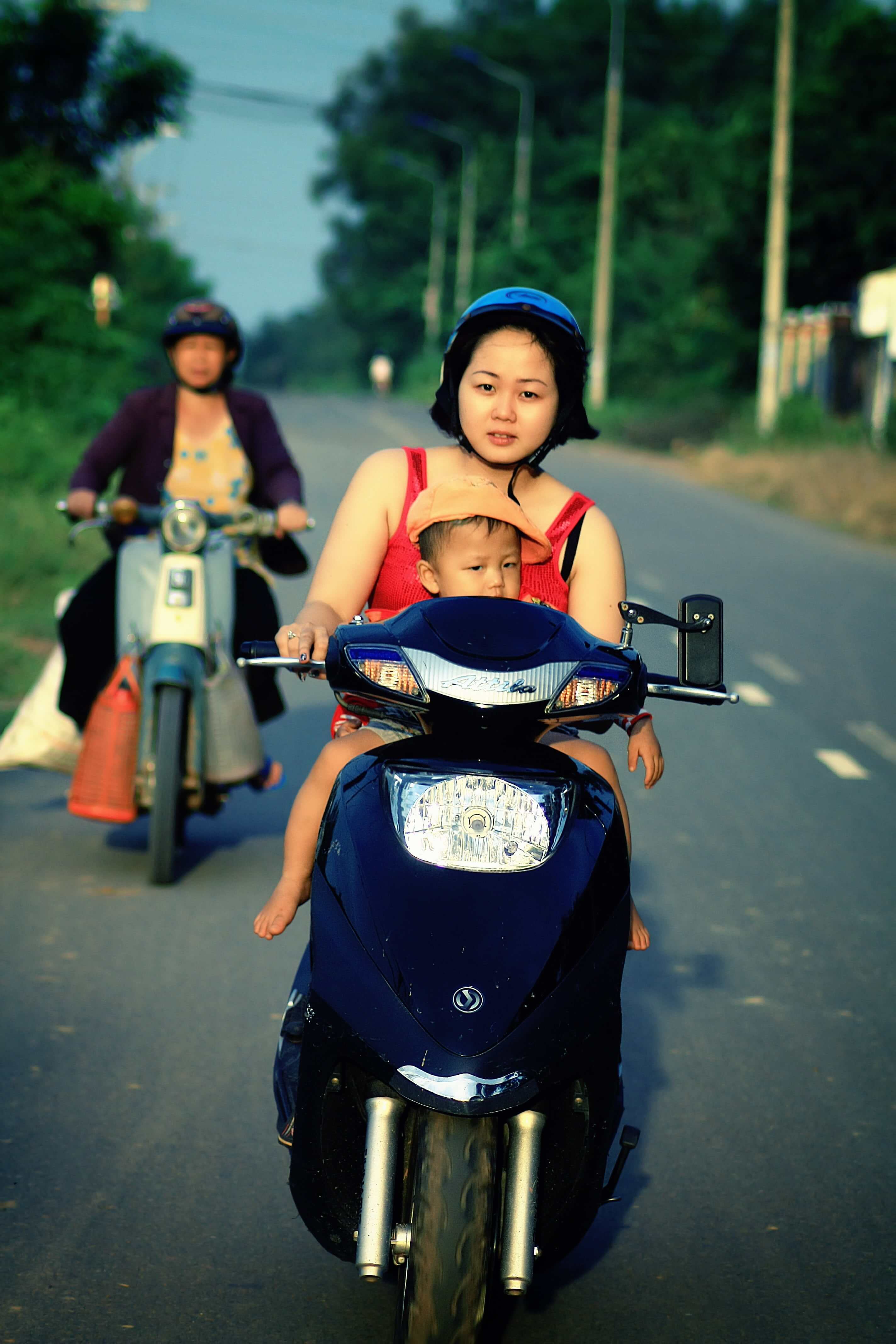 Not that we could find. We have all seen it in old biker movies, a roughneck has his girl on his lap, or she rides in front of him with her face looking at his. But it's super dangerous, especially with a kid. Although we found no law specifically on point, it appears this is probably a reckless act to take while riding with a child passenger. First of all, the child's helmet will be banging into the rider's facemask.
It would be very hard to make a U-Turn or exercise due care with a child passenger sitting on the front of the bike. And what about the required footpegs? Were they mounted, allowing the proper comfort level for the passenger? Next, where will the child's tiny hands to grab? The handlebars?
A child riding in front of a motorcycle is inherently unsafe, as it presents distractions and will interfere with safe turning. Grabbing onto the gas tank isn't safe, and neither is reaching backward or grabbing onto the operator's legs. Think about it, What about quick or rapid stops to avoid a crash? That little kid will launch into the air, that's what! Dad is going to panic and try to grab the child's arm or ankle, with one hand holding the handlebar grips.
The bike will probably lose control and skid out in any of these scenarios. So the child is likely to suffer emotional and physical injuries and maybe get killed. Even with laws allowing it, motorcycle riding is for the brave of heart. Law enforcement and safety experts all agree that parents should try not to ride with kids on the backs or front of motorcycles whenever possible. Kids can endure devastating and deadly injuries in an accident such as this.
But it's up to the grownups to understand the risks of riding motorcycles with kids on them. Sadly, some reckless or testosterone-driven guardians are willing to accept risks on behalf of youngsters or their parents when they shouldn't. Examples can include your crazy biker uncle, and so on and so forth ad infinitum. Still, following the letter of the law by taking precautionary steps typically means the adult in charge will escape liability for criminal wrongdoing. Whether civil liability in tort will attach is a different question.
California Youth Motorcycle Operating Rules – What is the Legal Age Required to Ride a Street Bike?
Rules for Youth Street Riding.
First off, only teens aged 15 1/2 through 17 years old or more can get a motorcycle license in the state of California. But in addition to a driver training and education course, new motorcycle riders must attend and pass a motorcycle rider training course.
"…must submit a DL 389, bring proof of completion of both driver education and driver training or have a Class C driver license, and pass both the driver knowledge and the motorcycle driver knowledge test. . . . applicants under 21 years old are required to complete a CMSP training course before receiving a motorcycle instruction permit." (Source.)
Also, M/1 and M/2 permit holders may not ride on the freeway, carry passengers, or operate their motorbikes when it is dark outside. But still, parents and kids need to be clear about what is legal compared to what is safe. In other words, just because you can get a motorcycle license doesn't mean it's always the smart thing for you.
Critical: Even with a permit, we advise you to avoid riding on the freeway during rush hour. Also, don't try lane sharing until you have adequate training in the other basics of riding safely. According to TIMS, unsafe lane changes accounted for 16.45% of all reported Los Angeles County motorcycle accidents from 2017-2019.
Tip: No Newbie riding during inclement weather. You could get killed.
Motorcyclists and their passengers are more vulnerable to the hazards of weather and road conditions than drivers in closed vehicles. (Source).
Rules for Child Recreational/Off-Road Riding of Motorcycles and ATV's
A side-by-side (ROV) operation requires the driver to be 16 or older unless an exception applies. For example, suppose the vehicle operator is under 16 and supervised by an adult or someone appointed as a guardian to monitor the child. In that case, kids can generally operate off-road vehicles, OFF-ROAD. Like most rules for safe riding with kids, to run a UTV or ATV, the child must be able to safely work and reach all the vehicle's controls, such as the footpegs and brakes.
Important: Even if your child doesn't need a motorcycle permit or license for the recreational riding of a motor vehicle, it doesn't mean they should venture out into the tundra unless you know how to prepare them for their fun, risky adventure. Everyone needs to know that motorcycle occupants remain at a significantly higher risk of dying or suffering a lifetime injury than motor car occupants.
You Are What You Eat or Drink:
Don't let your kid drink energy drinks during sporting events.
Drink plenty of water or Gatorade.
Avoid caffeine, alcohol, etc.
Recent studies show a connection between sporting, energy drinks, and Traumatic Brain Injuries. So we say better safe than sorry. A helmet won't prevent a closed head injury, either. So let's not risk pumping blood at high levels when your kid is at greater risk of falling and hitting their head while learning how to maneuver a bike calmly. Staying hydrated can also help prevent heatstroke and heat exhaustion as your child drips in sweat on a hot California day.
Kids Must Be on the Lookout for Dangers When Riding!
Many of our youth want to enjoy a spin on two-wheeled or recreational vehicles. But with each mile ridden, the greater the likelihood of a wreck. A 2017 study from the Insurance Information Institute showed that motorcyclists were 27 times more likely than people inside of small cars passenger cars to suffer a fatality during a crash "per vehicle mile traveled." And don't forget that kids, in particular, are more risk-averse than adults.
So it remains essential that parents and teachers educate them as to the unique privilege and responsibility that riding or being the passenger on a motorcycle brings to one's life. On the one hand, the kids are young and want to go out there. On the other hand, others frequent the same riding trails and streets. So there are not a lot of pedestrians and other riders around who could be injured.
There are many causes of injuries from riding. So during this learning time, young riders are still developing their reflexes and learning capabilities; they must be trained. Most of all, young riders must account for keeping other people and themselves safe while riding. So risk safety/assessment/avoidance is the first duty of parents and instructors to teach young, novice riders in their journey to becoming skilled, competent motorcyclists.
What Do the Los Angeles County Child Motorcycle Accident Statistics Say?
First, before we go into the rules for riding with a child passenger on the back of your bike, let's take a look at ELFPI's Los Angeles Countywide statistical research from 2017 through 2019. There were 12,799 reported Los Angeles County motorcycle collisions involving children and adults. The numbers for all victims, including bystanders, are 359 killed & 14,038 wounded. Of these numbers, 4,972 (38.8%) happened on a California State Highway. (See also Traffic Integrated Mapping System ("TIMS").)
The Los Angeles County Collision Severity Statistics:
Fatalities = 354 dead, or 2.77%.
Severe Injury = 2489, or 19.45%.
Injury with Complaints of Pain = 4206, or 32.86%.
Injury (Other Visible) = 5750, or 44.93%.
What Are the Youth Motorcycle Collisions Statistics for Los Angeles?
Out of the above numbers, 1,285 of these motorcycle accident victims were ages 1-19. Regrettably, TIMS did not break down the types of injuries by age group. But we must assume that most children were at least 8 or 9 due to height and weight restrictions. And we also have to consider that not all of these child victims were necessarily riders.
EXAMPLE: Some of the injuries to bystander kids could have been from flying or falling objects during the crash. Examples could include fragmented car or motorcycle parts flying around like shrapnel, causing eye and other head injuries. Imagine a child waiting at a bus stop being peppered with debris after two or more vehicles collide to get an idea.
But based on what we know, not even a helmet can save a child's life considering the forces involved in a bad wreck. Despite the risks to kids riding on the back of motorcycles on public roads in such crowded towns as Los Angeles, San Francisco, or Newport Beach, for example, it remains legal under the Vehicle Code.
What Are Some Common Injuries to Children On Motor Bikes?
Let's lay a foundation here. For example, motorcyclists will travel to visit a brother or sister's kid. Maybe it's for a barbeque and a few beers to talk about old times. After, perhaps, the niece or nephew wants to ride around the block on the back of the bike. But what if the operator is riding unfamiliar terrain? Riders discovering new roads, especially with a passenger, remain at high risk for injuries.
Since novices and small children are not familiar with mirroring the rider's body movements, they remain ill-equipped to avoid injuries on the back of a bike and are likely to suffer the most. First, we need to discuss the various ways that injuries are amplified in kids to understand the risks they most face.
Eggshell Skull Rule and Child Riding Injuries
Children are at different types of injury risk on the back of a motorcycle. There is a maxim of personal injury law: "You take your victim as you find him." So if the victim had an eggshell thin skull and defendant broke it, the defendant could not argue it was the thin skull and not the plaintiff's actions that caused the Injury. In the case of elderly folks, they may have brittle bones. In the case of little kids, their small bodies are still developing.
So when they fall or fly off a bike, their still-developing brains and bones can suffer in ways unthought of by most healthy adults. One common bone-related disorder from a child riding break is Osgood–Schlatter disease. And, of course, kids remain at great risk for death from a motorcycle-related collision.
Due to the increased coincidence of head impacts and flailing limbs, children tend to suffer the following riding injuries:
We advise parents and guardians to always play it safe with precious cargo aboard. The best way to prevent such Injury is by not letting your child anywhere near a motorcycle. But if you go for it, keep in mind the role that mentoring and safety training plays before a child gets on a motorcycle.
It is no different than firearms training. You have to learn safety first. Sometimes averting an injury while riding is not possible. But with safety devices, training, knowledge, and skill, many risks can be avoided altogether. Parents and instructors owe it to their young disciples to train them well.
What Are Some Examples of Recent Motorcycle Child Rider Accidents in the News?
In a tragic accident just days ago, a woman riding a scooter with a child on the back was hit by a motor vehicle in Oxnard, California.
"The Sheriff's Office said a vehicle and motorcycle collided on Pleasant Valley Road. The woman driving the scooter was pronounced dead at the scene. Deputies said there was an 8-year-old child riding on the back of the motorcycle who sustained life-threatening injuries. The child was transported to Ventura County Medical Center for treatment. We do not know the child's current condition." (Source).
Other examples include cases where a kid takes dad's Harley Davidson out for a joyride. Dad should have done a better job locking up his hog. Another case includes a teen rider in Arizona killed on his sports bike.
Investigators said the boy was traveling westbound on Encanto when he crashed with a pickup truck driver who was making a turn. The driver and the passenger of the truck remained on the scene and are cooperating with investigators. Impairment doesn't appear to be a factor, police said. It's unclear if the speed of the motorcycle played a role. An investigation is underway. (Source).
Above is just a snapshot of the child-riding cases we have encountered as Los Angeles motorcycle attorneys. We see reports of children and teens hurt in riding accidents worldwide daily.
Do You Need Legal Help for a Child Riding Accident?
Did you or your child suffer injuries as a rider or a passenger in a Los Angeles riding incident? If so, you may have a justiciable case against another driver, the motorcyclist, a motorcycle manufacturer, or a mechanic. A Los Angeles motorcycle accident lawyer at Ehline Law Firm, Personal Injury Attorneys, APLC, can help you pursue the fine details of your potential new case.
California motorcycle attorneys at Ehline Personal Injury are available in locations all across California. We can meet you in Torrance, San Bernardino, Los Angeles, San Francisco, Carlsbad, Riverside, and West Hollywood. Let's work out the details of your case before the Statute of Limitations Expires. Call a zealous lawyer now at (213) 596-9642.
Main Los Angeles Location
633 W 5th Street #2890 Los Angeles, CA 90071 (213) 596-9642.