We all believe that ridesharing is a safer and more convenient alternative (due to easy access to ridesharing apps), but do we ever consider how often rideshare drivers are involved in accidents?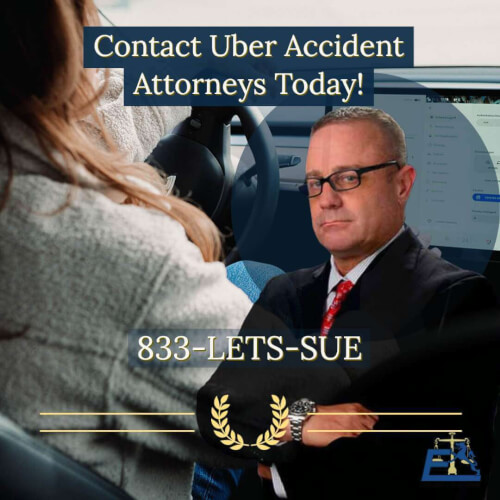 Discover the Secrets Lyft and Uber Want Buried
The ridesharing industry is convenient for passengers, but it comes with its own set of problems, particularly for those involved in a ride-sharing accident. According to recent distracted driving statistics from the National Highway Traffic Safety Administration and the National Safety Council, distracted driving is to blame for more than a quarter of all car accidents. Something preventable is to blame for a quarter of all motor vehicle crashes.
Furthermore, many driving safety experts feel the proportion is considerably more significant because it is impossible to verify whether a driver was distracted before an accident.
Is there any way to maintain track of ridesharing accident facts, given that Uber, Lyft, and other rideshare drivers are independent contractors? One might expect the local Public Utilities Commission (PUC) to oversee the ridesharing business, but regrettably, most of the detailed information is kept hidden from the public.
Uber and Lyft Accident Statistics
Here's all you need to know about rideshare statistics, particularly those for Uber and Lyft:
The University of Chicago Booth School of Business has published an in-depth study examining the rise in popularity of ridesharing applications and ride-hailing services, as well as the rise in the number of motor vehicle accidents and fatalities that have resulted. According to the study, rideshare services, such as Uber and Lyft, have resulted in a 3% rise in overall car accident fatalities.
Researchers calculated this figure by looking at the popularity of rideshare usage between 2010 and 2016 by assessing traffic volume, preferred modes of transportation, and the total number of car accidents in the eight financial quarters before and after both businesses' rollout dates.
The University of Chicago's rideshare accident analysis incorporated data from the National Highway Traffic Safety Administration (NHTSA) and compared accident rates in key cities where ridesharing apps were initially introduced (relative to the total number of vehicle miles traveled).
The Study's Findings Reveal Some Troubling Statistics:
Below are some rideshare accident statistics:
The increasing number of rideshare vehicles on the road is responsible for about 1,000 daily car accidents.

Between 2017 and 2018, Uber vehicles were involved in 97 fatal crashes.

A total of 107 people died as a result of these collisions.

Riders made up 21% of the crash victims.

Drivers made up 21% of the crash victims.

Third-party drivers or passengers made up the remaining 58% of crash casualties.
The rideshare accident report concludes that whether you're a rideshare driver, passenger, or traveling in a third-party vehicle, you're more likely to be involved in a serious or fatal crash.
While ridesharing applications are convenient and necessary modes of transportation for many people, their growing popularity has made our roadways more dangerous by increasing the number of fatalities caused by Uber and Lyft accidents.
Other Important Results from the Report Include the Following:
The rise in rideshare accidents appears to be continuing (and in some cases increasing) over time.
Throughout the week, weeknights, weekend days, and weekend nights, the accident rate has stayed consistent. With 32,885 fatalities reported in 2010, the number of road deaths in the United States was at its lowest level since 1949.
In 2016, the number of people killed on the roads jumped to nearly 37,400. Accidents at drop-off and pickup locations are also on the rise.
Increased use of ridesharing apps is linked to more cars on the road, which leads to increased accidents, injuries, and fatalities involving all sorts of travelers, including drivers, passengers, bicyclists, and pedestrians.
The study also points out that a rise in rideshare accidents is attributed to Uber and Lyft drivers simply spending more time on the roads rather than more rides being hailed by app users. It's crucial to remember that rideshare drivers don't spend all of their time transporting passengers from one location to another.
Approximately 40% to 60% of the time, rideshare drivers either travel to pick up passengers or look for new ones (waiting for a rider to purchase a trip). Furthermore, rideshare customers in major cities are more likely to be involved in accidents, with 90% of Uber accidents occurring in urban areas.
Rideshare Accident Statistics
Uber is now a multibillion-dollar company. It's a worldwide force that's grown at a breakneck pace since its start less than a decade ago. Thousands of Uber drivers now transport hundreds of thousands of clients each year. Uber drivers spend a lot more time on the road than regular drivers. As a result, they are more likely to be involved in collisions.
Furthermore, Uber drivers might be involved in accidents for the same reasons as other drivers: carelessness, negligence, recklessness, and illegal behavior. Here are a few noteworthy Uber statistics:
At night, Uber drivers travel the most. According to the Uber Newsroom, the most popular time to request an Uber is Saturday from 11 p.m. to midnight. Due to poor illumination, drowsy driving, and drivers under the influence of drugs and alcohol, accidents are more likely to occur in the evenings in Los Angeles.
Uber has a global user base of over eight million people. With so many people using the ride-hailing service, it's no wonder that Uber accidents occur regularly. Due to the packed highways in LA, there is a heightened risk of accidents such as rear-end collisions and pedestrian accidents.
Additionally, Uber is not regulated by the government in the same way that taxi firms are. The corporation can set its own hiring, training, and safety regulations for its drivers. This may result in unqualified and potentially dangerous drivers picking up passengers. The company's liability release may limit your legal options if you get into an Uber accident.
Rideshare collisions follow a different set of laws than traditional collisions. Uber drivers in California are self-employed contractors. Although this would ordinarily exempt the corporation from culpability in driver-caused accidents because drivers are not employees, some complex lawsuits involving this topic have resulted in the courts holding the company liable for certain incidents. Hire a good lawyer after a Lyft car accident.
The Actual Cost of Uber or Lyft Accidents in LA
Every day on LA roads, Uber accidents occur. Here are a few examples you may have heard about in the news:
The rideshare driver in a drunk driving accident in Los Angeles was arrested and charged with manslaughter. Well, at the very least, that was the headline in the news. You didn't notice that the victim in this story was a female Uber customer aged 20 who died due to her injuries after being transported to a nearby hospital.
Unfortunately, this isn't the first time a drunk Uber or Lyft driver has caused a tragic ridesharing accident in Los Angeles. When an alcoholic driver jumped a red light and slammed into their vehicle, an Uber driver was killed, and her passenger was critically injured. Following the tragic Uber accident, the driver was charged with murder while the surviving victim and her family fought to rebuild their lives.
Five passengers were hurt in a Los Angeles Uber accident after a car rammed into an SUV in an eerily similar situation. The SUV, which was carrying Uber passengers, flipped over, throwing everyone inside around and injuring them. At the time of the accident, the car's driver was suspected of being under the influence of alcohol.
Alcohol isn't always necessarily the cause of the problem. A foreign exchange student was killed in an Uber accident after an SUV collided with the vehicle she was riding in one example. That SUV is said to have run a red light. Was the driver going too fast? Were they oblivious to the Uber app? It doesn't really matter to the victim's family in the end.
Uber Has Been Criticised for Mishandling Car Accidents in LA
Uber has been criticized numerous times for the way it handles accidents on California highways. According to new research, rideshare providers may lie to the public about accidents to make Californians believe it is safe to use their service. You should be aware that the law in California governing rideshare services is continuously changing. Lawmakers are trying to bring the law up to date. 
Here's something to keep in mind concerning Uber accidents: Uber is hoping that you will either not file a claim or will take a low-ball settlement. This could explain why the company's claims procedure is so slow and frustrating.
Is Uber's Insurance Coverage Adequate?
Insurance inquiries and claims after an Uber accident might be confusing. Despite holding $1 million in liability insurance, the company's policy leaves an open question about who is responsible in the event of a collision. Uber's policy terms include a clause that indicates that passengers use the ridesharing platform at their own risk.
The corporation is not liable for the safety of its drivers or the quality of its services, according to the terms and conditions. This language is in direct conflict with the insurance policy of the company. Several lawsuits have been filed against the company for failure to pay for driver and passenger damages as a result of this irregularity.
Passengers can quickly register a claim with Uber's insurance provider and obtain a payment offer in the event of a simple car accident. This isn't always the case, though. The corporation may disclaim liability for your accident, leaving you to submit a claim with the driver's insurance or your own.
If Uber's insurance coverage is insufficient to cover your losses, a third-party insurer may be able to cover the remaining costs. After an Uber accident, talking to some personal injury attorneys about your chances of pursuing a personal injury claim against the liable party is a good idea. In many cases, a personal injury claim in San Francisco is worth more than a Lyft passenger wrongful death insurance claim.
Sexual and Physical Assault of Uber Drivers
Safety issues for females and more vulnerable members of our society are something for which the popular rideshare app has become known. Uber's ridesharing services incident history includes more than just car accidents when it comes to small children or a woman.
There have been 222 Uber/Lyft-related reported attacks and harassments, 60 alleged assaults by drivers, and ten alleged kidnappings, according to Who's Driving You.
Furthermore, there have been 26 deaths related to Uber and Lyft drivers who have been negligent and criminal. Uber drivers in Los Angeles are accused of doing things like:
Passengers being dragged out of the vehicle

Taking the phones of travelers and rideshare users

Threatening passengers with violence

Knives pointed at passengers

Passengers kidnapped

Passengers who are sexually assaulted

Driving for ridesharing companies when intoxicated

Pretending to be an Uber driver

Crashing into a service station, causing fire and explosion, deaths and injuries
In incidents of sexual and bodily assault involving an Uber driver, criminal and civil charges may be filed. At the same time that a criminal investigation is underway, you can file a personal injury claim against the suspected offender. Both sorts of lawsuits have the potential to provide maximum compensation and justice for your pain and suffering.
Why Are There so Many Uber or Lyft Accidents Caused in Los Angeles?
A joint study conducted back in 2018 by the University of Chicago and Rice University concluded that Uber has increased the number of traffic deaths since incorporated under U.S. ridesharing laws to retrieve passengers.
Uber accidents make LA streets less safe and put local drivers in danger. Here are a few of the most common causes of Uber accidents:
Speeding – Speed is the leading cause of death on American roads and the leading contributor to the majority of vehicle accidents in Los Angeles. A financial incentive exists for rideshare drivers to drive as quickly as possible. They make more money the more passengers they serve, whether the drivers are professionals or novices driving the same route.
Failure to Stop – Uber drivers occasionally break the regulations of the road by rolling through stop signs and failing to come to a complete stop when driving quickly. This type of behavior raises the likelihood of a collision.
Unfamiliar Roads – Uber attracts drivers from all over the world who aren't used to driving on city streets. These drivers may erratically drive their vehicles, increasing the chances of a collision.
Distracted Driving – To interact with the ridesharing app and accept rides, a rideshare driver must glance down at their phone. Uber distracted driving accidents in Los Angeles may result because of this.
Driver Fatigue – An Uber driver who is sleepy or overworked is a road hazard. Sleep deprivation puts drivers at a higher risk of fatigue in the late evening and early morning hours.
New Threat: Self-Driving Cars – Prepare for another Uber hazard on California's highways. Uber's self-driving cars have been involved in multiple high-profile accidents. With the guidance of an Uber accident attorney, you can fight for compensation if you are hurt by an autonomous vehicle.
Driving Under the Influence – The CPUC levied fines against Uber totaling $7.6 million. The also settled with Lyft for $30,000 as a penalty for failing to report annual safety data. The CPUC went ahead and levied a fine of Uber $750,000 for failing to comply with zero-tolerance policies for DUI, DWI/Marijuana (driving under the influence.) ​ Lyft reached a $500,000 settlement with the cities of San Francisco and Los Angeles. This was for misleading the public over driver screening issues. Uber compensated the state over $217 million for privacy breaches and safety lapses from 2014 to 2019.
California's Insurance Requirements for Rideshare
California approved Assembly Bill 2293 in 2015. AB 2293 mandates that rideshare companies and drivers have liability insurance. A minimum of $1 million in liability insurance must be provided by ridesharing businesses to protect drivers from the time they accept a passenger match until the passenger exits the car. However, the legislation currently does not require ridesharing operators to carry collision or comprehensive insurance.
How Does Insurance Work in an LA Uber or Lyft Accident?
Insurance plays an important part in Uber accident claims in Los Angeles. As a passenger, you can't always count on your own auto insurance to cover you. It's possible that you'll have to file a claim with Uber and the driver's Uber insurance company.
California law mandates that rideshare companies have $1 million in liability insurance in the event of an accident. Uber's partner program provides coverage from major insurance companies such as Allstate, Liberty Mutual, Progressive, and others to its drivers.
Following a covered accident, passengers may be eligible for compensation for injuries and other damages. Whether or not an insurance company covers your Uber accident depends on which of the three periods the Uber driver was in at the time of the accident.
Period 1: The driver is not available or the app has been turned off. During this time, the driver's personal insurance policy, not Uber insurance, is in effect.
Period 2: The driver is available or awaiting a ride request.
If a driver is in this period and does not have personal auto insurance, Uber provides third-party liability coverage, which includes $100,000 in bodily injury per accident, $50,000 in bodily injury per person, and $25,000 in property damage per accident.
Period 3: The driver is on their way to pick up passengers or is currently driving one.
Uber retains $1 million in third-party liability coverage, contingent comprehensive, uninsured/underinsured driver bodily injury coverage, collision coverage, and up to the cash worth of the automobile when a driver is actively picking up or carrying passengers.
Victims Have Major Life Impacts
Many victims of Uber accidents in Los Angeles come to Ehline Law Firm looking for a way to pay for costly medical bills, recoup lost wages, and reclaim a feeling of normality in their lives. Some of the most common injuries we've encountered are listed here:
Traumatic brain injuries, have long-term consequences.

Whiplash affects the neck and spine.

Knee and foot injuries with deep wounds and scars.

Throwing your hands out to protect yourself, can result in hand and wrist injuries.

Ligament tears and connective tissue injuries are common.

Broken or shattered bones.
Do you have any injuries similar to these? Contact our experts as soon as possible if you've been seriously injured in a Los Angeles Uber accident. It's now or never to get the money you need to rest, recover, and move on with your life.
How Much Is the Average Uber Accident Settlement?
Essentially, the amount of your Uber accident payout is determined by the circumstances of your accident. The following are the most important variables to consider:
Who was at fault for the accident – If your Uber driver was to blame for the automobile accident and your injuries, you may be able to negotiate a higher settlement.
The severity of your injuries – Uber accidents that result in more critical injuries and other losses (such as lost wages) for the passenger are likely to result in higher payouts.
Is Lyft Responsible for Accidents?
When a Lyft driver is involved in a car accident, the driver is virtually always to blame. Even though rideshare companies like Lyft consider their drivers to be independent contractors, they can still be held liable in court for the accidents they cause.
Both Lyft and Uber now offer an insurance policy that protects drivers and passengers in the case of a rideshare accident. It compensates people for medical expenses, injuries, and fatalities.
What Happens If a Lyft Driver Is Involved in a Car Accident?
As a passenger, you should notify the insurance company of the collision and seek compensation for your injuries. While Lyft has an insurance policy that protects drivers and passengers in the event of a collision with another vehicle, drivers must also have their own car insurance. Essentially, insurance firms have begun to offer ridesharing-specific car insurance.
California's Leading Rideshare Accident Attorneys
We know the appropriate negligence laws and insurance requirements regulating Uber and Lyft accidents at Ehline Law Firm. You may be able to file a claim under Uber or Lyft's liability insurance or the rideshare driver's personal motor insurance, depending on the circumstances.
If another driver caused or contributed to the accident, Uber and Lyft accident claims could become even more challenging to resolve.
Ehline Law Firm has the required knowledge and resources to handle rideshare accident claims, regardless of your Uber or Lyft accident circumstances. We have a track record of obtaining significant settlements and jury awards on behalf of our clients.
How to Deal with Insurance Claims after a Lyft Accident Happens
Getting a free consultation with an expert attorney at Uber and Lyft accidents remains vital and extremely helpful in charting a course toward obtaining full and fair financial compensation. Being the driver of a car involved in an accident is difficult enough.
You'll need to communicate with the other driver, exchange insurance information, and possibly file a personal injury claim. As a rideshare platform passenger, the process is much more complex.
You might not know who is to blame for your injuries or your legal options under California law. You'll need to know how to file an insurance claim if you've been wounded in a rideshare accident as a passenger.
Steps in Reporting a Rideshare Injury Claim?
First, call the cops to report your Uber accident. Obtain your Uber driver's insurance details, but don't expect to be in good hands until you form an attorney-client relationship with a legal representative. Report the collision to Uber once you've sought medical attention for any injuries. Select "Trip Issues and Fare Adjustments" from the app's menu. Press "I was in an accident," then describe what happened.
An Uber representative with extensive experience will contact you shortly to obtain information regarding the accident. Uber will either offer you a settlement through its insurance policy or deny your claim at this stage. Did we miss anything? Contact a rideshare injury-accident lawyer if you need more help. Ehline Law is available 24/7 at (213) 596-9642 to call us, or you can use our free online contact us form today to get the justice and compensation you deserve! Don't forget to mention our no financial recovery no-fee guarantee.
More Car Accident Practice Areas
Car Accident Causation
Unique Traffic Accidents