If we don't win, you don't pay.
Speak to the Attorney.
Born to serve.
633 W 5th Street #2890
Los Angeles, CA 90071
(213) 596-9642.
2323 S. Voss Rd, Suite 244
Houston, TX 77057
(832) 592-1260.
Date Modified: June 17, 2023
This is the Ultimate Guide to Compensation for Mendocino County Personal Injuries and wrongful from motorcycle crashes and other causes.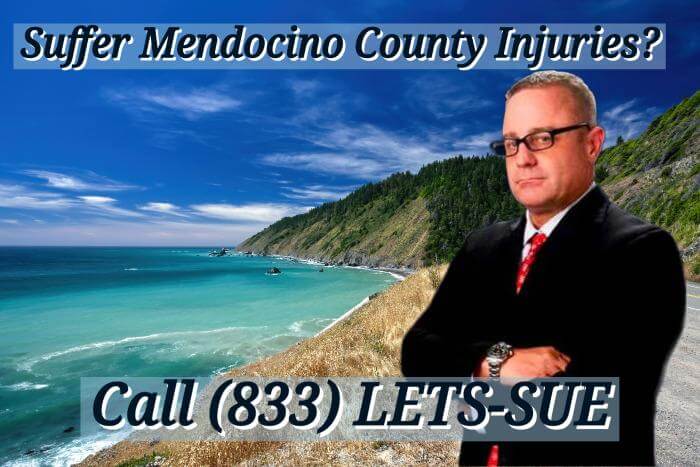 Mendocino County Personal Injury?
Once you get in an accident, the best thing you can do is hire a Mendocino County personal injury lawyer.
These legal professionals can care for your case and ensure you get the financial compensation you deserve. These lawyers are professionals who know everything about personal injury law in Mendocino County, so they can provide you with timely advice about how to proceed with your case.
Ehline Law is a fantastic personal injury law firm, and we have the best Mendocino County personal injury attorneys who can legally represent you and explain all the aspects of your case. If you want a free consultation from one of our lawyers, call (833) LETS-SUE today.
First Steps to Hiring a Personal Injury Lawyer
Before getting a personal injury attorney, you must follow certain steps to ensure everything runs smoothly. This will help you gather the needed evidence for building a solid case and help your lawyer once you hire them.
These are the first things your lawyer will ask for once you get a free consultation, so the best thing to do is to get them out of the way:
Pursue Medical Attention
The most important thing you must do before anything else is to seek medical attention to ensure all parties are safe. It doesn't matter if you don't feel bad right away, as most injuries don't appear right away, and this will give you a complete overview of how severe the accident is. This is especially true for the following injuries.
Neck injuries
Back injuries
Spinal cord injuries
Lacerations
Retain All Records, Photos, and Notes
Now, you must keep evidence of as many things as possible. Personal injury cases need to be backed up by all sorts of pictures, records, and testimonies so that you can avoid all potential legal issues, especially if it turns into a wrongful death case. Some of the most common pieces of evidence are the following.
Pictures
Videos
Medical records
Police records
Witnesses
Notes.
Please keep everything organized in a detailed document for your personal injury attorney to review once you hire them from a Mendocino County law firm.
Informing the Other Party
Once you've decided to take legal action against someone, you must let them know they will be getting sued, so they can hire their own Mendocino County lawyer before the process gets too far. This will also make the negotiation process much more manageable, which will help you get a fair settlement.
Time Frame to Initiate Litigation
Depending on where you are located, whether it is in Mendocino County, Sonoma County, Lake County, or Santa Rosa, you will find yourself with a statute of limitation that stipulates the time you have to pursue legal action against the other party. Therefore, you must check this before doing anything else so that you can file the claim before it is too late.
However, you can also ask your personal injury attorney about this during a free consultation.
Hiring the Personal Injury Lawyer
Finally, you can hire a Mendocino County personal injury attorney. Still, please get a free consultation first so that you can interview them and make sure they have the needed experience to manage your case.
You should also hire a lawyer with whom you can establish an excellent attorney-client relationship, as you will spend a lot of time with them once the case starts.
How Personal Injury Lawyers Prove Negligence
The first step to building a personal injury or wrongful death case in Mendocino County, CA, is to prove negligence, which will help determine who is the liable party. In order to do this, Mendocino County attorneys must create a strategy to demonstrate the following factors:
There must have been a legal duty between the victim and the liable party. A typical example is drivers' legal duty not to drive while intoxicated.
Then, the liable party must have breached that duty.
The victim must provide evidence of their injuries.
Finally, there must be a direct correlation between the breach of duty and the victim's injuries.
The most critical element in these cases is evidence, which is why personal injury lawyers must do as much research as possible to build a strong case that won't cause legal issues in the future. Still, you can check out the following detailed steps they take to prove these factors:
Establishing Legal Liability
Whether it is a personal injury or wrongful death case, a lawyer's first step is establishing the liable party. This is done through thorough research into how the accident happened. The most common are car collisions, medical malpractice cases, animal bites, and injuries inflicted by defective items.
Sometimes, your Mendocino County lawyer will hire a professional investigator to execute this part of the legal process. You can ask more about this and whether it applies to your case or not in a free consultation.
Elements of Legal Liability
Once you've established the possible liable parties, the previously mentioned elements of negligence must be proved for the case to be successful. That's why documenting everything and conducting thorough research is key to winning the case in Mendocino County or Sonoma County.
Proving the Elements of Legal Liability
Some elements that can help prove the elements of negligence are police records, medical bills, expert witnesses, videos, pictures, notes, etc. Remember that wrongful death cases will probably be much more complicated than regular personal injury cases, so the attorney must uncover much more information.
Expert Witness Examination and Testimony
In some cases, the Mendocino County lawyer will need to hire an expert witness to examine a piece of evidence to prove negligence against the other party. This will give you an insight into the case that will help you understand how the injuries happened and how the defending party acted negligently.
Discovery of Evidence
Finally, when all the evidence has been gathered, it is called a discovery of evidence, and now the lawyer can file the legal claim. They may also need to interview the defendant and check their phone records and other reports to strengthen their case. If possible, this must be negotiated with the other party's lawyer.
Personal Injury Settlement
In the best-case scenario, you will rapidly receive a settlement, which happens when both attorneys agree on an appropriate amount for you to receive for your injuries. However, this amount will depend on many factors, such as the severity of your injuries, how much you spent on hospital and nursing home bills, your lost wages, etc. Please trust your Fort Bragg lawyer as much as possible, as they are sure to be fighting to get the best possible outcome for your injury claims.
This process may take several weeks, as it isn't smart to accept the first offer, and your Santa Rosa attorney must negotiate with the other party until they land on an appropriate amount. You can still ask your attorney for an estimated number for this settlement during a free consultation.
Settlements Aren't Taxable — Most of the Time
In most cases, personal injury settlements won't be taxable if you live in cities such as Santa Rosa, Fort Bragg, or other areas in Mendocino County. Still, this will depend on the nature of the injury. Emotional injuries, such as defamation and loss of companionship, may be taxable, but you can clarify any questions through a free consultation with your attorney.
Ehline Law is a highly respected law firm in Mendocino County, as we have a long track record of success, which is why you don't need to worry about getting compensated. We have everything it takes for you to get the money you deserve.
Insurance companies will still want to negotiate, but an attorney from our firm is always ready to fight for your rights, even against the largest insurance companies.
How Much Does a Personal Injury Lawyer Cost?
Most personal injury lawyers don't charge hourly rates. It would be difficult for most people to hire one if they did. Instead, they work on contingency fees, which means they will only get paid if they win the case. This arrangement is perfect for most plaintiffs, as it allows them to afford high-quality attorneys while also dealing with medical bills and other expenses. Still, you can get a free consultation to clear up any doubts you may have about the payment methods.
You must consider all the money that insurance companies have. This means they can hire the best lawyers in the world to win their cases, but here at Ehline Law, we make it easy for anyone to be legally represented by the best attorneys in the field.
The best part is that you won't even pay out of your own pocket, as the attorney will take a portion of your settlement as their payment.
Still, this depends on the case, and we encourage you to ask for a free consultation to clear up any confusion about legal fees. Even then, you won't have to pay for anything up-front in pursuit of fair compensation.
Contact Superior Personal Injury Lawyers in Mendocino County, California Today
Personal injury cases are challenging; the victim will need time to recover and heal from their wounds. This means they won't have enough time or the required strength to deal with the extensive legal processes of filing a claim that our associates would have.
That's why many people decide not to take legal action and never get compensated for their injuries. We don't want that to happen to you, which is why we have a team of highly trained lawyers who know everything about personal injury cases and other related practice areas at our law office.
All you have to do is get a free consultation from one of our premium lawyers by calling (833) LETS-SUE.
Michael Ehline is an inactive U.S. Marine and world-famous legal historian. Michael helped draft the Cruise Ship Safety Act and has won some of U.S. history's largest motorcycle accident settlements. Together with his legal team, Michael and the Ehline Law Firm collect damages on behalf of clients.
We pride ourselves on being available to answer your most pressing and difficult questions 24/7. We are proud sponsors of the Paul Ehline Memorial Motorcycle Ride and a Service Disabled Veteran Operated Business. (SDVOB.) We are ready to fight.