Rainy Day Accidents
---
Call Today: (213) 596-9642
---
Rainy Days In Los Angeles Mean Slick, Slippery Roads.
We all should know by now what dangers a rainy day holds for drivers. Sadly, our Los Angeles-based car accident attorneys often find that Californians don't seem to get it. Hence, when it comes to driving at a safe speed for the overall conditions on the roads, California drivers fail miserably.
And while it is always a great experience to enjoy rain at home when it comes to driving, you have to pay more attention. So your driving requires a higher level of care. Contrast this with driving on regular, "epic," sunny days.
It Takes Longer to Stop in the Rain Due to Less Co-Efficient of Friction and Road Surface Slickness:
During inclement, rainy weather, we must realize as vehicle drivers that wet roads have reduced distance visibility. Also, distance stopping time due to friction variables gets increased a lot. Your tires are not holding on to the road with as secure a grip as they do on regular days.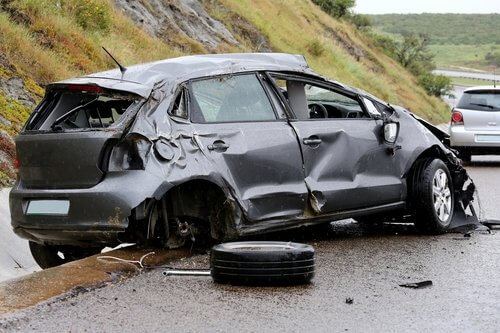 The wind, when combined with rain, has the potential to blow the car into another lane. And greats gusts can blow an obstruction into your vehicle's path. Not seeing a hidden pothole obscured by debris or water, or some other infrastructure damage or obstruction concealed due to a lane submersion, is also another reason why slowing down is so important in these more flooded conditions.
As noted, some cocksure drivers on the roads feel like enjoying the profound changes in weather by driving too fast on wet roads. This attitude can easily spell a wrongful death or maiming to others sharing the streets with these reckless speed demons.
---
What Happens To Roads On Rainy Days?
The statistics about rainy weather and traffic accidents are startling. Concerning the percentages of all the accidents that occur on the road, most take place on rainy days or days when the weather is not typical.
---
The Rain Accident Traffic Study.
From 2002-2012, Booze Allen Hamilton gathered the available data on causes of accidents, including rain and slick surfaces yearly, as follows:
17% of deaths
20% of personal injuries
24% of property damage with no injuries take place in bad weather or on unusually unctuous thoroughfare veneers.
Mind you, these are the reported numbers, and they are likely higher, but the yearly numbers we do have are alarming!
These stats show an unacceptable approximation of:
6,250 fatal traffic collisions
480,000 bodily injuries of varying levels of harm to individuals. On damage to moving and fixed objects and other property
Booze Allen Hamilton's numbers show 961,000 incidents of collected data.
Other Inclement Weather Causes of Wrecks:
In addition to rains, snow falling, sleet, storms, etc., are reasons for such a high rate of accidents on the road. Some regions in the US are not lucky enough to get enough rain during the year. But they still have the advantage of having fewer traffic accidents due to adverse weather conditions. California is one of the states that see all the different colors of weather, and so you can expect a lot of traffic accidents due to bad weather here. Blaming nature is quite an easy thing to do.
However, we can't blame nature for accidents and obtain compensation for the damages in the court. It is quite unfortunate that we humans play a more significant role in causing these traffic accidents than nature.
Negligence Combined With Inclement, Wet Weather is the Main Cause of These Horrific Wrecks:
When we attorneys investigate the various causes of rain-related vehicle accidents, we are first and foremost trying to identify who the responsible party. That party is who will pay you for your injuries. During our quest, we have found that negligence causes most of the lousy weather accidents.
And it's caused by at least one or more of the comparatively negligent parties, in combination with other actors or situations.
Usually, speed played a significant factor in these slick surface accidents. In other words, we lawyers typically find that it is not the rain's fault. Usually, the velocity at which drivers travel causes most of these wrecks.
The Jury Instructions tell us that:
"A person must drive at a reasonable speed. Whether a particular speed is reasonable depends on the circumstances such as traffic, weather, visibility, and road conditions. Drivers must not drive so fast that they create a danger to people or property." (CACI 706. Basic Speed Law (Veh. Code, § 22350).)
Change Your Speed When the Road Surface is Slick:
Speed is so important, especially after a fresh rain when the oil and grease float to the top of the roadway. This period immediately after fresh rainfall is when drivers are at grave risk of hydroplaning and flying off of the road. And if so, they can slide into the berm, or shoulder, or person.
Don't fit the stereotype California driver. Pretend like you are a native from Chicago, and drive appropriately for the rain, sleet, snow, wind, and so forth. We Sunny California drivers are often too lazy to change the way we drive. So regardless of the conditions, we are operating in, we plow along.
You could have even seen people driving recklessly on wet roads. This is the case, even though they should be driving quite slow and carefully. So you should slow down and pay attention.
Stay Off Your Smartphone:
Some people would even go to the extent of taking pictures of the beautiful rain and texting it to their loved ones while driving. It is best that you make a stop and then do this. But that seems quite cumbersome to us.
It seems as though many of us love to distract our focus from the road. So it is not unusual for California drivers to give more attention to our text messages and applications.
Your Possible Injuries Due To Rainy Day Accidents:
It is hard to make a list for you of all potential injuries that mainly take place on days with bad weather. And this is because an accident on a rainy day can cause all the different types of injuries you might have seen in your nightmares. That's no joke either.
So if suddenly you are met with an accident on an average day, you can still control your vehicle. This control is because of the grip of your car tires on the pavement.
It is clear that on a rainy day, it is highly likely that you would lose control of your vehicle due to slippery surfaces—also, the coefficient of friction differentials on the tires. Multipliers, as far as injury risk goes, are other conditions that often accompany the rain.
These scenarios can include soupy fog, crosswinds, and even mud from a landslide that could be partially submerged and hidden from view. This weather is typical in Malibu Canyon after a recent rainfall if you are looking for an example.
---
The most common injuries you will see on rainy days include:
Extreme distress and trauma.
Breaking of your tibia.
Hip injuries.
Since the friction is even less than half of what it is on average days, the accidents often take place at higher than average impact speeds. Even if you stop the car and apply full brakes, you might end up in a collision due to slippage.
Don't even try and slam on your brakes. Because if you do, you might get confused. Mainly this is because your anti-lock brakes pulse on your foot and make you think there may be a brake problem. Hence, you could release the peddle too soon after being spooked by these vibrations underfoot.
---
EhlineLaw.com Is Here To Help:
Ehline Law Firm Personal Injury Attorneys, APLC is here to assist you with all types of vehicle accidents. Our services include representation for the pedestrian, plane, and train accidents. So when seeking out liable parties to pay you for your injuries, we do the research.
We will look for you to see if it was a traffic light phasing issue. Also, help you with things like road treatment strategy, and speed limit control evidence to bolster your case.
Also, our lawyers examine construction planning, improper evacuation decision timing, or other government created the accident risk. Big rig trucking companies rushing to make a delivery can easily result in a calamity on the roads. But even a manufacturing error in safety equipment can be a supervening and intervening cause. If so, we act quickly to add the various agencies and agents as parties to a potential lawsuit.
Put Our "Rainy Day" Car Accident Experience to Work for You:
Additionally, at Ehline Law Firm, we have the lawyers who rely on their knowledge and skills to win you valuable money compensation. But also, we have the passion and spirit to take on the offenders. So unless they surrender and provide you with a settlement that covers all your expenses and damages, we keep fighting for you.
Presently, we are serving Los Angeles County and San Diego, as well as San Francisco. So, if you have gotten hurt in a rain-related accident, call us. We can help with wrecks occurring on the icy, sandy, slushy, or slick pavement.
Other Resources: