If we don't win, you don't pay.
Speak to the Attorney.
Born to serve.
633 W 5th Street #2890
Los Angeles, CA 90071
(213) 596-9642.
2323 S. Voss Rd, Suite 244
Houston, TX 77057
(832) 592-1260.
Date Modified: June 14, 2023
Did you get into a tow truck accident in Los Angeles, CA? Ehline Law Firm in Los Angeles, CA, has satisfied many consumers with multi-million dollar payouts for all types of trucking accidents and other negligence claims involving roads, freeways, alleyways, and other surface streets.
Our best tow truck accident lawyer in Los Angeles can help injured tow truck drivers with work comp claims and their loved ones with wrongful death actions. We also provide swift, professional legal services to pedestrians run over in the street and victims in passenger cars struck by lumbering tow trucks. Call and tell us about your tow truck accidents today at (213) 596-9642.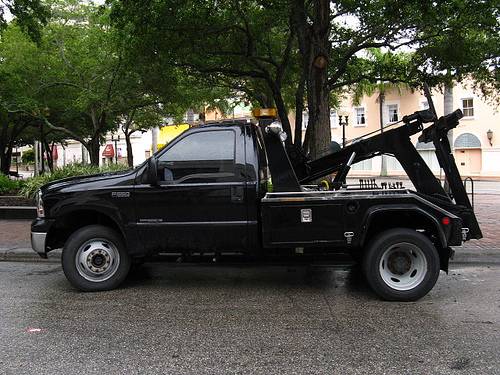 Injured by a Negligent Tow Truck Driver?
Welcome to the Ultimate Guide to Compensation for Los Angeles Tow Truck Accidents. Our proven, charismatic tow truck lawyer team helps people seriously hurt in passenger vehicles, and survivors of deadly towing accidents receive monetary compensation.
As you are likely aware, tow truck drivers rescue stranded and broken down motor vehicles across the State of California or Los Angeles. Their services extend to both emergency and non-emergency situations. But inattentive drivers or poorly inspected tow trucks can wreak havoc.
Some news reports have indicated bad wrecks and deaths from these. Battling with commercial insurance companies is no task for the unwary or un-represented tow-truck accident victims and their loved ones. Here, the Ehline Law Firm discusses damages and injuries from tow truck wrecks. And we will also offer some tips for stricken families and other catastrophic injury victims to deal with this kind of case.
Are you ready to learn more about the law regarding tow trucks and getting paid maximum compensation for your pain and suffering, medical expenses, property damage, and lost wages? Let's go!
Does Ehline Have Experience In Discovering Tow Truck Crash Mechanism of Injury?
Yes, we do. And this is important because tow trucks and big rigs are some of the larger vehicles on the roadways. And if in a traffic collision, tow trucks can cause devastation to those around them. Many common types of Los Angeles tow truck accident cases are beyond one's control to stop. For example, a negligent manufacturer's mistake could cause a tire blowout.
The tow truck driver may be under pressure by the tow truck company to meet a deadline, speed through traffic signals, etc. City road workers may have created a dangerous situation by failing to maintain or warn about the city streets. Even Cal-trans could be at fault.
So to recap, these are large trucks. And often, the tow truck driver's view is inhibited by the vehicle they towing. Also, there are many other blind spots. So this places tow trucks and the cars around them at a high risk of collisions.
Our personal injury law group specializes in holding tow truck drivers, tow truck companies, negligent manufacturers, and even the City of Los Angeles liable for paying their injured victims maximum compensation under California law. Were you in a Los Angeles tow truck accident?
Our very best Los Angeles tow truck accident attorney offers all new clients a free consultation 24 hours a day, seven days a week. We will attentively discuss your case, hear you out, and compassionately give you our professional opinion on your chances of success. Don't fight the insurance company or other deep-pocket defendants alone. Call us today at (213) 596-9642 and put our proven track record of success to work for you.
Add driver error, inexperience, or bad temper, and you have a formula for disaster. Couple that with poor maintenance. So can you see how a barreling Los Angeles tow truck becomes a multi-ton road weapon? Can will learn much more about getting justice during your free case evaluation. There, we will discuss how we get money to cover your medical bills for serious injuries and more!
---
Tow Truck Injury Lawyers Deal With Big Injuries
We understand the various mechanisms of injury. Hence, our tow truck accident attorneys at Ehline Law Firm have the experience necessary to hold the other driver accountable.
This vehicle's size and weight add to the danger. The victim can suffer severe or fatal injuries. It is not uncommon for injuries to include traumatic brain injuries.
Also, they can result in severe neck and back injuries. And broken bones, internal injuries, and other types of injuries are par for the course.
Our staff cannot take away the pain and suffering. Nor can we bring back a loved one that was fatally injured. They can hold the tow truck driver accountable. And they can assist you in recovering big dollars. So this can be complex litigation for even the most experienced lawyers.
And there can be more than one negligent party. You see, the tow truck driver is often not the owner. So there is a Respondeat Superior issue of agency that could add more money to the settlement pot.
---
How Do Most Tow Truck Accidents Occur?
Tow trucks and their drivers can cause accidents or collisions in several different ways. And the crash does not always involve another vehicle.
For example:
Tow truck wrecks can be from driver error or negligence. Sometimes human error and mismanagement will lead to wrongful death.
Also, the vehicle the tow truck is hauling can come loose. So this loose, unwieldy towing vehicle is now an unmanned weapon. It can be deadly to motorists, motorcyclists, bicyclists, and pedestrians as it flies off the hitch into oncoming traffic. When a vehicle comes loose at high speed, you might be able to swerve out of its way. But then you could get in a collision with other motorists due to your evasive action.
An aggressive tow truck driver who travels over the speed limit also poses an extreme danger. And this danger is not confined to the drivers around them.
At any rate, the brake lights on these large trucks are not always visible. And if the emergency warning lights on the towed vehicle are not visible, it can cause a rear-end accident. If the tow rig suddenly stops or slows down, the following driver has no warning. At this point, there is a rear-ender. So now issues of who is at fault come into play.
Improper maintenance can make the truck a weapon on the roadway. Regrettably, this can mean a multi-ton truck was hauling a vehicle weighing tons colliding with numerous objects. And this could be from faulty brakes, tires, or mechanical failure.
---
Why Hire a Tow Truck Attorney?
Why hire a tow truck attorney like the ones at Ehline Law Firm? The answer is that they have the experience and the resources to find the negligent parties. And they can hold them accountable. Expertise in this type of accident is crucial.
So if you want to obtain a fair settlement, you'll need help. And this can be complex litigation. Most of all, if an attorney does not specialize in this, you could lose out on big money.
Meanwhile, there is also the other insurance company. And these people are ruthless. From here on, they will get involved for sure. And it takes an experienced attorney to win at their games. So get someone who is aggressive in their aid. So if you are a woeful victim, we have the financial resources.
---
What Are Some Ways That Ehline Law Firm Assures Wounded Clients?
Never pay an upfront fee
Get the best medical treatment
Recover lost wages
Obtain the highest settlement.
Schedule a Free Consultation With A Los Angeles County Tow Truck Accident Attorney
In conclusion, tow truck wrecks are among the worse types of auto accident claims. The handling of these cases requires a special kind of attorney. Contact us if you or a loved one was in a wreck with a towing vehicle. We can be reached online. Use our email submission form. Or call our toll-free number at (213) 596-9642.
Michael Ehline is an inactive U.S. Marine and world-famous legal historian. Michael helped draft the Cruise Ship Safety Act and has won some of U.S. history's largest motorcycle accident settlements. Together with his legal team, Michael and the Ehline Law Firm collect damages on behalf of clients.
We pride ourselves on being available to answer your most pressing and difficult questions 24/7. We are proud sponsors of the Paul Ehline Memorial Motorcycle Ride and a Service Disabled Veteran Operated Business. (SDVOB.) We are ready to fight.