If we don't win, you don't pay.
Speak to the Attorney.
Born to serve.
633 W 5th Street #2890
Los Angeles, CA 90071
(213) 596-9642.
Date Modified: August 18, 2023
This is the Ultimate Guide to Compensation for Del Norte, CA Injuries.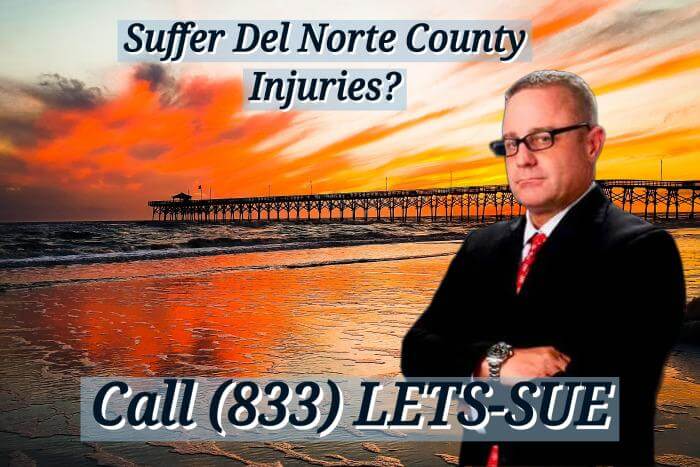 Injured in Del Norte, CA?
An unforeseen event like a bad accident can affect your life and cost you, your family, and your friends.
Are you facing bankruptcy or even divorce from your loved one because of a Del Norte, CA, accident that wasn't your fault? Were you struck by a DUI driver while driving for Uber or involved in some other catastrophic accident that was not your fault? Are you ill? Perhaps you lost your career due to a permanent disability after slipping and falling at a grocery store.
Our professional, dedicated Del Norte County, CA, personal injury attorneys are here to provide free legal advice as a public service on your account, from Battery Point Lighthouse to its stunning beaches. Established in 2005, the primary goal of Ehline Law Firm is to help you, your wife, children, or other close loved ones get their life back on track. Our best lawyer wants to assist individuals harmed by others in their emotional, physical, and financial recovery.
What Next?
Unfortunately, all kinds of accidents happen daily in the U.S., including car accidents, motorcycle accidents, workplace accidents, medical malpractice, etc. The victims of those accidents often don't know what to do or who can help them recover total and fair compensation.
Not knowing what to do after an accident leads to negligent parties getting away with what they did, and you shouldn't let that happen. Therefore, if you are a victim of the negligence of another party, it's time to hire a personal injury lawyer who can fight for you and promptly file a personal injury claim against those who hurt you or someone you love.
Contact Our Office To Discuss Potential Compensation Benefits
The Ehline Law Firm is always there to help victims get the compensation they deserve for the accidents other people cause, so you can feel free to call us to schedule a free consultation in Del Norte County, CA. We can advocate and win your case in settlement or proceed to litigation and a jury trial.
We will defend your claims and take great care that you receive the legal help and justice residents of Del Norte County deserve for their injuries. Get protected by our legal services and expertise today. Are you seeking answers and interested in a free consultation? Please learn more about our representation during a free phone consultation by dialing (833) LETS-SUE. It's to your advantage, and everything we discuss will be confidential.
Why Hire Our Personal Injury Lawyers
While many people look for pro bono services or low fees when hiring a personal injury California attorney, that's not what you need them to offer. The first thing to look for in personal injury lawyers in Los Angeles County or Del Norte County is professional, licensed, and qualified with more resources and an understanding of your needs to get the job done right.
What Do Past Clients Say?
★★★★★

"Eureka, I found him. I would recommend Mike and his people anytime at the drop of a hat. Replies to texts at 3 am. Total animal." – Dan C.
★★★★★

"I hired Ehline and would do it again. He got me way more of a great result than the adjuster wanted to pay me alone. I was impressed, so I reviewed him for the amazing job with 5 stars. Marines are the best 100%!" – Edward Smith.
★★★★★

"When I needed information, Alan always called back. They beat the insurance people with ease, and my family was able to speak with him when I was too out of it and get all the paperwork handled with the insurance guy. The office staff and receptionist were bilingual, so that was a big help since my wife isn't from here. Mr. Ehline himself is the coolest attorney you will ever meet and he was for reals and cared about me." – Carlos C.
Free Consultation?
More importantly, Ehline Law Firm offers a free consultation of your case, so you can always call us to see if our services suit your needs. Now that you know the attorneys you are looking for are qualified for the job and focus on the practice areas you need them to focus on; you need to know if they operate in your city or county.
Taking a car accident case or personal injury means negotiating with large insurance companies and negligent people. Hence, the lawyers you hire need to know your legal rights and be totally committed to fighting for you, do or die.
Here at the Ehline Law Firm, our attorneys are ready to negotiate with any insurance company that is keeping you away from the compensation you deserve after any kind of personal injury accident. After you talk to our focused team members, you will have confidence in our training, resources, and payment options!
Once you give us your approval, we will:
Advance any reasonable cost
Review the insurance contracts
Deal with the insurance company and respond to their concerns
Do the legal research work and document the salient points
Handle all the paperwork and fill out the necessary forms
Request and gather critical documents like video surveillance, photos, police reports, and medical reports related to the incident.
Save and protect evidence in the proper chain of custody
Devise a winning strategy with you and deliver the tactics to execute the next steps to resolution
Employ the most advanced technology and accident reconstruction experts
Create a settlement demand package presenting your side of the story to get you properly compensated
Prepare for courtroom litigation and a trial in Sacramento, if necessary.
Our helpful attorneys also honor their no-win-no-pay policy. So don't worry about spending your money on legal fees if we can't get you the compensation you deserve. Our motivated lawyers are not letting the responsible party off the hook by settlement or by lawsuits. Our peers respect us, insurance companies loathe us, and past injured clients love us.
Were you a vehicle passenger or even a victim of cancer from Asbestos exposure on a military base? We promise to hear you out and advise you of your chances of success. That's just part of the Ehline difference.
Some Reasons Clients Choose Our Top Attorneys
Thousands of Happy Customers Represented Since 2005
Volunteerism in the Disabled Veteran Community
Hundreds of 5-Star Client Ratings and Reviews
Over $150 Million in Verdicts and Settlements
Multiple Super Lawyers Rising Star Awards
Martindale Hubbell Gold Recognition
Appeared in Leatherneck Magazine
Prompt, Caring Service.
Convenience and Service
Our superior injury lawyers handle cases in the following locales:
Klamath Air Force Station
Los Angeles County
Sacramento County
Crescent City, CA
El Dorado County
Calaveras County
Del Norte County
Valley Springs
Cameron Park
Smith River
Northcrest
Klamath.
What Makes a Personal Injury Lawyer Different from a Regular One?
Being a member of a club or the American Bar Association doesn't mean a lawyer is qualified or knows the procedures to handle a product liability case. As a new client, you must determine the type of lawyer best suited in the world to stand for your case. Before hiring a serious injury attorney, you need to know what it means to be a personal injury lawyer since it's not the same as being a regular attorney.
Clients can't hire a criminal defense attorney to help them with a civil liability negligence claim. That is not their education but the basic stuff they had to learn to pass the bar exam. For that type of social assistance, attorneys well versed in civil law practice areas, called personal injury attorneys, would handle the matter in their best interest.
Hiring the Right Lawyer Services
When a lawyer wants to focus on family law, they don't want to discuss personal injury law, so you shouldn't hire them if you suffered a motorcycle accident, for example. Their responsibility is to support a pain-free divorce. So their office will not be familiar with your type of problem. It can be assumed that better-informed personal injury attorneys know how to navigate the business of tort law. That attorney would be a better match for you.
So these successful professionals focus on helping injury victims in the university of car accidents, dog attacks, work negligence, and anything they suffer from due to a negligent party. Our elite and professional team can fill the role and has been recognized worldwide as one of the best personal injury law firms.
Differing Attorney Practice Areas?
You can peruse the Martindale Hubbell lawyer listings to get an idea of the different practice areas a lawyer handles. But to get the right advice, you need to find a lawyer you trust who returns your calls promptly, in or out of the office, round the clock.
Our background is military, so solving problems and achieving a decisive victory is everything. We understand many lawyers are in the business of signing you up and then blowing you off. No matter how successful they are, you deserve compassion and prompt services.
Don't be afraid to get that burning question settled once and for all. You can speak to us 24/7 if you want to establish the most eligible and knowledgeable lawyer for your difficulties. After you've contacted us, our capable team will usually respond and communicate immediately unless in court or in another city meeting with a suffering client.
Our Employment Focuses on Your Physical Injury and Property Damages
Law firms and attorneys that focus on helping personal injury clients have getting compensation for them as a top priority, so they are experts in the civil law legal process. These lawyers represent you and handle all attendant issues to undergo to win your personal injury case, including property damages recovery in any city.
The compensation these lawyers get you for bodily injuries can help you pay for medical bills, lost wages, legal fees, pain, and suffering. Before paying thousands of dollars for the wrong attorney, a Super Lawyer at our firm can explain the payment benefit options provided by a PI lawyer working on your behalf.
Contingency Fee Contract Attorney?
In short, a contingency fee attorney is someone who works now and gets paid later. Typically Ehline Law works on a no recovery, no fee promise, called a contingency fee. Our lawyers will also advance reasonable costs for our great team of expert witnesses and investigators to gather and protect evidence. You can contact an attorney on our team anytime, 24/7, at (833) LETS-SUE to address any concern.
It would be in your best interests to consult our lawyers before you blow the statute of limitations or allow evidence to fade into the abyss. Our honest attorneys can come to you no matter what California Del Norte County city you are in (Crescent City, CA, Fort Dick, Gasquet, Klamath, Smith River). We'll provide your free consultation and answer questions to secure and protect your finances or another aspect of your case in all cities. That's part of our promise whether you decide to form an attorney-client relationship. or not.
Most Common Injuries in Personal Injury Cases
Not all personal injury cases are the same. You don't want to keep repeating yourself, and you want to narrow your search. Once you do, telling the details of your case to the law office you contact is essential to obtain the critical help you deserve. The personal injury attorney you hire for your case will differ depending on your injuries and how you get them.
People getting into a personal injury case can suffer from several injuries, such as:
Traumatic brain injuries
Spinal cord injuries
Permanent disability
Fractures
Death.
People suffering catastrophic injuries after a car accident need different evidence than the victims of work negligence will need to win their case. Although the legal process doesn't change much, the circumstances in the journey to getting paid will vary and apply differently.
Here are some of the most common personal injury legal matters law firms take in the country:
Motor Vehicle Accidents
These are some of the most dangerous cases you can get into and are one of the top causes of death in the country. Most motor vehicle accidents happen because one of the parties wasn't paying attention to traffic regulations, was distracted driving, driving while texting, or drunk driving. Although not all car crashes lead to catastrophic injuries or death, many of them do.
People in a car crash in Del Norte County, Los Angeles County, or any other County in California need to prove they were not liable for the accident and that they got the personal injuries they claim to have due to the accident.
Since California is an at-fault state, the liable party for the accident must pay the victim the compensation they need to recover from any serious injuries the accident may have caused.
Some personal injury attorneys you connect with focus on minor injury car crashes and motor vehicle accident cases alone. But any personal injury lawyer can address them since it's still a personal injury matter and easy to settle. Medical malpractice cases are less common than car crash ones; In a nutshell, medical negligence consists of healthcare professionals doing or telling you something that may jeopardize your health or that deviates from what they need to do to help you. Sadly, we don't handle these cases and focus on lobbying California to restore patient rights against negligent doctors.
Wrongful Death
Both car crashes and medical negligence can turn into wrongful death cases if the victim of the negligent act dies after it. Therefore, these cases consist of seeking legal compensation for someone who died due to the negligence of another party.
Knowing several things that make these cases different from other legal issues is important. Firstly, when you are filing a claim for someone who died after the negligent actions of another person, the claim doesn't always imply criminal legal action against the defendant. Thus, people often file a lawsuit against the negligent party if filing charges didn't work.
Wrongful death, murder, and manslaughter are different concepts. When someone murders another person, it means they had the intent to kill that person and willingly did it, which is different from a negligence case since, although the liable party is guilty of the accident, they didn't want to kill that person.
Therefore, if you file a negligence claim against someone who negligently caused the death of another person, you are looking for the compensation of the deceased's loved ones instead of punishing the liable party, which is what manslaughter charges aim to do.
Murder is a type of wrongful death, but not all cases involving this are murders, so the law firm you hire needs to study the case correctly to see how to classify it and proceed. Nonetheless, since personal injury attorneys are not criminal defense lawyers, they only want to get the compensation victims deserve for the accident.
How Can Your Personal Injury Attorney File a Personal Injury Claim
Filing a personal injury claim is not as difficult as many would think if you have decent personal injury attorneys helping you do it. While everything depends on how the accident happened, the first thing to do is schedule a free consultation of your case to get legal representation.
Personal injury attorneys then file a complaint stating all the details of what happened and send it to the court. Naturally, the person you are suing is notified of your claim and gets a copy of it for them to answer. People often file a police report when dealing with car crashes.
Those are the first steps of the whole lawsuit process, so the next thing to do is to negotiate with the other party. Many legal cases in Del Norte and Los Angeles County ended with both parties getting to a settlement where the victim receives compensation for the accident but not as much as they would get if they won a case.
Why do people make settlements instead of going to court? The short answer is that if the defendant loses, they will need to pay the full compensation the victim requested, but if the victim loses, they won't get anything. Regardless, they must go to trial if both parties fail to reach a fair agreement.
Conclusion – Get a Free Consultation with Personal Injury Lawyers in Del Norte County, CA!
Injured parties after an accident can suffer both physical injuries and emotional distress. You deserve justice for what happened, and we are here to get you the maximum compensation available for your case, so call us as soon as possible to get a free consultation. It could be one of the most important decisions of your life. We are more than ready to address handling all your legal needs at (833) LETS-SUE!
Michael Ehline is an inactive U.S. Marine and world-famous legal historian. Michael helped draft the Cruise Ship Safety Act and has won some of U.S. history's largest motorcycle accident settlements. Together with his legal team, Michael and the Ehline Law Firm collect damages on behalf of clients.
We pride ourselves on being available to answer your most pressing and difficult questions 24/7. We are proud sponsors of the Paul Ehline Memorial Motorcycle Ride and a Service Disabled Veteran Operated Business. (SDVOB.) We are ready to fight.