If we don't win, you don't pay.
Speak to the Attorney.
Born to serve.
633 W 5th Street #2890
Los Angeles, CA 90071
(213) 596-9642.
Date Modified: July 2, 2023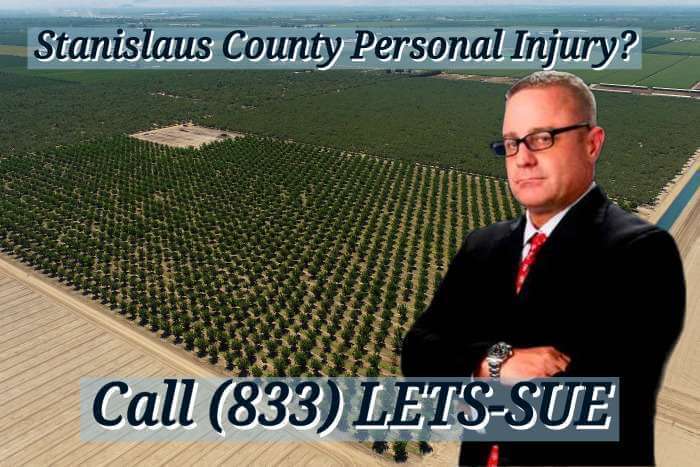 Stanislaus County Personal Injury?
This is the Ultimate Guide to Compensation for Stanislaus County Personal Injuries. Did you get into an accident that was not your fault? Our personal injury attorneys understand that the cost of negligence may be higher than the accident during these trying times.
Are you facing bankruptcy, divorce, or even needing a criminal defense attorney after the stress from losing your employment caused you to become violent? Your life may be radically changed if you or a loved one has been hurt due to someone else's carelessness or negligence in an agricultural or another type of accident.
We've Got Your Back
Unfortunately, you will probably experience physical, mental, and financial difficulties after suffering a serious injury in Stanislaus County, CA. Your selection of a relentless, attentive personal injury lawyer to work with is crucial during this calamitous period to protect your rights to compensation. Rest assured. We've got your back!
You must have swift, affordable legal representation from personal injury attorneys who care about you. It would help if you had expert personal injury attorneys committed to fighting for your future right to full and fair compensation.
The talented personal injury attorneys at award-winning law offices handle cases like yours every day. We are in the business of winning and have received multiple Super Lawyers Rising Star Awards and the Newsweek Magazine Top Litigator Award! And we have won satisfied clients millions of dollars from negligent parties for wrongful death and serious injury claims.
When starting our law firm office and placing out our shingle, our goal was to give clients a significantly better experience. Read more of our answers to your questions below if you are still not convinced about the service we can offer downtrodden men, women, and their families.
What Else Makes Ehline Law Firm Different?
We only accept a small number of clients at Ehline Law Firm, which enables our lead personal injury lawyer, Michael Ehline, to offer constant, personalized legal assistance. Our most important goal is to ensure the responsible person is held accountable to pay you maximum financial compensation.
How Were You Injured?
Our sole area of expertise at Ehline Law Firm is the representation of individuals and families in injury claims and legal proceedings involving wrongful death actions and serious injuries. Our lawyers are prepared to assist clients in getting the "full and fair" compensation they require and deserve since we have been fighting for accident victims and their families in Northern California for many years. Don't put yourself into a position where you'll need a criminal defense lawyer. Just call us for a free consultation and get the legal advice you deserve today.
When you first meet with us, we'll take the time to hear your story and learn about how it's affected your life. You'll be thankful and relieved after you connect with our talented, compassionate legal team. We will answer all your questions succinctly. Our personal injury attorneys and associates will clearly explain how the law applies to you and assist you. We'll ensure you understand your right to compensation from the insurance companies wanting to defend against paying the harmed accident victim.
Additionally, we will provide you with our honest opinion regarding the validity of your claim and the likely scope of recovery. In our practice, lawyers take clients very seriously. We can handle any case in Sacramento, Modesto, Los Angeles, or even a SoCal city like San Diego to get you justice and get you paid in full.
Although we don't handle medical malpractice cases, we lobby on behalf of these victims to force California to stop letting bad doctors off the hook. Our personal injury attorneys can assist you no matter how hurt or what kind of accident you were in if it's a practice area we specialize in handling.
People who have sustained severe, permanently changing injuries are among some of our clients, and we are here to assist them. Everything you tell us will remain confidential if you have concerns about providing us with documents or telling your side of the story.
What Type of Injury Do You Have?
The law is not the only issue. It's crucial to have a personal injury attorney that is knowledgeable about and familiar with your specific situation. Personal injury law may offer different considerations to various injuries, affecting how fully and fairly clients recover.
Contacting an attorney at our law offices may seem like a pointless step while you struggle to understand your injuries and seek medical attention for them. However, a lawyer can represent you and help you manage the process. Evidence of your injuries' severity is a key component of this.
Our lawyers gather evidence as soon as possible to build the most robust case. Getting medical attention as soon as possible is crucial since it might help prove how serious your injuries were right away. All scheduled and advised appointments must be kept. A key piece of proof our lawyers need is your medical records.
Despite how the media portrays injury victims, connecting with and hiring a lawyer is not an attempt to manipulate the system. The idea is not to obtain more compensation than you are legally entitled to. It only serves as a means of ensuring that profit-driven insurance companies treat victims fairly. Our personal injury attorneys fight to win you the maximum compensation allowed under California law.
Personal Injury Attorneys Have a Limited Time to File a Personal Injury Lawsuit
The California Civil Procedure Code specifies when particular civil actions may be filed. Most personal injury cases must be filed within two years of the accident date.
Sometimes, the outcomes of an accident aren't immediately apparent. In certain situations, the lawsuit must be brought a year after the injury was discovered. When suing a government organization, lawyers must submit an administrative claim within six months of the harm. Forty-five days are typically given for the plaintiff's response.
You only have six months from the accident date to initiate a lawsuit if they reject your claim. Furthermore, you have two years from the date of the injury to launch a claim if they don't respond. Our personal injury attorneys have years of experience helping thousands of people with cases like this, and we'll make sure you don't blow the statute of limitations.
Entitled to Compensation Despite Being Partly Responsible
One of about a dozen states with only comparative negligence laws is the great state of California. Even if they share some of the blame, anyone hurt because of someone else's negligence is entitled to compensation. Most states adhere to modified comparable laws, which prevent an injured party from receiving compensation if they are 50% or more at fault. Such a criterion doesn't exist in the Golden State.
You are still entitled to 20% of the recoverable damages even if you are found to be 80% at fault for the accident. There are two types of potential damages: compensatory and punitive.
What Does a Personal Injury Attorney Do?
In California, personal injury attorney's services are not limited to litigating cases. A lawyer can handle every legal procedure your claim involves on your behalf. The majority of personal injury cases do not require a trial. Instead, your personal injury lawyer will bargain with the relevant insurance company to get a settlement figure that is fair to you.
After you contact your county personal injury lawyers, you won't have to worry about negotiating insurance coverage, benefit limits, or conversations with claims adjusters. On your side, your personal injury attorney can handle these matters and more.
If your criminal defense case goes to trial, your attorney can represent you in court to obtain the highest damages settlement. Your personal injury attorney can strive to win your case while you recover from your injuries and rest.
Step 1: Evaluate the Case
These three conditions must be satisfied for a personal injury claim to proceed:
The accused was careless
The plaintiff suffered harm
The negligence was a direct cause of the injuries.
An example of negligence would be if someone ignored a stop sign and struck a car, hurting the driver. Nursing home incidents can also fall under negligence cases
This is only one instance of how someone could be found to be negligent. There are numerous additional circumstances where a personal injury claim will be upheld. Get in touch with one of our experienced personal injury attorneys to learn how we can assist you with your needs.
We proceed to the next phase if all three of the requirements above are satisfied.
Step 2: Collect Proof
The plaintiff should attempt to gather as much evidence as they can following the accident, but only if they are healthy enough to do so. For example, evidence from a car accident might include witness statements, accident photos, vehicle license plate information, and weather conditions.
Proof of fault is not necessary for all personal injury lawsuits. Situations involving dog bites or defective products can be raised without supporting evidence. Call the Ehline Law Firm at (833) LETS-SUE to arrange a consultation with a personal injury lawyer if you'd like to learn more about the requirements for proving a personal injury claim.
Step 4: Negotiate a Settlement
Your personal injury lawyer will start discussing a settlement once the damages have been determined. This procedure is quick and easy in certain situations, but the insurance provider won't settle in others. The Stanislaus County personal injury lawyers at Ehline Law Firm will ensure that the insurance provider does not use bad faith insurance strategies while ensuring you receive your multiple million-dollar settlements.
Wrongful Death
Family members have the right to demand monetary compensation from one or more people who contributed to the death of a loved one through a wrongful death claim. In California, wrongful death lawsuits are subject to special laws that do not apply to other types of injury proceedings. You have two years from the date of the death of your relative to file a civil claim in California, not two years from the date of the accident.
Only the deceased's surviving spouse, domestic partner, child, parent, or someone entitled to the decedent's inheritance through intestate succession has the right to bring a wrongful death lawsuit.
How Do You Prove Negligence in Stanislaus County?
In a personal injury lawsuit in California, it is the injured party's (the plaintiff's) duty to establish the defendant's guilt. This is why you need to choose a knowledgeable Los Angeles injury attorney to handle your claim on your behalf. Your lawyer will be competent at demonstrating negligence and persuading a judge or jury to rule in your favor based on the evidence.
To secure a settlement or jury verdict in your favor, your Stanislaus County attorney must establish four key factors:
Duty of care owed: The defendant, who is allegedly responsible for your injuries, must have had a duty to you to use reasonable caution at the time of your accident.
Duty of care breached: The defendant must have negligently or intentionally breached a duty of care owed to you in a way that a more cautious person would not have done.
Causation established: Your Stanislaus County attorney will need to prove that the defendant's breach of duty of care led directly to your injury.
Damages suffered: Your accident attorney will also require evidence of your losses due to the defendant's acts, such as medical expenses or lost wages.
Contact a Top-Rated Personal Injury Lawyer In Stanislaus County, CA Today | Ehline Law Firm
Our law firms might be able to assist if you were recently hurt in an accident in the Stockton area. Further, our personal injury attorneys can help you with every step of the litigation process, from determining liability to reaching a just and complete settlement in places such as San Joaquin.
We also have a tremendous attorney-client relationship reputation for rapport and charisma. Start with a free case evaluation at our local law offices. To talk with a knowledgeable personal injury attorney right away, contact us over the internet by using our convenient website or dial (833) LETS-SUE to find out the costs of such a case and how we can ease your pain and suffering as you recuperate after an accident. Message us today before your blow the deadline to win your claims.
Michael Ehline is an inactive U.S. Marine and world-famous legal historian. Michael helped draft the Cruise Ship Safety Act and has won some of U.S. history's largest motorcycle accident settlements. Together with his legal team, Michael and the Ehline Law Firm collect damages on behalf of clients.
We pride ourselves on being available to answer your most pressing and difficult questions 24/7. We are proud sponsors of the Paul Ehline Memorial Motorcycle Ride and a Service Disabled Veteran Operated Business. (SDVOB.) We are ready to fight.