If we don't win, you don't pay.
Speak to the Attorney.
Born to serve.
633 W 5th Street #2890
Los Angeles, CA 90071
(213) 596-9642.
Date Modified: June 14, 2023
This is the Ultimate Guide to Compensation for Lake County Incidents. Imagine you're driving to work in Lake County, CA, and a negligent driver causes an accident, putting your life at risk.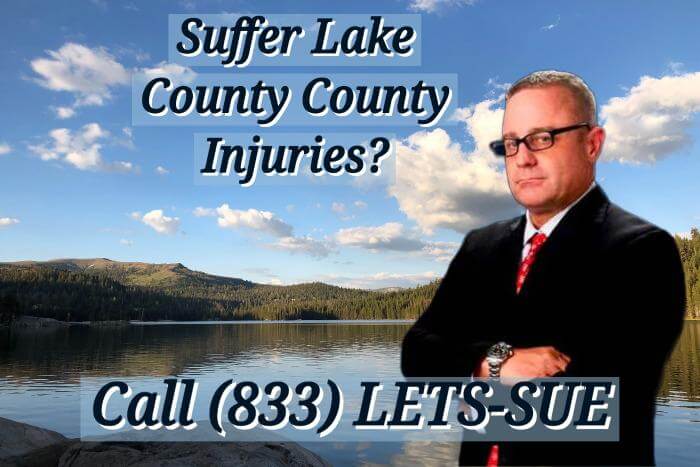 The Lawyers You Need in Lake County, CA
It could be one of the most terrifying experiences a person can go through, right? That's not fair! Therefore, you should seek help from a personal injury lawyer to get what you deserve.
Personal injury lawyers are prepared to fight for your rights in Santa Rosa or any other Northern California city. They know all the processes to handle negligence cases.
In other words, they can help you regain peace of mind and wellness after being highly affected by others' behavior. Do you think you need guidance from a law expert? Keep reading, give us a call (be sure to use a valid phone number!), and get a free consultation to review your case in Santa Rosa!
What Are Personal Injury Lawyers?
A personal injury lawyer provides advice and legal representation to people who have been injured in an accident. Attorneys working in this area apply personal injury or tort law, which covers negligent or intentional acts that may harm others. Any law firm that offers services on personal injuries in Northern California works hard while pursuing fair compensation for its clients. However, there are many other things they can do besides that.
What Can a Personal Injury Attorney in Northern California Do for You?
Both victims and their family members can see their lives falter after an accident. Therefore, every party concerned needs legal representation as they navigate the associated legal procedures. Personal injury attorneys put forth a lot of effort to assist their clients in taking or defending themselves if their claims end up in trial.
Tasks that Lake County Personal Injury Lawyers Usually Performs
Attorneys perform several tasks, including gathering and providing material and documentation relevant to a case for general information purposes. After that, their actions focus on the accident's difficulty and particulars.
This way, a Lake County attorney can speak with the liable parties' insurance provider on your behalf and gather proof of negligence or wrongdoing. They also pursue financial compensation on your behalf and arrange a settlement with the defense if you are a vehicle accident victim or suffer workplace injuries.
Additionally, a lawyer handles all the paperwork required to collect medical records and ensures that the necessary clinical data to support damage claims is obtained. With this evidence, they can better calculate a fair estimate to compensate for your losses.
When you call us today, a law firm also provides proof of liability and bargains with lien holders to lower amounts owed. Do you want to know more about it? Check the information below.
Here's a list of the things an attorney can do when assisting personal injury victims:
Protects clients' civil rights
Builds a strong case
Negotiates a fair settlement
Defends you in court if the case goes to trial
Obtains required liability proof
Holds talks with lien holders
Gives you legal advice in all scenarios.
When Should You Hire a Personal Injury Lawyer?
Have you had a car accident near Lake County or Santa Rosa and suffered injuries due to the negligence of others? There's no specific deadline on when you should consider hiring a personal injury attorney.
However, you should bear in mind that some claims are filed too late. Therefore, if you want compensation or believe your case will go to court, you should seek professional advice as soon as possible. Any time you are injured through negligence or wrongdoing by other individuals or companies, a personal injury attorney can be your right hand.
Many clients think they should not hire a dedicated attorney to handle their personal injury cases because they believe no claims will reach the court. However, insurance companies have teams of attorneys and adjusters who review and analyze claims right away.
In summary, you need a personal injury lawyer if:
You had a car accident and were injured due to the negligence or wrongdoing of others
You seek compensation after being injured at work
The at-fault party insurance company refuses to settle
You need to file a personal injury lawsuit
Your case went to court, and you are looking for professional representation.
If you have a law firm behind you, you will be able to handle all the processes more wisely and have more chances to get higher compensation and go through a difficult time smoothly.
Four Scenarios in Which You Might Need a Lake County Personal Injury Attorney
If you are in any of these situations, you may need help from an experienced attorney:
The Accident's Liability Is Disputed
Did you suffer a motorcycle accident in Lake County, CA, or a fall at your Santa Rosa workplace? You must show that the other party caused your injuries by negligence, misbehavior, or errors.
Suppose you were in a crash but failed to collect enough evidence to prove the other driver caused the incident. In that case, you may not be able to recover compensation for your injuries and related expenses. In that case, you should call a lawyer immediately!
You Sustained Traumatic Injuries or Permanent Disability
Did you know that some accidents have irreparable consequences in your life and could leave you unable to work forever? If that occurs and a defective product leaves you disabled or permanently injured, you can incur future damages and even require ongoing medical care, for example.
The same thing happens if another driver hits you and causes permanent neck injuries, leaving you unable to drive again and affecting your lifestyle for the years to come. What do you do in those cases? A personal injury lawyer with a proven track record of success in the field can help you recover the compensation you deserve to deal with the consequences other people's acts had on your future.
The Other Party Says You Caused Your Injuries
A personal injury claim can get a bit complicated when the other party blames you for contributing to the accident's cause or your injuries.
In Sonoma County and other parts of Northern California, the law states that plaintiffs may receive a reduced compensation percentage for damages recovery after an injury accident if they are found to have helped its cause or were negligent.
Thus, in these cases, you should seek assistance from a trustworthy law firm or trained attorneys with experience in related practice areas who know the tort law principles and contributory negligence methods applied in the state of California or where the case develops.
Insurers Are Acting in Bad Faith
Keep in mind that the insurance companies on the at-fault parties' sides do not want to compensate the victims for their injuries. Actually, insurers will do everything possible to reduce the amount you should get.
Some ways to act in bad faith include asking for burdensome paperwork, dragging out a claim for the statute of limitations to expire, misrepresenting the policy's terms, or raising contributory negligence allegations. You can't face this alone! Therefore, you should consider looking for reliable law offices.
What If I Was in an Accident or a Loved One Died Because of Others' Wrongdoing?
If you have suffered a vehicle accident or sustained injuries due to medical malpractice or a defective product, a law firm with experienced attorneys can accompany you in each legal step to obtain justice and all the benefits the law grants you.
Law offices' professional attorneys can also help you create a solid wrongful death case if a close relative dies due to others' fault.
In each individual case, personal injury lawyers analyze all the details of the accident or wrongful death to build a solid claim that guarantees the best possible outcome.
Does the insurance company refuse to pay a fair settlement? If so, professional lawyers can take the attorney-client relationship to a higher level and prepare their new clients to appear before a jury.
Should I Settle or Go to Court?
If you don't know which path your case should take, you can ask for help from experienced attorneys. When you work with experts, a settlement will likely be presented to you. If so, your lawyers will review it and determine whether it is fair or actually offers you benefits.
However, when the liable party fails to offer a fair settlement, you should consider going to a court trial and asking the best law offices' attorneys for legal advice to file a lawsuit. A reliable lawyer can help you choose the best option.
Will I Get More Settlement Money from a Personal Injury Lawyer?
If you're in Sonoma County or Lake County, Northern California, you should find a law firm with experienced personal injury attorneys who have worked with state law. If you find a trustworthy legal team, you'll likely receive more money than the other party or insurance companies want to pay.
A reputable law firm has attorneys trained to fight for your rights and ensure that you get fair compensation for:
Medical bills
Lost wages
Pain and suffering
Property loss
Loss of enjoyment
Loss of future earnings
Costs of current and future medical treatment
Costs associated with canceled or delayed trips and other plans.
Ehline Law Can Help You Get What You Deserve
Are you looking for a reliable option among all the law offices available in Northern California? You have come to the right place! Each attorney at our Lake County law firm is prepared to give you the legal advice you need if you are involved in an accident or defend a wrongful death case.
What Can Our Law Firm Do for You?
If you want to find a dedicated personal injury lawyer, Ehline Law's legal team can be your best ally!
Our attorneys work hard to help you find the right answer if you need someone to handle claims for:
Motorcycle accidents
Rideshare vehicle accidents
Truck, boat, or bus accidents
Train wrecks
Dog and other animal attacks
Scooter injuries
Wrongful death
Severe burn injury
Pedestrian injuries
Other personal injuries.
Call Ehline Law's Lawyers in Lake County, California, and Get a Free Consultation Today!
Our law firm cares about every new client, including you! Thus, for that reason, we offer a free consultation and all our important information on our website to anyone looking for dedicated lawyers and associates near Lake County, California, to protect their legal rights. You have to contact us!
Do you want to work with a lawyer at Ehline Law? Fill in the online form with your contact information or call (833) LETS-SUE –yes, this is our valid phone number– and get a free consultation today!
Michael Ehline is an inactive U.S. Marine and world-famous legal historian. Michael helped draft the Cruise Ship Safety Act and has won some of U.S. history's largest motorcycle accident settlements. Together with his legal team, Michael and the Ehline Law Firm collect damages on behalf of clients.
We pride ourselves on being available to answer your most pressing and difficult questions 24/7. We are proud sponsors of the Paul Ehline Memorial Motorcycle Ride and a Service Disabled Veteran Operated Business. (SDVOB.) We are ready to fight.