Los Angeles Injury Attorneys / Practice / Retirement Home Injury Lawyers
Ehline Law and our Los Angeles retirement community accident attorneys are here to assist with retirement community accidents and provide you with the best legal representation in California.
Retirement Community and Nursing Home Accidents in the United States
Let's look at some accidents and neglect in retirement communities and nursing homes that made it into the media.
Broken Nose at Allure of Moline
A male resident at the Allure of Moline was transported from his living arrangement for a medical appointment to the home's medical center when a serious accident occurred.
On April 14th, 2021, the driver placed the male resident's wheelchair in a work van for transportation but had forgotten about the resident's seat belt. While driving on the highway, the driver realized he was about to crash into a semi-tractor and pressed on the brakes to avoid the collision.
The force from the brake threw the resident forward onto the console, causing multiple lacerations requiring stitches. However, the next day, the resident was bleeding from their nose, warranting another trip to the hospital. The medical experts conducted tests and concluded that he had multiple nasal fractures.
The resident stated that the driver was too close to the semi-tractor and was driving recklessly. The Illinois Department of Public Health fined Allure of Moline $25,000 for neglect and licensure violations.
A Shocking Crash at Mesa Retirement Community
A devastating crash occurred on March 25th, 2022, between a minivan and a sedan. A couple was in the minivan driven by Irma Hettich, an 80-year-old resident of the Mesa Retirement Community, when their minivan was T-boned by a reckless driver speeding above 100 miles per hour.
The accident's impact was on the left side of the car, where 82-year-old Ronald Hettich was sitting. Residents at the Mesa Retirement Community heard a loud explosion noise at around 5:30 PM. Distraught, some residents came out of their homes to investigate and found a minivan and a car crashed into one another.
The residents called local law enforcement authorities to arrive at the crime scene. Police officers immediately responded to the calls and came with an ambulance to offer medical treatment, but it was too late. The couple had died in their car from the impact.
The 21-year-old reckless driver was charged with two counts of second-degree murder and assault. Although the driver was responsible for the accident, the residents also requested the city officials to implement safety measures on the stretch of the road to avoid overspeeding accidents in the future.
Death from Nursing Home Malpractice
A 61-year-old bi-polar woman was residing in a nursing home due to her mental issues and started complaining about stomach pain. The woman was previously diagnosed with diverticulitis, a condition that causes multiple inflammations in the intestines. The staff took the woman to a nearby hospital, where she was again diagnosed with diverticulitis.
After returning from the hospital, ten days later, the woman started complaining about stomach pain once more. Still, this time, the nursing home staff moved her into a mental health unit as they thought that the woman had mental issues rather than physical ones. However, after three days in the mental health unit, the woman suffered from a perforated bowel and required emergency surgery. Unfortunately, the woman suffered serious medical complications after the surgery and died one year later.
Her family members pursued legal action against the nursing home, resulting in a $1.5 million settlement.
Common Types of Accidents in Retirement Communities
Accidents can take all sorts of forms, but here are some of the most common accidents that occur in retirement communities across the United States.
Golf Cart Accidents
Golf carts are not only for those playing golf but for everyone. In retirement communities, the best way for the elderly to travel from point A to point B is by using golf carts. However, due to old age, many older adults have limited vision or lack the skills needed for defensive driving and therefore find themselves in accidents.
Often, golf cart accidents occur because of overspeeding, driving recklessly or drunk, and a lack of attention on the road. The elderly driving golf carts can crash into other pedestrians and bicyclists visiting retirement communities.
Suppose you suffered injuries due to a golf cart accident that was not your fault. In that case, a qualified car accident attorney can help you recover from the accident's aftermath and hold the responsible parties accountable for your loss.
Slip and Fall Accidents
Slip and fall accidents frequently occur at retirement homes, many of which go unnoticed. The elderly are more prone to severe injuries from fall accidents than any other age group. There is a considerable risk of traumatic brain injuries, spinal cord injuries, and even hip fractures or dislocations.
Slip and fall accidents at retirement communities can occur because of wet/slippery floors, cracked sidewalks, poor lighting, and poorly maintained carpets.
Property Accidents
These accidents are miserable as they are easily preventable with a bit of maintenance and regular inspections. However, some retirement communities cut corners regarding proper care or inspecting their property for any potential hazards.
When elderly citizens go to a retirement community to live out the rest of their lives, they don't think about the hazards that may cause accidents. They expect to live a happy and safe life while enjoying the amenities offered at these communities and assisted living facilities in Los Angeles.
Unfortunately, poorly maintained retirement communities are a sad reality, and they cause slip and fall injuries and other types of serious injuries. And not every Los Angeles personal injury attorney knows how to win these cases.
Here are some of the hazardous property conditions that increase the risk of personal injuries in a poorly maintained retirement community:
No warning signs

Lack of security

Uneven surfaces or cracked pavements

Defective stairs and railings

Potholes and sinkholes

And more
Suppose you suffered injuries due to hazardous property conditions. In that case, our personal injury lawyer can help file a claim under the California premises liability law and aggressively pursue compensation for your loss.
Negligence Law and Golf Cart Accidents
Due to someone else's negligence, you could suffer injuries from a golf cart accident that was not your fault. This is especially true if you're a pedestrian, bicyclist, driver, or passenger in a golf cart driven by another driver.
Since golf carts come under the definition of "motor vehicles," proving negligence is also similar to motor vehicle accidents. Golf cart drivers have a duty of care towards others and must exercise extreme caution and drive responsibly while behind the wheel. Accident victims can hold golf cart drivers responsible for any injuries caused as a result of a breach of duty of care.
If you have suffered injuries from a golf cart accident, it is best to speak to our personal injury attorney immediately. Success is never guaranteed in personal injury cases, but having a skilled attorney by your side can increase your chances of recovering maximum compensation. Find out about forming an attorney-client relationship with our firm before it gets too late.
Premises Liability Law and Retirement Communities
Although living in retirement communities sounds like an excellent idea for spending your remaining years, it can turn devastatingly destructive if you're involved in an accident. Fortunately, California premises liability law is there to financially protect you in an accident with the right personal injury lawyer helping.
Premises liability law requires property owners to ensure a reasonably safe environment for all their occupants and guests. Many banks and mortgage companies require an insurance company to insure the property they lease out up to a specific dollar amount. In the case of retirement communities, property owners must ensure adequate safety measures to prevent any accidents that could potentially harm the residents, including nursing home residents.
Property owners must also investigate potential hazards regularly and warn their residents about them. Failing to do so, personal injury victims can hold the property owner liable for injuries, and family members can hold them accountable for wrongful death. A personal injury lawyer can immediately tell what happened and seek fair compensation on your behalf.
However, to file a premises liability claim, it is crucial to prove the following elements:
The defendant owns, controls, or leases the property.

The defendant acted with negligence.

The plaintiff suffered injuries.

The negligence caused the plaintiff's injuries.
Our experienced personal injury attorneys can help determine the responsible parties and hold them accountable for your loss.
Elder Abuse at Nursing Homes
Besides the accidents, the elderly are also at risk of abuse at nursing homes in these retirement communities.
Sometimes family and friends' support may not be enough, and in such situations, nursing homes provide that peace of mind to a family that their elderly are being taken good care of. A nursing home focuses on medical and health care for those that require constant attention and assistance with daily activities.
A nursing home also provides meals throughout the day, offers 24-hour constant supervision, and may even provide rehabilitation services. The majority of the residents at nursing homes are permanent residents as they require constant supervision and medical care due to their physical or mental condition.
All of that sounds good on paper, but things are very different. According to the National Center for Elder Abuse, around 44% of the residents at nursing homes are victims of constant elder abuse. Additionally, 95% of the elderly in nursing homes have attested to the fact that they have experienced or witnessed neglect in others.
Types of Nursing Home Abuse
Emotional Abuse
Brittle as they are, the elderly are also emotionally unstable. Any negative verbal or non-verbal behavior could instill fear and anxiety in the elderly residents, while harassment and intimidation also contribute to the type of emotional abuse at some nursing homes.
Sexual Abuse
There have been multiple cases in the past where the elderly have faced sexual abuse at nursing homes across America. Remember, nursing homes are places for those individuals who require constant care and monitoring because they lack the physical and mental capacity to help themselves. This makes them more susceptible to sexual abuse by the nurses responsible for caring for them.
Sexual abuse includes rape, forcing the elderly to strip nude, and taking sexual photographs.
Financial Abuse
Many elderly people residing in nursing homes do not have the mental capacity to determine whether they are facing financial abuse. Management at these nursing homes could easily overcharge them without their notice or get the elderly to sign wills, trusts, and other financial documents without their permission or awareness.
Physical Abuse
From time to time, we read in the papers about physical abuse going rampant in nursing homes, and these incidents are only reported by individuals from outside the nursing home. Elders are prone to physical abuse and intimidation and therefore may not speak about it to their family members, but upon family visitations, physical bruising and scars often disclose such abuse.
Physical abuse could include hitting, shoving, biting, scratching, and more.
Neglect
Neglect includes all those behavior where the officials omit their work responsibilities towards the elderly. This could include failing to provide basic healthcare, food, water, comfort, a clean and hygienic environment, safety, and more.
So, how does one identify elder abuse at a nursing home? Well, it's not that simple. In some cases, the elderly will report the abuse to a family member, but in many, they remain quiet and endure the constant abuse thrown their way.
In such situations, a family member needs to question and observe. Check for bodily injuries or signs of physical abuse whenever you visit a nursing home and monitor the elderly's behavior for signs of anxiety and fear. Also, go through their bank statements to identify any irregular payments or sudden changes.
If you believe that there is elder abuse at a nursing home, you should immediately reach out to a Los Angeles nursing home abuse attorney to stop this abuse and pursue legal action.
Filing Claims Under California's Elder Abuse Law
The California Elder Abuse law holds retirement, nursing homes, and those taking care of the elderly to a high standard.
Under the state's Penal Code 368 PC, those found guilty of physical, mental, or financial abuse or neglect of a victim aged 65 or above can face prosecution for misdemeanor or felony. It can result in up to five years of prison time and also fines.
However, under the Welfare and Institutions Code 15600, an elderly victim can choose to pursue a civil lawsuit against the abuser. The statute allows any party over the age of 65 or individuals between 18 and 64 with physical and mental restrictions to sue their abuser.
Most lawsuits are typically against healthcare providers, and victims can recover compensatory damages and, in certain situations, punitive damages.
Damages You Can Recover During Claims
Whether you're looking to file a personal injury claim, a premises liability claim, or a negligence claim against a party, you can recover two types of damages, and these include the following:
Economic damages: These types of damages are those that you can assign a dollar value to easily and include medical bills, lost wages, future loss of earning capacity, therapy costs, rehabilitation, and more.

Non-economic damages: These types of injuries are difficult to quantify and include pain and suffering, emotional trauma, loss of companionship, and more.
Statute of Limitations and Claims
Whether you're filing a claim for negligence, elder abuse, or premises liability, under the California statute of limitations, accident victims only have two years following the accident date to file a claim against the negligent party. If you miss the deadline, you lose your right to pursue legal action against the negligent party.
In the event of wrongful death claims, the period in which you can pursue legal action is also two years following the death of your loved one.
Schedule a Free Consultation with a Los Angeles Retirement Community Accident Lawyer
Ehline Law and our attorneys have experience helping injured victims recover compensation for retirement community accidents. We also excel in elder law and have protected many elderly people who faced abuse at nursing homes. We helped recover millions of dollars for their loss. Depending on the severity of your accident, our Southern California injury attorneys will determine the value of your claims and aggressively pursue compensation for your loss. We will even hire skilled nursing care experts to prove damages caused by the defendant's negligence.
For more information on how we can help fight negligent residential care facilities on your behalf, speak to our Los Angeles retirement community accident attorney today. If you or someone you love suffered injuries from an accident at a retirement community that was not your fault, or if you lost someone due to nursing home negligence, contact us at (213) 596-9642. Receive a risk-free free case evaluation with our personal injury attorneys today.
---
Michael Ehline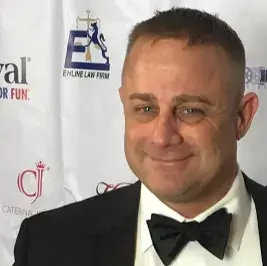 Michael is a managing partner at the nationwide Ehline Law Firm, Personal Injury Attorneys, APLC. He's an inactive Marine and became a lawyer on the California State Bar Law Office Study Program, later receiving his J.D. from UWLA School of Law. Michael has won some of the world's largest motorcycle accident settlements.
---
Recent Personal Injury News
Check out our most recent premises liability blog posts from seniors slipping and falling to crashing cars with everyday people getting run over, rear ended or otherwise colliding.