If we don't win, you don't pay.
Speak to the Attorney.
Born to serve.
633 W 5th Street #2890
Los Angeles, CA 90071
(213) 596-9642.
2323 S. Voss Rd, Suite 244
Houston, TX 77057
(832) 592-1260.
Date Modified: July 2, 2023
This Ultimate Guide to Compensation for Garbage Truck Mishaps in CA is at your fingertips. The last thing you would expect when walking out the door in the morning is getting hit by a garbage truck sometime during the day.
Trash Truck Crash?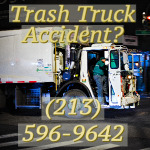 However, being involved in a garbage truck accident is actually more common than most people realize.
What makes garbage truck accidents so serious is the sheer size and weight of a standard garbage truck. Just seeing garbage truck drivers navigating these trash trucks through the residential neighborhoods of Los Angeles is enough to intimidate most drivers of passenger vehicles.
Imagine what it must be like for garbage truck accident victims! This is why a garbage truck driver must always be qualified, responsible, and alert.
However, garbage truck accidents do happen, and that is when you need to call Ehline Law Firm so you can hire an experienced garbage truck accident lawyer.
What You Need To Know About A Garbage Truck Accident Claim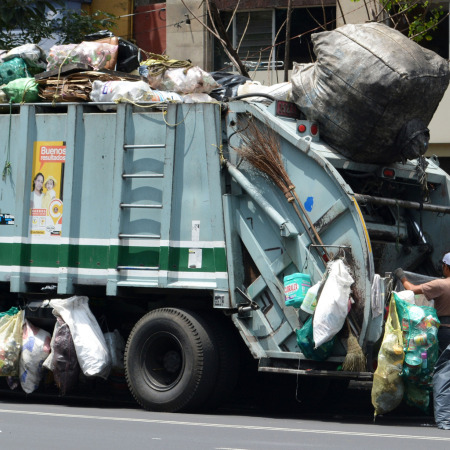 Handling truck accident cases involving a waste management dump truck may sound like a simple thing to do, but there are many laws and regulations that a trash truck injury attorney needs to be well versed in. Additionally, the potential for severe injuries and massive property damage makes garbage truck accidents different from passenger vehicle accidents. The following are some of the things personal injury lawyers need to be familiar with:
Different Types of Garbage Trucks in California
A City of Los Angeles trash truck typically comes in three types; black garbage trucks, green compost trucks, and blue recycling trucks. This is usually the same in other parts of California, such as Southern California, Orange County, and San Diego. They all have in common because they are large trucks that weigh tons!
Los Angeles Garbage Truck Regulations
If a garbage truck struck pedestrians, commercial vehicles, or other motor vehicles, certain questions would be asked of the trucking company.
The regulations state that the driver must have a commercial driver's license (CDL) and should have passed all relevant exams to drive a garbage truck in the State of California legally.
Liability for a Los Angeles Garbage Truck Accident
The Los Angeles County municipality usually owns garbage trucks, so it is not always possible to sue the drivers directly unless the garbage truck belongs to a private company. If a garbage truck accident occurred and you are not sure who to sue, visit our law firm for a free consultation to discuss your best options to obtain you and your loved ones maximum financial compensation.
Steps To Take After a Garbage Truck Accident
In the aftermath of a garbage truck accident, you can start the process of receiving financial compensation by taking the following steps:
Get medical assistance
Get details of the driver and other sanitation workers
Gather evidence, such as pictures of your car and accident scene, as well as witness statements
Ask for a police report
Do not admit fault or negligence
Keep every receipt you get for all medical bills
Search for a law firm with a proven track record in similar practice areas
Book a free case evaluation
Fill in the free consultations online form with qualified attorneys.
How Do I Recover From Injuries Sustained in A Garbage Truck Accident?
The victims of a Los Angeles garbage truck accident can suffer from the following serious injuries:
Traumatic brain injury
Paralysis (quadriplegia, paraplegia)
Fractures
Spinal cord injuries
Neck and back injuries (Whiplash)
Joint and ligament damage
Nerve damage
Lacerations
Wrongful death.
Recovering from severe injuries that are typical in any collision with a large truck takes time, effort, and money. This is why the most important thing is to speak to truck accident lawyers and get assistance with filing a personal injury claim to make sure the responsible parties are held liable.
Garbage Truck Accidents Are Quite Common
A few years ago, a Tempe, Arizona, garbage truck collision resulted in a few children suffering severe injuries. Back in 2018, a person was killed, and several injuries occurred when a garbage truck was hit by a train carrying Congress members.
Many accidents occur when smaller vehicles are struck by large garbage trucks belonging to the Los Angeles Bureau of Sanitation Workers. Some have caused life-long disabilities and even death.
The Most Common Causes of Accidents Involving Garbage Trucks
Here are the common causes of garbage truck accidents our clients need to be aware of:
Speeding, especially on quiet rural roads
Sideswiping a vehicle in narrow streets
Falling waste and trash hitting a car or pedestrian
Tailgating other cars
Improper maintenance issues, such as defective parts and turn signal lamps
Distracted driving (eating or using a cell phone)
Driving under the influence of drugs or alcohol
Improper driver training
Not watching blind spots for other motorists, motorcycles, bicyclists, and pedestrians
Driver fatigue and negligence
Not obeying traffic laws and traffic signals
Impatience after making frequent stops.
Damages You Can Get When You Sue Negligent Garbage Truck Drivers
In the state of California, victims injured in garbage truck collisions can sue for damages covering:
Lost wages
Medical expenses
Lost opportunities for employment
Wrongful death of a loved one
Pain and suffering
Property damage.
Our Doors at Ehline Law Are Open
Thanks to our excellent attorney-client relationship and dedication to maintaining high levels of trial advocacy, you can be sure that your lawsuit is in good hands.
Visit our office for a free review and initial consultation regarding your individual case. Alternatively, you can call us at (213) 596-9642 and receive the compensation you deserve.
Other Common Carrier Accidents
Michael Ehline is an inactive U.S. Marine and world-famous legal historian. Michael helped draft the Cruise Ship Safety Act and has won some of U.S. history's largest motorcycle accident settlements. Together with his legal team, Michael and the Ehline Law Firm collect damages on behalf of clients.
We pride ourselves on being available to answer your most pressing and difficult questions 24/7. We are proud sponsors of the Paul Ehline Memorial Motorcycle Ride and a Service Disabled Veteran Operated Business. (SDVOB.) We are ready to fight.